When you're traveling through Virginia's Blue Ridge seeking some of the highest mountains in the immediate area, look for Poor Mountain. At 3,928 feet, it's one of the tallest, and therefore, home to something of an "antenna farm" for our local radio and television stations.
Before your feathers are ruffled beyond smoothing, you should know that Poor Mountain is also a treasure in Virginia's Blue Ridge, of course. The Poor Mountain Natural Area Preserve encompasses 933 acres and ensures that the world's largest known population of rare piratebush (Buckleya distichophylla) – a shrub – is protected so that it may thrive.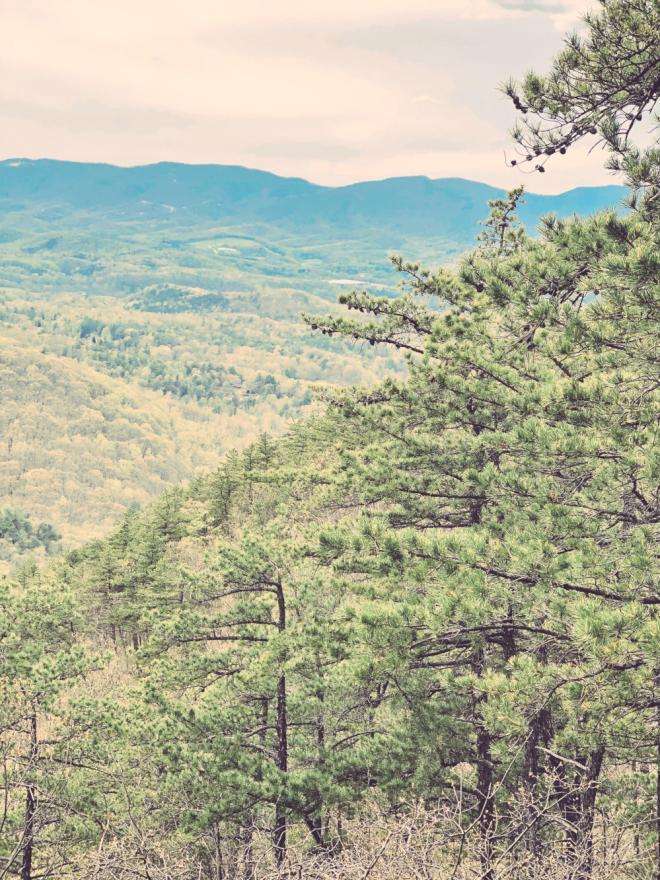 History
According to one source, Poor Mountain is named for Major Poore, a French and Indian War veteran who served under Andrew Lewis. According to nearly everyone else, it is named for its acid soil that results in less lush vegetation as compared to the rest of the area. 
Though the Poore's do have rich history in the area that would leave open the possibility of a French and Indian War "Major Poore," we've yet to unearth hard evidence of the mountain being named for such a leader, unfortunately.
Recreation
Hikers will find four underrated miles of trails to traverse through the Natural Area Preserve while cyclists will find the challenging 12 O'Clock Knob Road awaiting their arrival. Part of the 20-mile 3 Peaks Loop, 12 O'Clock climbs to 2,959 feet making it the highest elevation on the grueling loop.
Ride with GPS: 3 Peaks Loop Route >
The 4 mile hike is a moderately difficult loop that incorporates multiple individual trail segments. It's moderately difficult and features a couple beautiful scenic views, and other sections that wind along the creek, offering some small cascading waterfalls as you trek through the woods.
Because of its great trails and unique ecology, Poor Mountain has been a fixture of the annual Roanoke 7 Summits Series, organized annually by Play Roanoke. 
Download: Poor Mountain Natural Area Preserve Brochure & Trail Map >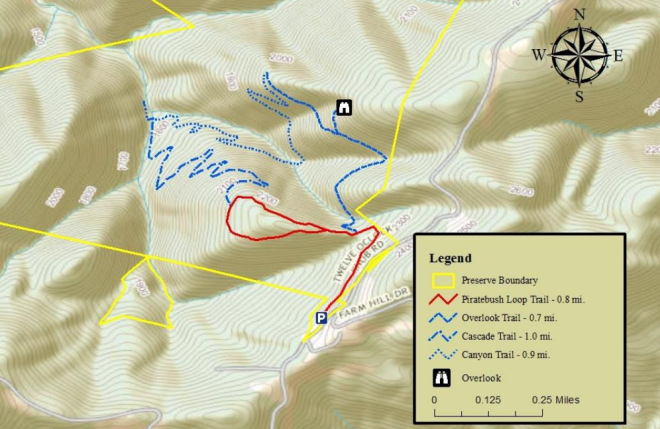 Preservation
The Poor Mountain Natural Area Preserve exists to protect the piratebush, which is far more plentiful on Poor Mountain than in all other known North American habitats combined. According to the Virginia Department of Conservation and Recreation, the piratebush can grow to 15' tall, but seems to stunt at about waist-high on Poor Mountain.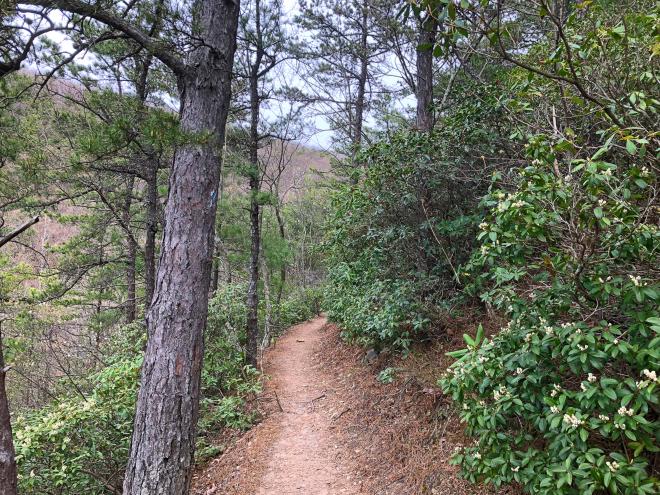 You'll know a piratebush by its slender light green foliage that forms in rows across a branch. It's lighter green because it "parasitizes" other nearby plants for their chlorophyll, specifically the table mountain pine (P. pungens). In autumn, the piratebush is a brilliant blaze of yellow.
As wildfires seem to be a friend to the piratebush, periodic prescribed burns are common on Poor Mountain. Call (540) 580-6341 before you make the trip.
The best view of Poor Mountain can be experienced from Milepost 134.9 on the Blue Ridge Parkway.
What's Nearby? Happy Hollow Gardens | Food & Drink
Explore a bit more at Happy Hollow Gardens Park on Mount Chestnut Road. Dirt trails, a shelter, picnic area, grill, and beautiful scenery? Yes, this is the place for a picnic!
If coming from the north, order subs or burgers from River Rock Restaurant in Salem. If traveling from the south, Bent Mountain Bistro is the place to grab a wood-fired pizza or sandwich. A stop at Valhalla Vineyards for a bottle of wine would be an excellent addition to the spread. Remember to respect your surroundings and pack out all trash.
---
Location
Poor Mountain Natural Area Preserve
Twelve Oclock Knob Road
Salem, VA 24153
---
Discover more of our iconic mountains, Trailsetters, and get moving in Virginia's Blue Ridge. If you happen to capture a few fun bits or bites, share it and tag #BlueRidgeDay. Let the world see what they're missing.