Finding fun gifts for the holidays is easy when you go shopping in the Roanoke Valley in Virginia's Blue Ridge.
Our selection of major retailers and local specialty shops offers you the chance to find the perfect gifts for all the people you're shopping for during the holiday season.
From the avid outdoor adventurer to the foodie, we have all kinds of items in Virginia's Blue Ridge.
Here's a helpful holiday shopping gift guide full of unique local products you can only find in our area.
The train lover in your life will love a gift from the Virginia Museum of Transportation. The museum gift shop offers a variety of train products, such as replicas, apparel, books, DVDs, whistles and toys.
Begin your day with coffee that's roasted locally in Virginia's Blue Ridge! Mill Mountain Coffee & Tea features multiple locations in Virginia's Blue Ridge and offers a variety of blends, and you can also pick up a bag of fresh roasted coffee from Scratch Biscuit Co. in Grandin Village.
Local Ornaments - Dickens of a Christmas
Among the many vendors who participate in the Dickens of a Christmas festival in Downtown Roanoke, we recommend picking up a few ornaments that highlight local icons in Virginia's Blue Ridge. You'll find decorations that feature things like the Roanoke Star, H&C coffee sign, Texas Tavern and more.
She's International is an amazing shop in Downtown Roanoke that features items from around the world. When you visit, be sure to check out the jewelry that's part of the Star Project, a collection of star-inspired pieces where a portion of the proceeds benefit local charities in Virginia's Blue Ridge. It's a great gift for a great cause.
Get ready for a shopping spree at Black Dog Salvage! Whether you're looking for repurposed salvage that could be a perfect piece of furniture or swag to show your love of the store and its Salvage Dawgs TV show, there are all kinds of fun options at this local store.
Roanoke Rail Yard Dawgs Gear - Sports Haven
Get all your gear to cheer on the new Roanoke Rail Yard Dawgs hockey team with a visit to Sports Haven in Roanoke. The store has a variety of items for hockey fans, including the official team jersey. 
You might be looking for holiday gifts, but there's no reason you can't also treat yourself to something special from Chocolatepaper. This boutique shop is full of unique gift items, including an amazing selection of chocolates and truffles.
Did you know you can add a few special memories from Virginia's Blue Ridge to your charm bracelet? AmRhein's Fine Jewelry is the place to go for its selection of local charms, including things like the N&W 611 Steam Locomotive charm, highlighting the region's rich railroad heritage.
It's always a party at The Gift Niche, especially when you get a Party on Your Head! These specially designed hats are made in a variety of themes and serve as fun gift items that are sure to put a smile on someone's face.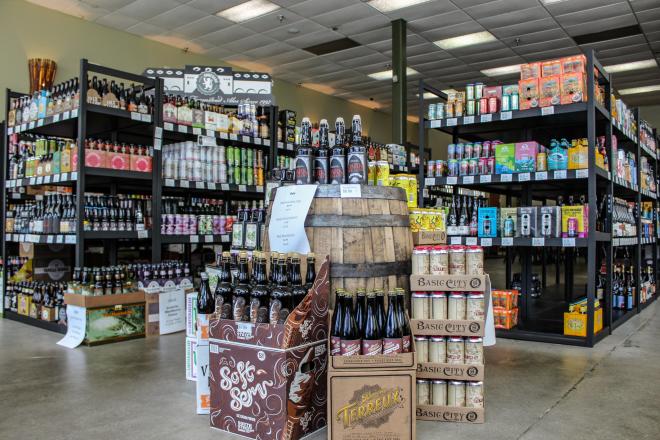 Cheers to all the fantastic beer and wine in Virginia's Blue Ridge! With great options from local breweries and wineries, as well as other specialty beers and wines from around the world, there are all kinds of options for your palette at local shops like Mr. Bill's Wine Cellar and Barrel Chest.
Give the gift of getting to experience a Blue Ridge Day with a gift certificate to a local outfitter or attraction. Catch a concert at the Harvester Performance Center, take a float on the James River with Twin River Outfitters, mountain bike through Carvins Cove with Roanoke Mountain Adventures, and take a food or beer tour with Tour Roanoke. Can't decide which one to pick? Do them all!
Want to show off your love of Virginia's Blue Ridge? Pick up a free VBR sticker at the Virginia's Blue Ridge Visitor Information Center in Downtown Roanoke. And if you know others who would like a sticker, we're happy to share a few extras!
---
Visit our Shopping page for more gift ideas in Virginia's Blue Ridge and check out our Holidays section to learn more about what you can do during a holiday getaway.