Do you need a little time away? Sweep your honey off his or her feet with a romantic weekend in Virginia's Blue Ridge. 
Mix in some of the best we have to offer to create an unforgettable trip that encompasses downtown Roanoke, the Blue Ridge Parkway, and more. 
Consider one of our top 10 luxury suites as home base for your adventures for a romantic visit to the Blue Ridge Mountains.
Use these ideas as a guide for your next getaway! 
---
Immediately settle into the weekend with a relaxing couples massage at Belle Sante Cosmetic Day Spa in Roanoke. Thirty-, 60- and 90-minute options for two include a Swedish-style massage, essential oils, hot stones, and therapeutic techniques. Once the worries and cares you've left behind are out of mind, your romantic weekend can officially begin.
Learn More: Belle Sante Spa Packages >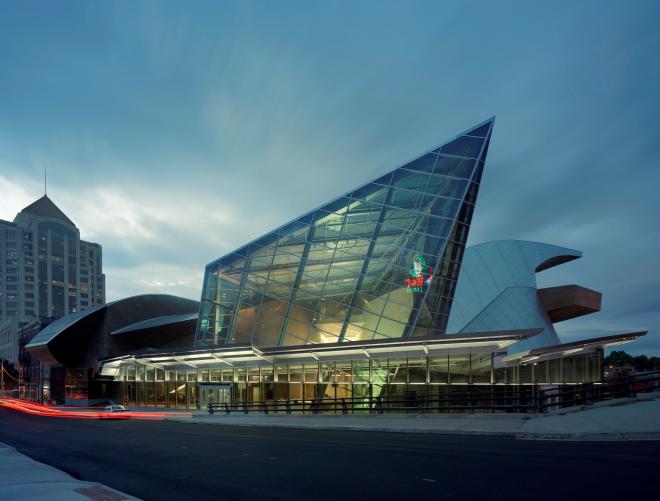 The Taubman Museum of Art in downtown Roanoke is the perfect place to spend an afternoon. The soaring atrium is a light-filled sanctuary and truly a work of art on its own, but the prized pieces that lie within are something to write home about. Admission is free, but exclusive traveling exhibits often require a nominal fee.
Learn More: Current Exhibitions at the Taubman Museum >
Cocktails & Dinner 
Stroll through Market Square to check out our excellent boutique shopping before enjoying a handcrafted cocktail at Stellina, an intimate speakeasy. An unmarked entrance on Kirk Avenue makes finding Stellina an adventure in trial and error, or you could perhaps ask the way at Fortunato (wink). The intimate space accommodates about 20 people and serves fine craft cocktails using the best ingredients and libations.
Speaking of Fortunato, their traditional Italian is a comforting dinner ahead of whatever else awaits. Try their renowned Neapolitan-style pizza. It's loaded with local elements to ensure a taste of the Blue Ridge is delivered each and every time.
See the Menu: Fortunato >
Live Entertainment
To wrap up your evening, take in a show at Mill Mountain Theatre, Jefferson Center, or Showtimers Community Theatre. You can also regularly find late-night music at Martin's Downtown Bar & Grill. It's an affordable, exciting way to enjoy the innovative local arts & culture scene.
Check the Calendar: Arts & Music Events >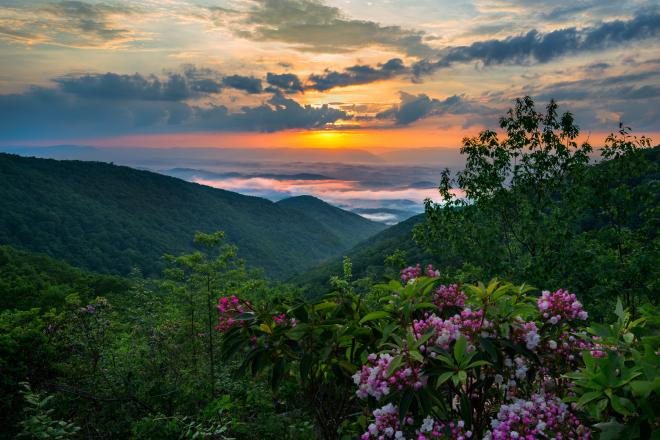 Explore the beauty of Virginia's Blue Ridge by riding the Blue Ridge Parkway. Just drive, stop and enjoy the views, or take in a few of the special hikes and attractions along the way. Whatever you choose, a farmers market picnic will be a delight and a visit to the Roanoke Star is a must. 
 
Points of Interest & Mileposts:
Plan Your Trip: Map of the Blue Ridge Parkway >
Have a "Taste of Local Flavor" Evening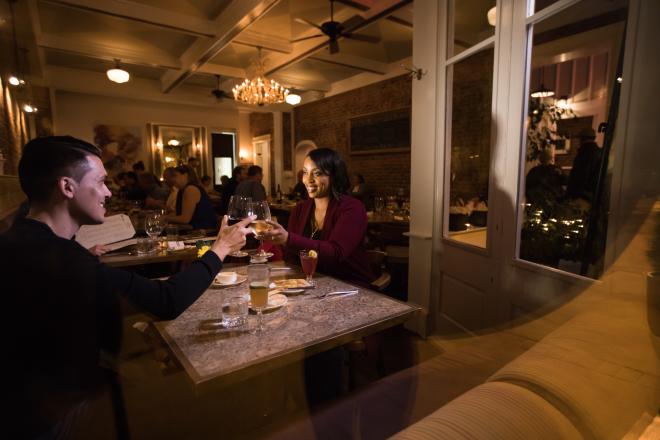 Expand on your farmers' market picnic lunch with a special dinner by one of Roanoke's best chefs. Consider The River and Rail at the base of Mill Mountain where Chef Aaron Deal's mouth-watering menu changes daily. Or visit Roanoke's first "farm-to-table" restaurant, Local Roots, which also curates a fine selection of small-batch, rare, and unique beverages. 
Not far away in Salem is also Blue Apron Restaurant & Red Rooster Bar, another establishment where local, small, and handcrafted are the keys to a tasty night. You're too close to skip a visit to Parkway Brewing Company, a 30-barrel craft brewery with big flavor.
See the Menus: The River & Rail > | Local Roots > | Blue Apron > | Parkway Brewing Beer List >
Brunch Before Bye
Fill up with a special Sunday Brunch Tour of Roanoke with Roanoke Food Tours. A combination of a few of six possible establishments will round out this experience introducing you to some of the Star City's most tasty brunch spots. We're sure this will only lure you to return for another romantic weekend.
Book Your Spot: Sunday Brunch Tour >
---
Relax, rejuvenate, and romance in Virginia's Blue Ridge. You can also get ideas to help you plan your next trip by checking our Calendar of Events and subscribing to the monthly e-newsletter. And don't forget to enter our Sweepstakes for an opportunity to win a free trip to the Blue Ridge Mountains!
---