The beautiful thing about Virginia's Blue Ridge is that there are so many opportunities for exploration. It's likely that many of the things you love can be experienced in our neck of the woods. Take art, for example. A visit to Virginia's Blue Ridge offers an abundance of free public art, beautiful galleries, art events, and even opportunities to create your own art.
You'll be on your way to discovering and creating wondrous new things with these 10 experiences for art lovers.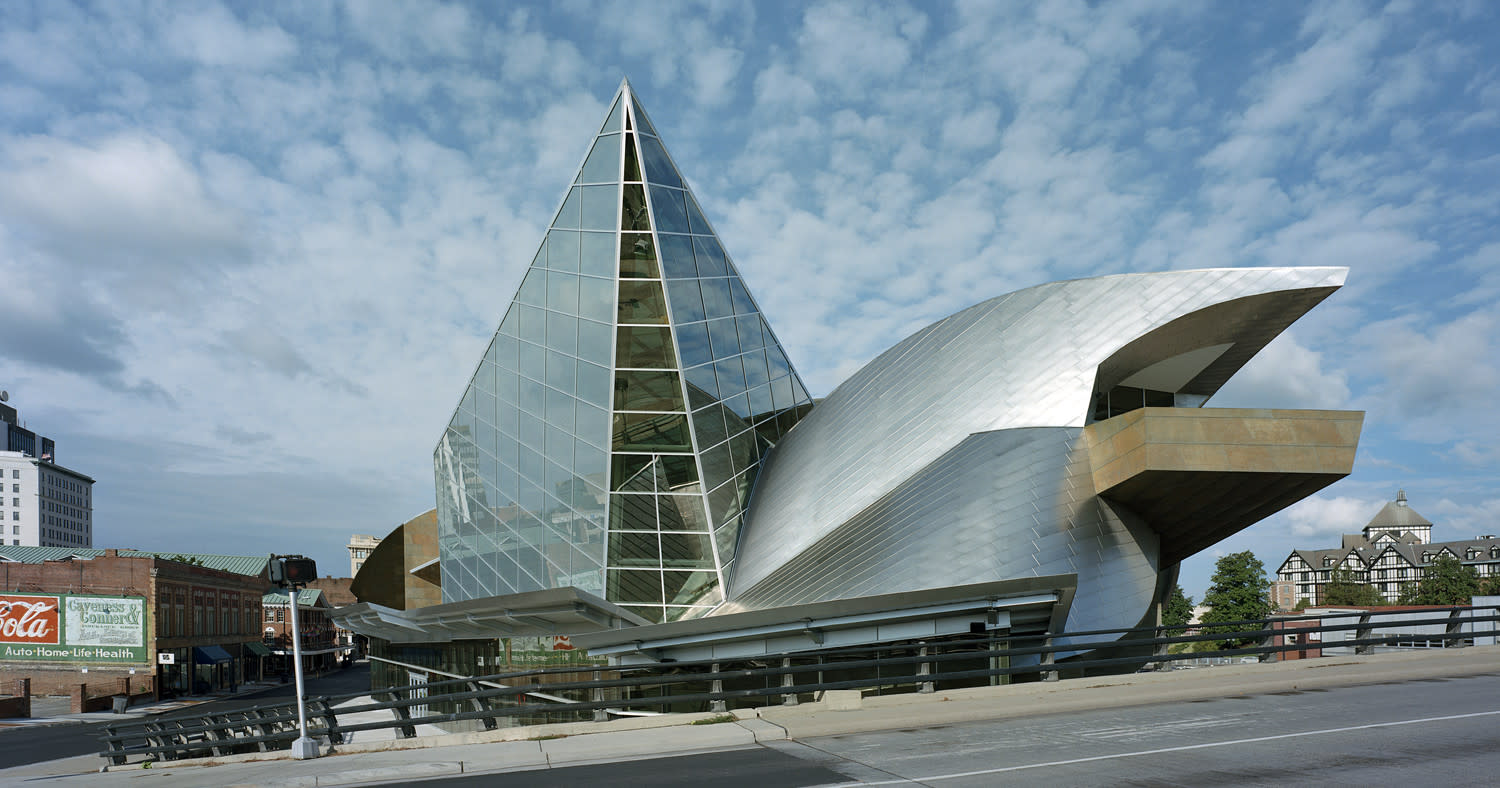 The Taubman Museum of Art in downtown Roanoke is a work of art itself. Sweeping roof lines overlap one another and shoot to the sky with shiny metal surfaces reflecting the midday sun. The glass façade pours natural light into the two-story atrium, a previous exhibit space for gloriously delicate glass art by Dale Chihuly and site-specific fabric installations by Rachel B. Hayes and Anne Ferrer. 
In the heart of the museum lies permanent and rotating exhibits. Works by the most famous artists have hung within the Taubman. See what's currently displayed and what's coming.
Special Exhibition: POP Power from Warhol to Koons - a celebration of the evolution of Pop art - this special ticketed exhibition is on display through March 8, 2020. Learn more >
Roanoke is a bike-friendly city. Heck, there are bike rental kiosks all over town. A great way to get some exercise, see the scenery, and catch great art along the way is to take a self-guided Art by Bike tour.
There are two routes to consider. The first is the original Art by Bike, a 12-stop journey over nine miles. Along the way you'll encounter wonderful murals, unique sculptures, and a fantastic seven-foot tall bronze sculpture of Martin Luther King, Jr. Route map >
The second route is Art by Bike on the Greenway. The six-mile excursion is quite easy with little traffic and minimal elevation gain. There are six points of artsy interest along this route, including some beautiful murals in Roanoke's charming Historic Old Southwest Neighborhood. Route map >
3. University Art Museums & Galleries
Gallery hop across the universities of Virginia's Blue Ridge. The Eleanor D. Wilson Museum at Hollins University has two new exhibits before the end of 2019 and they also boast a nice permanent collection featuring recognizable names.
Olin Hall Galleries at Roanoke College displays the works from local, regional, and national artists across seven exhibitions each academic year. Corresponding workshops and lectures enhance the visual aspects and offer an educational component. 
Virginia Tech's Moss Arts Center is host to not only galleries but also music and theater. Enjoy concerts by the students of the School of Performing Arts or from regional and world renowned artists. On the 2019-2020 schedule are can't-miss moments by National Geographic Live, Roanoke Symphony Orchestra, Ballet Folclorico Nacional de Mexico de Silvia Lozano, and the National Symphony Orchestra of Ukraine. Also, Broadway in Blacksburg presents The Color Purple and Finding Neverland. 
The Blue Ridge Institute & Museum at Ferrum College was founded in 1973 "to document, interpret, and present the folk heritage of the Blue Ridge region," and we're mighty glad it was. There you'll hear original mountain music, see plenty of Appalachian art, and walk through an 1800 Blue Ridge Farm complete with blacksmithing, butter churning, and animals.
The Virginia Tech Carilion School of Medicine in Roanoke is co-hosting an exhibit with Visit Virginia's Blue Ridge (us)! The exhibition is called "Virginia's Blue Ridge: A Metro-Mountain Adventure" and includes pieces by 42 artists working in photography, acrylic, oil, and watercolor. See our region through their eyes.
4. Public Art & Murals
Much of the public art in the Roanoke Valley can be viewed via Art by Bike, but for those who would rather walk or drive to each piece, the Get2Know Art Map is an excellent resource. Created by RIDE Solutions thanks to an August 2019 Instagram photo contest hosted by Get2KnowNoke, the map includes 59 points of interest. Take a look at the #Get2KnowArt hashtag on Instagram for an idea of some of the awesome art you'll find with this map.
5. Annual Art Events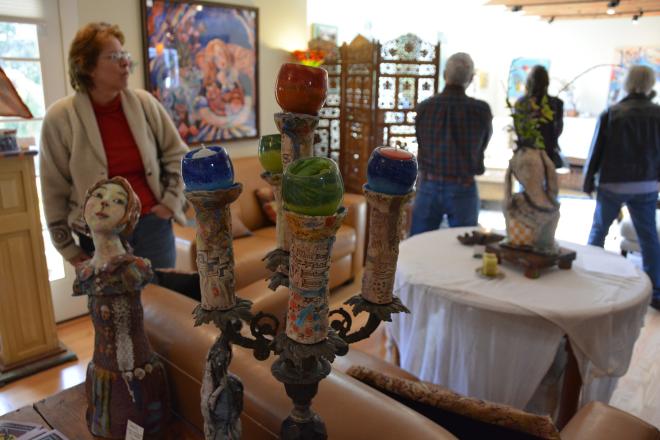 Dive into special annual events that bring art into the spotlight. Mark your calendar and don't miss these:
October 26-27, 2019 – Botetourt Open Studios Tour – free, self-guided driving tour
April 24-25, 2020 – Roanoke Open Studios Tour – free, self-guided driving tour
May 22-24, 2020 – Roanoke Festival in the Park, Elmwood Park, Roanoke
May 30-31, 2020 - Sidewalk Art Show, downtown Roanoke
6. Eat & Art
Appreciate local art and local eats when you stop in to 2nd Helpings Gallery & Resale Shop or Evie's Bistro & Bakery in Roanoke. 2nd Helpings has a vast array of local and regional art and a tasty, award-winning café. The art on display at Evie's (formerly Wildflour) is available for purchase, so if you like it, buy it.
8. Elmwood Art Walk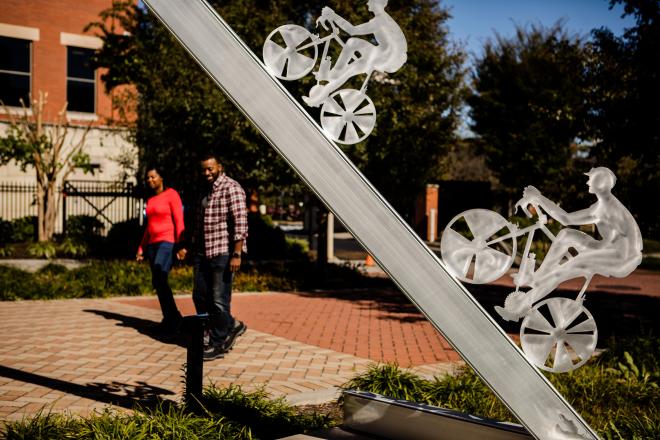 The Elmwood Art Walk is located in Elmwood Park in Downtown Roanoke and features sculptures that showcase many of the defining characteristics of the region. Visit the City of Roanoke website for more information about the collection of pieces on the Elmwood Art Walk >
9. Make Your Own Art
Get your creative juices flowing at Glazed Bisque-It and All Fired Up, our local paint-your-own-pottery studios. There are also paint night events hosted regularly by Yaymaker Roanoke. These make for great date night activities or something fun to do with the kids, as well as excellent options for larger groups.
All over the towns of Virginia's Blue Ridge art galleries and artist's studios can be found. Peruse them at your own pace or plan to attend Art by Night in Downtown Roanoke the first Friday of every month. It's a free event from 5 to 9 p.m. and includes free parking in multiple lots.
Art Galleries in Virginia's Blue Ridge >
---
Show off your artwork finds by sharing pics socially and tagging them #Trailsetter. If you're also sharing LOVEworks snaps, add #LoveVA to spread the word about the variety of sculptures you encounter.