Are you excited for fall in the Blue Ridge Mountains?
It's one of the best times of year in Virginia's Blue Ridge, as the temperatures get a little cooler, fall flavors become more commonplace, and there are lots of great events on the calendar.
As you figure out fun things to do, here are 25 special events happening this September in Virginia's Blue Ridge.
---
NOTE: All info is subject to change. Please check event websites and social media pages for the most updated information.
---
The Coves at Smith Mountain Lake
The Coves Amphitheater will serve as the main stage for the Smith Mountain Lake Live Music Festival and feature a great lineup of bands, including performances by The Frequency, Karlee Raye Band, Jared Stout Band, Breaking the Chain, and Ripejive.
There will also be craft vendors, sponsor booths, and food & craft beverages available for purchase.
SML Live Music Festival Tickets >
Kerr Stadium - Roanoke College
The VBR Sports Roanoke College Men's Soccer Invitational will feature three days of exciting soccer action at the beautiful Donald J. Kerr Stadium on the Roanoke College campus to help kick off the 2022 soccer season. 
There will be four teams that play each other in four different matches: Roanoke College, Ithaca College, Stockton College, and Texas Lutheran University.
Men's Soccer Invitational Details > 
Elmwood Park
Head to Elmwood Park in Downtown Roanoke for this free performance by the United States Navy Band Country Current, known for its exciting blend of modern country and cutting edge bluegrass music. The group is a seven-member ensemble who each display extraordinary skill and musicianship across a variety of instruments.
United States Navy Band Concert Info >
Beaver Dam Farm
Featuring over 600,000 sunflowers in bloom, the 7th annual Beaver Dam Sunflower Festival in Botetourt County is the largest sunflower on the East Coast and a signature annual event in Virginia's Blue Ridge.
This year's festival takes place September 9-18 and there are lots of special events and activities as part of the experience, including sunset & goat yoga, sunset dinners, VIP nights for exclusive access, and days offering access for families with preschoolers, senior citizens, and people with special needs.
The festival also features a huge lineup of 90+ vendors, such as craftspeople, artisans, and food vendors.
Beaver Dam Sunflower Festival Events & Tickets >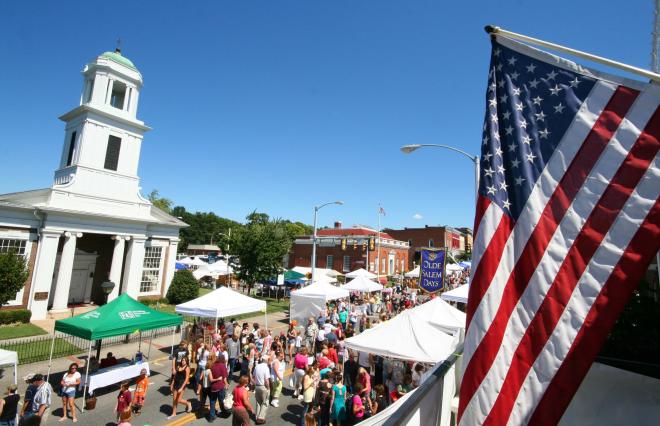 Downtown Salem
Olde Salem Days is Virginia's premier arts & crafts festival, showcasing over 400 artisan booths along Salem's Main Street, offering a variety of handmade creations, along with many other fun activities.
Buchanan Town Park
The Buchanan Tri is an amazing way to experience the James River as you run, ride, and paddle your way through Botetourt County. It's a unique "triathlon" that combines a 2 mile road run, 13 mile road bicycle ride, and 5 mile paddle on the James River for 20 miles of fun.
Dr Pepper Park at The Bridges
Chris Janson is a country music singer & songwriter known for hits like "Buy Me a Boat," "Drunk Girl," "Good Vibes," and "Done" and has co-written songs for artists such as Tim McGraw and Hank Williams Jr. 
Janson's current tour will include many of his popular classics from over the years, as well as songs from his latest album, All In, which was released in April 2022.
Virginia Museum of Transportation
Take part in the Grandparents Day celebration at the Virginia Museum of Transportation on September 10! There will be lots of special activities, vendors, and food as part of the event, and grandparents escorted by their grandchildren will receive half-off admission.
Grandparents Day at VMT Details >
Franklin County Recreation Park
The Franklin County Agricultural Fair returns in 2022 with a great schedule of activities that include tractor competitions, midway rides, live music & special performances, educational exhibits, animal shows, contests, games, food, and more.
The concept of agricultural fairs originated in farming communities as an opportunity for folks to come together for fellowship and a celebration of the fruits of labor and bountiful harvests.
Franklin County Agricultural Fair Website >
Jefferson Center
Opera Roanoke will open its 47th season of live opera with a special celebration concert that features many of the most memorable moments and performances in the organization's rich history. 
This concert at the Jefferson Center will showcase works by all the grand masters of opera with soloists, chorus, and full orchestra, conducted by Maestro Steven White.
Opera Gems Details & Tickets >
11. Henry Street Heritage Festival | September 17
Elmwood Park
The Henry Street Heritage Festival promises to be a great community event presenting an array of diverse entertainment, educational forums, and exposure to African-American heritage as expressed through the performing arts, crafts, cuisines, customs, and merchandise.
Henry Street Heritage Festival Details & Tickets >
Explore Park
Adventure Saturday is the perfect opportunity to experience the fun outdoor recreation options at Explore Park. You can check out twilight ziplining at Treetop Quest, enjoy nature activities and kids crafts, make your way up the climbing tower, and show off your disc golf skills.
There will also be live music and delicious food & drinks at the Twin Creeks Brewpub.
Adventure Saturday Activities & Schedule >
Daleville Town Center
The BOCO BBQ & Country Music Festival at Daleville Town Center is one of Botetourt's biggest nights, with this year's event headlined by live music from Crawford & Power, Low Low Chariot, Travis Reigh, and Matt Powell & Corey Hunley.
BOCO BBQ & Country Music Festival Website >
Salem Civic Center
Gary Allen is a multi-platinum artist who has been a force in country music for over 25 years and has been described as a "modern day outlaw" and "maverick." He's produced numerous hits during his career, including popular singles such as "Man to Man," "Tough Little Boys," "Nothing On but the Radio," and "Every Storm."
Town of Vinton
The inaugural SWVA Pride Fest at the Vinton War Memorial will feature a wonderful day of live entertainment, great food, family friendly activities and more as an opportunity to celebrate with your local community, family, and friends.
SWVA Pride Fest Facebook Event >
Mariners Landing Resort & Country Club
Drink in the flavors of Virginia vineyards and wineries along with the beautiful views of Smith Mountain Lake at this popular annual wine festival. This year's event also features a fantastic lineup of live music, headlined by The Steeldrivers and St. Paul & The Broken Bones.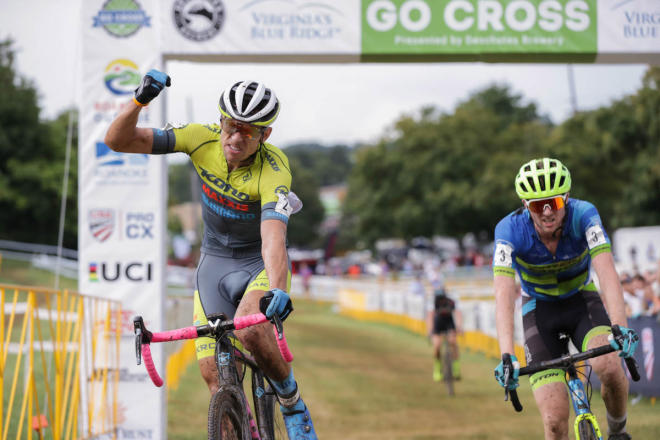 Fallon Park
Virginia's Blue Ridge GO Cross Cyclocross Race is one of the rowdiest and most fun biking events of the year in Virginia's Blue Ridge. Come out to Roanoke's Fallon Park for two days of exciting cyclocross racing and a great, spectator-friendly atmosphere where cheering and heckling is highly encouraged.
The 2022 races will be part of the USCX Cyclocross Series, a prestigious set of cyclocross races that will attract many of the top male and female competitors from around the country.
VBR Go Cross Cyclocross Race Website >
Berglund Center
Watch contestants spin the wheel and try to solve the puzzle in this live production of one of America's most iconic game shows - Wheel of Fortune. Audience members will be randomly selected for the opportunity to win cash and prizes, and this promises to be a fun experience for the entire family.
Wheel of Fortune Details & Tickets >
Mill Mountain Theatre
The Diary of Anne Frank focuses on the story of 13 year old Anne Frank and the writings from her diary as she and her family went through the horrors of being Jewish in Nazi occupied Amsterdam. This is an impassioned drama about the lives of eight people and claustrophobic realities of living in a concealed storage attic while they fought for their very existence.
The Diary of Anne Frank Details & Tickets >
Jefferson Center
Javon Jackson is an American tenor saxophonist and this special performance at the Jefferson Center will feature works from his latest album "The Gospel According to Nikki Giovanni." The work is a collaboration between Jackson and Giovanni, an award-winning poet, activist, and professor at Virginia Tech, and it's been described as "poetry in motion."
Javon Jackson & Nikki Giovanni Performance Details & Tickets > 
Town of Fincastle
The Historic Fincastle Inc. Fall Festival is a wonderful community celebration of the arrival of the fall season in Botetourt County. The event showcases more than 40 local art & craft vendors, as well as a variety of kids activities, and history displays that feature the Revolutionary Era history & heritage of the town.
Historic Fincastle Fall Festival Website >
Wasena Park
The Roanoke Reggae Festival embraces cultural diversity by uniting communities through love, humility, food, music, and fun. 
This is an event for all members of Roanoke and surrounding communities to come enjoy the sun and listen to relaxing and vibrant reggae sounds from local and regional bands at Wasena Park.
Roanoke Roots & Reggae Fest Details & Tickets >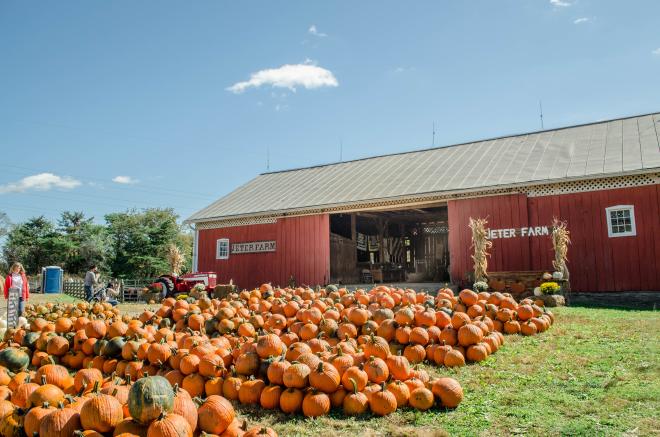 Jeter Farm
A visit to the Jeter Farm Fall Festival & Country Store is the perfect way to celebrate the arrival of fall in Virginia's Blue Ridge. 
Starting September 24 and going through October 30, the farm is open every Saturday & Sunday and the festival includes a corn maze, hay rides, pumpkin patch, kettle corn, and more.
Jeter Farm Fall Festival Website >
Salem Civic Center
We're looking forward to squatching in Virginia's Blue Ridge at the SWVA's Bigfoot & Friends event at the Salem Civic Center! This cryptid celebration is a family-friendly event that will feature guest speakers, researchers, investigators, unique merchandise & collectables, costume contests, and more.
SWVA's Bigfoot & Friends Website > 
Harvester Performance Center
Whether you recognize his voice from songs like "I'm a Man of Constant Sorrow" from Oh Brother, Where Art Thou? or his collaboration with Avicii on the global hit "Hey, Brother," Dan Tyminski has been one of the most successful artists of the past 30 years. 
He's been the recipient of 14 Grammy Awards and has contributed guitar or vocal harmonies on projects with artists like Dolly Parton, Willie Nelson, and Reba McEntire. He has also played guitar and mandolin with Alison Krauss and Union Station.
---
Save the Dates for October
Blue Ridge Nightmares - October
Salem Half Marathon, 8K & Kids Fun Run - October 8
VBR Gran Fondo - Historic Fincastle - October 9
Anthem GO Outside Festival - Downtown Roanoke - October 14-16
Blue Ridge Folklife Festival - Ferrum College - October 22
---
Looking for more information about what's going on in Virginia's Blue Ridge? Check out our Events Calendar for a complete list of events and give us a follow on Social Media, where we regularly post about special events and other exciting things happening in the region.
You can also subscribe to our monthly e-newsletter to receive updates about unique things to do and experiences in Virginia's Blue Ridge.