Are you excited for fall in the Blue Ridge Mountains?
It's one of the best times of year in the Roanoke Valley in Virginia's Blue Ridge, as the temperatures get a little cooler, fall flavors become more commonplace, and there are lots of great events on the calendar.
As you figure out fun things to do this month, here are 35 special events happening this September in Virginia's Blue Ridge.
1. Big Lick Kid Fest
Salem Civic Center
September 1
It's a festival for kids with outdoor interactive entertainment with games, a petting zoo, rock walls, bounce houses, face painting, and more!
Big Lick Kid Fest Website >
2. The Floorboards w/ The Concerns
5 Points Music Sanctuary
September 6
It's a concert featuring two local bands from Virginia's Blue Ridge as The Floorboards and The Concerns take the stage at 5 Points Music Sanctuary.
Concert Tickets >
3. Virginia Steak Festival
Vinton Farmers Market
September 7
Chow down on all kinds of delicious steak dishes and dinners from local restaurants, food trucks and caterers, and enjoy a country music concert!
Steak Festival Website >
4. Egyptian Festival
St. Mary's Coptic Orthodox Church
September 7-8
The 2nd annual Egyptian Festival offers free admission and will feature authentic Egyptian food, kids activities, church tours, henna tattoos, and face painting.
Egyptian Festival Food Menu & Event Info >
5. Beaver Dam Farm Sunflower Festival
Beaver Dam Farm
September 7-8 & 14-15
21 acres of sunflowers make for a stunning scene at the Beaver Dam Farm Sunflower Festival, which takes place September 7-8 & 14-15 this year! Learn more about the event and special programming with our Guide to the Sunflower Festival.
Beaver Dam Farm Sunflower Festival Website >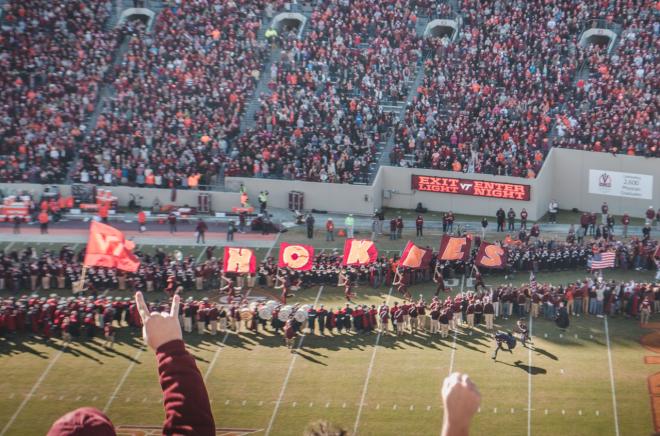 6. Virginia Tech Football
Lane Stadium
September 7, 14, 27
Seeing the Virginia Tech Hokies take the field in Lane Stadium while Enter Sandman blasts over the speakers is one of the most iconic scenes in college football, and an experience that should definitely be on your bucket list for when you visit Virginia's Blue Ridge.
Virginia Tech Football - Single Game Tickets >
7. PAW Patrol Live!
Salem Civic Center
September 10-11
The wildly popular PAW Patrol characters come to life in this action-packed, music-filled "Race to the Rescue" production at the Salem Civic Center, which will feature 3 live shows during its 2 day set.
PAW Patrol Live! Website >
8. Tom Petty Tribute: The Wildflowers
Dr Pepper Park at The Bridges
September 13
In its latest Flashback Fridays concert series, Dr Pepper Park at The Bridges presents The Wildflowers - America's #1 tribute band to Tom Petty & The Heartbreakers.
The Wildflowers Tickets >
9. Dance Theatre of Harlem
Moss Arts Center
September 13
The internationally-acclaimed Dance Theatre of Harlem will perform at the Moss Arts Center as part of American Evolution, which marks the 400th anniversary of the historical and defining events around the arrival of enslaved Africans to Virginia in 1619.
Dance Theatre of Harlem at Moss Arts Center Website >
10. Henry Street Heritage Festival
Elmwood Park
September 14
This year marks the 30th annual Henry Street Festival, an annual celebration of African American heritage showcased through performing arts, cuisine, entertainment, customs, and merchandise.
Henry Street Heritage Festival Website >
11. Fall Walkabout - Poor Mountain
Poor Mountain Trail
September 14
Walkabout Outfitter is partnering with Salomon for a hiking series, and this month's group hike features the opportunity to demo a pair of Salomon shoes while enjoying the trails and great views on Poor Mountain!
Fall Walkabout Facebook Event >
12. Floyd Livestock & County Fair
Chantilly Farm
September 14
This year's Floyd Livestock & County Fair at Chantilly Farm will feature a Wizard of Oz inspired theme of "There's No Place Like the Fair," and include exhibits, livestock shows, agricultural olympics, music, and more.
Floyd Livestock & County Fair Website >
13. Long Strange Night on the Mountain
Peaks of Otter Winery
September 14
Jam out to great music and camp at the base of the Blue Ridge Mountains on the Peaks of Otter Winery & Orchard's vast property in what promises to be a Long Strange Night on the Mountain.
Long Strange Night on the Mountain Facebook Event >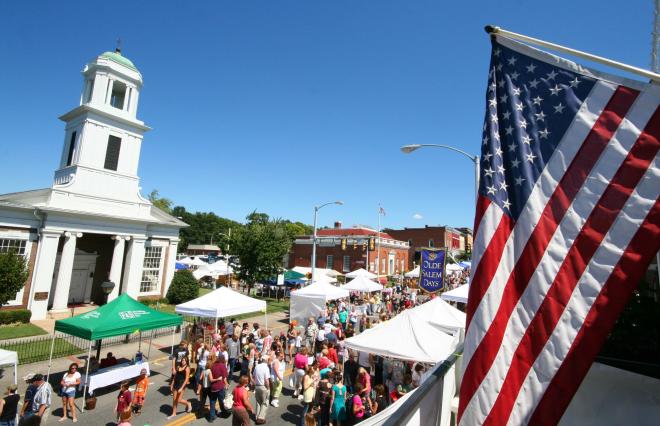 14. Olde Salem Days
Downtown Salem
September 14
With more than 400 artists & craftspeople, an antique car show, and a variety of kids activities and entertainment, Olde Salem Days in Downtown Salem is Virginia's premier arts & crafts festival.
Olde Salem Days Website >
15. Greater Virginia Bridal Show
Berglund Center
September 15
Connect with wedding vendors, sample catering and desserts, and enter to win amazing door prizes at Roanoke's popular annual bridal show!
Roanoke Greater Virginia Bridal Show Website >
16. Shinedown Concert
Berglund Center
September 17
Get ready for an incredible night of rock music at Berglund Center as Shinedown performs in concert and will be joined by special guests Papa Roach, Asking Alexandria, and Savage After Midnight.
Shinedown Concert Website >
17. Sunset Sea Kayak
Carvins Cove
September 18
Explore the beautiful waters of Carvins Cove as you learn the basics of kayaking and paddle off into the sunset. Equipment is provided, but advance registration is required.
Sunset Sea Kayak Registration >
18. Franklin County Agricultural Fair
Franklin County Recreation Park
September 18-21
The 6th annual Franklin County Agricultural Fair is a family-friendly event with tons of live music, carnival rides, tractor competitions, agricultural exhibits, and lots of fun.
Franklin County Agricultural Fair Website >
19. Meet Me on Main Street
Town of Buchanan
September 20
Don't miss the final Meet Me on Main Street event of the year in the Town of Buchanan, which includes an antique auto cruise-in, community market, kids activities, music and extended hours by local shops and restaurants.
Meet Me on Main Street Website >
20. Zombie Party Ride
Downshift - Coffee, Bikes, Beer
September 20
Coordinate your costume and decorate your bike in the most unique zombie way possible for Downshift's night-time fall party ride as you take to the streets of Roanoke.
Zombie Party Ride Facebook Event >
21. Opera Roanoke: Pagliacci
Jefferson Center
September 20 & 22
Opera Roanoke kicks off its 44th season at the Jefferson Center with a production of Pagliacci - Leoncavallo's beloved tale of love and betrayal.
Opera Roanoke: Pagliacci Website >
22. Big Lick Train Tug - Racin' & Roddin' Street Fest
Virginia Museum of Transportation
September 21
Teams of 10 will see if they have the strength to pull the Norfolk & Western #1776 locomotive at the Virginia Museum of Transportation, and this year's event will also include a celebration of fast cars, live music, a craft beer garden, and street vendors with food, as well as arts & crafts.
Train Tug Website >
23. Marine Mud Run / Devil Dog Dare
Green Hill Park
September 21
The 24th annual Marine Mud Run & Devil Dog Dare is an obstacle course race that includes conquering hay bale jumps, sand bag and water bucket carrying, an atlas stone, and making your way through plenty of mud.
Marine Mud Run Website >
24. Fincastle Festival
Town of Fincastle
September 21
The 51st annual Fincastle Festival will showcase local artists with works on display and for sale, craft vendors, local food & drink, and a celebration of the history of the Town of Fincastle in Botetourt County.
Historic Fincastle Website >
25. AmRhein's Moonlight Stomp
AmRhein's Wine Cellars
September 21
Who doesn't love a good night of grape stomping at a winery?! The Moonlight Stomp at AmRhein's Wine Cellars will provide the opportunity for some grape stomping, barrel roll racing, live music, delicious food, local wine & beer, and a bonfire with marshmallow roasting & s'mores!
Moonlight Stomp Event Info >
26. BaconFest
Elmwood Park
September 21
Local chefs will compete for the title of BaconFest Champion and a spot in the World Food Championships as they serve bacon-inspired dishes at the 7th annual BaconFest, which will also feature a headline concert by The Mavericks.
BaconFest Website >
27. Deschutes Kirkfest
The Spot on Kirk
September 22
This block party on Kirk Avenue in Downtown Roanoke is a great way to close out summer, with Deschutes Brewery craft beer, mixed drinks by Lucky, great food by Lucky & Martin's, and a fantastic music lineup put together by The Spot on Kirk.
Kirkfest Facebook Event >
28. The Glass Menagerie
Mill Mountain Theatre
September 25 - October 6
Playwright Tennessee Williams delivered one of the greatest plays of the 20th century when he wrote "The Glass Menagerie," the latest production by Mill Mountain Theatre in Downtown Roanoke.
The Glass Menagerie Tickets >
29. Strings & Things
City of Salem - Multiple Venues
September 26-29
The inaugural Strings & Things event is an incredible celebration of music in the City of Salem, presented by the Salem Civic Center. There will be four days of music at four venues (Olde Salem Brewing Company, Parkway Brewing Company, Salem Farmers Market, Salem Civic Center) featuring seven bands and a variety of musical styles.
Strings & Things Website >
30. Boones Mill Apple Festival
Town of Boones Mill
September 28
It's the 42nd annual Boones Mill Apple Festival in Franklin County, and there will be apple-inspired baked goods, live music, arts & crafts, pony rides, and the popular Boones Mill Apple Festival Benefit Pageant.
Boones Mill Apple Festival Website >  
31. Celebrating America: Opening Night
Roanoke Symphony Orchestra
Berglund Center
September 28
The Roanoke Symphony Orchestra presents an ode to the nation and celebrates America with works such as George Gershwin's American in Paris, as well as Michael Dougherty's Night Owl America, which will include historic railroad photographs from the O. Winston Link collection.
Celebrating America Website >
32. Bedford Taste of the Trails Series
Falling Creek Park
September 28
It's the final Taste of the Trails event of the year as hikers, runners, and bikers experience the awesome trails at Bedford County's Falling Creek Park, and then head to Beale's for an after-party featuring great BBQ and craft beer.
Taste of the Trails Registration >
33. Drew Holcomb & The Neighbors
Jefferson Center
September 28
Drew Holcomb has become a well known name for fans of Americana music and in his latest album, Dragons, he draws on specific moments and life experiences to create music that connects with fans on a personal level.
Drew Holcomb & The Neighbors Concert Tickets >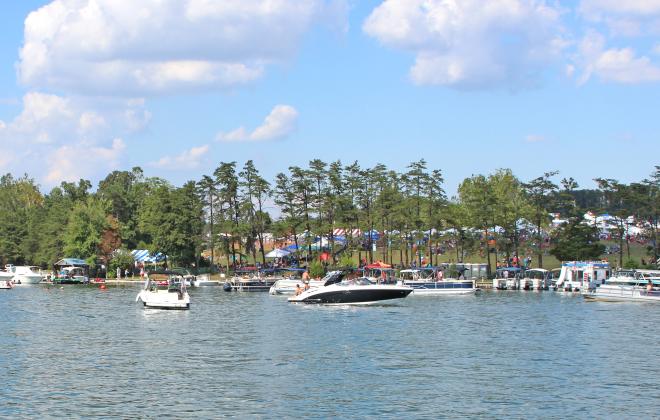 34. Smith Mountain Lake Wine Festival
Crazy Horse Marina
September 28-29
Now in its 31st year, the Smith Mountain Lake Wine Festival has become a signature annual event for Virginia's Blue Ridge, with more than 25 Virginia wineries, 85+ food & craft vendors, and two days of live music and great times in a beautiful setting at Smith Mountain Lake!
Smith Mountain Lake Wine Festival Website >
35. Hot Wheels Monster Trucks Live
Berglund Center
September 28-29
All your favorite hot wheels trucks come to life in this exciting monster truck experience that promises to be a great time for kids of all ages!
Hot Wheels Monster Trucks Live Ticket Info >
---
To see a full list of what's happening in Virginia's Blue Ridge, refer to our full Calendar of Events. You can also check out our Events This Weekend page to find out about events for the upcoming weekend.
Don't forget to sign up for our e-newsletter, which we send once a month, and give us a follow on social media for more announcements and posts about fun stuff to do in Virginia's Blue Ridge.