May is peak festival season in the Roanoke Valley in Virginia's Blue Ridge Mountains! We invite you to come be a #trailsetter and experience some of the many things Virginia's Blue Ridge has to offer, including a great selection of special events.
May is National Bike Month, which means it's the perfect time to check out America's East Coast Mountain Biking Capital!
In addition to the awesome mountain biking and cycling-related events, you'll also love the unique food festivals, performances, and other things happening in the region.
Here's a guide to 30 of the biggest events taking place in Virginia's Blue Ridge this month.
1. Monster Art Rally
Taubman Museum of Art
May 3
This unique art auction provides attendees the opportunity to purchase local art that is created before their eyes during the event. It's a Luck-of-the-Draw auction where all original drawings sell for $50.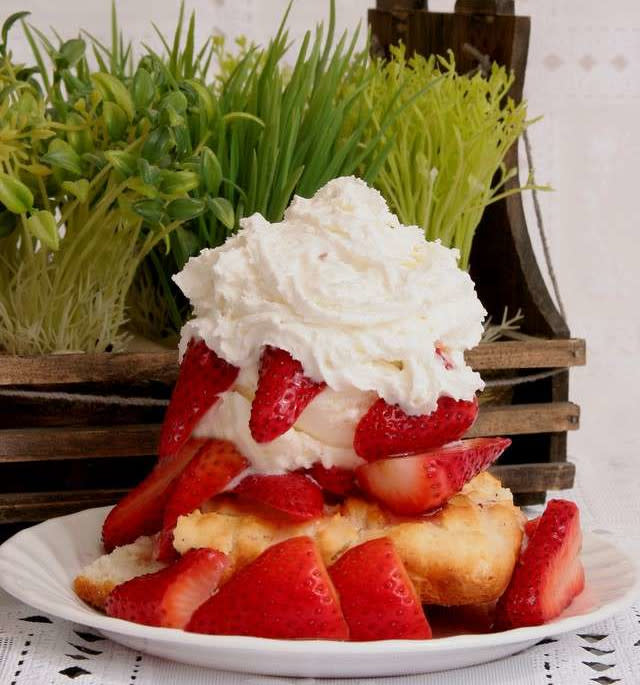 2. Community School's Strawberry Festival
Elmwood Park
May 3-4
Feast on strawberry shortcake, strawberry smoothies, chocolate-dipped strawberries, and other delicious treats at the 39th annual Strawberry Festival, regularly named one of the best annual events in the region.
3. School House Rock Live!
Roanoke Children's Theatre
Jefferson Center
May 3-5
The Roanoke Children's Theatre will put its own spin on School House Rock, the hit Saturday morning cartoon that focused on educating kids in creative musical ways.
4. 86th Historic Garden Week: Roanoke Tour
Various Homes & Gardens
May 4
Take a trolley tour to a variety of historic homes and gardens in Roanoke as a celebration of the 86th annual Historic Garden Week in Virginia.
5. Smith Mountain Lake Brews & Tunes Festival
Smith Mountain Lake YMCA
May 4
There will be more than 20 craft breweries and cideries presenting over 60 different kinds of craft beer and cider, which pairs great with the live music and local food.
6. Buchanan Garden Festival
Town of Buchanan
May 4
The 6th annual Garden Festival in the Town of Buchanan is a day of free fun with local garden clubs providing special activities and tips to help you make the most of your own garden and landscaping, as well as live music and family-friendly festivities.
7. Wednesday Night Disco Mountain Bike Races
Mill Mountain Park
May 8, 15, 22
The Disco Race Series in Mill Mountain Park is one of Roanoke's best spring parties on wheels! It's a great scene for mountain bikers of all skill levels with many riders dressed in full disco attire.
8. Rossini's The Barber of Seville
Opera Roanoke
Mill Mountain Theatre
May 9-12
Tickets to see Opera Roanoke's performance of The Barber of Seville would make for a wonderful gift and way to spend time with Mom on Mother's Day Weekend.
9. Salem Red Sox
Haley Toyota Field at Salem Memorial Ballpark
Various Dates
Cheer on the Salem Red Sox in Virginia's Blue Ridge and don't miss out on some of the fun themed nights, such as Nascar Night on May 24 and Superhero Night on May 25!
10. Dean Ford & The Beautiful Ones - Prince Tribute
Dr Pepper Park at The Bridges
May 10
Jam out to the songs by one of music's most iconic artists at Dr Pepper Park as Dean Ford & The Beautiful Ones play tribute to Prince as part of the park's Flashback Fridays series.
11. Alan Jackson
Berglund Center
May 11
With hit songs like "It's 5 O'Clock Somewhere" and "Gone Country," Alan Jackson is one of the most popular country music artists in the America, and he takes the Berglund Center stage on May 11.
12. Brewridge Festival
Mountain Lake Lodge
May 11
It's a full day of craft beer, great bands, and brats at the 13th annual Brewridge Festival! The event offers a collection of some of Virginia's best craft beer and live music.
13. Night Rider's Ball
5 Points Music Sanctuary
May 11
The annual Night Rider's Ball is the biggest party of Bike Month, with awesome live music, a bike valet, VIP access for the first 40 cyclists, great food & craft beer, and good times with our local cycling community.
14. Mother's Day Kayaking
James River
May 12
Spend a fun Mother's Day on the water with Mom as you participate in this group paddle that will include time for lunch -  organized and hosted by Roanoke County Parks, Recreation & Tourism. 
15. The Trip to Bountiful
Attic Productions
May 16-25
This show by Attic Productions in Botetourt County follows Carrie Watts and her journey to Bountiful, Texas as the story explores the idea of "home."
16. Maggie Baugh
Salem After 5 Summer Concert Series
Salem Farmers Market
May 17
The Salem After 5 Summer Concert Series in Downtown Salem offers a great scene for the entire family, and the May concert will feature live music by Maggie Baugh.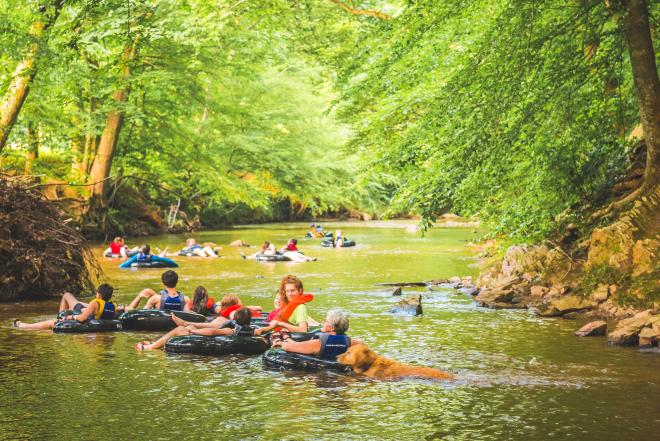 17. 17th Annual Ramble Weekend
Franklin County's Pigg & Blackwater Rivers
May 17-19
Spend 3 days on the water in Franklin County with all your friends and family as part of the popular Ramble Weekend on the Pigg & Blackwater Rivers. There are multiple events and floats where paddlers, tubers, and floaters can participate.
Photo courtesy of Matt Ross - Franklin County Parks & Recreation
18. Local Colors
Elmwood Park - Downtown Roanoke
May 18
Local Colors is an annual celebration of Roanoke's diversity, with more than 40 nations represented through various types of cuisine, arts & crafts, and unique customs and performances.
19. Vinton Grapes & Grains Festival
Vinton War Memorial
May 18
Formerly the Vinton Food & Wine Festival, this is the 10th anniversary of the event where spectators can take part in wine tastings, sample craft beer and food, and check out unique food & wine related items.
20. Beale's Taste of the Trails Series
Moneta Park
May 18
Get to know the awesome trails for hiking and mountain biking in Bedford County by checking out the 2nd annual Taste of the Trails Series. The featured trail system for May is Moneta Park.
21. Virginia's Blue Ridge Spartan Kids Race
Green Hill Park
May 18-19
Kids ages 4-13 will see if they have what it takes to complete the 2nd annual Virginia's Blue Ridge Spartan Kids Race at Green Hill Park! There will be 2 mile, 1 mile, and half-mile course options.
22. The Crooked Road Dulcimer Festival
Blue Ridge Institute & Museum
May 23-26
The four-day Crooked Road Dulcimer Festival is a showcase of the unique dulcimer instrument, with multiple days of workshops, concerts, impromptu jam sessions, and a celebration of how the dulcimer helped define Appalachian music.
23. Styx
Bud Light Up the Night Concert Series
Elmwood Park
May 24
Styx is an iconic American rock band with hit songs like "Come Sail Away" and "Mr. Roboto." They'll perform and kick off Festival in the Park in Virginia's Blue Ridge in what promises to be an incredible night at Elmwood Park in Downtown Roanoke.
24. Chantilly Farm Bluegrass & BBQ Festival
Chantilly Farm
May 24-25
Enjoy a full weekend of great bluegrass music and delicious BBQ in a beautiful setting at Chantilly Farm, featuring performances by The Steeldrivers, Junior Sisk, Lonesome River Band, and many more.
25. Roanoke Festival in the Park
Elmwood Park
May 24-26
Festival in the Park returns for the 51st year and continues to stand as one of the region's iconic annual music events. This year's festival is headlined by Styx (May 24), The Original Wailers (May 25), and 1964 The Tribute (May 26).
26. Roanoke Valley Spring Bead, Gem, Mineral & Jewelry Show
Salem Civic Center
May 24-26
See custom made jewelry designed and created on the spot by some of the top jewelry makers and gold & silversmiths from around the country as part of this special 3-day show at the Salem Civic Center.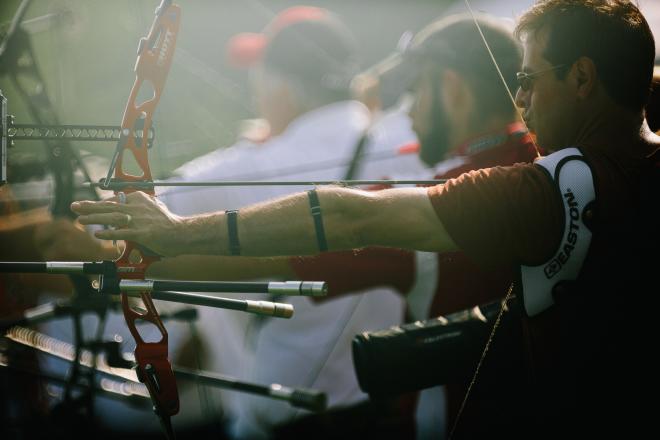 27. Shrewd 25 Archery Tournament
Explore Park
May 24-26
More than $25,000 will be up for grabs in this Archery Tournament at Roanoke County's Explore Park, will many professional archers participating in the competitions on Saturday. There will also be other archery activities and vendors on-hand to help visitors learn more about this amazing sport.
28. Randy Houser
Bud Light Up the Night Concert Series
Elmwood Park
May 31
Finish the month of May with an amazing night of country music in Elmwood Park with a special performance by Randy Houser, who will be joined by the hit duo Thompson Square.
29. Music of the 60s
Mill Mountain Theatre
May 31 - June 1
You'll sing along to all your favorite tunes from the 60s in this special concert performance by Mill Mountain Theatre. The lineup includes hits from The Beatles, Aretha Franklin, The Supremes, and many more.
30. 2019 Lebanese Festival
St. Elias Maronite Catholic Church
May 31 - June 2
Now in its 21st year, the Lebanese Festival highlights Roanoke's unique connection to Lebanese culture and its strong Lebanese community through a celebration of food, music, and traditions.
---
Keep up with everything happening in Virginia's Blue Ridge by viewing our complete Calendar of Events and signing up to receive our monthly e-newsletter. You can also learn more about the region by following us on social media.