You'll find lots of fun special events, festivals, and things to do this May in the Roanoke Region in Virginia's Blue Ridge!
The calendar is packed with great activities this month, including exciting live sporting events, outdoor concerts, family-friendly festivals, theater performances, and more.
Special May Feature: Guide to Mother's Day Weekend in Virginia's Blue Ridge >
May - National Bike Month
Did you know May is National Bike Month? Exploring the region on two wheels is one of the best ways to experience Virginia's Blue Ridge and this month features lots of exciting bike rides & cycling events, including the Wednesday Night Disco MTB Race Series in Mill Mountain Park, the Roll Over Cancer Bike Ride in Franklin County, and a variety of group rides and events hosted by local shops like Cardinal Bicycle and Roanoke Mountain Adventures.
Header photo: Franklin Freewheelers Bicycle Club - image courtesy of Matt Ross, Franklin County Parks & Recreation
Live Sports & Championships
Along with biking, there are lots of other exciting sporting events happening throughout the month in the Roanoke Region. The Roanoke Rail Yard Dawgs have reached the President's Cup Championship Series in the Southern Professional Hockey League for the 2nd straight year, the Salem Red Sox are in action with multiple home series at the Salem Memorial Ballpark, and the AEW "House Rules" Wrestling Tour makes its way to the Salem Civic Center on May 14.
We also look forward to welcoming visiting teams to the region to compete for various championships, with the Mountain East Women's Softball Championship at the Botetourt Sports Complex, the 2023 Kimoyo Cup presented by VBR Star Soccer, and the NCAA Division III Lacrosse Championship at Roanoke College's Kerr Stadium.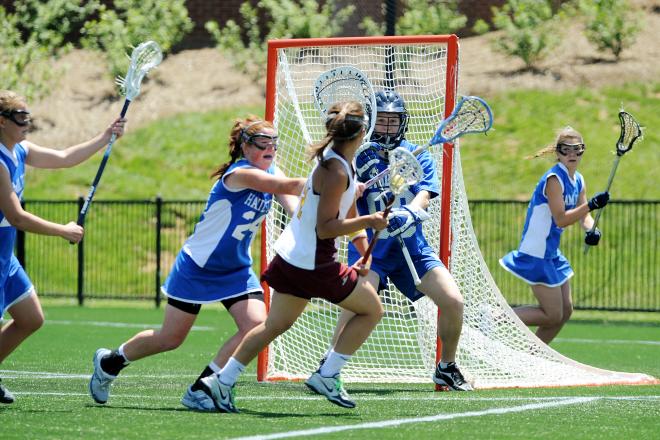 Live Music & Concert Series
When you aren't cheering on the teams, check out some live music, as many of the local outdoor concert series have kicked off for the season. A few popular options include the First Fridays series in Downtown Roanoke, the Daleville Summer Concert Series at Daleville Town Center in Botetourt County, Salem After 5 at the Salem Farmers Market, and the Party in Elmwood every Thursday in Elmwood Park.
In addition to the many events and things to do listed above, the following is a guide to 25 events to check out this May in Virginia's Blue Ridge.
---
1. Charlotte's Web | May 4-14
Mill Mountain Theatre
As part of the popular Young Audiences series, Mill Mountain Theatre presents the classic tale of Charlotte's Web, based on the book by E.B. White. Take the kids to see the story of Wilbur the pig and the special bond he forms with a spider named Charlotte.
2. Ruben Studdard & Clay Aiken | May 5
Jefferson Center
Ruben Studdard and Clay Aiken are touring together to celebrate the 20 year anniversary of their rise to fame when they were the finalists on season two of American Idol in 2003. Both have gone on to successful professional musical and stage careers, earning multiple Grammy nominations and hit songs.
3. Community School Strawberry Festival | May 5-6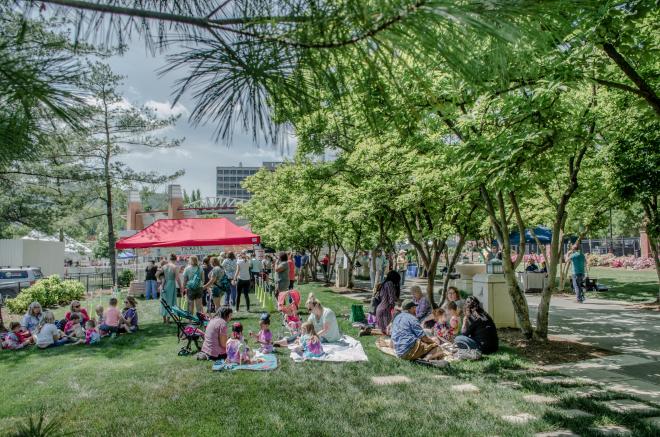 Elmwood Park
One of the premier family festivals of the spring season in Virginia's Blue Ridge, the Strawberry Festival returns for its 43rd year, serving as an event that benefits the Community School. There will be local artisans and vendors, live entertainment, and, of course, lots of delicious strawberry dishes, including the popular homemade Strawberry Shortcake.
4. Kiwanis Pancake Breakfast & Auction Day - Spring Craft & Vendor Show | May 6
Berglund Center
We hope you're hungry for Roanoke's largest annual breakfast! The annual all-you-can-eat pancake breakfast and auction is an annual fundraiser for the local Kiwanis club, with proceeds going to benefit many local charities and non-profit organizations. As part of the auction, the Kiwanis Club is also offering the special opportunity to bid on the most iconic item in the city - the Roanoke Star!
This year's event is followed by the Spring Craft & Vendor Show in the afternoon, which will be a great opportunity to pick up some Mother's Day gifts.
5. Buchanan Garden Festival | May 6
Town of Buchanan
Dozens of vendors will be set up in the Buchanan Town Park along the James River for a beautiful setting and celebration of gardens, outdoor living, and home improvement. The festival showcases a variety of garden treasures and plants, as well as live music, educational talks & guest speakers, kid's games & crafts, and a Plein air painting competition.
6. Ernest "Pig" Robertson Fishing Rodeo | May 6
Lake Spring Park
Kids ages 12 and under are invited to take part in the 71st annual Ernest "Pig" Robertson Fishing Rodeo at Lake Spring Park in the City of Salem. Children are invited to catch up to six trout and prizes will be awarded for top catches throughout the day.
7. TacoRitas! | May 7
Elmwood Park
Head to Elmwood Park for the inaugural TacoRitas celebration on Cinco de Mayo weekend. The festival will feature live Latin music, salsa dancing, taco & chili pepper eating contests, tacos and authentic fare from local restaurants, and margaritas. 
8. Roanoke Symphony Orchestra: Beethoven's Choral Fantasy | May 7
Berglund Center
The Roanoke Symphony Orchestra will be joined by special guest Norman Krieger on piano for it's Beethoven's Choral Fantasy concert at the Berglund Center, showcasing works from Beethoven and Brahms.
9. Corey Smith with Jeb Gipson | May 12
Harvester Performance Center
Check out the newest songs from Corey Smith's latest album, "Southern Drawl," as well as many of his other classic hits that have made Smith a favorite for live shows throughout the Southeast over the years. 
10. Eagle Rock Science Festival | May 13
Blue Ridge Vineyard
Blue Ridge Vineyard in Botetourt County will host a community family-focused day of science fun with a special Science Fair that will include various hands-on STEM and health activities, as well as an inflatable ax-throwing event, nature walks, and food trucks.
11. Moonshine Express | May 13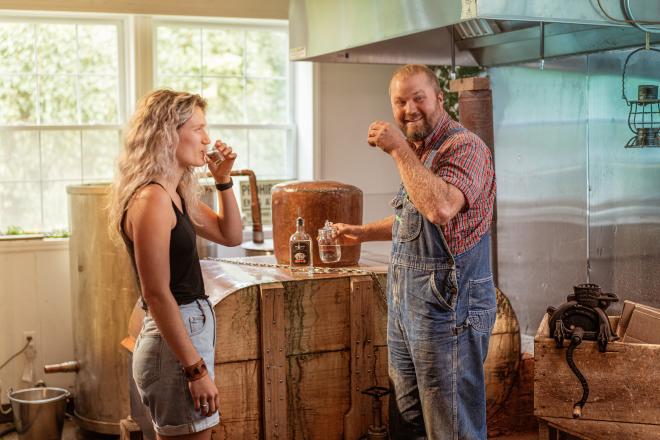 Town of Rocky Mount
Learn the story of how Franklin County became the Moonshine Capital of the World by hopping aboard the 19th annual Moonshine Express. This guided tour will take visitors back in time to show what life was like during the prohibition era and the unique traditions that have been passed down by local families for generations.
12. Parmalee - Take My Name Tour | May 13
Dr Pepper Park at The Bridges
Parmalee is a Platinum selling band of brothers that is one of the most successful groups in country music, known for chart-topping hits such as "Carolina," "Just the Way," and "Take my Name." 
13. World Ballet Series: Cinderella | May 14
Jefferson Center
40 ballet dancers from around the world will bring the enchanting tale of Cinderella to life as the World Ballet Series makes a stop at the Jefferson Center in Downtown Roanoke. This is a visually stunning production that will showcase gorgeous hand-sewn costumes, detailed sets, and dazzling choreography.
14. 2023 Local Colors Festival | May 20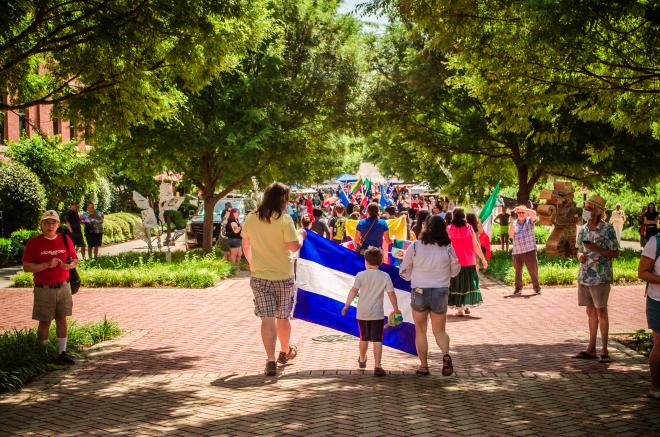 Elmwood Park
Local Colors is Roanoke's largest annual multicultural festival, and it's an amazing display of the incredible cultural diversity you'll find in Virginia's Blue Ridge! There is a great variety of international cuisine and food to sample, special performances of authentic music and dancing, and the always exciting Parade of Nations.
15. Vinton Palooza | May 20
Vinton War Memorial
Vinton Palooza will offer a day of games, sunshine and fun on the outdoor lawn of the Vinton War Memorial. There will be food trucks, adult beverages, local vendors, and live music by Solacoustix.
16. Wine & Roses Festival | May 20
Virginia Mountain Vineyards
Virginia Mountain Vineyards will host a celebration of spring and the blooming of its famous red rose bushes at the annual Wine & Roses Festival. This free event will feature craft vendors, food, VMV wine, and live music by Luke Whittaker.
17. Foreigner: The Greatest Hits Tour | May 21
Salem Civic Center
Get your tickets now for the Foreigner concert at the Salem Civic Center on May 21 as the iconic rock band performs many of its greatest hits. It'll be a great night featuring many of Foreigner's signature songs, such as "Cold As Ice, "Juke Box Hero," "I Want to Know What Love Is," and many more.
18. Sierra Hull | May 21
Harvester Performance Center
Sierra Hull burst onto the music scene as a 10 year old virtuoso mandolinist who performed at venues like the Grand Ole Opry and Carnegie Hall. Now, Hull has established herself as a decorated musician and storyteller through her four albums, the latest of which has been described as "elegantly inventive and endlessly captivating."
19. Festival in the Park | May 26-28
Elmwood Park
For nearly 50 years, Festival in the Park has been an amazing celebration of Roanoke's local arts scene, presenting thousands of artists and crafters to go along with a great lineup of live music.
The year's music is headlined by Leonid & Friends on Friday night, Led Head on Saturday night, and the 1964 The Tribute on Sunday night.
20. Salem Gem, Mineral, and Jewelry Show | May 26-28
Salem Civic Center
See some of the finest gems, minerals, jewelry, fossils, meteorites, and beads from around the world at the annual Salem Gem, Mineral, and Jewelry Show at the Salem Civic Center over Memorial Day Weekend.
21. Star City Rockabilly Fest | May 27
Virginia Museum of Transportation
The Star City Rockabilly Festival at the Virginia Museum of Transportation will be a great day of live music and a variety of other activities. The bands include Sean K. Preston, Gloom Despair N Agony, and the Jesse Ray Carter Duo, and there will also be moonshine cocktails, Virginia beer & wine, a car show, Lazy Bulldog Food Truck, and more.
22. SML Kickoff to Summer 2023 | May 27
Crazy Horse Marina
Kickoff summer with Crazy Horse Marina at Smith Mountain Lake and enjoy a full day of food and drinks from Los Amigos, live music by Mended Fences, Axis 5, and The WORX, and a family-friendly atmosphere with great views of the water.
23. Conquer the Cove 25K & Marathon | May 28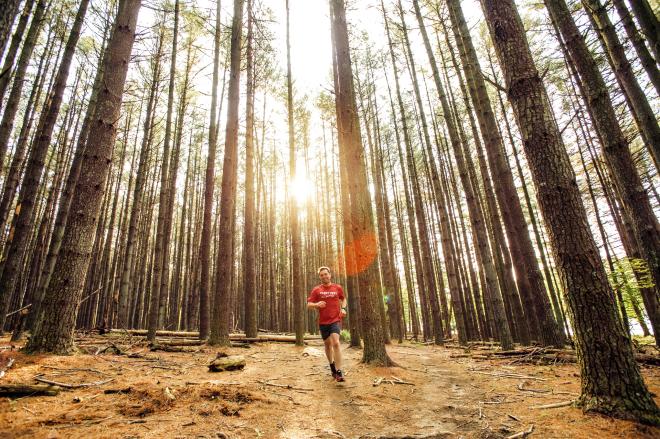 Sherwood Archers
The Conquer the Cove 25K and Marathon presented by Visit Virginia's Blue Ridge is an awesome way to experience the incredible trails at Carvins Cove, showcasing a beautiful trail network and challenging course, as well as delicious post-race food and a relaxing atmosphere for hanging out after the race.
24. Memorial Day 2023 Commemoration | May 29
National D-Day Memorial
The National D-Day Memorial will host its annual ceremony to pay tribute to the men and women who gave the ultimate sacrifice in service to our nation. The ceremony will feature Rear Adm. Michael J. Steffen as a guest speaker and there will also be guided tours that begin at 1:00 p.m.
25. Jackson Dean | May 31
Dr Pepper Park at The Bridges
With his work for soundtracks on popular shows such as Yellowstone and The Ice Road, as well as appearing on The Kelly Clarkson Show, Jackson Dean is a fast-rising country music star. Dean is a multi-instrumentalist and singer/songwriter who has been described as a "modern-day country rambler."
---
Save the Dates for June
---
To learn more about upcoming events and things to do in Virginia's Blue Ridge, we encourage you to subscribe to our monthly e-newsletter and give us a follow on social media.
You can also request a free copy of our Virginia's Blue Ridge Visitor's Guide.