What are the events happening this June in the Roanoke Valley in Virginia's Blue Ridge? This post is a preview of 25 of the biggest and most unique events happening in the region this month, and we hope you'll add some of these to your calendar!
There are sporting events, tons of live music, history celebrations, and plenty of opportunities for family fun.
Here is your guide to events taking place this June in Virginia's Blue Ridge.
1. Family Tubing at Waid Park - Every Saturday & Sunday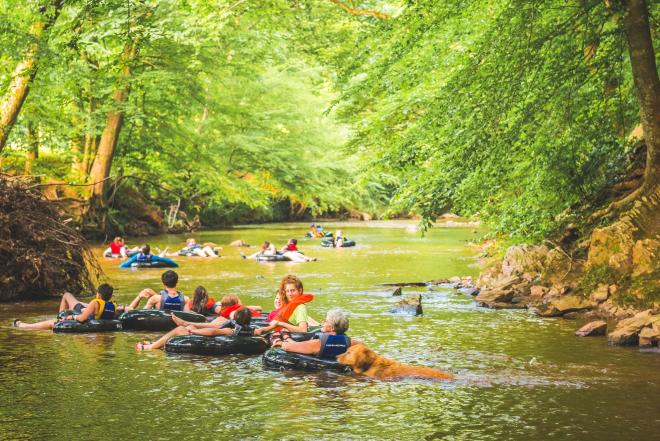 Pigg River - Waid Park
Every weekend during the summer (through September 5) is an opportunity to go tubing on the Pigg River in Franklin County as part of Franklin County Parks & Recreation's Family Tubing rental program. The department offers $5 tube rentals in Waid Park and there are multiple options for floating, making for a great way to relax on the water.
Franklin County is also hosting a special new River of Lights event this year, offering an opportunity to float on the Pigg River under the lights every Friday and Saturday evening in June, but spaces are limited and the event has already sold out.
Family Tubing at Waid Park Details >
Photo courtesy of Matt Ross - Franklin County Parks & Recreation
2. A Midsummer Night's Dream - June 4-5
Roanoke Ballet Theatre at Mill Mountain Theatre
Be transported into Shakespeare's enchanted woods with this production by the Roanoke Ballet Theatre. The performances will be held at the Mill Mountain Theatre in Downtown Roanoke.
A Midsummer Night's Dream Tickets >
3. Overlord Echoes: 77th Anniversary of D-Day - June 4-6
National D-Day Memorial
The National D-Day Memorial will commemorate the 77th anniversary of the D-Day invasion of World War II with a weekend of special programming and events, including music by the 29th Division Band, educational tours, and other opportunities to hear unique stories from D-Day.
D-Day Anniversary Information >
4. Aaron Lewis - June 5
Dr Pepper Park at The Bridges
Aaron Lewis has fans across numerous musical genres, ranging from his work as the frontman for Staind to his reinvention as a chart-topping country artist. Through it all, Lewis has been known for his honesty and authenticity in his lyrics and music. Catch him in concert at Dr Pepper Park at The Bridges on June 5.
5. Carvins Cove Hike & Parkway Brewery - June 5
Carvins Cove & Parkway Brewing Company
Make it a great day of local hiking & craft beer with this guided experience hosted by Play Roanoke, which will feature a moderately difficult hike at Carvins Cove and post-hike beverages at Parkway Brewing Company in Salem. Advanced registration by June 3 is required.
6. Salsa Under the Stars - June 5
Valhalla Vineyards
Learn how to salsa dance, enjoy some tasty local wine, and take in the beautiful views from Valhalla Vineyards at this special Salsa Under the Stars event, hosted by Salsa Noke. The party will feature Salsa lessons and then plenty of time to show off your moves.
Salsa Under the Stars Facebook Event >
7. Carilion Clinic IRONMAN 70.3 Virginia's Blue Ridge - June 6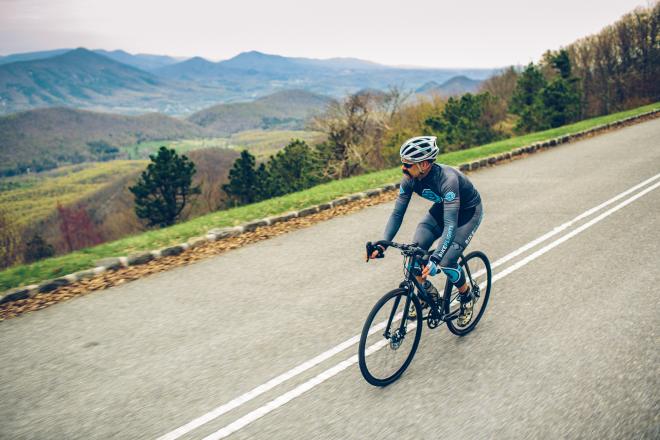 Rivers Edge Sports Complex
We look forward to welcoming over 2,500 athletes from around the country to participate in the inaugural Carilion Clinic IRONMAN 70.3 Virginia's Blue Ridge triathlon. The course will feature a swim at Carvins Cove, bicycle ride on the Blue Ridge Parkway, and run on the Roanoke River Greenway.
Spectators are invited to cheer on the athletes at the IRONMAN Viewing Party in Buchanan and to also join the fun at the finish line and IRONMAN Village at River's Edge Park in Roanoke.
Carilion Clinic IRONMAN 70.3 Virginia's Blue Ridge > 
8. Brunch with the Brewer - June 6
Tour Roanoke & Twisted Track Brewpub
Brunch with the Brewer is an exciting new collaboration between Tour Roanoke & Twisted Track Brewpub. You'll spend time with the master brewer at Twisted Track and learn about the process of pairing food & beer, the art & science of making great beer, while also sampling Twisted Track's delicious craft beer and food.
Brunch with the Brewer Details >
9. Murder Mystery in the Vines! - June 6
Jump Into Mystery at Beliveau Farm Winery
Jump Into Mystery will host a special interactive murder mystery event at Beliveau Farm Winery, where you'll get to play a specific character, solve clues, and interrogate others in hopes of solving the crime. Food & drink will also be available for purchase throughout the event.
Salem Memorial Ballpark
The Salem Red Sox will host two 6-game homestands in June, facing the Fredericksburg Nationals from June 8-13 and the Lynchburg Hillcats from June 22-27. You can even bring your well-behaved pup along for the fun for the Bark in the Park night on Tuesday, June 22!
Salem Red Sox Single Game Tickets > 
11. Mill Mountain Hike - June 10
Mill Mountain Star Trail
Make your way up to the iconic Roanoke Star atop Mill Mountain by taking part in this guided group hike, hosted by Play Roanoke. The loop hike is approximately 4.5 miles and is moderately difficult, offering a stunning view of Downtown Roanoke and the surrounding valley, as well as the Roanoke Star, from the summit.
Mill Mountain Group Hike Registration >
12. The Elephant in the Room - June 11-12
Mill Mountain Theatre
The Elephant in the Room is a unique one-woman show by Priyanka Shetty, showcasing her transition from India to the challenges and opportunities she experienced in America - a story of changing cultures, love and loss, issues of race, and the feeling of not belonging anywhere.
The Elephant in the Room Tickets >
13. Franklin County Court Days - June 12
Town of Rocky Mount
Court Days is an event that stands as a tribute to a local tradition in Franklin County, when a traveling judge would come to the county once a month to preside over local court cases and settle legal issues. The occasion would grow into a social event, featuring live music, food, and the opportunity to shop & trade goods. And with it being Franklin County, it also usually included a chance to find some local liquor.
Franklin County Court Days Facebook Event > 
14. Adventure Saturday & Artisan Saturday at Explore Park - June 12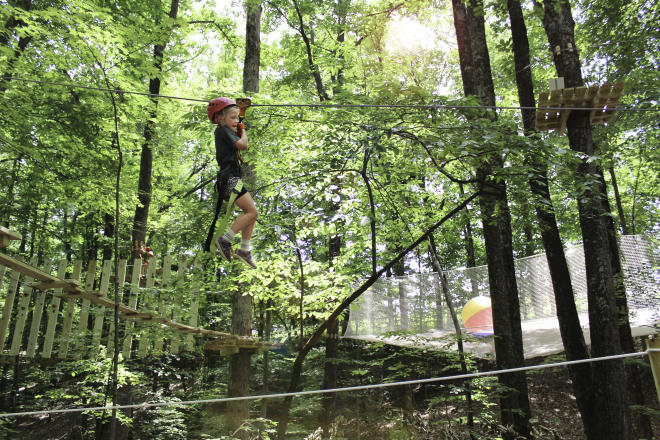 Explore Park
Find unique products from local artisans and craftspeople and also check out an expanded offering of outdoor activities on Saturday, June 12 at Explore Park in Roanoke County. You can also zipline under the lights with a Twilight Zipline experience at Treetop Quest, as well as enjoy live music and craft beer on the patio at Twin Creeks Brewpub.
Roanoke County's Explore Park > 
15. Ashley McBryde - June 12
Dr Pepper Park at The Bridges
Ashley McBryde is a Grammy-nominated country music singer & songwriter, known for hit songs like "Girl Goin' Nowhere," "A Little Dive Bar in Dahlonega," and "One Night Standards." McBryde was also named the 2019 New Female Vocalist of the Year by the Academy of Country Music Awards and 2019 New Artist of the Year at the Country Music Association Awards.
16. The Floorboards - June 12
The Dog Bowl at Black Dog Salvage
Enjoy an outdoor concert by local band The Floorboards at Black Dog Salvage's beautiful Dog Bowl event venue, featuring a stage created by a semi-trailer salvaged from a local drive-in movie theatre. There will also be food available for purchase from Lazy Days BBQ.
The Dog Bowl at Black Dog Salvage >
17. Le Tour de Roanoke - Latin American Cuisine - June 17
Various Locations in Roanoke
This food-themed cycling event in Roanoke will feature a 5 mile bike ride around the city that includes stops at multiple local restaurants, with this month's theme highlighting Latin American cuisine. The route will include stops at different locations for appetizers, entrees, and desserts. Advance registration by June 15 is required.
Le Tour de Roanoke Registration >
18. Michael Ray - June 18
Dr Pepper Park at The Bridges
Michael Ray comes to Dr Pepper Park at The Bridges as part of The Summer You Deserve Concert Series, offering the chance to hear the popular country artist perform his hit songs like "Kiss You in the Morning," "Think a Little Less," and "One That Got Away."
19. 5 Points Outdoors - Toubab Krewe, Ghost Note, The Mantras, Kind Thieves, Elise Testone - June 18-19
Wasena Park
5 Points Music Sanctuary continues its outdoor concert series with two nights of great live music in Roanoke's Wasena Park on June 18 & 19. The June 18 concert will feature Toubab Krewe, The Mantras, The Kind Thieves, and Elise Testone, while the June 19 show will include performances by Ghost-Note with Ripejive and the Jacob Doss Project.
5 Points Music Sanctuary Events > 
20. 13th Annual Lavender Season - June 20 - July 10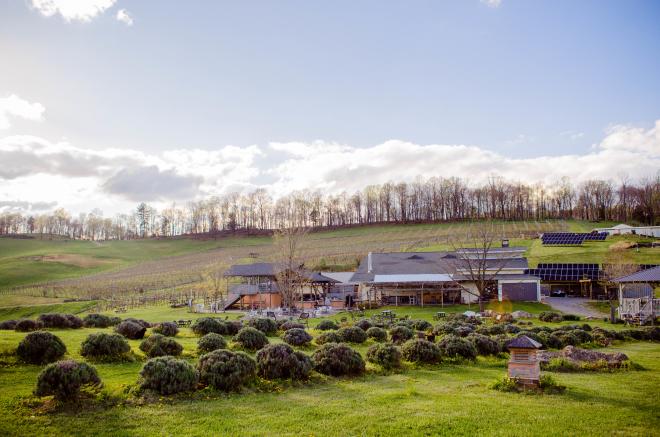 Beliveau Farm
See the beauty of lavender in bloom at Beliveau Farm in Virginia's Blue Ridge, which is expected to occur between June 20 and July 10. The winery will also feature various lavender food specials, craft-brewed lavender beer, and gift products available for purchase.
Lavender Season Facebook Event >
21. 9th Annual Lyrics on the Lake Songwriters Festival - June 23-27
Smith Mountain Lake
This popular free event at Smith Mountain Lake has grown to become the largest annual songwriter festival on the East Coast. Over 5 days, multiple venues at Smith Mountain Lake host open mic and live music events, showcasing the original works of local and visiting songwriters from around the country.
Lyrics on the Lake Website >
22. 1776, The Concert Musical - June 24-26
Thomas Jefferson's Poplar Forest
Thomas Jefferson's Poplar Forest hosts its special presentation of 1776, The Concert Musical, the Tony-award winning show by Sherman Edwards and Peter Stone. The play is a unique take on the events leading up to the singing of the Declaration of Independence and is viewed from the perspective of the founding fathers. All performances will be held outdoors and guests are encouraged to bring their own blankets, chairs and items for a picnic dinner.
1776, the Concert Musical Tickets >
23. Concerts by Canoe - New Macedon Rangers - June 25
UPDATE: This concert is being rescheduled from June 11 to June 25 due to anticipated bad weather.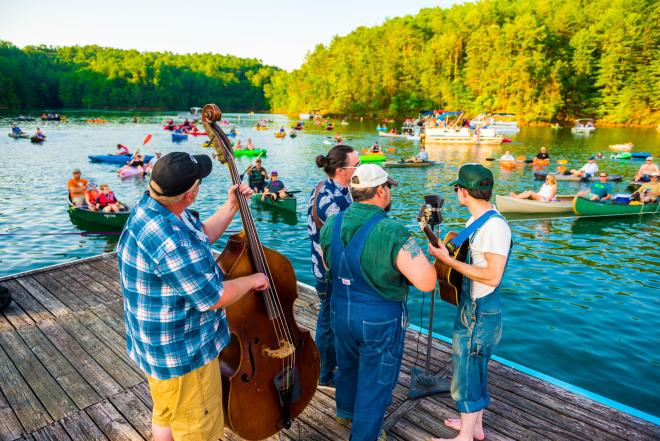 Twin Ridge Recreation Area at Philpott Lake
Listen to live music on the water at the Concerts by Canoe summer music series at Philpott Lake. Organized by Franklin County Parks & Recreation, this unique event features a band performing on a floating stage at the edge of the water, allowing for people to listen while floating on kayaks, tubes, and boats, as well as those who set up with chairs and blankets on the grass near the stage. This month's concert features a performance by the New Macedon Rangers.
2021 Concerts by Canoe Details >
Photo courtesy of Matt Ross - Franklin County Parks & Recreation
24. Star City Motor Madness - June 25-26
Downtown Roanoke
Star City Motor Madness (pictured at the top of this page) is one of the premier car shows in the Mid-Atlantic, providing two days of activities and opportunities to see classic cars, including a cruise-in along historic Williamson Road on Friday night and a car show in Downtown Roanoke on Saturday, followed by an after-party at the Virginia Museum of Transportation.
Star City Motor Madness Website >
25. Salem Fair - June 30 - July 11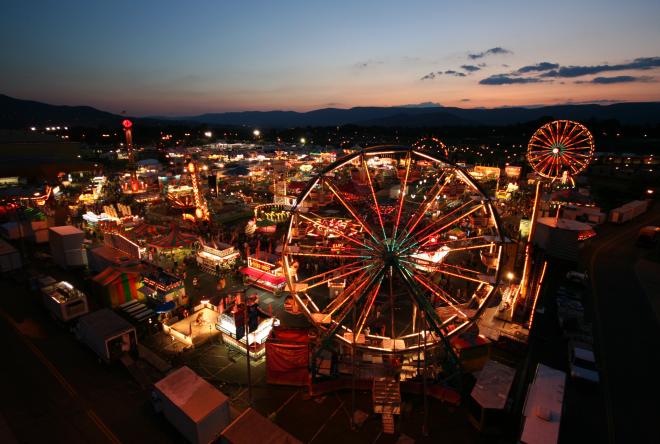 Salem Civic Center
It's time for the return of the Salem Fair! This signature annual event in the City of Salem is the largest fair in Virginia and has been recognized as one of the top 100 fairs and expositions in the country. Don't miss all your favorite fair foods, classic rides, concerts, and other great summer traditions.
---
Looking for more information about what's going on in Virginia's Blue Ridge? Check out our Events Calendar for a complete list of events and give us a follow on Social Media, where we regularly post about special events and other exciting things happening in the region.