What are the events happening this June in the Roanoke Valley in Virginia's Blue Ridge? This post is a preview of 25 of the biggest and most unique events happening in the region this month, and we hope you'll add some of these to your calendar!
There are sporting events, tons of live music, history celebrations, and plenty of opportunities for family fun.
Here is your guide to events taking place this June in Virginia's Blue Ridge.
1. T-Rex Trail | All Month
Explore Park
The T-Rex Trail is an exciting new outdoor experience at Roanoke County's Explore Park! The ½ mile trail along a wooded path features 18 animatronic dinosaurs from four different time periods, as well as a dino dig pit and lots of opportunities for fun photos.
2. Carilion Clinic IRONMAN 70.3 Virginia's Blue Ridge | June 3-5
River's Edge Sports Complex
We're excited to welcome visitors from around the country to the region to participate in the Carilion Clinic IRONMAN 70.3 Virginia's Blue Ridge race. Participants will be completing a 1.2 mile swim at Carvins Cove, 56 mile bicycle ride through Botetourt County & Roanoke County, including a portion of the Blue Ridge Parkway, and a 13.1 mile run along the Roanoke River Greenway.
You're invited to take part in the festivities at the IRONMAN Village at River's Edge Park and also cheer on the athletes at various viewing parties along the route.
Carilion Clinic IRONMAN 70.3 Virginia's Blue Ridge Info > 
3. Ramble Weekend in Franklin County | June 3-5
Waid Park
There are lots of awesome things being planned for this year's Ramble Weekend in Franklin County, including multiple days of paddling along Franklin County's scenic blueways, great live music, onsite camping at Waid Park, and the popular River of Lights Night Tubing experience along the Pigg River.
Troutville Town Park
Troutville Trail Days is a signature annual event in the Town of Troutville in Botetourt County and it's a celebration of the Appalachian Trail and outdoor recreation in the community. The town is a popular stopping point for many thru-hikers making their way along the iconic trail and this weekend event features group hikes, outdoor vendors, live music, kid-friendly activities, and more.
Troutville Trail Days Website >
5. 64th Annual Sidewalk Art Show | June 4-5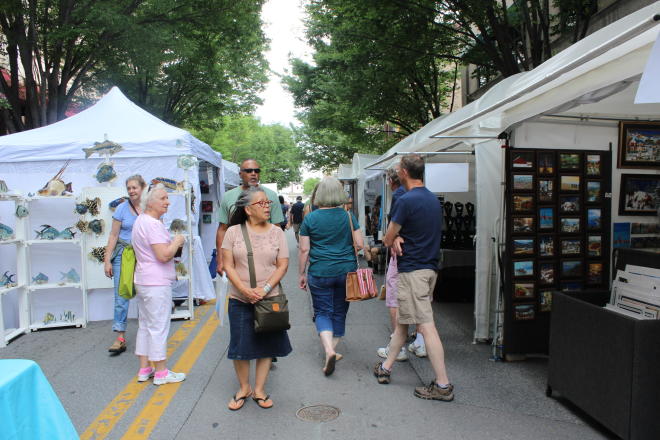 Taubman Museum of Art
Now in its 64th year, the Sidewalk Art Show is one of Virginia's premier annual art events and a signature event of the summer in Virginia's Blue Ridge.
Hosted by the Taubman Museum of Art, the Sidewalk Art Show is a terrific showcase of amazing local artists and others from around the country who make their way to Roanoke to participate in the event, and all the works exhibited are for sale. 
The pieces include original paintings, prints, watercolors, etchings, mixed media, fine art, crafts, sculptures, and more.
6. 78th Anniversary of D-Day | June 6
National D-Day Memorial
The National D-Day Memorial will commemorate the 78th anniversary of the D-Day invasion of World War II with a weekend of special programming and activities, including music by the 29th Division Band, wreath laying, living historians & displays, and a keynote address by Dr. John C. McManus.
National D-Day Memorial Website >
7. Roanoke Ballet Theatre: Snow White | June 10-11
Jefferson Center
In its latest production, the Roanoke Ballet Theatre presents the magical tale of Snow White, featuring the dancers of RBT's professional company and school. This show is an exciting experience for all ages and can serve as a great introduction to ballet for the youngest members of your family.
8. Franklin County Court Days | June 11
Town of Rocky Mount
Court Days is an event that stands as a tribute to a local tradition in Franklin County, when a traveling judge would come to the county once a month to preside over local court cases and settle legal issues. The occasion would grow into a social event, featuring live music, food, and the opportunity to shop & trade goods.
And with it being Franklin County, it also usually included a chance to find some local liquor.
Franklin County Court Days Website >
9. Mingle at the Market | June 11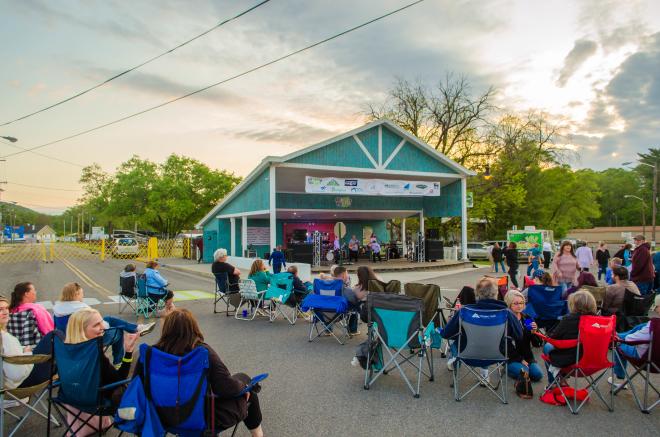 Vinton Farmers Market
Come mingle at the market in Downtown Vinton and enjoy a special concert by Five Shades of Grey. There will be onsite food trucks and a beer garden so bring your own chair and get ready for a great night of live music and good times.
Mingle at the Market Facebook Event >
10. Roanoke Symphony Orchestra: Hotel California | June 17
Salem Civic Center
The Roanoke Symphony Orchestra presents Hotel California: A Salute to The Eagles, a special concert at the Salem Civic Center that will feature the music of one of America's most iconic bands for over three decades. The show will be presented with the full symphony and a rock band.
Roanoke Symphony Orchestra: Hotel California Concert Details >
11. Southwest Virginia Antique Farm Days | June 17-19
Franklin County Recreation Park
The Southwest Virginia Antique Farm Days are an annual celebration of the region's rich agricultural heritage, showcasing a variety of demonstrations and displays of the machinery and different products that were used to support local farming and agriculture.
12. Andy Grammer | June 18
Dr Pepper Park at The Bridges
From chart-topping songs and sold out shows to numerous television appearances, Andy Grammer has provided entertainment to audiences around the world. With hits like "Don't Give Up on Me" and "Honey, I'm Good," he's known for inspiring, uplifting pop anthems.
Catch Andy Grammer in concert at Dr Pepper Park at The Bridges on Saturday, June 18!
Andy Grammer Concert Tickets > 
13. Juneteenth 2022: Celebration of Freedom Event | June 18
Booker T. Washington National Monument
The Booker T. Washington National Monument is excited for the return of its in-person Juneteenth Celebration event! The celebration commemorates the release of approximately four million people of African descent from slavery after the end of the Civil War.
The event will feature gospel music, a talk & tour about Booker T. Washington & Juneteenth, and various children's activities.
Juneteenth Celebration Details >
14. Salem Red Sox - Black Heritage Takeover Night | June 18
Salem Memorial Ballpark
The Salem Red Sox are partnering with The Humble Hustle Company to host a special Black Heritage Takeover Night for its game on June 18. The event will be a celebration of the Black baseball players who paved the way for others, both on and off the field.
It'll be a great night for family and friends, with a special tailgate getting the festivities started at 3:45 p.m., followed by a variety of special things happening throughout the game, which starts at 6:05 p.m.
Black Heritage Takeover Night Details > 
15. 14th Annual Lavender Festival | June 19 - July 10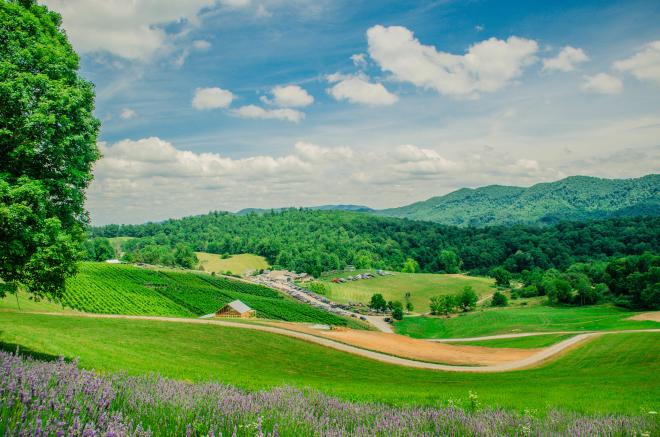 Beliveau Farm Winery
See the beauty of lavender in bloom at Beliveau Farm in Virginia's Blue Ridge, which is expected to occur between June 19 and July 10. The winery will also feature various lavender food specials, craft-brewed lavender beer, and gift products available for purchase.
Lavender Festival Facebook Event >
16. Paw Patrol LIVE! | June 21-22
Salem Civic Center
Join the Paw Patrol on "The Great Pirate Adventure" at this exciting live show at the Salem Civic Center. Your kids will have a PAWsome time as the entire PAW Patrol crew embarks on an adventure to uncover hidden treasure.
17. Fun Home | June 22 - July 3
Mill Mountain Theatre
As part of its Fringe Series, Mill Mountain Theatre presents "Fun Home," the Tony Award winning musical adopted from Alison Bechdel's 2006 graphic novel. The musical drama is a story about seeing your parents through grown-up eyes as the lead character explores her relationship with her father after he unexpectedly dies.
18. Natalie Hemby | June 23
Harvester Performance Center
Natalie Hemby is one of country music's most accomplished songwriters, with many of her pieces being recorded by some of music's biggest names, including Lady Gaga, Alicia Keys, Kacey Musgraves, Kelly Clarkson, Blake Shelton, and many more.
Her show at Rocky Mount's Harvester Performance Center will feature songs from her latest album, Pins & Needles, an 11-track collection that shows off her full range of musical gifts.
19. 21st Annual Star City Motor Madness | June 24-25
Downtown Roanoke
Star City Motor Madness is one of the premier car shows in the Mid-Atlantic, providing two days of activities and opportunities to see classic cars, including a cruise-in along historic Williamson Road on Friday night and a car show in Downtown Roanoke on Saturday, followed by an after-party at the Virginia Museum of Transportation.
Star City Motor Madness Website >
20. Concerts by Canoe - Seph Custer & Deep Creek | June 24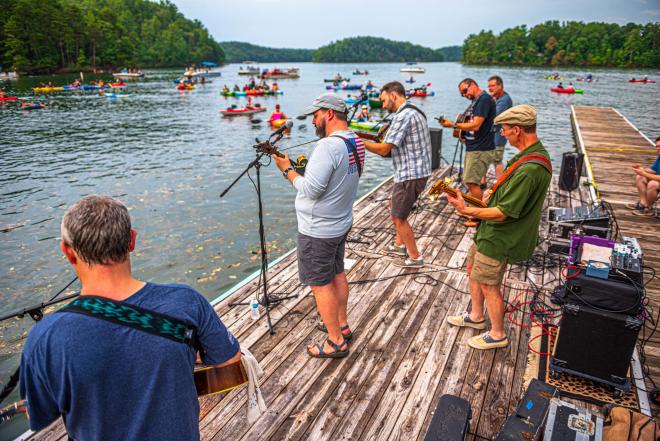 Twin Ridge Recreation Area - Philpott Lake
Listen to live music on the water at the Concerts by Canoe summer music series at Philpott Lake. Organized by Franklin County Parks & Recreation, this unique event features a band performing on a floating stage at the edge of the water, allowing for people to listen while floating on kayaks, tubes, and boats, as well as those who set up with chairs and blankets on the grass near the stage.
This month's concert features a performance by Seph Custer & Deep Creek.
21. Roanoke Beer & Wine Festival | June 25
Elmwood Park
The Roanoke Beer & Wine Festival in Downtown Roanoke's Elmwood Park will showcase local and regional award-winning breweries & wineries. The festival will also include live music, food trucks, and artisan vendors.
Roanoke Beer & Wine Festival Website >
22. Back to Black Art Show | June 25
Downtown Roanoke
Held on the 100 block of Kirk Avenue in Downtown Roanoke, the Back to Black Art Show is a celebration of Black art and culture, showcasing diversity and Black culture through all forms of art, ensuring that the art and stories of Black people are presented and valued.
Back to Black Art Show Website >
23. Salem Fair | June 29 - July 10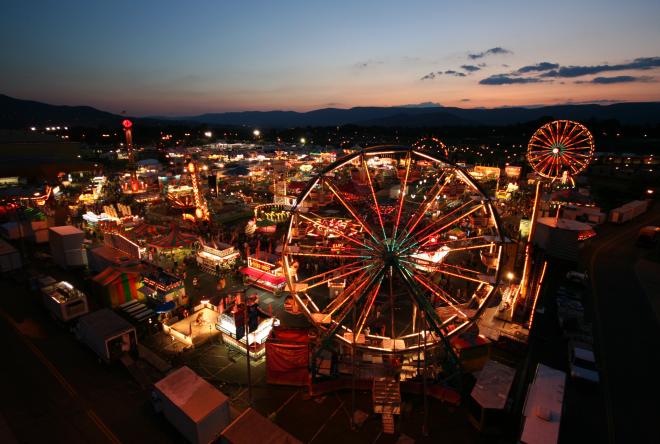 Salem Civic Center
It's time for the return of the Salem Fair! This signature annual event in the City of Salem is the largest fair in Virginia and has been recognized as one of the top 100 fairs and expositions in the country. Don't miss all your favorite fair foods, classic rides, concerts, and other great summer traditions.
24. 2022 USA Cycling Amateur Road National Championships | June 29 - July 2
Botetourt County & City of Roanoke
Top amateur road cyclists from around the country will be making their way to Virginia's Blue Ridge to compete in the 2022 USA Cycling Amateur Road National Championships! There will be multiple days of racing at various locations, including the Road Race at the Botetourt Sports Complex and Criterium race in Downtown Roanoke.
25. Buchanan Community Carnival | June 30 - July 9
Town of Buchanan
The annual Buchanan Community Carnival offers the best of a small town summer experience in Virginia's Blue Ridge, with the carnival set up on the bank of the James River in the charming Town of Buchanan in Botetourt County. Enjoy amusement rides, games, and fun fair food like the classic Carnival Chili Burgers & Fries, which are always a local favorite.
Buchanan Community Carnival Website >
---
Looking for more information about what's going on in Virginia's Blue Ridge? Check out our Events Calendar for a complete list of events and give us a follow on Social Media, where we regularly post about special events and other exciting things happening in the region.