What are the events happening this June in the Roanoke Region in Virginia's Blue Ridge? This post is a preview of 25 of the biggest and most unique events happening in the region this month, and we hope you'll add some of these to your calendar!
There are sporting events, tons of live music, history celebrations, and plenty of opportunities for family fun.
June is also National Great Outdoors Month, meaning it's a perfect time to experience the outdoors and explore the over 1,000 miles of trails for hiking, biking, and paddling in the region. Outdoor Adventures in VBR >
Here is your guide to events taking place this June in Virginia's Blue Ridge.
1. T-Rex Trail at Explore Park | Through August 13
Roanoke County's Explore Park
The T-Rex Trail returns for the 2nd year at Roanoke County's Explore Park! The ½ mile trail along a wooded path features 18 animatronic dinosaurs from four different time periods, as well as a dino dig pit and lots of opportunities for fun photos.
T-Rex Trail Website >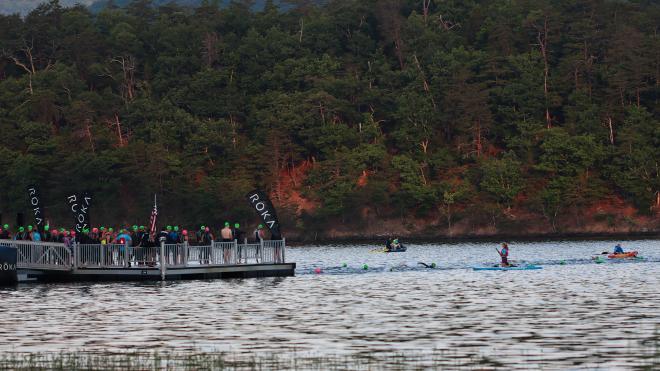 River's Edge Sports Complex
We're excited to welcome visitors from around the country to the region to participate in the Carilion Clinic IRONMAN 70.3 Virginia's Blue Ridge race. Participants will be completing a 1.2 mile swim at Carvins Cove, 56 mile bicycle ride through Botetourt County & Roanoke County, including a portion of the Blue Ridge Parkway, and a 13.1 mile run along the Roanoke River Greenway.
You're invited to take part in the festivities at the IRONMAN Village at River's Edge Park and also cheer on the athletes at various viewing parties along the route.
Carilion Clinic IRONMAN 70.3 Virginia's Blue Ridge Website >
3. 2023 Lebanese Festival | June 2-4
St. Elias Maronite Catholic Church
This popular annual festival kicks off on the first weekend of June and it's a great way to begin the month in Virginia's Blue Ridge with authentic Lebanese flavors, music, and traditions.
Lebanese Festival Website >
4. 10th Annual Troutville Trail Days | June 2-3
Troutville Town Park
Troutville Trail Days is a signature annual event in the Town of Troutville in Botetourt County and it's a celebration of the Appalachian Trail and outdoor recreation in the community. The town is a popular stopping point for many thru-hikers making their way along the iconic trail and this weekend event features group hikes, outdoor vendors, live music, kid-friendly activities, and more.
Troutville Trail Days Website >
5. Franklin County Ramble Weekend | June 2-4
Waid Recreation Area
There are lots of awesome things being planned for this year's Ramble Weekend in Franklin County, including multiple days of paddling along Franklin County's scenic blueways, great live music, onsite camping at Waid Park, and other fun, family-friendly activities.
Franklin County Ramble Weekend Website >
6. 65th Annual Sidewalk Art Show | June 3-4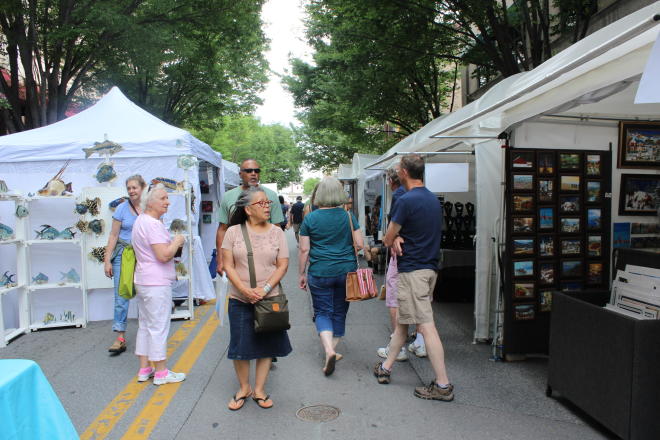 Taubman Museum of Art
Now in its 65th year, the Sidewalk Art Show is one of Virginia's premier annual art events and a signature event of the summer in Virginia's Blue Ridge.
Hosted by the Taubman Museum of Art, the Sidewalk Art Show is a terrific showcase of amazing local artists and others from around the country who make their way to Roanoke to participate in the event, and all the works exhibited are for sale. 
The pieces include original paintings, prints, watercolors, etchings, mixed media, fine art, crafts, sculptures, and more.
Sidewalk Art Show Website >
Grandin Theatre
The Grandin Theatre in Roanoke's Historic Grandin Village will be celebrating LGBTQ+ Pride Month with a series of films that feature free admission. Check out the following showings:
June 6 - The Handmaiden
June 14: Milk
June 21: Brokeback Mountain
June 27: Paris is Burning
8. Bruce Hornsby & The Noisemakers | June 8
Coves Amphitheater at Smith Mountain Lake
From being a part-time member of The Grateful Dead to collaborations with iconic artists such as Bob Dylan, Stevie Nicks, Sting, Willie Nelson, and many more, Bruce Hornsby is one of the most accomplished artists of his generation and has been nominated for 13 Grammy Awards. See Bruce Hornsby & The Noisemakers in concert at the outdoor amphitheater at The Coves at Smith Mountain Lake on Thursday, June 8.
Bruce Hornsby & The Noisemakers Tickets >
9. Body Mind Spirit Fest 2023 | June 9-11
Unity of Roanoke Valley
Hosted at Unity of Roanoke Valley, the Body Mind Spirit Fest 2023 will feature intuitive readers, jewelry, artwork, energy healers, astrologers and much more. There will also be guest presentations and inspiring talks as part of the multiple days of education and enriching activities.
Body Mind Spirit Fest Website >
10. BOCO Wild | June 10
Buchanan Town Park
BOCO Wild is a celebration of the incredible outdoor recreation opportunities you'll find in Botetourt County. The event encompasses an array of outdoor interests, ranging from fishing instruction and river activities to hunting safety, boating education, wildlife education, and much more.
BOCO Wild Website >
11. Franklin County Court Days | June 10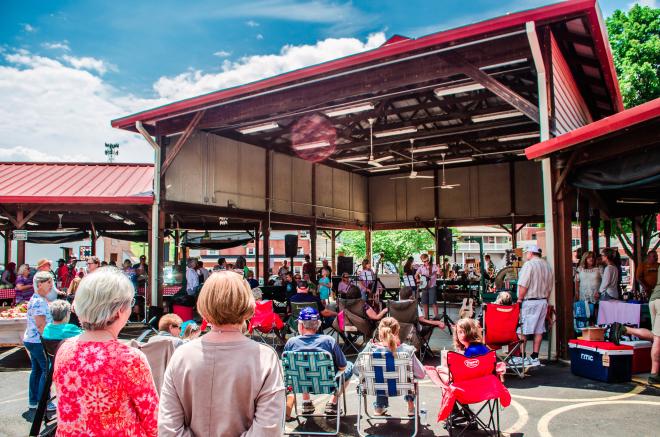 Town of Rocky Mount
Court Days is an event that stands as a tribute to a local tradition in Franklin County, when a traveling judge would come to the county once a month to preside over local court cases and settle legal issues. The occasion would grow into a social event, featuring live music, food, and the opportunity to shop & trade goods.
And with it being Franklin County, it also usually included a chance to find some local liquor.
Franklin County Court Days Website >
12. A Day at the Lake | June 10
Crazy Horse Marina
Experience a fun and interactive day on land and water at Smith Mountain Lake with A Day at The Lake at Crazy Horse Marina. The lineup of activities includes an EcoKids activity tent, Lakeside Scavenger Hunt, science boat, fish habitat demonstration, and more. There will also be food trucks and raffles for fun prizes.
Crazy Horse Marina Website >
13. Emmet Cahill | June 11
Jefferson Center
Don't miss the star of the PBS phenomenon Celtic Thunder as world acclaimed Irish tenor Emmet Cahill performs at the Jefferson Center. The show will be an epic musical journey in which Cahill performs with his orchestra and choir, presenting a special evening of classic songs from the Emerald Isle, American favorites, Broadway hits, and more.
Emmet Cahill Tickets >
14. Trombone Shorty & Ziggy Marley | June 13
Elmwood Park
Trombone Shorty is an icon of the New Orleans jazz scene and recently received his first Grammy Award for his work with fellow New Orleans artist Jon Batiste. Head to Downtown Roanoke's Elmwood Park on Tuesday, June 13 to see Trombone Shorty in concert with Jamaican artist Ziggy Marley.
Trombone Shorty & Ziggy Marley Tickets >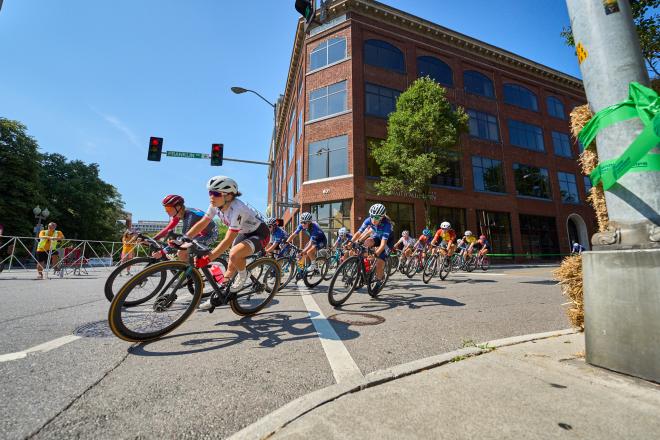 Explore Park, Franklin County, Downtown Roanoke
Top amateur road cyclists from around the country will be making their way to Virginia's Blue Ridge to compete in the 2022 USA Cycling Amateur Road National Championships! There will be multiple days of racing at various locations, including the Time Trial at Roanoke County's Explore Park, Road Race at Waid Park in Franklin County, and Criterium race in Downtown Roanoke.
Learn more how you can support the event and welcome the athletes by signing up for one of the many volunteer opportunities >
USA Cycling National Championship Info >
16. Roanoke Symphony Orchestra: Pink Floyd | June 16
Salem Civic Center
The Roanoke Symphony Orchestra will celebrate the 50th anniversary of the iconic music from Pink Floyd's Dark Side of the Moon album and perform hits like Money, Time, and more from this British invasion stadium rock sensation from the 60s and 70s.
RSO: Pink Floyd Tickets >
17. Juneteenth 2023: Celebration of Freedom Event | June 17
Booker T. Washington National Monument
The Booker T. Washington National Monument hosts a special celebration that commemorates the release of approximately four million people of African descent from slavery after the end of the Civil War.
The event will feature gospel music, a talk & tour about Booker T. Washington & Juneteenth, and various children's activities.
Juneteenth Celebration Information >
18. 2023 22nd Annual Star City Motor Madness | June 23-24
Williamson Road & Downtown Roanoke
Star City Motor Madness is one of the premier car shows in the Mid-Atlantic, providing two days of activities and opportunities to see classic cars, including a cruise-in along historic Williamson Road on Friday night and a car show in Downtown Roanoke on Saturday, followed by an after-party at the Virginia Museum of Transportation.
Star City Motor Madness Website >
19. Concerts by Canoe: His and Hers | June 23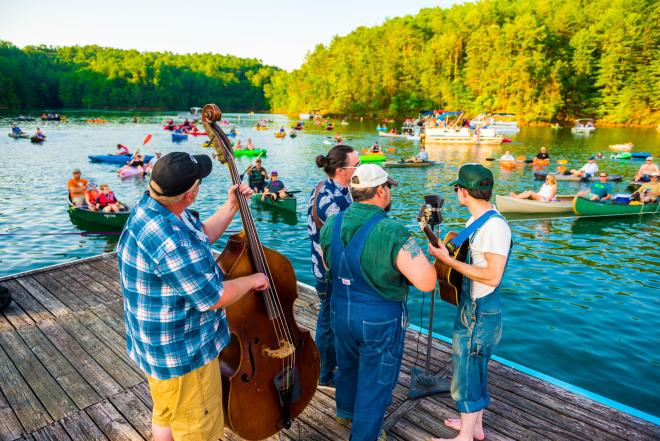 Twin Ridge Recreation Area - Philpott Lake
Listen to live music on the water at the Concerts by Canoe summer music series at Philpott Lake. Organized by Franklin County Parks & Recreation, this unique event features a band performing on a floating stage at the edge of the water, allowing for people to listen while floating on kayaks, tubes, and boats, as well as those who set up with chairs and blankets on the grass near the stage.
This month's concert features a performance by His & Hers.
Concerts by Canoe Website >
20. Megan Moroney | June 23
Dr Pepper Park at The Bridges
With the success of her debut EP, Pistol Made of Roses, and release of her single "Tennessee Roses," Megan Moroney has quickly established herself as one of the fastest rising stars of country music. She's been described as a "2023 Artist to Watch" by outlets such as Amazon Music and Spotify and was named one of the "Next Women of Country for 2023" by CMT.
Megan Moroney Tickets >
21. 460 Lacrosse Star City Invitational | June 23-25
River's Edge Sports Complex
We look forward to welcoming visiting youth lacrosse teams to Virginia's Blue Ridge to compete in the inaugural Star City Invitational, which will be held at the River's Edge Sports Complex in Roanoke. The tournament is organized and hosted by Virginia 460 Lacrosse.
Star City Invitational Website >
22. 15th Annual Lavender Festival | June 24 - July 2
Beliveau Farm Winery
See the beauty of lavender in bloom at Beliveau Farm in Virginia's Blue Ridge, which is expected to occur between June 24 and July 2. The winery will also feature various lavender food specials, craft-brewed lavender beer, and gift products available for purchase.
Beliveau Farm Website >
23. Salem Fair | June 28 - July 9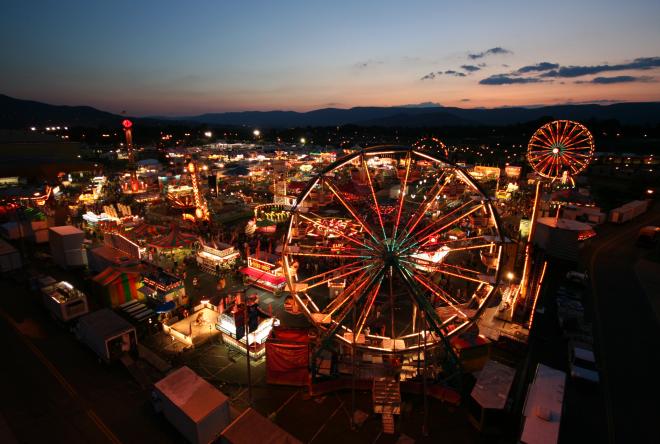 Salem Civic Center
It's time for the return of the Salem Fair! This signature annual event in the City of Salem is the largest fair in Virginia and has been recognized as one of the top 100 fairs and expositions in the country. Don't miss all your favorite fair foods, classic rides, concerts, and other great summer traditions.
Salem Fair Website >
24. 1776 The Musical | June 29 - July 1
Thomas Jefferson's Poplar Forest
Thomas Jefferson's Poplar Forest hosts its special presentation of 1776, The Musical, the Tony-award winning show by Sherman Edwards and Peter Stone. The play is a unique take on the events leading up to the singing of the Declaration of Independence and is viewed from the perspective of the founding fathers. All performances will be held outdoors and guests are encouraged to bring their own blankets, chairs and items for a picnic dinner.
1776 The Musical Tickets >
25. Buchanan Community Carnival | June 29 - July 8
Buchanan Town Park
The annual Buchanan Community Carnival offers the best of a small town summer experience in Virginia's Blue Ridge, with the carnival set up on the bank of the James River in the charming Town of Buchanan in Botetourt County.
Enjoy amusement rides, games, and fun fair food like the classic Carnival Chili Burgers & Fries, which are always a local favorite.
Buchanan Community Carnival Website >
---
Save the Dates for July
Horse & Hound Wine Festival - Peaks of Otter Winery - July 8
Sinkland Farms Sunflower Festival - July 14-30
USA Girls 16U Class A Fast Pitch National Championship - July 18-23
Matilda - Mill Mountain Theatre - July 26 - August 6
POP 2000 Tour - Dr Pepper Park at The Bridges - July 30
---
To learn more about upcoming events and things to do in Virginia's Blue Ridge, we encourage you to subscribe to our monthly e-newsletter and give us a follow on social media.
You can also request a free copy of our Virginia's Blue Ridge Visitor's Guide.