What are the events happening this June in the Roanoke Valley in Virginia's Blue Ridge? This post is a preview of 25 of the biggest and most unique events happening in the region this month, and we hope you'll add some of these to your calendar!
There are sporting events, tons of live music, history celebrations, and plenty of opportunities for family fun.
Here is your guide to events taking place this June in Virginia's Blue Ridge.
1. 2019 Lebanese Festival
St. Elias Maronite Catholic Church
May 31 - June 2
This popular annual festival kicks off on the last day of May and it's a great way to begin the month in Virginia's Blue Ridge with authentic Lebanese flavors, music, and traditions.
Event Website >
2. Sidewalk Art Show
Taubman Museum of Art & Downtown Roanoke
June 1-2
Over 100 artists from around the country will take part in the 61st annual Sidewalk Art Show, which is presented by the Taubman Museum of Art in Downtown Roanoke. The show (pictured above) features photography, sculptures, paintings, and numerous other unique works of art.
Event Website >
3. Boones Mill Car Show
Boones Mill N&W Railway Depot
June 1
Check out all kinds of classic cars and see who takes home the top prize of having the best in show at this free car show in the Town of Boones Mill in Franklin County.
Event Details >
4. Lazy Man Roots & Reggae Festival
Wasena Park
June 1
This year's Reggaefest is headlined by live music from the Lazy Man Dub Band and will take place in Wasena Park, with food vendors such as Mama Jean's Barbecue and Kingston's Jerk Shack on hand.
Facebook Event Info >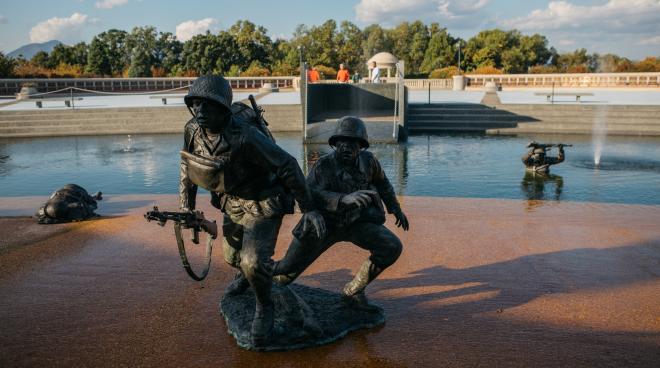 5. The Final Salute - 75th Anniversary of D-Day
National D-Day Memorial
June 4-9
This year marks the 75th anniversary of the D-Day invasion of Normandy and the National D-Day Memorial in Bedford is commemorating the event with nearly a full week of activities and special events. Don't miss this incredible opportunity to honor the fallen heroes who made the ultimate sacrifice.
Event Website >
6. Trace Adkins & Clint Black
Salem Civic Center
June 7
Country music icons Trace Adkins and Clint Black will take the stage at the Salem Civic Center as a stop on their "Hits. Hats. History. Tour."
Event Website >
7. Tesla
Dr Pepper Park at The Bridges
June 7
This hard rock quintet has sold more than 25 million albums during their 25 year musical career with hit songs like "Modern Day Cowboy" and "Love Song."
Event Website >
8. VHSL Softball & Baseball State Championships
Moyer Sports Complex
June 7-8
The best high school baseball and softball teams from around the Commonwealth will compete for the State Championship at the Moyer Sports Complex in Salem - Virginia's Championship City.
Salem Tournaments >
9. Troutville Trail Days
Troutville Town Park
June 7-9
Troutville Trail Days is a celebration of the Appalachian Trail's connection to our local community and the thru-hikers that make their way through the region this time of year. There are guided hikes, live music, outdoor outfitters, and lots of fun activities.
Event Website >
10. Fat Tire Weekend
Falling Creek Park
June 7-9
Mountain bikers of all ages and skills levels are encouraged to attend and participate in this fun-filled weekend at Falling Creek Park, which also features a playground, 36 hole disc golf course, and skate park.
Event Website >
11. Virginia Beer & Wine Festival
Daleville Town Center
June 8
Don't miss the chance to enjoy over 75 Virginia craft beers, ciders and wines at the 6th annual Virginia Wine & Beer Festival at Daleville Town Center.
Event Website >
12. Starr Hill Beach Bash
Starr Hill Pilot Brewery & Side Stage
June 8
A beach party at the base of Mill Mountain? Starr Hill is turning its back parking lot into a beach oasis and there will be all kinds of beach-themed activities and summer fun throughout the day!
Facebook Event Info >
13. Southwest Virginia Antique Farm Days
Franklin County Recreation Park
June 14-16
This annual celebration of Franklin County's agricultural heritage includes tractor parades, chainsaw cutting competitions, a working 1915 steam engine, and much more.
Event Website >
14. Big Lick Burger Fest & Summer Jam
Elmwood Park
June 15
Sample delicious burgers from local restaurants and vendors and then enjoy a great day of live music in the Elmwood Park amphitheater headlined by David Nail.
Event Website >
15. Juneteenth Event
Booker T. Washington National Monument
June 15
The annual Juneteenth Celebration of Freedom and Gospel Music commemorates the freeing of approximately four million enslaved people of African descent following the Civil War. 
Event Website >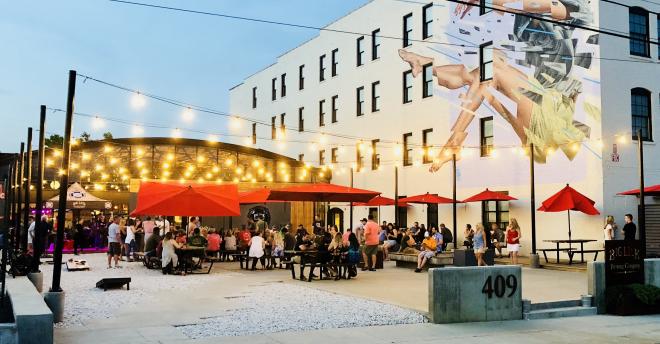 16. Big Lick Summer Kickoff Party
Big Lick Brewing Company
June 15
Kick off the start of summer with a party on the patio at Big Lick Brewing Company in Downtown Roanoke. The event will include food from the popular Hanu Food Truck and live music, as well as Big Lick's great craft beer.
Facebook Event Info >
17. Next to Normal
Mill Mountain Theatre
June 20-29
Mill Mountain Theatre presents Next to Normal, a Pulitzer Prize winner for Drama that presents a story of a seemingly typical American family while offering a unique look at the battle with mental health.
Event Website >
18. Lavender Festival
Beliveau Estate Winery
June 22-23
Walk through the beautiful fields of lavender, sample lavender-inspired products, and enjoy delicious wine and great food at this fun annual festival at Beliveau Estate Winery.
Facebook Event Info >
19. Weird Al Yankovic
Berglund Center
June 25
As the best selling comedy recording artist in history, "Weird Al" is an iconic name in music and comedy for his parodies on hit songs. Hear all the hits and classics from Weird Al during his 2019 Strings Attached Tour.
Event Website >
20. Jamey Johnson
Dr Pepper Park @ The Bridges
June 27
Jamey Johnson has cemented his legacy as one of the most decorated artists in the history of country music, with multiple Grammy, ACM, and CMA awards. Get your tickets now to see him perform in Virginia's Blue Ridge at Dr Pepper Park at The Bridges!
Facebook Event Info >
21. 1776 the Concert Musical
Thomas Jefferson's Poplar Forest
June 27-29
The lawn at Thomas Jefferson's Poplar Forest is a wonderful setting to enjoy a performance of the Tony Award winning 1776 the Concert Musical that focuses on the events leading up to the signing of the Declaration of Independence.
Event Website >
22. Dumas Legacy Weekend
Various Locations - Henry Street in Downtown Roanoke
June 27-29
The Dumas Legacy Weekend is a 3-day celebration of jazz, culture, and food, and it takes place along Historic Henry Street near the former Dumas Hotel, which once served as the center of African American culture, nightlife, and entertainment in Downtown Roanoke.
Facebook Event Info >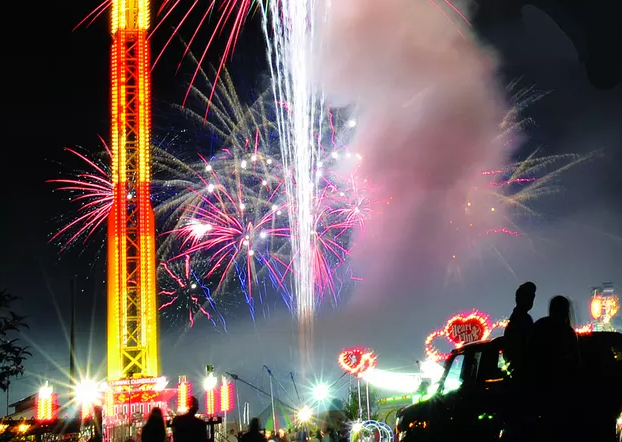 23. Buchanan Community Carnival
Town of Buchanan
June 27 - July 6
Whether it's for funnel cakes, ferris wheel rides, or seeing the fireworks, you'll make all kinds of great memories with friends and family at the annual Buchanan Community Carnival in Botetourt County.
Event Website >
24. Clean Valley Riverfest
Smith Park
June 29
The 2nd annual Clean Valley Riverfest is a full day of river related fun and it supports stormwater education and management, to help ensure our wonderful rivers and waterways stay clean to enjoy for years to come.
Event Website >
25. Bank of Botetourt Roanoke Wine Festival
Elmwood Park
June 29
Sample varieties from local and regional wineries, listen to live music by award winning Nashville artist Willow Hill, and take part in the great scene in Elmwood Park!
Event Website >
---
Looking for more information about what's going on in Virginia's Blue Ridge? Check out our Events Calendar for a complete list of events and give us a follow on Social Media, where we regularly post about special events and other exciting things happening in the region.