The calendar is packed with fun events during the summer in Virginia's Blue Ridge.
It's a great time to get outside with friends and family, and there are a variety of outdoor activities, summer concerts, and other fun festivals happening throughout the month.
For things to do this month, here's a preview of some of the special events happening this July in Virginia's Blue Ridge.
Various Locations
There are lots of ways to celebrate Independence Day Weekend in Virginia's Blue Ridge, with numerous events and communities hosting parades, concerts, fireworks shows and other family-friendly fun.
Check out our complete guide to fireworks shows & celebrations to plan your holiday weekend.
Where to See Fireworks in Virginia's Blue Ridge >
Botetourt County & Downtown Roanoke
Cheer on the top amateur cyclists from around the country who are in Virginia's Blue Ridge competing in the USA Cycling Amateur Road National Championships.
You can check out the road race portion of the competition at the Botetourt Sports Complex in Botetourt County on July 1 and head to Downtown Roanoke for the Criterium race on July 2.
USA Cycling National Championship Info >
Town of Buchanan
The annual Buchanan Community Carnival offers the best of a small town summer experience in Virginia's Blue Ridge, with the carnival set up on the bank of the James River in the charming Town of Buchanan in Botetourt County.
Enjoy amusement rides, games, and fun fair food like the classic Carnival Chili Burgers & Fries, which are always a local favorite.
Buchanan Community Carnival Info >
4. Salem Fair | Through July 10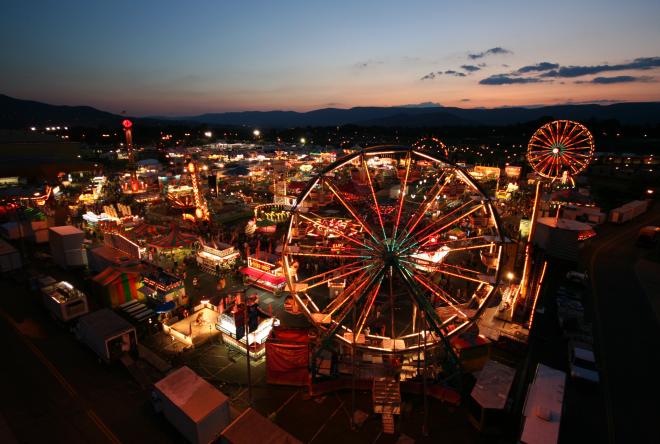 Salem Civic Center
You know it's summer in the Blue Ridge Mountains when you see the lights of the Salem Fair! This signature annual event in the City of Salem is the largest fair in Virginia and has been recognized as one of the top 100 fairs and expositions in the country.
Don't miss all your favorite fair foods, classic rides, concerts, and other great summer traditions.
5. T-Rex Trail | Through August 14
Explore Park
The new T-Rex Trail (pictured at the top of this post) at Roanoke County's Explore Park has been one of the biggest hits of the summer in Virginia's Blue Ridge.
The ½ mile trail along a wooded path features 18 animatronic dinosaurs from four different time periods, as well as a dino dig pit and lots of opportunities for fun photos.
T-Rex Trail Details & Tickets >
6. Lavender Festival | July 3 & 10
Beliveau Farm Winery
See the beauty of lavender in bloom at Beliveau Farm in Virginia's Blue Ridge as part of the 14th annual lavender festival, held the first two Sundays in July. The winery will also feature various lavender food specials, craft-brewed lavender beer, and gift products available for purchase.
7. RIDE Solutions Poker Ride | July 7
Cardinal Bicycle - Grandin
The RIDE Solutions Poker Ride is an awesome combination of bikes, drinks, and fun! The bicycle ride includes stops at great local bars & restaurants between the Grandin Village and Downtown Roanoke, where participants will have the chance to win prizes by collecting the best (or worst) 5 card poker hand.
Attendees are encouraged to pre-register for the event and contribute with a $5 donation, which supports RIDE Solutions and its efforts to make the region more bike-friendly.
8. Concerts by Canoe - Alum Ridge Boys & Ashlee | July 8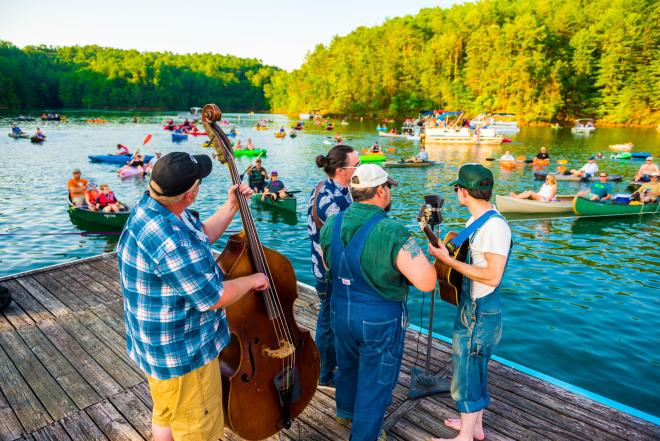 UPDATE: This month's concert has been cancelled due to inclement weather.
Twin Ridge Marina at Philpott Lake
Listen to live music on the water at the Concerts by Canoe summer music series at Philpott Lake. Organized by Franklin County Parks & Recreation, this unique event features a band performing on a floating stage at the edge of the water, allowing for people to listen while floating on kayaks, tubes, and boats, as well as those who set up with chairs and blankets on the grass near the stage.
This month's concert features a performance by Alum Ridge Boys & Ashlee.
Photo courtesy of Matt Ross - Franklin County Parks & Recreation
9. Sinkland Farms Sunflower Festival | July 8-24 (Weekends)
Sinkland Farms
Sinkland Farms in Christiansburg is hosting its 2nd annual Sunflower Festival and it's a beautiful scene for the entire family.
The festival presents 8 acres of 20 different varieties of more than 200,000 sunflowers. Admission to the festival includes access to the sunflower fields, walking trails, local vendors & food trucks, games, kids activities, and more.
Sinkland Farms Sunflower Festival Details >
10. Horse & Hound Wine Festival | July 9
Peaks of Otter Winery
The Peaks of Otter Winery hosts its 17th annual Horse & Hound Wine Festival, a fun celebration of great Virginia wine, live music, local arts & crafts, and special activities for horses & dogs, including a Parade of Horses and agility courses & races for the pups.
It's a family-friendly festival with something for visitors of all ages.
Horse & Hound Wine Festival Website >
11. 2022 Budweiser Summer Concert Series: Brothers Osborne | July 15
Elmwood Park
Brothers Osborne have emerged as one of the biggest acts in country music, winning multiple Country Music Awards and numerous Grammy nominations. The group returns to Virginia's Blue Ridge for a special outdoor concert in Elmwood Park on July 15 as part of the 2022 Budweiser Summer Concert Series.
Brothers Osborne Concert Details & Tickets >
12. Smith Mountain Lake Pirate Days | July 15-17
Smith Mountain Lake
One of the most popular and unique annual events in Virginia's Blue Ridge, Smith Mountain Lake Pirate Days is an awesome pirate-themed weekend of fun at the lake!
Special events include the Pirate Ball with live music and costume contests, pirate trivia night, a pirate ship parade, and specials at local restaurants & businesses. You'll also see lots of boats on the lake prepared for battle with water guns.
13. Jazz in July | July 16
Longwood Park
The City of Salem will host a special evening of jazz music in a beautiful outdoor setting at Longwood Park. The event is free to attend and the performance lineup includes McFadden & Friends, Vosbein-Maggee Big Band, Shawn Spencer & Star City Swag, The N'awlins Big Easy Band with Second Line Horns, and New Orleans Funky Roots Music.
14. Blackberry Smoke | July 20
Dr Pepper Park at The Bridges
Known for sounds of classic rock, blues, country, and folk, Blackberry Smoke has produced multiple Billboard chart topping albums over the years across multiple genres, including country and Americana/Folk music. This will be a great outdoor show at Dr Pepper Park at The Bridges in Roanoke.
Blackberry Smoke Details & Tickets >
15. Anthony Hamilton & M.C. Light Foot | July 21
Berglund Center
Anthony Hamilton has had an incredibly decorated career, earning a Grammy Award, selling over 50 million albums, and being inducted to the North Carolina Music Hall of Fame, among many other accomplishments. Some of Hamilton's biggest hits have included "Comin' from Where I'm From," "Charlene," and "Freedom."
Anthony Hamilton Details & Tickets >
16. Annie Get Your Gun (Stone) | July 21 - August 7
Attic Productions
Attic Productions in Botetourt County presents its summer musical with performances of the Stone version of Annie Get Your Gun. Enjoy the musical tale of Annie Oakley earns a reputation with her talents as the best sharpshooter in Buffalo Bill's show.
17. Godspell | July 21-31
Showtimers Community Theatre 
Showtimers Community Theatre's latest production is Godspell, featuring a 2012 revised version from the original story by John-Michael Tebelak and music by Stephen Schwartz. This show is directed by Jesse McKeon and Showtimers Community Theatre is always a great venue to experience the talented local performing arts scene in the region.
Showtimers Community Theatre Website >
18. Hollins Playwrights' Festival of New Works | July 22-24
Hollins University
Created in partnership with Mill Mountain Theatre, the Hollins University Theatre Department presents its Festival of New Works, a three-day event showcasing readings of original works by students from the Hollins Playwright's Lab. The eight readings will take place at Mill Mountain Theatre's Waldron Stage.
Festival of New Works Details >
19. We Win, featuring Jekalyn Carr | July 23
Jefferson Center
Gospel artist Jekalyn Carr is an accomplished speaker, conference & radio host, entrepreneur, actress, author, and hugely successful recording artist, receiving multiple Grammy Award nominations and a member of the Women's Songwriters Hall of Fame.
The We Win event at the Jefferson Center in Downtown Roanoke will be an inspirational conference that offers messages and strategies for living a victorious Christian life.
20. Botetourt Tomato Festival | July 23
Daleville Town Center
The 2nd annual Botetourt Tomato Festival is a celebration of all things tomato, including heirloom tomato tastings, a tomato sandwich contest, information about the history of tomatoes in Botetourt County, and lots of other fun activities, such as an appearance by the Oscar Meyer Weinermobile, live music, and more.
Botetourt Tomato Festival Details >
21. Floatilla to Starr-Hill-A | July 24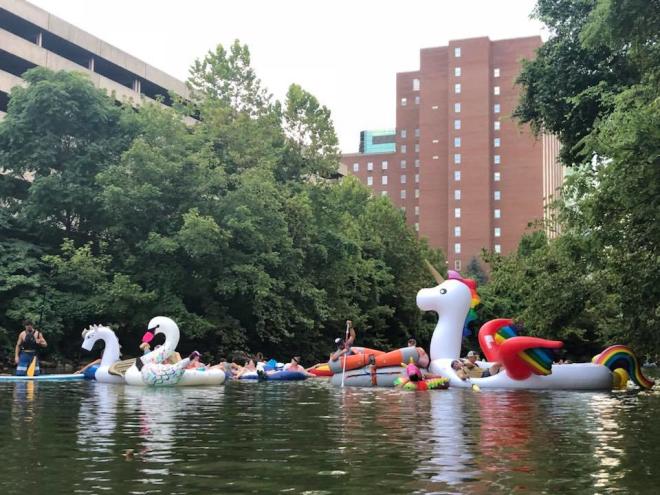 Roanoke River - Roanoke Mountain Adventures to Starr Hill
Take part in the fun float with Play Roanoke & Roanoke Outside and make your way down the Roanoke River. This is a "bring whatever floats" event that begins at Roanoke Mountain Adventures (which also offers tube rentals) and ends at the Starr Hill Pilot Brewery & Side Stage for post-float beers. 
You will be in charge of shuttling yourself between the two locations afterwards, so it's recommended that you partner with a group and park vehicles at both locations.
Floatilla to Starr-Hill-A Facebook Event >
22. Postmodern Jukebox | July 24
Harvester Performance Center
The Re-Opening Tour of Scott Bradlee's Postmodern Jukebox makes a stop in Virginia's Blue Ridge with a show at the Harvester Performance Center in Franklin County.
A Postmodern Jukebox concert is a truly unique musical experience, as the group takes modern hits of today and transforms them into classic sounds from legends of the past, offering a celebration of music and culture.
Postmodern Jukebox Details & Tickets >
23. Disney's High School Musical - One Act Edition | July 28 - August 7
Mill Mountain Theatre
Disney's High School Musical - One Act Edition is a fun, family-friendly show based on the hit Disney Channel movie of the same title. This production is part of Mill Mountain Theatre's Young Audience Series.
Disney's High School Musical Details & Tickets >
24. Hank Williams Jr. | July 29
Salem Civic Center
Hank Williams Jr. returns to the Salem Civic Center, a place where he performed in 1968, the first year the arena was in operation. Over his lengthy career, Williams has become a Country Music legend and is known for being one of the first artists to introduce rock production values to country music concerts.
Hank Williams Jr. Details & Tickets >
25. WAR + The Commodores | July 30
Elmwood Park
Be part of an amazing night in Elmwood Park in Downtown Roanoke as both WAR & The Commodores take the amphitheater stage. WAR is known for hits like "Low Rider" and "Why Can't We Be Friends" while The Commodores were one of the biggest bands from the Motown era with hits like "Brick House" and "Three Times a Lady."
WAR + The Commodores Details & Tickets >
---
Looking to learn more about what's going on in Virginia's Blue Ridge? Check us out on Social Media and sign up to receive our monthly e-newsletter! You can also visit the Calendar of Events for a complete list of upcoming events.