The calendar is packed with fun events during the summer in Virginia's Blue Ridge.
It's a great time to get outside with friends and family, and there are a variety of outdoor activities, summer concerts, and other fun festivals happening throughout the month.
If you're looking for information about Independence Day fireworks and celebrations, we have a full post dedicated to those events - 4th of July Fireworks & Celebrations >
For other things to do this month, here's a preview of some of the special events happening this July in Virginia's Blue Ridge.
1. Buchanan Community Carnival
Buchanan Town Park
Through July 6
This year marks the 66th annual Buchanan Community Carnival at this quaint town in Botetourt County. With the fairground located on the bank of the James River and framed by the Blue Ridge Mountains, it's a beautiful scene and a classic summer experience in Virginia's Blue Ridge.
Carnival Website >
2. Treetop Quest Grand Opening
Explore Park
July 2
Treetop Quest is a new aerial adventure course at Roanoke County's Explore Park and it's celebrating its grand opening on Tuesday, July 2! The course, which is for ages 4 and up, features aerial obstacles through the forest, including swings, cargo nets, tight ropes, and fly-across zip lines.
Treetop Quest Website >
3. Fishburn Park Junior Mountain Bike Race Series
Fishburn Park
July 2, 9, 16
Young racers from ages 2 through 14 will compete in another fun season of mountain bike racing presented by Star City Cycling and East Coasters Bike Shops. The races are held during the first three Tuesdays of July and are free for all participants, making it a great way to introduce young riders to the fun of mountain biking & racing.
Race Series Website >
4. Salem Fair
Salem Civic Center
July 3-14
It's not a summer in Virginia's Blue Ridge without the celebration of the Salem Fair - Virginia's largest fair (pictured at the top of this post), which has been named one of the top 100 fairs and expositions in the country. There's no fee for parking or admission, so you can focus your budget on enjoying all the great rides and delicious food, like funnel cakes and fried oreos!
Salem Fair Website >
5. Freedom First: Elmwood Country Night
Elmwood Park
July 5
Get ready for a great evening of country music as Ben & Noel Haggard pay tribute to their late father, Merle Haggard - a country music icon. With Ben Haggard serving as the lead guitarist in Merle's band for many years, the duo now carries out their father's musical legacy while also forging their own path.
Elmwood Country Night Website >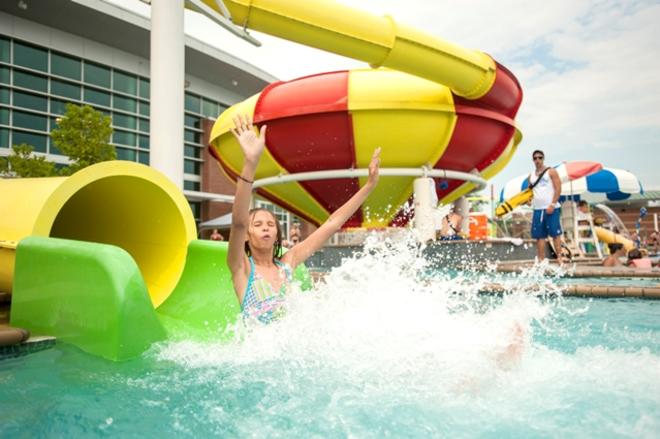 6. Hang 10 Fridays
Splash Valley Water Park
Every Friday - July 5, 12, 19, 26
Summer calls for extra time to play at Splash Valley Water Park! For every Friday in July, the park will be open until 10:00 p.m., and there are special themes and activities - July 5: Cowboy Night | July 12: Beach Night | July 19: Trivia Night | July 26: Fortnite Dance Night
Splash Valley Water Park Events >
7. Backward Child & Crystal Gazer
Star City Playhouse
July 5-7 & 12-14
This new production by Vinton's Star City Playhouse showcases two, 1-act comedies. Backward Child focuses on a spoiled child who causes problems for everyone her father chooses to look after her, and Crystal Gazer is a story involving a woman looking for her boyfriend and the Gazer thinking she's looking for something else.
Star City Playhouse Facebook Page >
8. Mill Mountain Zoo Birthday Bash
Mill Mountain Zoo
July 6
Happy Birthday to the Zoo! The zoo is turning 67 years old and will be celebrating with birthday cake, live music, and face painting! And, of course, an opportunity to see all the really cool animals, like the red panda, snow leopard, and red wolves.
Mill Mountain Zoo Events > 
9. West Station Block Party
Big Lick Brewing Company
July 6
Don't miss out on this awesome summer block party on Salem Avenue in Downtown Roanoke! Beamer's 25, Big Lick Brewing Company, and Tuco's Taqueria Garaje are partnering together for a celebration where their section of Salem Avenue will be closed off to vehicles and turned into a giant party featuring live music, headlined by The Ambassador & The Chosen Few, as well as great food & drinks!
West Station Block Party Facebook Event Page >
10. Edwin McCain
Harvester Performance Center
July 11
Edwin McCain's musical career has spanned 20 years and included touring around the country performing romantic pop hits such as "I'll Be" and "I Could Not Ask for More," which have also become cover and karaoke favorites.
Edwin McCain Concert Info >
11. Flashback Fridays - Rumours: Fleetwood Mac Tribute
Dr Pepper Park at The Bridges
July 12
If you think the 70s and 80s were music's golden era, you'll love the Flashback Fridays concert series at Dr Pepper Park at The Bridges. This month's show features Rumours, a Fleetwood Mac Tribute band that puts on a show full of a rock & roll magic.
Flashback Fridays: Rumours Concert Info >
12. Flat Pickin' Fridays - Eric Gress Band
Daleville Town Center
July 12
Now in its fifth year, Flat Pickin' Fridays is a popular country music series that takes place at the Daleville Town Center in Botetourt County. This month's event features a concert by the Eric Gress Band.
Flat Pickin' Fridays Website >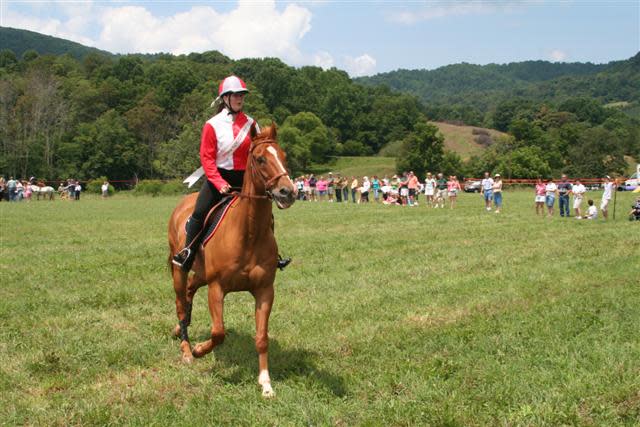 13. The Horse & Hound Wine Festival
Peaks of Otter Winery & Johnson's Orchards
July 13
Peaks of Otter Winery & Orchards presents one of Virginia's most unique wine festivals with an event that is both equine and canine friendly. Activities include wine tasting, a parade of horses, obstacle courses, and muskrat racing for dogs, plus various food & art vendors.
Horse & Hound Wine Festival Website >
14. Twilight on the Mountain Beach Party
Chateau Morrisette Winery
July 13
A beach party in the mountains?! Chateau Morrisette Winery will host The Catalinas, one of the country's best beach bands, for a fun evening of beach music & dancing, wine tasting, entertainment, and tasty food.
Twilight on the Mountain Beach Party Website >
15. Floyd Energy Fest
Chantilly Farm Campground
July 13
Learn about how sustainability and renewable energy can impact your home, every-day life and the planet with this third annual energy festival at Chantilly Farm & Campground in Floyd.
Floyd Energy Fest Website >
16. 2019 RIDE Solutions Poker Ride
Roanoke Natural Foods Co-Op (Grandin Village)
July 17
This unique bike ride is a fun way to connect with other local cyclists and visit some great spots for food & drinks while gathering cards to see if you can get a winning poker "hand" to score some cool prizes!
Poker Ride Facebook Event >
17. CIAA Youth Football Clinic
Salem Football Stadium
July 17
The Central Intercollegiate Athletic Association (CIAA) is presenting a special youth football clinic for ages 7 to 13 and registration is free for the first 200 participants who sign up! In addition to learning some fundamental football skills, you'll also receive dinner and a free t-shirt.
Clinic Registration Form >
18. Smith Mountain Lake Pirate Days
Smith Mountain Lake
July 17-21
Pirates take over Smith Mountain Lake for this awesome annual event! There are various pirate-themed events over multiple days and at various locations, including a Pirate Ball, Pirate Ship Parade, and impromptu "battles" between different boats and pirate ships on the lake!
Pirate Days Website >
19. Feeding America SWVA Food Truck Fest
Vinton Farmers Market
July 19
Many of the region's best food trucks will be at the Vinton Farmers Market to take part in this 3rd annual festival that benefits the Southwest Virginia chapter of Feeding America. There will also be live music by local band 7 Mile Ford.
Food Truck Fest Facebook Event >
20. Parker Millsap
Jefferson Center
July 19
With appearances on CONAN and Austin City Limits, as well as coverage in Rolling Stone, The New York Times, and The Boston Globe, Parker Millsap is a fast-rising young star in the music scene. Check out his soulful sound in this intimate performance at Jefferson Center's Fostek Hall.
Parker Millsap Concert Info >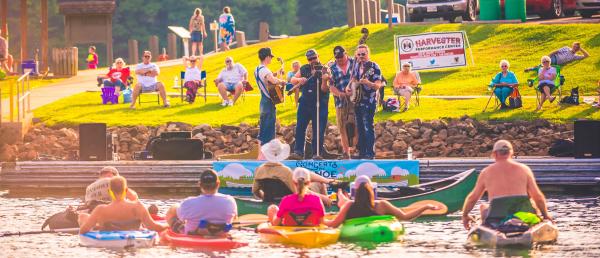 21. Concerts by Canoe
Twin Ridge Marina - Philpott Lake
July 19
For the second time this summer, Franklin County Parks & Recreation is presenting its special Concerts by Canoe event, featuring a band performing on a floating stage on Philpott Lake while listeners gather around on the bank of the water or by paddling over on canoes, kayaks, SUPs, and tubes. Photo courtesy of Matt Ross - Franklin County Parks & Recreation.
 
22. Salem After 5 Summer Concert: Blackwater Band
Salem Farmers Market
July 19
Bring your lawn chairs, picnic blankets, and a few friends for a concert by Blackwater Band as part of the Salem After 5 Summer Concert Series at the Salem Farmers Market. Blackwater Band specializes in beach music - perfect for summer!
Special Events in Salem >
23. Loco RoofTop Party
Center in the Square
July 19
We'll dance the night away on the Center in the Square rooftop with this festive party that benefits Local Colors. The party will have an international theme and include Latin music and dance lessons from instructors, as well as food, cocktails, and more.
Loco RoofTop Party Facebook Event >
24. Meet Me on Main Street
Town of Buchanan
July 19
This monthly event showcases the Town of Buchanan's charming Main Street and features an antique auto cruise-in, community market, live music, kids activities, and extended hours for the local shops and businesses.
Cruise-In & Block Party Info >
25. Hollins Festival of New Works
Mill Mountain Theatre
July 19-21
This three-day event is a partnership between Mill Mountain Theatre and the Hollins University theatre department, featuring readings of works that were created by students in the Playwright's Lab. It's a special opportunity to hear works that go on to become full productions at professional theatres, both locally and in places like New York and Los Angeles.
Festival of New Works Website >
26. A 1940s Homefront Festival
National D-Day Memorial
July 20
Step back in time at the National D-Day Memorial for a festival that looks at what life was like in the 1940s with living history displays, a reunion tent for WWII veterans, kids activities & crafts, local food & craft vendors, guided walking tours, and performances by the Star City Starlettes.
1940s Homefront Festival Website >
27. Jazz in July
Longwood Park
July 20
The Longwood Park Amphitheater in Salem will host an entire afternoon and evening of jazz music from many of the area's best bands, including the Jazzalachian Playboys, Lenny Marcus & The Big Easy Band, and more!
Special Events in Salem >
28. Pawpalooza Parade
Highland Park
July 20
A dog parade?!?!? The Pawpalooza Parade will take place on Saturday, July 20 and there is a fee to register your pooch as a parade participant - all proceeds will benefit animals at Angels of Assisi. Following the parade, there will be lots of dog related activities taking place in the park, including a disc dog cup. The parade will even feature a VIP (very important pooch) section, for all you who are certain you're just one good post away from being able to quit your job to focus all your time on your dog's Instagram account.
Pawpalooza Parade Info >
29. Reggae by the River
Town of Buchanan
July 20
Gather by the James River in Buchanan for the 4th annual Reggae by the River, a party that will include live music by local reggae bands Shorefire and Lazy Man Dub Band.
Reggae by the River Website >
30. USA Softball 16U Class "A" National Championship
Various Locations
July 21-28
Softball teams from around the country will be in Virginia's Blue Ridge as they compete in the USA Softball 16U Class "A" National Championship! Games will be held at the Moyer Sports Complex, Botetourt Sports Complex, and Arnold R. Burton Complex.
USA Softball National Championship Website >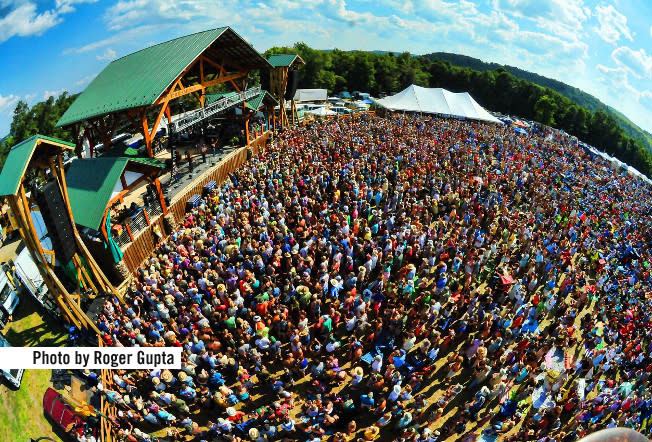 31. FloydFest 19 - Voyage Home
FloydFest - Blue Ridge Parkway Milepost 170.5
July 24-28
With its beautiful setting along the Blue Ridge Parkway, a culture of celebration of music, art and the outdoors, and an awesome lineup of bands, FloydFest has established itself as one of the best music festivals in the country. This year's festival is headlined by Kacey Musgraves, The String Cheese Incident, Brandi Carlile, and Phil Lesh & The Terrapin Family Band.
FloydFest Website >
32. The Music Man
Attic Productions
July 25 - August 10
Attic Productions is here to tell you about the trouble in River City with the classic story of The Music Man, a Tony Award winning musical by Meredith Willson that's a hit with its 4-part barbershop quartet harmonies.
Attic Productions Website >
33. Car-B-Que Summer Cruise-In
Virginia Museum of Transportation
July 26
What better spot to have a summer car show & cruise-in than Virginia's official Museum of Transportation? There will be show cars parked near the trains in the museum's Railyard, which should make for some great photo opportunities, as well as craft beer and a local food truck, and live music by Low Low Chariot. Admission is free for those with a show car and $5 for others.
Summer Cruise-In Event Info >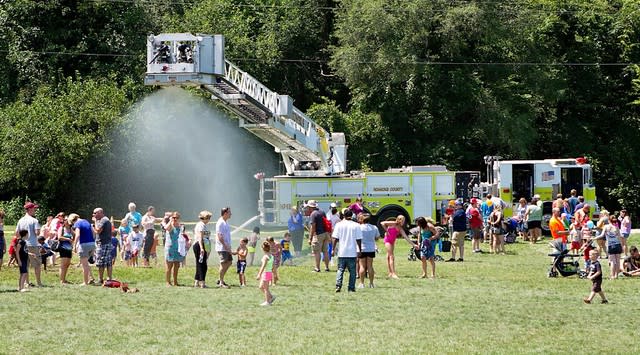 34. Touch-A-Truck
Green Hill Park
July 27
As one of the biggest Touch-A-Truck events in the country, this one is a hit with the kids! Over 200 different vehicles will be on-hand for this year's 11th annual Touch-A-Truck at Green Hill Park, including tow trucks, fire trucks, military vehicles, monster trucks, and many more.
Touch-A-Truck Website >
35. Taste of the Trails Series
Montvale Park
July 27
The Taste of the Trails series introduces hikers and bikers to the various trail networks in Bedford County, and this month's event showcases the trail system at Montvale Park, with an after-party of great food & craft beer at Beale's.
Taste of the Trails Website >
36. Virginia Vintage Comic Book Show
Salem Civic Center
July 27
Many of the Southeast's best comic book dealers and collectors will take part in the Vintage Virginia Comics & Collectibles Show at the Salem Civic Center. The show focuses primarily on older comic books, so it's a great chance to find those rare pieces to add to your collection or perhaps learn how to start building a collection.
Virginia Vintage Comic Book Show Event Info >
37. Summer Music Games
Salem Stadium
July 30
Eight top drum and bugle corps that range in a variety of musical styles perform in the Summer Music Games at Salem Stadium! It's a fantastic evening of music and pageantry from corps that go on to participate at the Drum Corps International World Championships later this year.
Summer Music Games Website >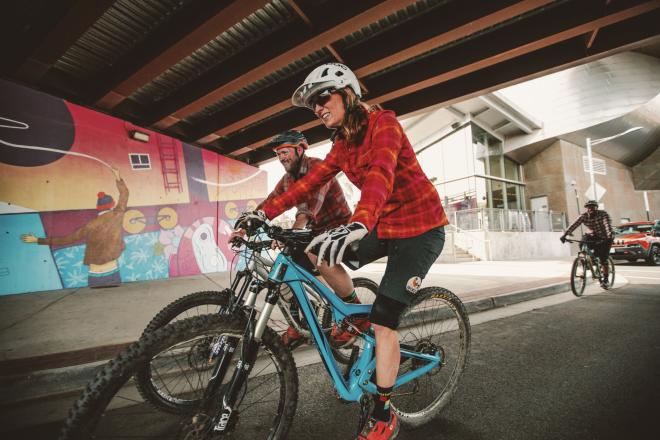 38. Le Tour de Roanoke
UnderDog Bikes
July 31
It's a progressive dinner - by bike! The five mile bicycle ride (BYOB & advance registration required - $25) will begin at UnderDog Bikes and take a tour of the city as you stop at different restaurants along the way, enjoying a different course at each stop. Bike appetit!
Event Registration >
39. Disney's The Little Mermaid Jr.
Mill Mountain Theatre
July 31 - August 11
Take a journey under the sea with Ariel and all her aquatic friends as Mill Mountain Theatre presents the story of The Little Mermaid! This production is part of the theatre's Young Audience Series, which highlights the organization's talented youth.
The Little Mermaid Jr. Website > 
40. Mountain Valley Cluster Dog Show
Salem Civic Center
July 31 - August 4
Nearly 5,000 dogs representing 145 breeds will compete in this 5-day show at the Salem Civic Center. Admission is free and the schedule includes conformation events, as well as the popular dock diving!
Mountain Valley Cluster Conformation Shows >
---
Looking to learn more about what's going on in Virginia's Blue Ridge? Check us out on Social Media and sign up to receive our monthly e-newsletter! You can also visit the Calendar of Events for a complete list of upcoming events.