There is so much to do this February in the Roanoke Valley in Virginia's Blue Ridge Mountains.
The calendar is full of exciting events to keep the entire family entertained with upcoming concerts, theater performances, live sports, and more.
Avoid the temptation to hibernate this winter and have some fun in Virginia's Blue Ridge.
Here are 30 events to add to your calendar for this February.
February 1
Brantley Gilbert, one of the biggest names in country music, performs at the Salem Civic Center in Virginia's Blue Ridge as part of his "Fire't Up Tour," a name drawn from the first track on his recent Fire & Brimstone album.
Brantley Gilbert Concert Tickets >   
February 1
In partnership with Roanoke Valley Sister Cities and Local Colors, the Taubman Museum of Art in downtown Roanoke hosts this free event that celebrates the Lunar New Year with dragon dances, martial arts performances, music, and other activities that highlight the rich heritage and traditions of the Asian community in our region.
Lunar New Year Event Website >
February 1
Get your heart pumping in "Roanoke's most breathtaking event" - the 8th annual wazUPwidis Urban Run & Stair Challenge, presented by Play Roanoke & Mountain Junkies. The 3.25 race through downtown Roanoke incorporates elevation into the course with 1,000 vertical steps by climbing and descending multiple parking garages and the iconic Wells Fargo Tower.
wazUPwidis Website > 
February 1, 7-8, 20-22
The Roanoke Rail Yard Dawgs have five home games at the Berglund Center in February and many nights feature special themes and activities, including Weiner Dawg Races on February 1, MARVEL Super Hero Night on February 8, and a 40th anniversary celebration of the iconic Miracle on Ice on February 22.
Roanoke Rail Yard Dawgs Tickets >
February 1-2, 8-9
Beliveau Farm Winery will host its Sap to Syrup - Maple Walnut Weekend during the first two weekends of February, and the festival will feature syrup from locally tapped maple trees and a variety of maple products, as well as a group hike on February 8.
Sap to Syrup Facebook Event >
February 4
As part of its popular Broadway in Roanoke series, Berglund Center hosts The Simon and Garfunkel Story, a concert-style theater show that explores the lives and journeys of Paul Simon and Art Garfunkel, the two men who combined to create one of the most iconic folk rock duos of all time.
The Simon and Garfunkel Story Tickets >
February 4, 11, 18, 25 | Every Tuesday
As a way to celebrate Black History Month, the Grandin Theatre presents the African American Film Festival, with a free screening of a film every Tuesday during the month. The lineup:
February 4 - Higher Learning
February 11 - Love & Basketball
February 18 - Cabin in the Sky
February 25 - House Party
African American Film Festival Website >
February 7
The Virginia Tech Ice Hockey team wraps up the 2019-20 season with a home game against Temple at the Lancerlot Sports Complex in Vinton. 
Virginia Tech Ice Hockey Website >
February 7-8
The fastest Arenacross riders from around the East Coast will compete at the 2020 Indoor Championship Finals at the Salem Civic Center! Don't miss these two nights of incredible dirt-racing in Virginia's Blue Ridge!
TriState Arenacross Tickets >
February 8
Tons of Fun is a family-friendly event at Tanglewood Mall that's always a big hit with the kids. More than 50 area organizations will be on hand and activities will include children's performers and a variety of educational opportunities.
Tons of Fun Facebook Event >
February 8 - SOLD OUT
Unfortunately, this year's Bourbon + Bacon event at the Taubman Museum of Art has already sold out, but we're putting it on this list so that you can know to save the date for next year! It's an opportunity to sample craft spirits alongside tapas-style pork dishes from local chefs, while enjoying live music and learning about the art & science of whiskey making.
Bourbon + Bacon Event Website >
February 8
The Black Jacket Symphony is a unique musical group that provides a concert experience that showcases a particular album from start to finish. In their latest performance at Berglund Center, The Black Jacket Symphony will feature the "Houses of the Holy" album by Led Zeppelin.
Black Jacket Symphony Tickets >
February 8-9
Big Lick Comic-Con is Virginia's largest celebration of comics, creativity and pop culture, and this year's two-day event is headlined by celebrity guests Jason David Frank & James Marsters, as well as over 120 exhibitors.
Big Lick Comic-Con Website >
February 9
Unplug and see what it's like to experience the outdoors under lunar light as you take part in this guided hike at Roanoke County's Explore Park. It's for ages 5+ and pre-registration is required.
Full Moon Hike Details >
February 13
The Moss Arts Center at Virginia Tech is a stop for the national tour of The Color Purple, the 2016 Tony Award winner for Best Musical Revival, which is based on the Pulitzer Prize winning novel about a young woman's journey of love & triumph in the American South.
The Color Purple Tickets >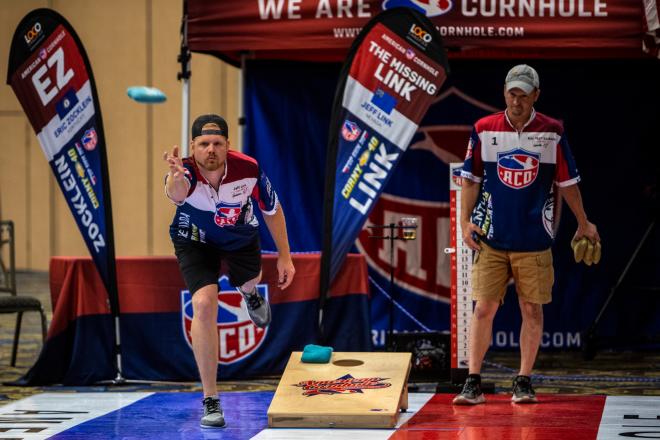 February 14-15
The American Cornhole Organization presents the Blue Ridge Major - a two-day cornhole tournament at the Berglund Center that will include some of the best cornhole players from around the country. There are opportunities for all ages and skill levels to participate, and it's also free to attend as a spectator.
Cornhole Tournament Facebook Event >
February 15
The annual Train Lovers Day at the Virginia Museum of Transportation is a celebration of Roanoke's rich railroad history & heritage and a great opportunity to enjoy the museum's incredible collection of locomotives, as well as live music and other special activities.
Train Lovers Day Website >
February 15
This annual charity ice hockey game at the Berglund Center between Roanoke area police officers and Roanoke area firefighters has sold out for three consecutive years so don't wait to purchase your tickets in advance!
Guns & Hoses Tickets >
February 15
Hosted by the Salem Montessori School, the SMS Love Run features 1 mile and 5k options, and a post-race party that will include free s'mores and hanging out with friends around a fire pit.
SMS Love Run Registration >
February 15
The Black Box Series by the Roanoke Ballet Theatre showcases sections of classical ballets alongside contemporary works for a more inclusive look at the world of ballet. The show on February 15 will feature part of "Law & Order RBT" and excerpts from Don Quixote Act 3.
Black Box #3 Facebook Event >
February 16
The Valentine's celebration will be sweet, good, bad, and a little dirty with this burlesque show from Out of Body Burlesque at the 5 Points Music Sanctuary. This is an 18 & older event. 
Burlesque Show Tickets >
February 19
Railroad Earth has been a staple at bluegrass music festivals for nearly two decades and their improvisational skills make for an amazing concert, which you'll have the opportunity to experience at the Salem Civic Center on February 19.
Railroad Earth Tickets >
February 20
You may recognize comedian Nate Bargatze from his Netflix special, "The Tennessee Kid," as he's quickly become one of the most popular stand-up comics in the United States with a style that includes a sense of humor that's both clean and relatable.
Nate Bargatze Tickets >
February 21
The National Symphony Orchestra of Ukraine has released more than 100 recordings that showcase the work of many iconic composers, and the Moss Arts Center at Virginia Tech is the perfect setting to enjoy the sounds of what is regarded as one of the best symphony orchestras in Eastern Europe.
National Symphony Orchestra of Ukraine Tickets >
February 21
Rockn' to Lockn' is a special live music playoff event where multiple bands will face off in a Battle of the Bands style competition in an attempt to earn a spot in the lineup at the LOCKN' 8 festival later this year. The Ryan Greer Band, Anthony Wayne Vibe, The Jared Stout Band, and Mad Iguanas will all be competing at 5 Points Music Sanctuary.
Rockn' to Lockn' Tickets >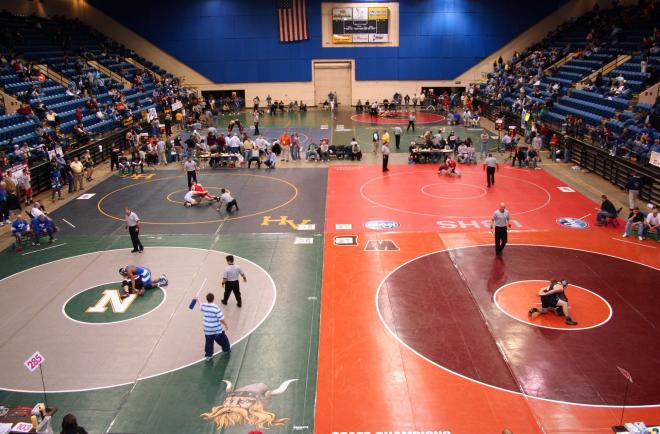 February 21-22
Many of the best high school wrestlers in Virginia will hit the mat at the Salem Civic Center for the State Championships for the schools in the I, II, & III classifications.
VHSL Wrestling Website >
February 21-23
Jurassic Quest (pictured at the top of this post) is a national tour of the country's largest and most realistic dinosaur exhibit. You can walk through various eras and interact with life-size dinosaurs in this three-day event at the Berglund Center.
Jurassic Quest Website >
February 22
Trailsetters in Virginia's Blue Ridge show off their creativity and building skills at the 3rd annual Mini Maker Faire that highlights invention, innovation, and resourcefulness.
Roanoke Mini Maker Faire Website >
February 27 - March 1
Get a head start on March Madness with four days of college basketball action at the ODAC Men's & Women's Basketball Tournament at the Salem Civic Center. 
ODAC Basketball Tournament Website >
February 28
The Temptations and The Four Tops are two of the first groups that come to mind when you think of Motown music, with hit songs like "My Girl," "Baby I Need Your Loving," and "Ain't Too Proud to Beg," among many others. Don't miss these two Rock & Roll Hall of Fame inductees in concert at the Berglund Center on February 28.
The Temptations & The Four Tops Tickets >
---
Visit our Events Calendar for a complete list of what's happening in Virginia's Blue Ridge. 
You can also subscribe to our e-newsletter to get more ideas on things to do and unique features to help you plan your next getaway to the Blue Ridge Mountains.