Take full advantage of the last few weeks of summer in the Roanoke Valley in Virginia's Blue Ridge Mountains!
We celebrate August being Virginia Craft Beer Month with a variety of great beer-related events and festivals, and you can also join the fun by checking out local breweries on Virginia's Blue Ridge Cheers Trail.
It's also a huge month for cycling in the region, with multiple rides and races taking place this month, including Virginia's Blue Ridge Go Cross Cyclocross Race presented by Deschutes Brewery over Labor Day Weekend!
Ready for some fun? Here are 40 events to add to your calendar this August in Virginia's Blue Ridge!
1. Mountain Valley Cluster Dog Show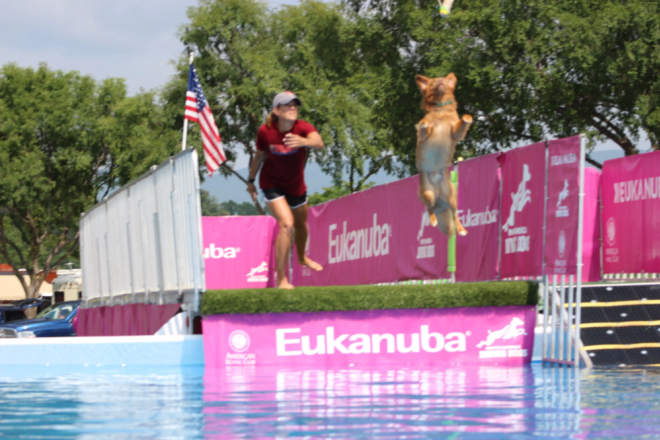 Salem Civic Center
Through August 4
The 23rd Annual Mountain Valley Cluster Dog Show at the Salem Civic Center is a free event and features over 5,000 dogs representing 145 different breeds. That's right. 5,000 DOGS! [faints from excitement]
Dog Show Schedule of Events >
2. Disney's The Little Mermaid Jr.
Mill Mountain Theatre
Through August 11 | Wednesday - Sunday
Head under the sea with Ariel and her friends as Mill Mountain Theatre presents the classic story of Disney's The Little Mermaid. This production is part of the theatre's Young Audience Series and features the Conservatory's talented young local performers.
The Little Mermaid Jr. Tickets >
3. Meredith Wilson's The Music Man
Attic Productions
Through August 10 | Thursday - Saturday
Attic Productions is getting glowing reviews for its performance of Meredith Willson's The Music Man. The Roanoke Times described the show as "A lot of beautiful music. A lot of singin' and dancin', and an "irresistible production." Don't miss your chance to find out about the trouble in River City!
Attic Productions Ticket Info >
4. Rockin' the Creek
Natural Bridge State Park
August 2
Spend a fun summer evening at Natural Bridge State Park, home of one of Virginia's most stunning natural wonders. Rockin' the Creek will feature live music by Rockin Hoss and the Silver Spurs, as well as BBQ available for purchase from Aaron's Smokehouse.
Event Website >
5. First Fridays at Five 
Downtown Roanoke
August 2 & 16
Join the party of First Fridays at Five in Downtown Roanoke on the first (August 2) and third (August 16) Fridays of the month! On the Border, an Eagles tribute band, performs on August 2, while August 16 is Ladies Night, meaning ladies get in free and there will be live music by Fuzzy Logic.
First Fridays Website > 
6. Devils Backbone Road to Hoopla: Battle of the Bands
Elmwood Park
August 3
Four local bands will be competing for a chance to perform at the Devils Backbone Hoopla music and beer festival that happens later this fall. This free event will also feature a headline concert by J Roddy Walston and The Business, as well as Devils Backbone beer on tap, local food trucks, and lots of fun activities & games.
Everything You Need to Know About Road to Hoopla >
7. Kegs & Barrels Wine and Craft Beer Festival
Green Hill Park
August 3
Tickets to the Kegs & Barrels Wine & Craft Beer Festival at Green Hill Park will include unlimited tastings, as well as the opportunity to enjoy live music by the 360 Band, Blue Mule, and Medicinal Americana. Tickets are $30 in advance and $35 at the gate.
Event Website >
8. Martin's Shakedown Street Party - A Jerry Garcia Birthday Celebration
Martin's Downtown Bar & Grill
August 3
Martin's is shutting down the street with a block party of epic proportions to honor Jerry Garcia. There will be live music on multiple stages and bands jamming out with classic Grateful Dead tunes.
Shakedown Street Party Tickets >
9. Big Lick Comic-Con
Berglund Center
August 3-4
This celebration of comics and pop culture will showcase over 120 exhibitors and will be headlined by Sean Astin, well-known for roles in hit films such as Rudy, The Lord of the Rings Trilogy, and The Goonies.
Event Website >
10. Salem Red Sox
Haley Toyota Field at Salem Memorial Ballpark
Various Dates
Cheer on the Salem Red Sox as they try to stay atop the Northern Division of the Carolina League Standings for the second half of the season! The team has lots of fun themed nights planned for home games this month, including Star Wars Night on August 3, Bark in the Park on August 8 (dogs are allowed to attend the game), post-game fireworks on August 23 & 30, and Military Appreciation Night on August 31.
Salem Red Sox Schedule > 
11. Roanoke SummerCross
Fallon Park Cyclocross Course
August 7, 14, 21
The Roanoke SummerCross Cyclocross Race Series is a great way to get in some training on the Fallon Park Cyclocross Course before the Go Cross Race at the end of the month, which will be held at the same location! The series is open to riders of all skill levels - from novice to experienced.
SummerCross Facebook Event >
12. ZOSO: Led Zeppelin Tribute
Dr Pepper Park at The Bridges
August 9
The popular Flashback Fridays series at Dr Pepper Park at The Bridges continues this month with a concert by ZOSO, a Led Zeppelin Tribute Band that has been delivering a first-class Zeppelin experience for nearly 25 years.
ZOSO Concert Tickets >
13. Flat Pickin' Fridays
Daleville Town Center
August 9
Rock out with the Matt Tucker Band at this month's Flat Pickin' Fridays concert at the Daleville Town Center Performance Pavilion in Botetourt County - a great summer setting with beautiful views.
Flat Pickin' Fridays Website >
14. Salem After 5 Summer Concert Series: The Kings
Salem Farmers Market
August 9
Admission is only $5 so bring your picnic blanket and lawn chair and enjoy live music by The Kings at the Salem After 5 Summer Concert Series in Downtown Salem. This is also a kid-friendly event with a variety of children's activities.
Special Events in Salem >
15. Legally Blonde - The Musical
Showtimers Community Theatre
August 9-25 | Friday - Sunday
Legally Blonde is an award-winning musical based on the hit movie. Showtimers Community Theatre will present the story of Elle Woods and her exciting rise through the legal world as she shatters stereotypes and pursues her dreams.
Tickets for Showtimers Community Theatre >
19. Jeter Farm on the James Concert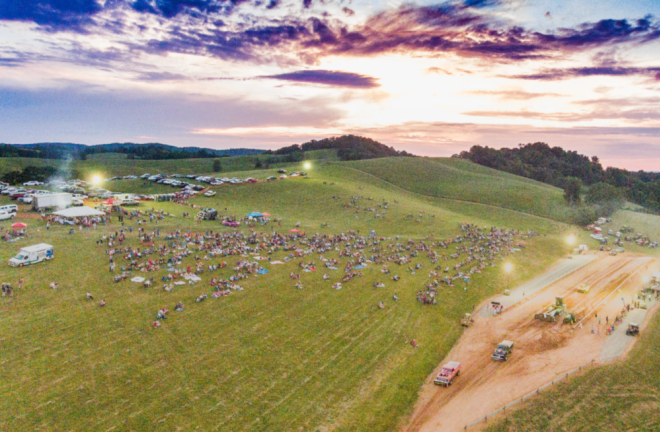 Jeter Farm on the James
August 10
Jeter Farm on the James is a fantastic setting for a summer concert that will feature Nashville and regionally-known acts, including Ray Scott, Natalie Brady & The Nite Owls, McKenzie's Mill, and GOTE.
Event Website >
16. Microfestivus
Downtown Roanoke
August 10
Celebrate August being Virginia Craft Beer Month by taking part in Microfestivus - one of the Mid-Atlantic's biggest beer festivals! Now in its 22nd year, this year's festival will include over 200 different types of beer to try.
Microfestivus Ticket Info >
17. Black Dog Beach Music Festival
Chateau Morrisette
August 10
It'll be a day at the beach in Virginia's Blue Ridge Mountains with Chateau Morrisette's Black Dog Beach Music Festival. The event will include wine tastings, great food, art & craft vendors, and live beach music by Steve Owens and Summertime as well as The Embers.
Black Dog Beach Music Festival Ticket Info >
18. Artisan Saturday
Explore Park
August 10
Don't miss the final Artisan Saturday of the season at Explore Park in Roanoke County! This unique event showcases local artisans across a variety of mediums and offers visitors the opportunity to learn more about the art-making process.
Event Website >
20. Star City Music Festival
Elmwood Park
August 10
It's a packed lineup of performers for the Star City Music Festival in Downtown Roanoke's Elmwood Park. The schedule includes EU, The Stone City Band, Norman Connors, Cold Drank, J-Dot, Orry E, and Balla G.
Star City Music Festival Tickets >
21. Ringo Starr and His All Starr Band
Berglund Center
August 13
The legendary Ringo Starr and his All-Starr Band are stopping at Berglund Center in Virginia's Blue Ridge as part of their 30th anniversary tour. Starr has twice been inducted into the Rock & Roll Hall of Fame - once as a member of The Beatles and once as a solo artist.
Ringo Starr & His All Starr Band Tickets >
22. David Crosby & Friends
Jefferson Center
August 15
As one of the finest songwriters of his generation, David Crosby is a music legend and founding member of Crosby, Stills, & Nash. Now, he's taking his talents on the road and coming to Virginia's Blue Ridge with five of his musical friends, known as the Sky Trails Band. This show feature some of his most well-known hits, along with some of his more recent works from the Sky Trails album.
David Crosby & Friends Concert Info >
23. Nora Jane Struthers
5 Points Music Sanctuary
August 15
Nora Jane Struthers is one of the most critically acclaimed artists in Americana music, drawing praise from outlets such as NPR and Rolling Stone, with NPR describing her voice as "sweet as honeysuckle." Check out her latest album (a duo with her father) on Spotify - I Heard the Bluebirds Sing.
24. Budweiser Summer Concert Series - Scotty McCreery
Elmwood Park
August 16
The Budweiser Summer Concert Series is back for an amazing night of country music in Elmwood Park. The show gets kicked off with a set by Maggie Baugh, followed by Drake White and the Big Fire, and then headliner Scotty McCreery takes the stage!
Scotty McCreery Concert Tickets >
25. Warren Street Festival
Downtown Rocky Mount
August 16-17
This 2-day festival celebrates the African American history of Warren Street in Franklin County. Activities include a parade, car show, live music, arts & crafts, and local food, and admission is only $5.
Event Info >
26. Cirque du Floyd
Chantilly Farm
August 16-17
The 3rd annual Cirque du Floyd takes this month at Chantilly Farm! This unique event will showcase regional circus artists, as well as a Saturday evening performance from Imaginerial, an internationally-acclaimed group of New York City based aerial performance artists who will be presenting a program based on the story of The Wizard of Oz.
Event Website >
27. Creekfest 2019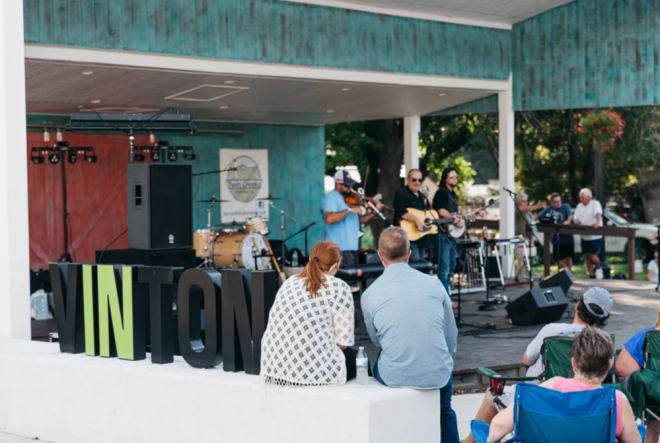 Vinton Farmers Market
August 17
It's only in its 3rd year, but Twin Creeks Brewing Company's Creekfest is quickly becoming one of the best annual summer events in the Town of Vinton in Virginia's Blue Ridge! The brewery creates new release beers specifically for the event, and patrons can also enjoy food from great local food trucks and listen to live music.
Facebook Event >
28. Festival of India
Elmwood Park
August 17
Presented by the India Heritage Society, the Festival of India takes place in Elmwood Park in Downtown Roanoke. It's free admission and serves as a wonderful introduction to Indian culture, cuisine, music, and live performances.
29. Adult Field Day
Wasena Park
August 17
Get the squad together for the return of Adult Field Day! It's a team (consisting of 6 to 8 members) event where silly costumes and crazy team names are highly encouraged. The cost is $125 per team.
Facebook Event > 
30. Farm to Feast
Historic Roanoke City Market
August 18
If you're a foodie, you should definitely have Farm to Feast on your calendar! It's a unique, elegant dining experience in Roanoke's historic Market Square where diners will enjoy a five-course meal prepared with ingredients from vendors at the Historic Roanoke City Market. The courses will also be paired with local wine and craft beer.
Farm to Feast Ticket Info >
31. Le Tour de Roanoke
UnderDog Bikes
August 22
Take part in one of Roanoke's tastiest bike rides and participate in Le Tour de Roanoke! Organized by Play Roanoke, this 5 mile ride takes approximately 2.5 hours and features stops at some of the city's best local restaurants, with riders having the opportunity to enjoy a different course at each location. Registration in advance is required.
Play Roanoke Event Registration >
32. Roanoke Wing Fest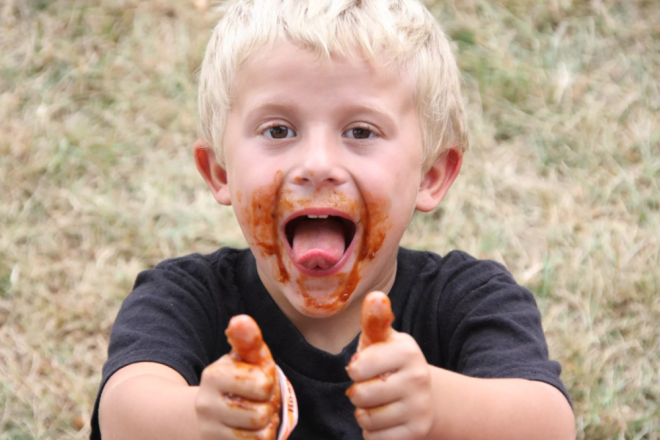 Dr Pepper Park at The Bridges
August 24
Local restaurants will compete for the title of serving the Best Wings in Town at this popular local food festival at Dr Pepper Park at The Bridges! This year marks the 10th annual Wing Fest and, in addition to delicious wings, will also offer great live music and a cornhole tournament.
Roanoke Wing Fest Tickets >
33. BOCO BBQ & Country Music Fest
Jeter Farm
August 24
Presented by Big Lick Entertainment, the 6th annual Bank of Botetourt BOCO BBQ & Country Fest will be held at the historic Jeter Farm! William Michael Morgan headlines the live music lineup, which also includes Low Low Chariot, 7 Mile Ford, and True Cadence. There will also be a BBQ cook-off!
Event Website >
34. Star City Arts Festival & Symphony Under the Stars
Elmwood Park
August 24
Elmwood Park in Downtown Roanoke will be the location of a special celebration of the arts on Saturday, August 24! The afternoon kicks off with the Star City Arts Festival, which fill feature performances from various local art organizations, as well as special exhibitions, and then the Roanoke Symphony Orchestra takes the stage in the evening for its free Symphony Under the Stars concert, which kicks off the Symphony's 65th season!
Event Website > 
35. Green Hill Highland Games
Green Hill Park
August 24
There will be pipe bands, scotch tastings, strength competitions such as the hammer throw & caber toss, traditional Scottish cuisine, and lots of kilts at the Green Hill Highland Games, a wonderful celebration of Scottish heritage and culture in Virginia's Blue Ridge.
Event Website >
36. Jump into Mystery
Parkway Brewing Company
August 27
Down a couple Get Bent IPAs and see if you have enough detective skills to figure out who committed the crime at this interactive murder mystery event at Salem's Parkway Brewing Company!
Jump into Mystery Ticket Info >
37. Star Country Star-B-Q
Salem Farmers Market
August 28
Known for his hit single "Pray for You," country music artist Matt Stell headlines this year's event, and he'll be joined by special guest Eric Gress. There will also be delicious BBQ served by Buddy's BBQ from Franklin County and local food truck Big D's Barbecue and Ribs.
Star B-Q Tickets >
38. Night Ranger
Dr Pepper Park at The Bridges
August 30
Night Ranger has given over 3,500 live performances and sold over 17 million albums around the world! Get your tickets now to catch this iconic rock band in concert at Dr Pepper Park at The Bridges! There are also VIP and Meet & Greet packages available.
Night Ranger Tickets >
39. Roanoke Valley Mopar Car Show
Salem Civic Center
August 31
See all kinds of classic and modern vehicles on display at the 32nd annual Roanoke Valley Mopar Show at the Salem Civic Center. Admission is free and there will be a variety of giveaways and special prizes offered throughout the day.
Event Website >
40. Go Cross Cyclocross Race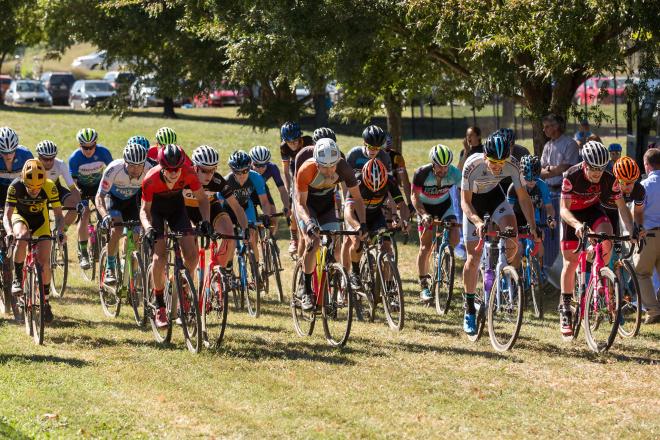 Fallon Park Cyclocross Course
August 31 - September 1
Cyclocross is coming! Virginia's Blue Ridge Go Cross Cyclocross Race presented by Deschutes Brewery is a professional cyclocross event that kicks off the season in North America for USA Cycling and UCI. Some of the best cyclocross racers in the country will be participating, and there's also a chance for you to participate, whether that's as a rowdy spectator or as a rider!
Event Website >
---
To learn more about what's going on in Virginia's Blue Ridge this month, check out our Calendar of Events and give us a follow on social media. You can also sign up for our Sweepstakes to be entered to win a free trip to the region!
Have some fun this month and go be a #Trailsetter!