Take full advantage of the last few weeks of summer in Virginia's Blue Ridge Mountains!
We celebrate August being Virginia Craft Beer Month with a variety of great beer-related events at local craft breweries, which are a big part of our Virginia's Blue Ridge Cheers Trail.
You can also catch a baseball game and cheer on the Salem Red Sox, as well as enjoy an outstanding lineup of live music and concerts that are on the calendar this month. 
Ready for some fun? Here are 25 events to add to your calendar this August in Virginia's Blue Ridge!
---
NOTE: Please keep in mind that this is only a preview of unique events happening this month. For a full list, check out our complete Calendar of Events, where new things are regularly being added.
---
1. Virginia Craft Beer Month - Brewery Events
Various Breweries
August is Virginia Craft Beer Month and it's the perfect time to check out many of our fantastic craft breweries in Virginia's Blue Ridge. Many of the breweries will be featuring special events and activities throughout the month. 
Spots like Big Lick Brewing Company (pictured at the top of this post), Golden Cactus Brewing, and Twisted Track Brewpub regularly host live music. Parkway Brewing Company is a perfect spot to enjoy after a nearby outdoor adventure on the Appalachian Trail or Carvins Cove, or head to the Twin Creeks Brewpub at Explore Park. And you can visit two of our newest tasting rooms - Olde Salem Brewing Company in Downtown Roanoke and Living Proof Beer Company in Rocky Mount. 
Check out our Breweries page for a complete list of our local breweries and remember to download our VBR Cheers Trail Passport before you visit. When you check in at participating locations, you'll get access to exclusive special offers & deals.
2. T-Rex Trail | Through August 14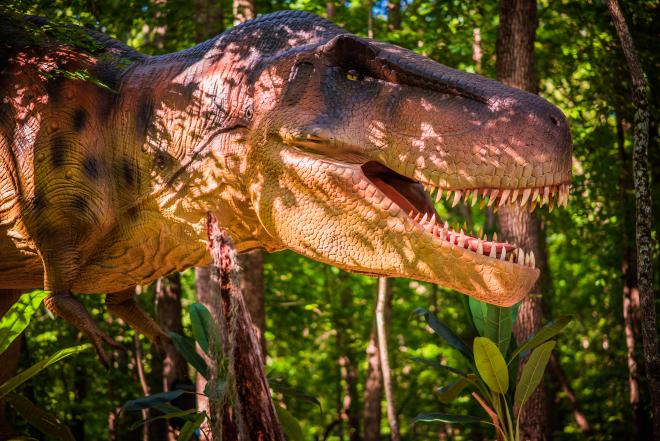 Roanoke County's Explore Park
The T-Rex Trail at Roanoke County's Explore Park has been one of the biggest hits of the summer in Virginia's Blue Ridge.
The ½ mile trail along a wooded path features 18 animatronic dinosaurs from four different time periods, as well as a dino dig pit and lots of opportunities for fun photos. The trail closes for the season on August 14 so don't miss your chance to check out this awesome new experience!
T-Rex Trail Details & Tickets >
3. Mountain Valley Cluster Dog Show | August 3-7
Salem Civic Center
Watch all kinds of adorable and very good dogs compete for top honors over the 5 days of competition at the Mountain Valley Cluster Dog Show at the Salem Civic Center, which is free to attend. There will also be a variety of vendors at the show, featuring dog products and gifts.
Mountain Valley Cluster Dog Show Details >
4. Franklin County Bike Rodeo | August 4
Waid Recreation Park
The Franklin County Bike Rodeo is a fun biking event for all ages and skill levels. The rodeo will be held at Franklin County's Waid Park, which features an awesome trail system and skills loop, and Roanoke Mountain Adventures will offer demo bikes for exploring the singletrack. There will also be loaner bikes available (courtesy of the Benjamin Franklin Middle School Bike Club) for youth who want to participate.
Franklin County Bike Rodeo Details >
5. 2022 Botetourt County Fair | August 5-6
Town of Buchanan
The 8th annual Botetourt County Fair is a family friendly celebration of the rich agricultural heritage of Botetourt County, showcasing local farms, 4-H programs, and the opportunity to sample locally grown products. 
The fair features free admission and will be held at the Buchanan Town Park.
Botetourt County Fair Website >
6. International Wine Festival | August 6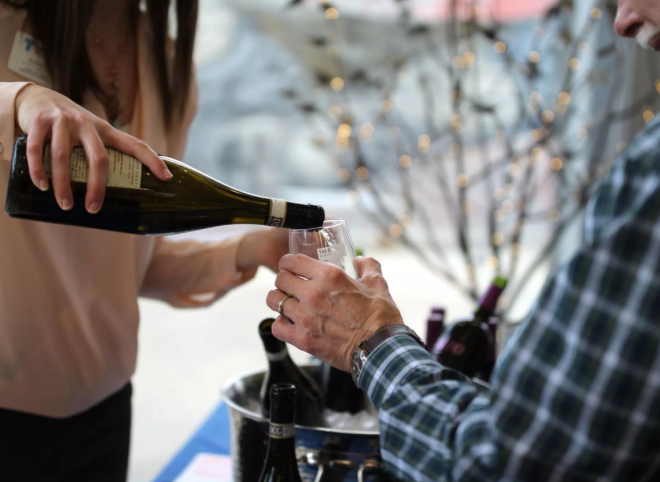 Taubman Museum of Art
The International Wine Festival at the Taubman Museum of Art showcases more than 40 wines from around the world and the opportunity to discuss them with seasoned wine stewards, as well as hors d'oeuvres and desserts and the opportunity to browse the museum's galleries.
International Wine Festival Details >
7. Big Lick Comic Con | August 6-7
Berglund Center
Gather with other comic and sci-fi fans at the annual Big Lick Comic Con, which will be held over two days at the Berglund Center in Roanoke. 
This year's event includes a great lineup of celebrity guests, including New York Times bestselling author and comic creator Mark Waid, impersonator and actor Billy West, and Walter Emanuel Jones - the original Black Ranger from Mighty Morphin Power Rangers.
8. Brand New Day - Virginia Children's Theatre Concert | August 6-7
Elmwood Park
Brand New Day is a special production and concert by the Virginia Children's Theatre, featuring youth and professional performers on the stage of the Elmwood Park Amphitheater. The show will include a variety of songs that celebrate diversity and the beauty of the human spirit.
9. 15th Annual Roanoke Guns N Hoses Charity Softball Game | August 12
Salem Memorial Ballpark
Local firefighters and police officers will square off in a Charity Softball Game at Salem Memorial Ballpark, home of the Salem Red Sox, with proceeds going to benefit the Ronald McDonald House Charities of Southwest Virginia.
Guns & Hoses Softball Game Details >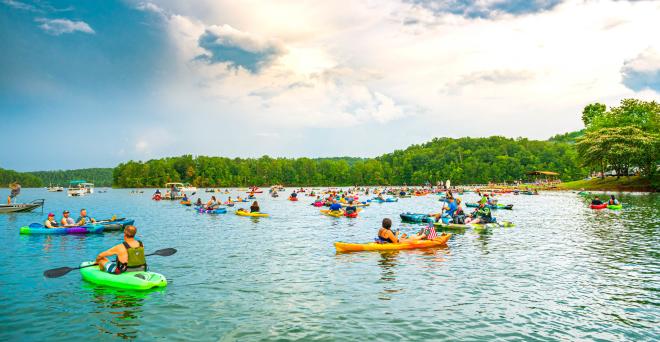 Twin Ridge Recreation Area - Philpott Lake
Listen to live music on the water at the Concerts by Canoe summer music series at Philpott Lake. Organized by Franklin County Parks & Recreation, this unique event features a band performing on a floating stage at the edge of the water, allowing for people to listen while floating on kayaks, tubes, and boats, as well as those who set up with chairs and blankets on the grass near the stage.
This month's concerts will feature Colby Hemps and The Virginia Creepers on August 12, and the Alum Ridge Boys & Ashlee on August 19.
Photo courtesy of Matt Ross - Franklin County Parks & Recreation.
11. JJ Grey & Mofro | August 13
Dr Pepper Park at The Bridges
Whether he's playing in a local juke joint or headlining a major festival, JJ Grey is known for delivering authentic, entertaining performances. Grey and his band Mofro will take the outdoor stage at Dr Pepper Park at The Bridges for a special show on August 13.
12. 2022 Virginia's Blue Ridge Harvest Tour | August 14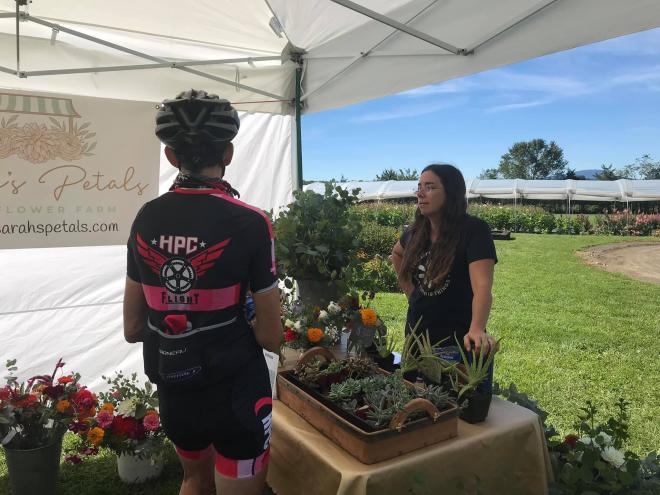 Stoney Brook Vineyards
Virginia's Blue Ridge Harvest Tour is a 35-40 mile group bike ride that showcases the scenic beauty of Botetourt County, as well as local farms along the route. The ride includes stops at 4-6 local farms, where you'll also receive a short tour and have the opportunity to purchase local products, which will be delivered to Stoney Brook Vineyards - the start & finish location of the tour.
Following the ride, the event will conclude with a farm-to-table meal, showcasing local and regional products. It's a great opportunity to connect with other cyclists while enjoying delicious food.
VBR Harvest Tour Details >
13. Daniel Champagne & Catherine Britt | August 16
The Spot on Kirk
Get ready for an Australian Invasion at The Spot on Kirk as two of Australia's most talented artists will perform on August 16. Daniel Champagne is an award-winning folk & Americana singer/songwriter, and Catherine Britt is a country star who is considered one of the best vocalists and songwriters around.
Daniel Champagne & Catherine Britt Tickets >
14. Indigo Girls | August 17
Dr Pepper Park at The Bridges
Tracing back to their debut album in 1989, the Indigo Girls have been creating award-winning music for over 30 years, making them one of the most successful folk duos in history. The pair has recorded 16 albums, including seven gold, four platinum, and one double platinum, and they're known for hits like "Closer to Fine" and "Power of Two."
15. Mipso | August 18
Harvester Performance Center
Mipso is a quartet string band known for combining classic elements of Americana music and vocal harmonies with modern influences. If you're interested in bluegrass, indie folk, and alternative country music, this will be a great show to check out at the Harvester Performance Center in Rocky Mount.
16. 2022 Budweiser Summer Concert Series: Brett Eldredge | August 19
Elmwood Park
The Budweiser Summer Concert Series will feature one of the biggest names in country music as Brett Eldredge performs at Elmwood Park in Downtown Roanoke on August 19. Eldredge has recorded many chart-topping hits over the years, including "Drunk on Your Love," "Beat of the Music," and his latest single - "Songs About You."
Brett Eldredge Concert Details & Tickets >
17. Pickin' in the Park | August 20
Longwood Park
The City of Salem will host a special night of bluegrass music in Longwood Park with a lineup headlined by bluegrass star Junior Sisk.
The show will also include performances by local bluegrass bands Wound Tight and The Bluegrass Brothers.
Guests are encouraged to bring their own chairs and blankets to the park for this free concert. No outside alcohol is allowed but you can bring in food and there will be onsite food & adult beverages available for purchase.
18. The Marshall Tucker Band | August 20
Coves Amphitheater at Smith Mountain Lake
The 50th anniversary tour of the Marshall Tucker Band makes a stop in Virginia's Blue Ridge for a concert at The Coves Amphitheater at Smith Mountain Lake. With hits like "Can't You See," and "Heard It in a Love Song," the group is recognized as one of the most iconic bands in Southern Rock.
Marshall Tucker Band Tickets >
19. Botetourt Honey Festival | August 20
Daleville Town Center
August 20 is National Honey Bee Day and the Botetourt Honey Festival at the Botetourt Farmers Market and Daleville Town Center is the perfect place to celebrate! There will be kids activities, raffles & prizes, local honey for sale, and lots of interesting information about bees and honey.
Botetourt Honey Festival Details >
20. 5 Points Pentathlon Games | August 20-21
5 Points Music Sanctuary
Get your friends together and get ready for a great time as 5 Points Music Sanctuary hosts its inaugural 5PTS Pentathlon Games, offering 2 awesome days of field day-style lawn games and free music.
5PTS Pentathlon Games Tickets >
21. Gov't Mule & Trombone Shorty | August 26
Elmwood Park
Don't miss this amazing night of music in Downtown Roanoke as Gov't Mule and Trombone Shorty perform at the Elmwood Park Amphitheater. 
Gov't Mule is a classic rock band known for providing outstanding live shows and Trombone Shorty is one of New Orleans' most iconic musicians, collaborating with many of the biggest names in music and performing at major music festivals around the globe.
Gov't Mule & Trombone Shorty Tickets >
22. WA Fest | August 26-28
Wilderness Adventure at Eagle Landing
WA Fest at Wilderness Adventure in Eagle Landing is an exciting weekend full of live music, camping, lodging, delicious food, and guided adventure activities for the whole family. Outdoor activities include tubing, canoeing, guided hikes & bike rides, ziplining, fishing, and more.
23. Roanoke Wing Fest | August 27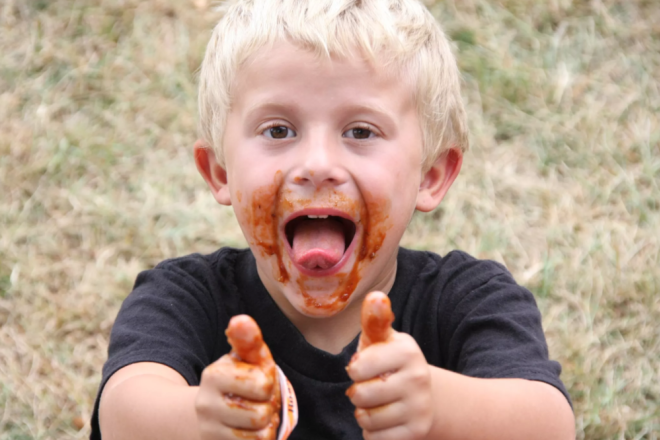 Dr Pepper Park at The Bridges
It's time for one of Roanoke's tastiest annual events! The 13th annual Roanoke Wing Fest will be held at Dr Pepper Park on Saturday, August 27 and the schedule will include great live music, various wing vendors, a cornhole tournament, and fun wing contests & activities throughout the day.
Come hungry and ready to chow down on wings!
24. Roanoke Symphony Orchestra: Symphony Under the Stars | August 27
Elmwood Park
The Roanoke Symphony Orchestra will kick off its 70th season with a free concert in Elmwood Park. This popular show has become one of the signature events of the summer in Virginia's Blue Ridge and is a wonderful celebration of the region's local performing arts community.
Symphony Under the Stars Details > 
25. Green Hill Highland Games | August 27
Green Hill Park
Green Hill Park will host the Green Hill Highland Games and Celtic Festival, an exciting celebration of Celtic culture and heritage, featuring authentic music, pipe & drum corps, rugby, vendors, whisky tasting, and more.
Green Hill Highland Games Details >
---
Save the Dates for September
Beaver Dam Farm Sunflower Festival - September 9-18
Olde Salem Days - September 10
Franklin County Agricultural Fair - September 14-17
Smith Mountain Lake Wine Festival - September 17-18
Virginia's Blue Ridge GO Cross Cyclocross Race - September 17-18
---
Looking for more information about what's going on in Virginia's Blue Ridge? Check out our Events Calendar for a complete list of events and give us a follow on Social Media, where we regularly post about special events and other exciting things happening in the region.
You can also subscribe to our monthly e-newsletter to receive updates about unique things to do and experiences in Virginia's Blue Ridge.