Take full advantage of the last few weeks of summer in Virginia's Blue Ridge Mountains!
We celebrate August being Virginia Craft Beer Month with a variety of great beer-related events at local craft breweries, which are a big part of our Virginia's Blue Ridge Cheers Trail.
We also have lots of live music and special outdoor events & festivals happening throughout the month. 
Ready for some fun? Here are 30 events to add to your calendar this August in Virginia's Blue Ridge!
---
NOTE: Please keep in mind that this is only a preview of unique events happening this month. For a full list, check out our complete Calendar of Events, where new things are regularly being added.
---
1. Virginia Craft Beer Month - Brewery Events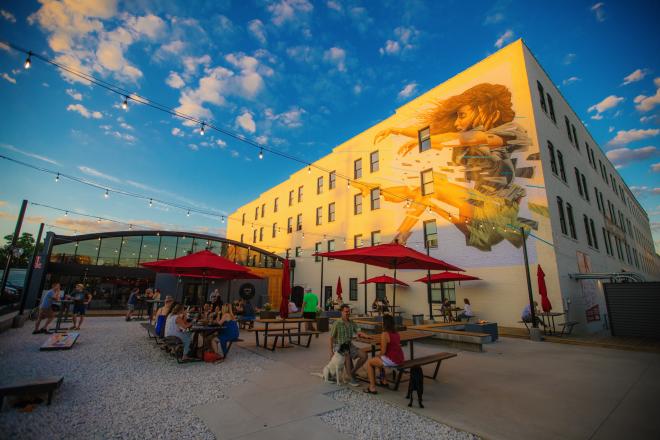 Various Breweries
August is Virginia Craft Beer Month and it's the perfect time to check out many of our fantastic craft breweries in Virginia's Blue Ridge. Many of the breweries will be featuring special events and activities throughout the month. 
Our friends at Twisted Track Brewpub have all kinds of events on the calendar, including Brunch with the Brewer on August 1, Bluegrass & Brunch on August 22, the Twisted Bazaar Market on August 29, and trivia every Tuesday night as well as live music every Friday & Saturday night.
You also won't want to miss out on the West Station Block Party at Big Lick Brewing Company (pictured above) on August 21.
Check out our Breweries page for a complete list of our local breweries and remember to download our VBR Cheers Trail Passport before you visit. When you check in at participating locations, you'll get access to exclusive special offers & deals.
2. Friday Night Live Music & Concerts
Various Venues
We love our concerts and live music in Virginia's Blue Ridge, particularly on Friday nights! August includes a great lineup of Friday night shows at various locations and venues throughout the region.
You can take part in the First Fridays concerts in Downtown Roanoke with performances by Fuzzy Logic on August 6 & Gypsy Nix on August 20, or the Car B Q Summer Concert Series at the Virginia Museum of Transportation, which is also on August 20.
For a throwback, check out the Flashback Friday concert at Dr Pepper Park on August 13, featuring a Queen tribute band. Dr Pepper Park will also host Lee Brice on August 7 and The Marshall Tucker Band on Friday, August 20 as part of its Summer You Deserve Concert Series.
Other fun options include Friday night music at Twisted Track Brewpub, the classic Friday Night Jamboree at the Floyd Country Store, and the Flat Pickin' Friday show at the Daleville Town Center on August 27.
3. Mountain Valley Cluster Dog Show - August 4-8
Salem Civic Center
Watch all kinds of adorable and very good dogs compete for top honors over the 5 days of competition at the Mountain Valley Cluster Dog Show at the Salem Civic Center, which is free to attend. There will also be a variety of vendors at the show, featuring dog products and gifts.
4. Concerts by Canoe: Bill & The Belles - August 6
Twin Ridge Recreation Area - Philpott Lake
Franklin County Parks & Recreation wraps up its 2021 Concerts by Canoe series on Friday, August 6 with a performance by Bill & The Belles. This free event is held at Twin Ridge Recreation Area on Philpott Lake and the band will perform on a floating stage.
Attendees are encouraged to bring their own canoes, kayaks, tubes, and boats to enjoy the music from the water. You can also bring chairs and blankets to set up in the grass alongside the water.
5. 2021 Botetourt County Fair - August 6-7
Botetourt County Fairgrounds - Buchanan Town Park
The 7th annual Botetourt County Fair is a family friendly celebration of the rich agricultural heritage of Botetourt County, showcasing local farms, 4-H programs, and the opportunity to sample locally grown products. 
The fair features free admission and will be held at the Buchanan Town Park.
Botetourt County Fair Website >
6. Adventure Saturday - August 7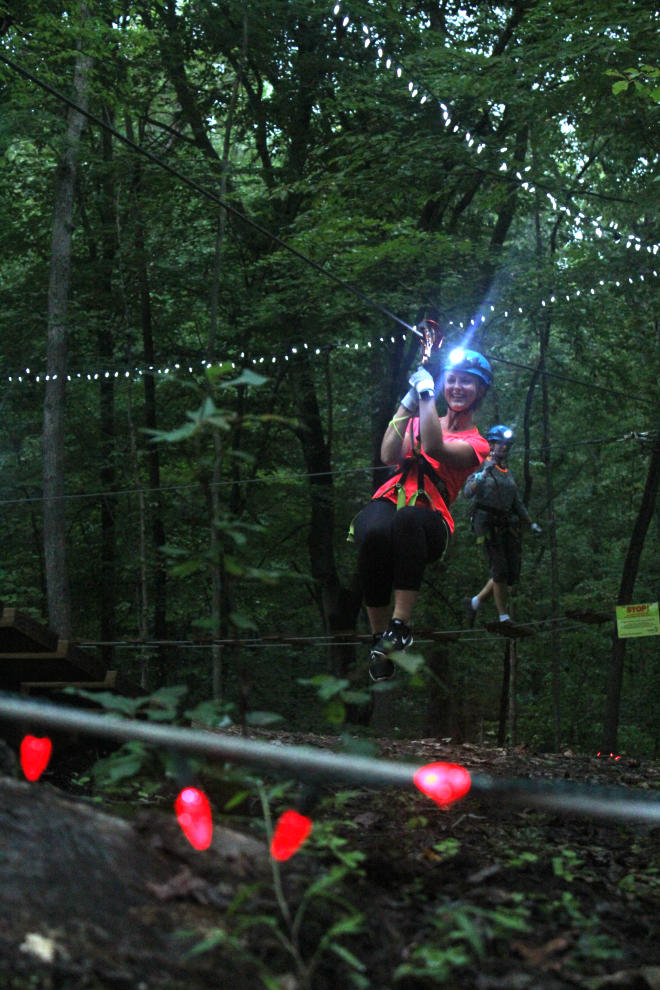 Explore Park
Adventure Saturdays are a great way to check out many of the fun outdoor experiences you'll find at Roanoke County's Explore Park.
You can go for a ride on the new mountain biking trails, enjoy a paddling or tubing adventure along the Roanoke River, fly through the forest with Twilight Ziplining at Treetop Quest, and listen to live music on the lawn at Twin Creeks Brewpub.
There are also multiple options for an overnight stay, with campsites operated by Blue Mountain Adventures and tiny cabins by Don's Cab-Inns.
7. Martin's Shakedown Street Party - August 7
Martin's Downtown Bar & Grill
Martin's is ready to party again with its popular Shakedown Street Party 2021! It's a celebration of Jerry Garcia and The Grateful Dead, featuring three different bands performing on two stages - one outdoors and one inside.
The music lineup includes The Kind, Dead Reckoning, and Nashville based LadycouchGarciaBand.
Shakedown Street Party Tickets >
8. Big Lick Comic Con - August 7-8
Berglund Center
Gather with other comic and sci-fi fans at the annual Big Lick Comic Con, which will be held over two days at the Berglund Center in Roanoke. 
This year's event includes a great lineup of celebrity guests, including Emily Swallow from The CW's Supernatural and Disney+ The Mandalorian, Johnny Yong Bosch, and Ross Marquand - known for his work on The Walking Dead and The Avengers series.
9. Sunflower Festival - Through August 8 (Thursday - Sunday)
Sinkland Farms
Sinkland Farms in Christiansburg is hosting its inaugural Sunflower Festival and it's a beautiful scene for the entire family.
The festival presents 8 acres of 20 different varieties of more than 175,000 sunflowers. Admission to the festival includes access to the sunflower fields, walking trails, local vendors & food trucks, games, kids activities, and more.
Sinkland Farms Sunflower Festival Info > 
10. James Taylor & Jackson Browne - August 11
Berglund Center
Over a career spanning more than 50 years, James Taylor has become one of the most iconic names and performers in music, winning nearly every possible award, including the Presidential Medal of Freedom - the nation's highest civilian honor. 
Taylor and his All Star Band will perform with special guest Jackson Browne at the Berglund Center on August 11. 
Ticket purchases to the concert will also include a digital download or CD copy of Taylor's new album, American Standard, which was released in 2020.
James Taylor Concert Tickets >
11. Jon Pardi - August 13
Elmwood Park
Don't miss the Jon Pardi show at Elmwood Park in Downtown Roanoke on August 13, part of the Budweiser Summer Concert Series.
Pardi is a CMA & ACM award-winning artist, known for hit songs like "Heartache Medication," "Ain't Always the Cowboy," and "Tequila Little Time."
12. Charles Esten - August 14
The Coves at Smith Mountain Lake
Charles Esten is an American singer/songwriter and actor who is known for his work as Deacon on CMT's Nashville and Ward Cameron on Netflix's Outer Banks, though we're partial to his early work as Chip on Whose Line Is It, Anyway? 
Yep, he's that guy!
Another fun fact about Charles: he grew up in Virginia and played football at T.C. Williams High School in Alexandria, the school made famous in the film Remember the Titans. He also graduated from the College of William & Mary. 
This performance at The Coves at Smith Mountain Lake will be an up-close, solo concert that includes a mix of songs and great stories.
Charles Esten Concert Tickets >
13. Mingle at the Market with Adam Rutledge - August 14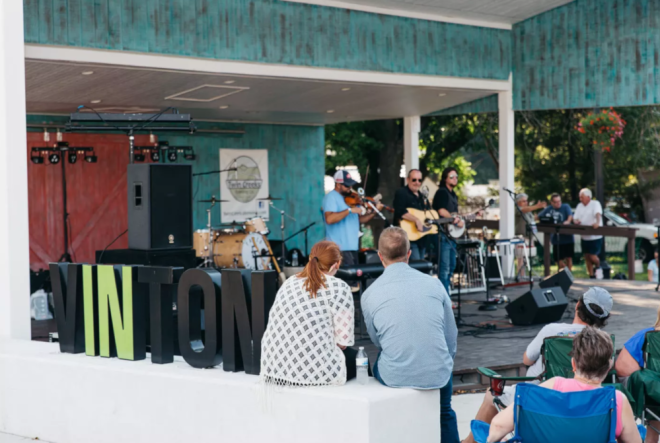 Vinton Farmers Market
Come mingle at the market in Downtown Vinton and enjoy a special concert by Adam Rutledge and his band, which will be celebrating the release of a new album.
Bring your appetite, as Mountain Grille Food Truck will be on-hand with their popular burgers available for purchase, including the famous Butter Burgers.
Mingle at the Market Facebook Event >
14. Greater Virginia Bridal Show - August 15
Berglund Center
Planning a wedding? Don't miss the Greater Virginia Bridal Show at the Berglund Center on August 15, hosted by Virginia Bride Magazine.
You can talk to knowledgeable professionals about their wedding services and sample cakes, desserts, & catering samples, providing all kinds of amazing resources in one location to help you plan the wedding of your dreams.
Virginia Bridal Show Details >
15. Summer Cross - August 18 - September 1 (Every Wednesday)
Fallon Park
The Summer Cross series is an awesome time to ride on Roanoke's cyclocross course at Fallon Park. Held every Wednesday from August 18 through September 1, this is a fun racing series that is open to all types of riders, ranging from beginners to those with more experience.
It's also a great spectator event where you can bring your cowbell and cheer on the participants. Costumes for racers and participants are highly encouraged.
16. Tuba Skinny - August 20
Market Square - Downtown Roanoke
Tuba Skinny brings the iconic sounds of their hometown of New Orleans to audiences around the world, including music lovers in Virginia's Blue Ridge with a special free performance at Market Square in Downtown Roanoke, presented by the Jefferson Center.
The ensemble group brings in a wide range of musical influences, including spirituals, ragtime & traditional jazz, and blues, to create a distinctive sound.
17. Sound of Space: An Interactive Afrofuturist Experience - August 20-22
Moss Arts Center at Virginia Tech
Created by undergraduate and graduate students at Virginia Tech, this installation at the Moss Arts Center is designed to give visitors an interactive afrofuturist experience through sonic, visual, olfactory, and tactile elements.
The work incorporates themes of transport, funk, flow and testimony to explore alternate destinies and posthuman identities.
This exhibit is part of Cube Fest 2021 at the Moss Arts Center.
18. Festival of India - August 21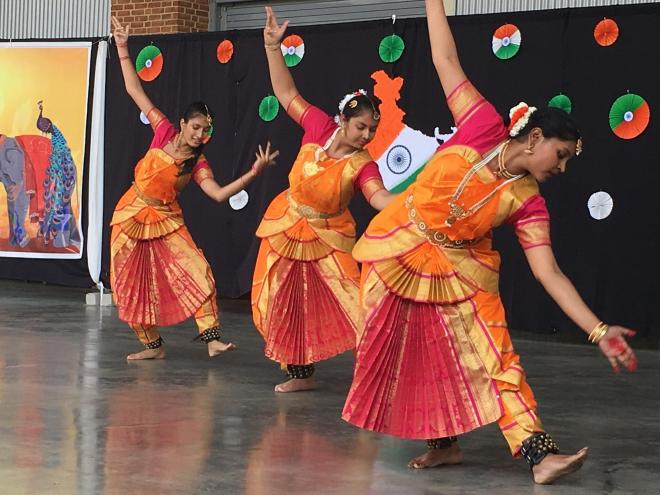 Elmwood Park
Take part in a wonderful celebration of Indian culture on Saturday, August 21 in Downtown Roanoke's Elmwood Park! 
The festival, which will be held from 4:00 to 8:00 p.m., is free to attend and it will feature delicious Indian cuisine, live performances, local vendors and more.
19. Pickin' in the Park - August 21
Longwood Park
The City of Salem will host a special night of bluegrass music in Longwood Park with a lineup headlined by bluegrass star Junior Sisk.
The show will also include performances by local bluegrass bands Wound Tight and Gate 10.
Guests are encouraged to bring their own chairs and blankets to the park for this free concert. No outside alcohol is allowed but you can bring in food and there will be onsite food & adult beverages available for purchase.
20. 24th Annual Virginia Vintage Comic Book Show - August 21
Salem Civic Center
Find all kinds of classic comic books and amazing collectibles at the 24th annual Virginia Vintage Comic Book Show at the Salem Civic Center!
The show features many of the best comic dealers in the Southeast and is known for its particular focus on older, more rare comic books that could make for a perfect addition to your collection.
Virginia Vintage Comic Book Show Facebook Page >
21. 63rd Annual Sidewalk Art Show - August 21-22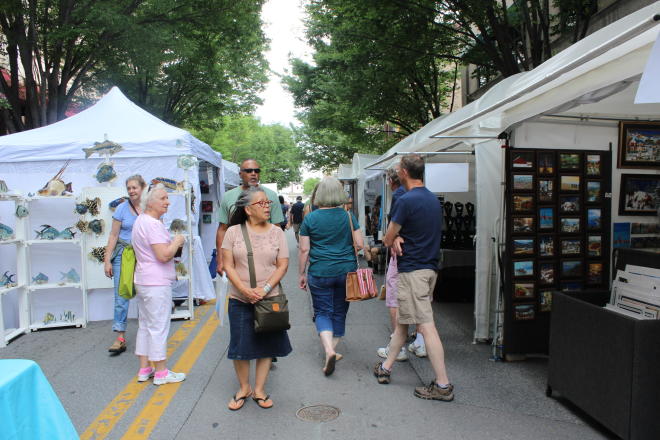 Taubman Museum of Art
Now in its 63rd year, the Sidewalk Art Show is one of Virginia's premier annual art events and a signature event of the summer in Virginia's Blue Ridge.
Hosted by the Taubman Museum of Art, the Sidewalk Art Show is a terrific showcase of amazing local artists and others from around the country who make their way to Roanoke to participate in the event, and all the works exhibited are for sale. 
The pieces include original paintings, prints, watercolors, etchings, mixed media, fine art, crafts, sculptures, and more.
This year's festival will also provide the ability for exhibitors to have their work available through a special Online Art Sale, which is active through August 31. Online Art Sale >
22. Million Dollar Quartet - Through August 22
Mill Mountain Theatre
Mill Mountain Theatre kicks off its Trinkle MainStage Series with a performance of Million Dollar Quartet, a Tony Award-nominated musical based on a recording session that featured musical icons Elvis Presley, Johnny Cash, Jerry Lee Lewis, and Carl Perkins for an unforgettable night.
Million Dollar Quartet Performance Details >
23. Harlem Globetrotters - August 24
Berglund Center
The Harlem Globetrotters are returning to Roanoke in Virginia's Blue Ridge as part of their new Spread Game 2021 tour.
It'll feature all the fun of a night of basketball with the Globetrotters, showing off ankle-breaking moves, exciting dunks, and lots of great laughs from the group who helped define streetball.
Harlem Globetrotters Tickets >
24. Star-B-Q - August 25
Salem Farmers Market
The City of Salem hosts its 14th annual Star-B-Q country, BBQ concert on Saturday, August 14 at the Salem Farmers Market (pictured at the top of this post).
The event will feature delicious BBQ from local restaurants, Buddy's BBQ & The Crusty Bark, along with great live country music, as well as beer & wine available for purchase.
25. Tanya Tucker with Walker County - August 26
Jefferson Center
Tanya Tucker had her first hit song, "Delta Dawn," when she was 13 years old in 1972 and has gone on to become one of the most respected performers in country music. She's had numerous chart topping hits, received multiple ACM & CMA awards, and was nominated for four Grammy awards in 2020.
Tucker will help the Jefferson Center celebrate the return of live music and in-person concerts as it kicks off its 2021-22 season with a performance by Tucker with Walker County on Thursday, August 26.
Tanya Tucker Concert Tickets >
26. Roanoke Wing Fest - August 28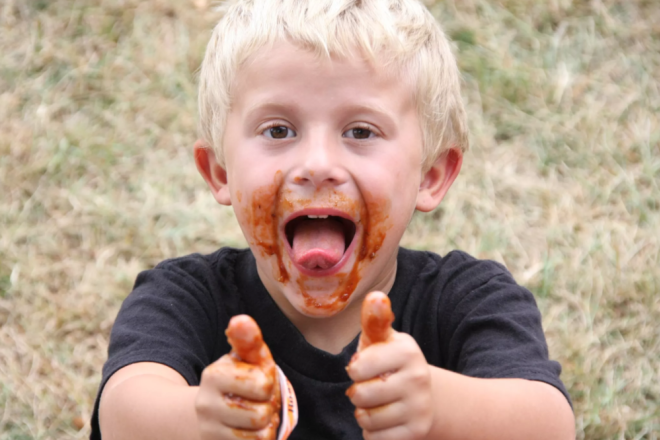 Dr Pepper Park
It's time for one of Roanoke's tastiest annual events! The 12th annual Roanoke Wing Fest will be held at Dr Pepper Park on Saturday, August 28 and the schedule will include great live music, various wing vendors, a cornhole tournament, and fun wing contests & activities throughout the day.
Come hungry and ready to chow down on wings!
Roanoke Wing Fest Facebook Event >
27. Jake Blount - August 29
Floyd Country Store
A signature venue on The Crooked Road: Virginia's Heritage Music Trail, the Floyd Country Store is a great spot to experience the incredible music history and culture of the region, which is known for its bluegrass and Americana sounds.
On August 29, catch a live concert by Jake Blount, an award-winning bluegrass artist from Providence, RI, and half of the internationally touring duo Tui.
28. Open Studios - Botetourt Art Market - August 29
Virginia Mountain Vineyards
Get a preview of the popular annual Open Studios Tour (held during the fall) with this special Open Studios Art Market at Virginia Mountain Vineyards in Botetourt County.
In addition to beautiful views and great local wine, you can also see open air demonstrations and check out unique works by local Botetourt artists.
Open Studios Art Market Facebook Event >
Salem Memorial Ballpark
Cheer on the Salem Red Sox as the team hosts multiple homestands throughout the month. The Sox kick off August with a 6-game series against the rival Lynchburg Hillcats from August 3-8, and finish the month with home games August 24-31.
There are also multiple special promo nights planned, including Bark in the Park games on August 6 & 24 when you can bring your pup to the game, Augtoberfest on August 26 where the first 400 fans receive a Beer Stein mug, and Frontline Workers Night on August 7 - celebrating our amazing local frontline workers.
There will also be post-game fireworks on Friday, August 27.
30. Pigg River Family Tubing - Every Saturday & Sunday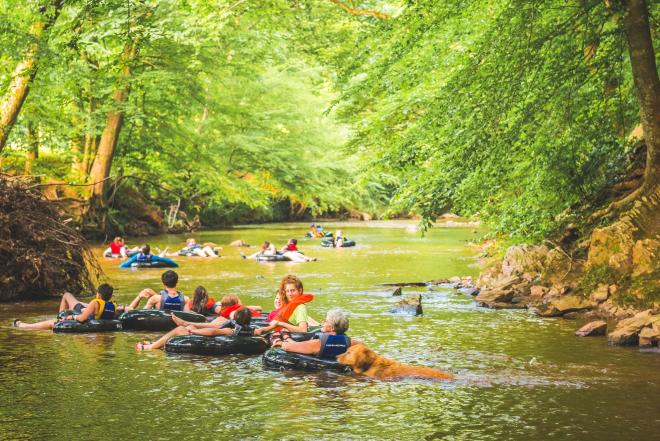 Waid Park
Make it a relaxing weekend outside and take advantage of the Family Tubing rentals at Waid Park, hosted by Franklin County Parks & Recreation.
Tube rentals are offered on Saturdays & Sundays through September 5 and are available for $5. The park features multiple access points for the Pigg River, providing the opportunity for multiple floats of different distances.
Family Tubing at Waid Park Details >
Photo courtesy of Matt Ross - Franklin County Parks & Recreation 
---
Looking for more information about what's going on in Virginia's Blue Ridge? Check out our Events Calendar for a complete list of events and give us a follow on Social Media, where we regularly post about special events and other exciting things happening in the region.
You can also subscribe to our monthly e-newsletter to receive updates about unique things to do and experiences in Virginia's Blue Ridge.