Take full advantage of the last few weeks of summer in the Roanoke Region in Virginia's Blue Ridge Mountains!
We celebrate August being Virginia Craft Beer Month with a variety of great beer-related events at local craft breweries, which are a big part of our Virginia's Blue Ridge Cheers Trail. 
Ready for some fun? Here are 25 events to add to your calendar this August in Virginia's Blue Ridge!
---
NOTE: Please keep in mind that this is only a preview of unique events happening this month. For a full list, check out our complete Calendar of Events, where new things are regularly being added.
---
1. The Summer Music Games | August 1
Salem Football Stadium
The Summer Music Games at the Salem Football Stadium will showcase world-class marching bands and drum corps in an exciting night of music in Virginia's Blue Ridge. This is a family-friendly musical event that serves as a fundraiser for the Pride of Salem Marching Band and the Salem High School Band Program.
2. T-Rex Trail | Through August 13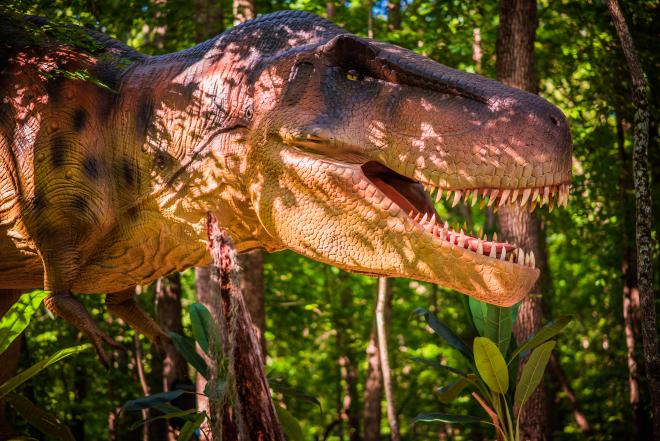 Roanoke County's Explore Park
There are only a few days left to experience this year's T-Rex Trail at Explore Park in Roanoke County!
The ½ mile trail along a wooded path features 18 animatronic dinosaurs from four different time periods, as well as a dino dig pit and lots of opportunities for fun photos. The trail closes for the season on August 13 so don't miss your chance to check out this awesome experience.
NOTE: The T-Rex Trail will be closed August 7-11.
3. Big Lick Comic Con | August 5-6
Berglund Center
Gather with other comic and sci-fi fans at the annual Big Lick Comic Con, which will be held over two days at the Berglund Center in Roanoke. The event features a great lineup of celebrity guests, including award-winning actors and actresses, wrestling stars, voice actors, and story creators.
4. Martin's Shakedown Street Party | August 5
Martin's Downtown Bar & Grill
Martin's Downtown Bar & Grill will host its popular annual Shakedown Street Party on Saturday, August 5 in celebration of Jerry Garcia and his birthday. There will be two stages for live music that pays homage to Garcia and The Grateful Dead, with performances by LadyCouch, The Dead Reckoning, and The KIND.
Martin's Shakedown Street Party Tickets > 
5. Candlebox - The Long Goodbye Tour | August 6
Dr Pepper Park
Candlebox is an alternative rock band that has enjoyed great success over the group's 30 year career. The band's latest album "The Long Goodbye" will be released later this month and they are known for hit singles such as "Far Behind" and "Change."
Salem Memorial Ballpark
Cheer on the Salem Red Sox and enjoy a game at Salem Memorial Ballpark, which is known as one of the most beautiful ballparks in minor league baseball with its beautiful views of the Blue Ridge Mountains. The Sox have some fun themed nights planned for this month, including:
August 9 - Bark in the Park
August 11 - Dinos at the Diamond
August 12 - Military Appreciation Night
August 25 - Marvel Super Hero Night
7. Jason Isbell and the 400 Unit | August 9
Salem Civic Center
Known as one of the most accomplished songwriters of his generation, Jason Isbell has won 4 Grammy Awards and is regularly recognized for his authentic and original lyrics. Isbell and The 400 Unit will perform many of his most popular hits, as well as songs from the group's latest album, Weathervanes, which was released earlier this summer.
Jason Isbell & The 400 Unit Details >
8. Chatham Rabbits | August 10
Harvester Performance Center
Husband and wife duo Austin and Sarah McCombie make up the Chatham Rabbits, emerging from North Carolina's fertile environment of Americana musicians and performers. The duo's latest album, If See You Me Riding By, was released in 2022.
9. Concerts by Canoe - The Harwell Grice Band | August 11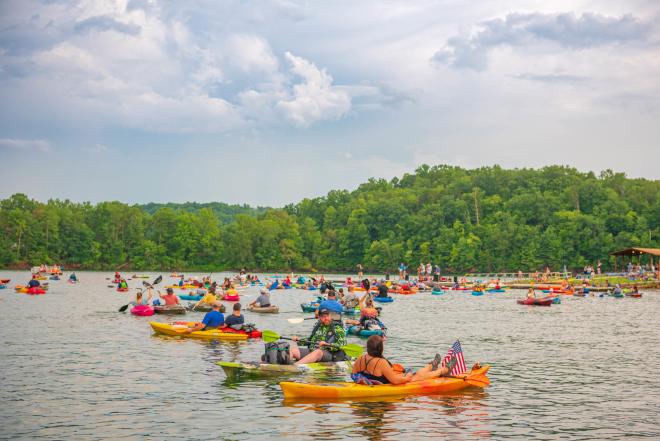 Philpott Lake
Listen to live music on the water at the Concerts by Canoe summer music series at Philpott Lake. Organized by Franklin County Parks & Recreation, this unique event features a band performing on a floating stage at the edge of the water, allowing for people to listen while floating on kayaks, tubes, and boats, as well as those who set up with chairs and blankets on the grass near the stage.
This month's concert will feature The Harwell Grice Band on August 11.
10. 2023 Botetourt County Fair | August 11-12
Buchanan Town Park
The annual Botetourt County Fair is a family friendly celebration of the rich agricultural heritage of Botetourt County, showcasing local farms, 4-H programs, and the opportunity to sample locally grown products. 
The fair features free admission and will be held at the Buchanan Town Park.
Botetourt County Fair Website >
11. Festival of India | August 12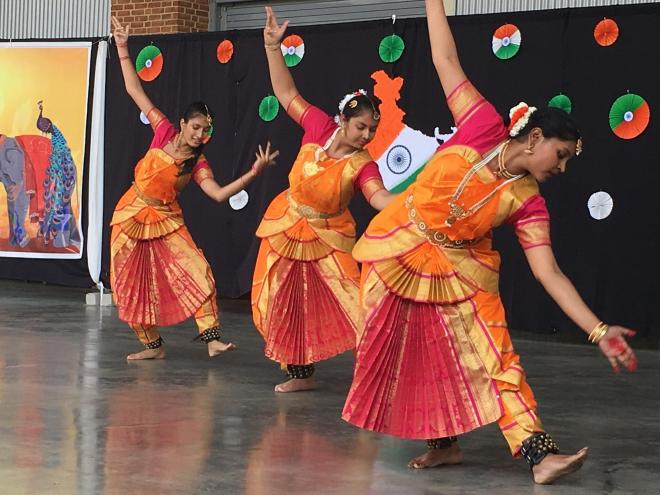 Elmwood Park
Experience the wonderful culture and traditions of India at the annual Festival of India in Elmwood Park in Downtown Roanoke. The celebration will feature beautiful colors, music, dance, cuisine, and more.
12. Bow Wow Brunch | August 13
Big Lick Brewing Company
Bring your four-legged friend along for the fun at Angels of Assisi's 2nd annual Bow Wow Brunch at Big Lick Brewing Company. The dog-friendly fundraising event will include a delicious catered brunch, live music, BARKcuterie boards, and the opportunity to take photos with your dog.
13. Sierra Hull | August 13
Harvester Performance Center
Sierra Hull burst onto the music scene as a 10 year old virtuoso mandolinist who performed at venues like the Grand Ole Opry and Carnegie Hall. Now, Hull has established herself as a decorated musician and storyteller through her four albums, the latest of which has been described as "elegantly inventive and endlessly captivating."
14. Bluey's Big Play: The Stage Show | August 15-16
Berglund Center
Bring the kids to the Berglund Center for two days of exciting live performances of Bluey's Big Play: The Stage Show. The theatrical adaptation is based on the hugely popular and award-winning Bluey TV series, featuring a family of Australian blue heeler dogs.
15. Franklin County Agricultural Fair | August 16-19
Franklin County Recreation Park
The Franklin County Agricultural Fair features a great schedule of activities that include tractor competitions, midway rides, live music & special performances, educational exhibits, animal shows, contests, games, food, and more.
The concept of agricultural fairs originated in farming communities as an opportunity for folks to come together for fellowship and a celebration of the fruits of labor and bountiful harvests.
Franklin County Ag Fair Website >
16. Oliver! | August 17 - September 3
Attic Productions
Attic Productions in Botetourt County brings Charles Dickens' beloved story to life with this performance of Lionel Bart's Oliver! The story takes the audience on an adventure with young Oliver Twist, as he searches for a home, family, and love, while navigating London's underworld of theft and violence.
17. Bluegrass Pickin' in the Park | August 19
Longwood Park
The City of Salem will host a special night of bluegrass music in Longwood Park with a lineup headlined by bluegrass star Junior Sisk.
The show will also include performances by local bluegrass bands Wound Tight and New Standard.
Guests are encouraged to bring their own chairs and blankets to the park for this free concert. No outside alcohol is allowed but you can bring in food and there will be onsite food & adult beverages available for purchase.
18. The Oakey's Dog Days of Summer | August 19
Lancerlot Sports Complex
You and your pup can cool off during the dog days of summer at this fun-filled event at the Lancerlot Sports Complex in Vinton. The complex turns its full regulation sized ice rink into a cool dog park and opens the outdoor swimming pool for dogs and their owners only.
This is a free community event that is open to the public, especially those with dogs, or those who are thinking about adopting a dog.
Oakey's Dog Days of Summer Details > 
19. CreekFest 2023 | August 19
Twin Creeks Brewpub - Explore Park
Twin Creeks Brewing Company will host its annual CreekFest celebration at the Twin Creeks Brewpub at Explore Park, featuring live music, good food, and great craft beer. This year's live music will take place on the new Tavern Stage, which is home to the popular Tavern Stage Summer Music Series at Explore Park.
20. Bret Michaels & Warrant | August 25
Elmwood Park
Bret Michaels & Warrant bring the Parti-Gras 2023 show to Elmwood Park in Downtown Roanoke on August 25. Throughout his career, Michaels has sold over 100 million records and has become a reality TV superstar.
21. 2023 Beat the Heat Classic - Spectrum Pickleball Tournament | August 25-27
Spectrum Sports Academy
Pickleball is the fastest growing sport in the country and we're excited to welcome teams to Virginia's Blue Ridge for the 2023 Beat the Heat Classic - Spectrum Pickleball Tournament at Spectrum Sports Academy in Roanoke.
22. WA Fest | August 25-27
Wilderness Adventure at Eagle Landing
WA Fest at Wilderness Adventure in Eagle Landing is an exciting weekend full of live music, camping, lodging, delicious food, and guided adventure activities for the whole family. Outdoor activities include tubing, canoeing, guided hikes & bike rides, ziplining, fishing, and more.
23. GO NOKE! Roanoke College XC MTB Race | August 26
Explore Park
Come cheer on the Roanoke College Cycling Team as it hosts the Roanoke College XC MTB Race at Explore Park on Saturday, August 26. There will be multiple races, open and collegiate categories, and a great scene for spectators, including food available for purchase from the Roanoke College Food Truck.
Roanoke College MTB Race Details > 
24. Roanoke Wing Fest | August 26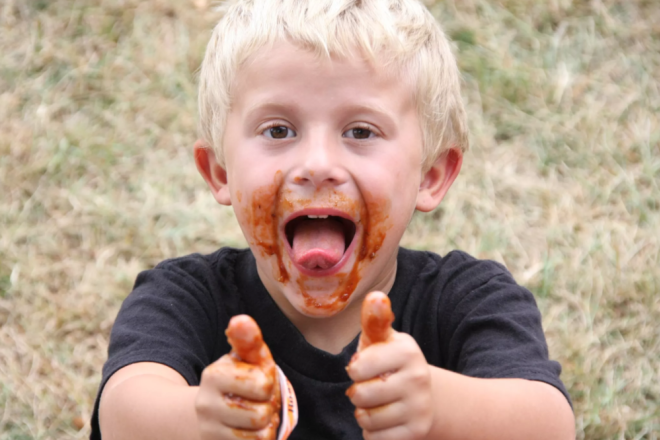 Dr Pepper Park
It's time for one of Roanoke's tastiest annual events! The 14th annual Northwest Ace Roanoke Wing Fest will be held at Dr Pepper Park on Saturday, August 26 and the schedule will include great live music, various wing vendors, cornhole, and fun wing contests & activities throughout the day.
Come hungry and ready to chow down on wings!
25. Virginia Vintage Comic Book Show | August 26
Salem Civic Center
The annual Virginia Vintage Comic Book Show at the Salem Civic Center features some of the best comic and collectibles dealers in the United States, particularly those who specialize in older comic books. Come check out these vintage items and find something new to add to your collection.
Virginia Vintage Comic Book Show Details >
---
Save the Dates for September
---
Looking for more information about what's going on in Virginia's Blue Ridge? Check out our Events Calendar for a complete list of events and give us a follow on Social Media, where we regularly post about special events and other exciting things happening in the region.
You can also subscribe to our monthly e-newsletter to receive updates about unique things to do and experiences in Virginia's Blue Ridge.