The Concerts by Canoe series at Philpott Lake is one of the most unique annual events you'll find in Virginia's Blue Ridge!
The series is organized and hosted by Franklin County Parks and Recreation and it's a fantastic celebration of summer fun, outdoor recreation, and live music in a beautiful setting.
UPDATE: The June 11 concert by New Macedon Rangers is being rescheduled to June 25 due to anticipated bad weather.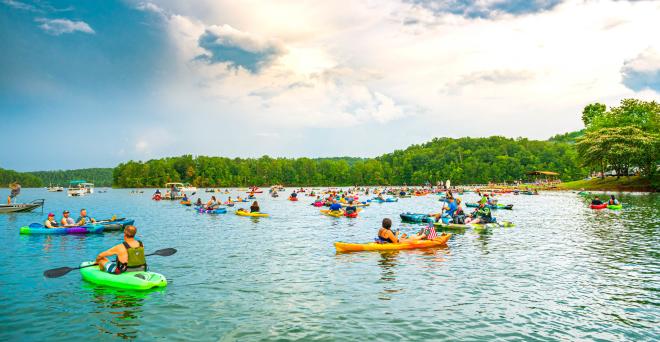 The band performs on a floating stage at the water's edge at Philpott Lake and then attendees are invited to bring their own canoes, kayaks, standup paddleboards, and tubes to paddle and float their way up near the stage and enjoy the music.
Those with motorboats are also encouraged to attend and are invited to use the Salthouse Branch Recreation Area for water access. Those with non-motorized boats are invited to use the dual launch ramp at the Twin Ridge Recreation Area, where the concerts will take place.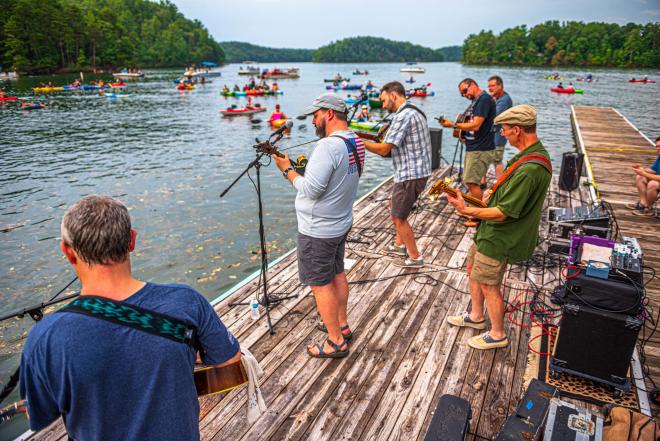 The concerts begin at 6:30 p.m., but it's best to arrive early to give yourself time to get your craft onto the water and get set up in the listening area.
Guests can also bring their own chairs and picnic blankets to grab a spot in the grass near the stage.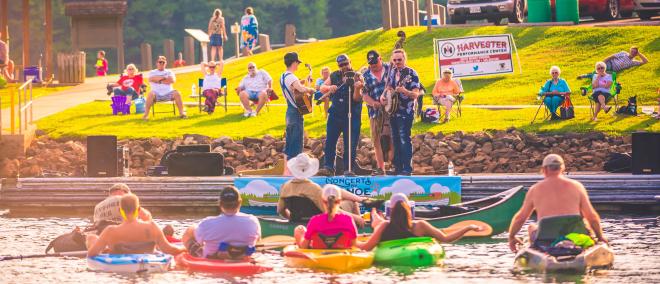 Concerts by Canoe is free (donations are accepted) to attend and local, award-winning restaurant Buddy's BBQ will have food available for purchase.
The events take place at the Twin Ridge Recreation Area on Philpott Lake and the 2021 Summer Concert Series will feature three performances by different local bands.
Concerts by Canoe 2021 Schedule
New Macedon Rangers - Friday, June 25 - 6:30 p.m. | NOTE - this show is being rescheduled from June 11 due to weather
Seph Custer and Deep Creek - Friday, July 9 - 6:30 p.m.
Bill and the Belles - Friday, August 6 - 6:30 p.m.
​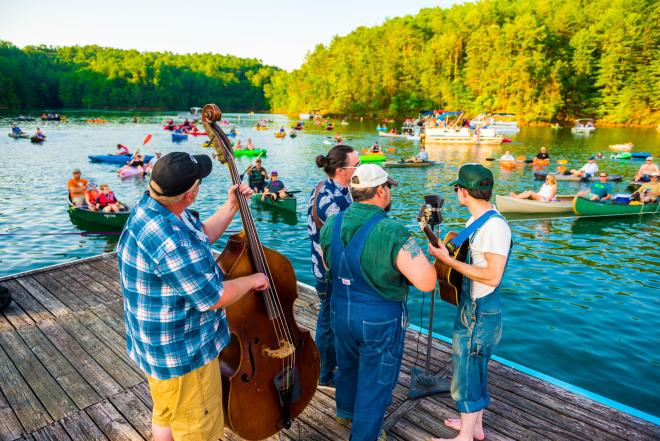 ---
COVID Safety Measures
Franklin County Parks & Recreation will follow all state guidelines as it relates to COVID-19 health & safety protocols. There will be hand sanitizing stations and plenty of space for attendees to follow social distancing guidelines. Forward Virginia COVID Safety Guidelines >
---
Water Safety: Life jackets are required for all watercraft, in accordance with Virginia Department of Wildlife Resources Regulations. Virginia DWR Boating Safety & Education >  
---
Concerts by Canoe - Band Previews
New Macedon Rangers
Based in Floyd, the New Macedon Rangers present a range of authentic Virginia & North Carolina mountain music with unique vocal harmonies and exciting instrumental rhythms. The band has won numerous awards at various bluegrass and fiddle festivals and competitions, and they perform regularly at the iconic Floyd Country Store and are part of the Handmade Music School.
Listen: New Macedon Rangers >
  
Seph Custer and Deep Creek
Seph Custer is a local favorite in the live music scene in Virginia's Blue Ridge, frequently performing at area breweries & wineries, music venues, and local festivals. Custer and the Deep Creek Band, a group based in Franklin County, feature a fun blend of Americana, folk, rock, blues, country & bluegrass sounds.
Listen: Seph Custer >
Bill and the Belles
Similar to the New Macedon Rangers, Bill and the Belles also have local connections to The Floyd Country Store and Handmade Music School. The band specializes in country and roots music, and you may recognize them from their work as the house band for the PBS television program "Farm and Fun Time."
Listen: Bill and the Belles 
---
Location - Twin Ridge Recreation Area at Philpott Lake
1052 Twin Ridge Marina Road, Henry, VA 24102
Philpott Lake is located on the southern end of Franklin County, and the Twin Ridge Recreation Area is approximately 1 hour south of Roanoke and 35 minutes north of Martinsville.
---
RSVP and Share with Friends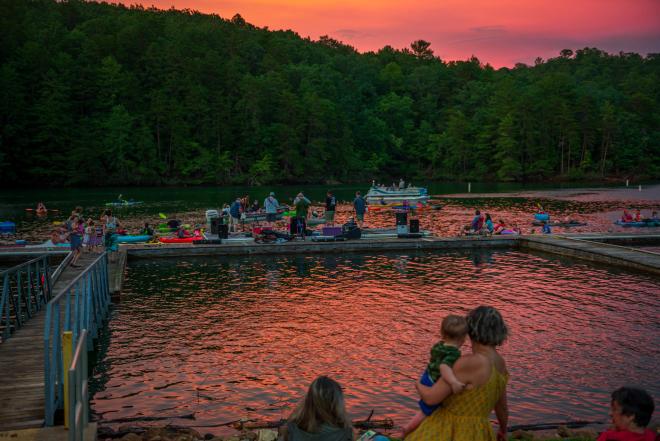 You can help spread the word about Concerts by Canoe and invite your friends by RSVP-ing on the various Facebook events and sharing to your own networks.
---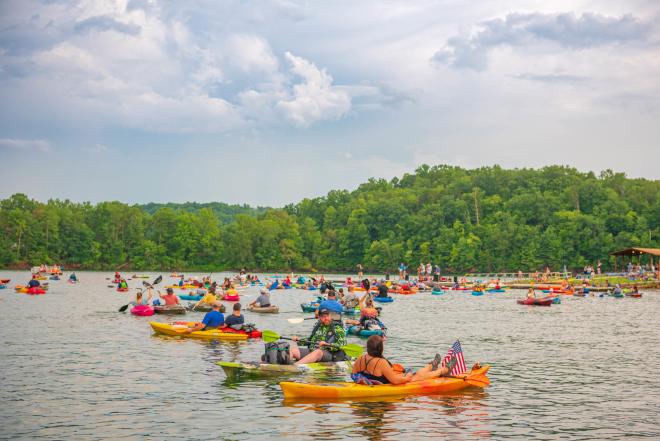 Make Concerts by Canoe part of an entire weekend getaway to Franklin County in Virginia's Blue Ridge, where you can check out other areas to explore on the water, fun trails for hiking & mountain biking, and great local shops, restaurants and craft beverages. You can also learn the history of how Franklin County became the "Moonshine Capital of the World."
Visit our Franklin County section to learn more and plan your mountain getaway.
All photos courtesy of Matt Ross - Franklin County Parks & Recreation