I want s'more. You want s'more. We all want s'mores in Virginia's Blue Ridge!
What's a trip to the Blue Ridge Mountains without enjoying some authentic s'mores and s'mores inspired treats?!
Our local restaurants, ice cream shops, and bakeries come through with some delicious creations.
Satisfy your s'mores cravings at these local spots in Virginia's Blue Ridge.
Champloo Desserts features Thai-style hand-crafted rolled ice cream at two different locations in the region - Downtown Salem and Tanglewood Mall. All ice cream creations are made to order and make for amazing photos (like the one pictured above). The S'Mores dessert features graham cracker mixed with chocolate and vanilla ice cream. It's topped with grams, whipped cream, chocolate syrup, and a toasted marshmallow.
You'll love the vibe, decor and menu at Pop's - a 1950s style soda fountain in Roanoke's Grandin Village. The ice cream dishes feature locally produced Homestead Creamery ice cream, a favorite for locals and visitors. Try the Smores Sundae, which is graham crackers topped with two scoops of chocolate ice cream, toasted marshmallow fluff, and fresh whipped cream.
Make Your Own S'Mores at Explore Park & Primland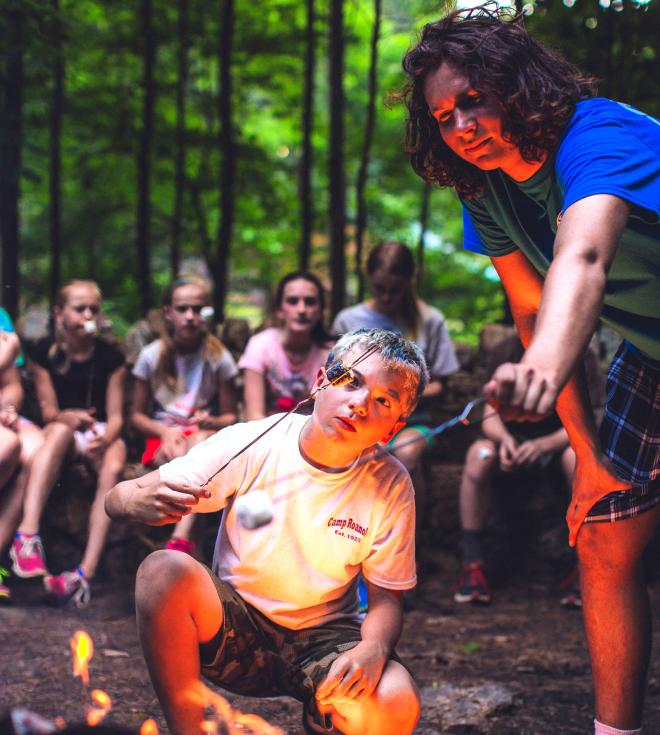 It doesn't get any better than pitching your tent in the Blue Ridge Mountains and building a campfire for some good, old-fashioned marshmallow roasting and s'mores making. Consider taking advantage of the new primitive camping sites at Roanoke County's Explore Park, which include picnic tables and fire pits. You can also participate in the National Park Service Ranger Program and its Campfire Programs on Fridays & Saturdays, featuring complimentary s'mores gift bags!
If you're looking for a more luxurious experience, book a getaway at the world-class Primland resort. For overnight guests, the resort will provide a s'mores kit that can be used to create your sweet treat at the fire pit as you take in the beautiful views from the patio.
Who needs a campfire when you have a brick oven?! Fork in the Alley and Fork in the Market specialize in dishes prepared in their wood-fired brick ovens, including a decadent s'mores dessert that's made by toasting a traditional s'mores in the brick oven and then topping it with chocolate sauce. For even more deliciousness - add peanut butter!
Chocolatepaper - S'Mores Graham Crackers & Pretzels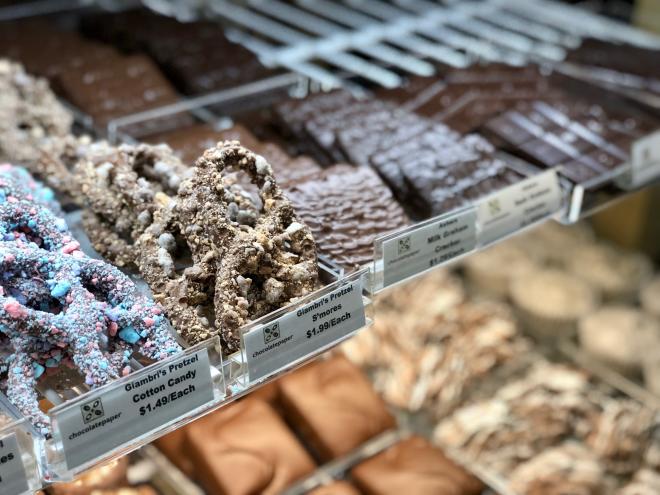 We can't mention chocolate without including our friends at chocolatepaper! This local shop on Market Street in Downtown Roanoke gets in on the s'mores fun with a graham cracker & marshmallow that's dipped in milk chocolate, as well as a s'mores pretzel that's a pretzel dipped in milk chocolate with marshmallow and graham cracker sprinkled on top. These make for great gifts. And by gifts, we mean...snacks for yourself. :)
Macado's: Campfire Smores
They're taking s'mores to the next level at Macado's. With multiple locations in Virginia's Blue Ridge (Salem, Downtown Roanoke, Tanglewood Area), you're never far from the Stowassers Campfire S'mores. It's a warm brownie with chocolate ice cream, crushed graham crackers, mini marshmallows, chocolate sauce, whipped cream, & cherry, and its served in a chilled schooner. 
Kelly Cafe: Toasted Marshmallow Gelato
Don't miss Kelly Cafe (locations in Roanoke & Salem) for the toasted marshmallow gelato! We'll call gelato a cousin of ice cream, though this Italian delicacy is churned at a slower rate, giving it a smooth, silky texture that's rich and full of flavor. Toasted Marshmallow is part of the regular rotation of gelato flavors at Kelly Cafe.
---
Map of Locations
---
Bon appetit and enjoy your sweet treats in Virginia's Blue Ridge! If you're a foodie who likes to document your experiences on social media, remember to tag us and use the #BlueRidgeDay hashtag!
Here are some other good resources for your sweet tooth:
Header Photo at Champloo Desserts courtesy of Celina Colby - Trends and Tolstoy