You can always find something sweet at the local ice cream shops in the Roanoke Valley in Virginia's Blue Ridge!
Ice cream is part of the tasty local food scene in the region and visiting an ice cream shop can make for the ideal way to treat yourself during a Blue Ridge Day.
From artisan flavors with unique ingredients to all your favorite classics, we'll all scream for ice cream!
Here are the best local ice cream shops to check out during your next visit to Virginia's Blue Ridge.
Note - This is not a ranking. The locations are listed in alphabetical order. Click on the name of any business for additional information, including the location.
It hasn't been open long, but Blue Cow Ice Cream Company has already earned a reputation as one of the best ice cream shops in the region. The shop specializes in craft ice cream and features all your favorite flavors, as well as other unique options like goat cheese with blueberry, brown butter pecan, and chocolate cayenne. It's also conveniently located at the base of Mill Mountain and along the Roanoke River Greenway.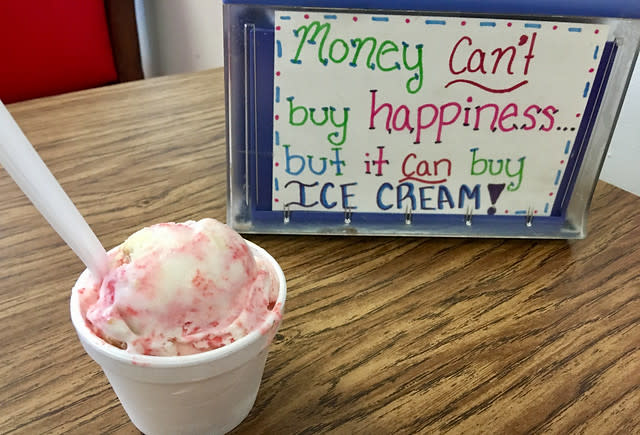 With its selection of classic arcade games and hand-dipped Hershey's ice cream, Bratcher's Ice Cream Parlor is a great place for a sweet treat in Virginia's Blue Ridge that the kids will love. The menu includes cones, cups, milkshakes, sundaes and more. If you're especially hungry, you can also enjoy a Nathan's Famous hot dog!
Bratcher's Ice Cream Parlor Facebook Page > 
You're stepping back in time at Buchanan Fountain & Grille on Main Street in the historic Town of Buchanan. This historic soda fountain is located in Ransones Drug Store and features tile floors and classic stools. In addition to delicious burgers, you'll definitely want to try some ice cream or a milkshake.
Buchanan Fountain & Grille Menu >
Champloo Dessert was the first to introduce the concept of rolled ice cream in Virginia's Blue Ridge! At this quaint shop in Downtown Salem (and its second location in Tanglewood Mall), you get to watch the step-by-step process of hand-crafted rolled ice cream that is turned into a delicious creation with a variety of ingredients and toppings. There are fruit and non-fruit flavors, and you can also build your own bowl of deliciousness! It's almost too pretty to eat. ALMOST.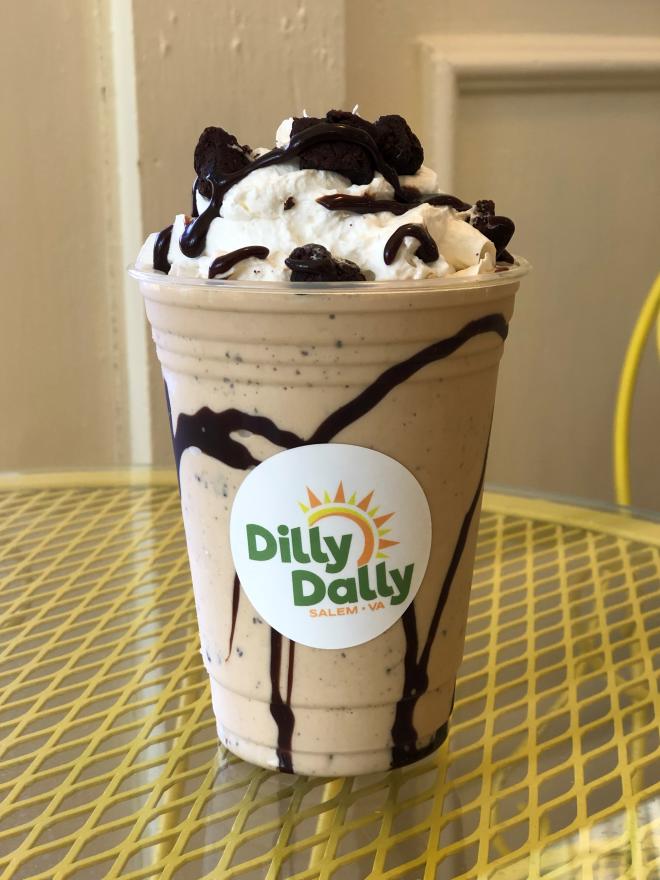 Built in 1910, the historic Dilly Dally in Salem specializes in local and Virginia made products and has a charming cafe and ice cream parlour. They serve Ashby's Sterling Ice Cream, a premium brand from Michigan. Specialties include thick hand-spun milkshakes and homemade brownie sundaes. Be sure to sample the authentic flavors of Nana's Banana Puddin', rich bourbon swirls in the Jacked Up Tennessee Toffee or seasonal favorites like Carolina Peach or Apple Crisp.
Known for its delicious milk and dairy products that are available in grocery stores throughout the Southeast, Homestead Creamery is located in Franklin County in Virginia's Blue Ridge and offers a charming storefront in Burnt Chimney that operates as a country store, as well as ice cream and sandwich shop. Order a couple scoops of the Creamery's incredibly rich, creamy, flavorful ice cream and then grab a seat in one of the rocking chairs on the front patio.
Homestead Creamery Ice Cream Flavors >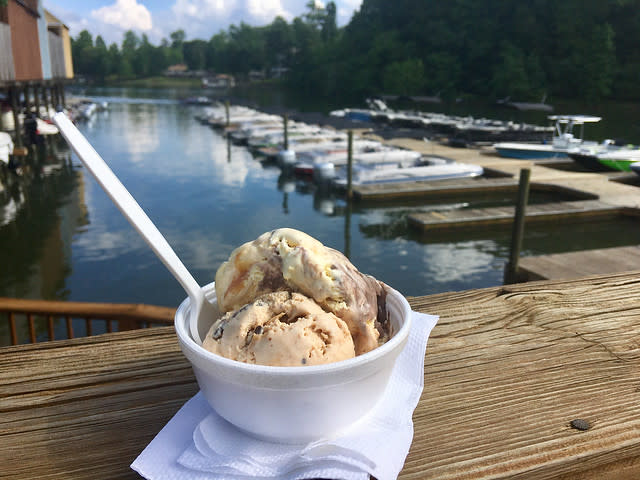 What's better than a summer day at the lake with a scoop of ice cream? The Ice Cream Cottage is located in the Bridgewater Plaza at Smith Mountain Lake and serves hand-dipped Hershey's ice cream. There's also patio seating with a great view of the plaza, and you're just a short walk away from the marina and the giant carp you'll see in the water waiting to be fed.
There are lots of sweet options at Katie's Ice Cream & Chocolates in the Promenade Park Shopping Center. The hand-dipped ice cream flavors include turtle sundae, dark chocolate raspberry truffle, key lime pie, cotton candy, blueberry cheesecake, and whitehouse cherry, in addition to the classic flavors, as well as soft-serve frozen yogurt.
Katie's Ice Cream & Chocolates Facebook Page >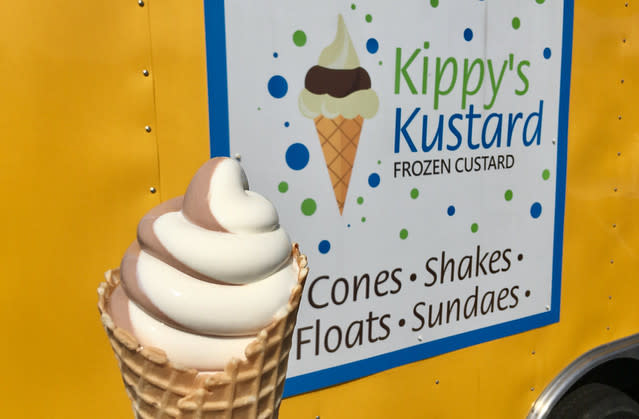 It's not a traditional ice cream shop, but you're still going to love a visit to Kippy's Kustard! The small trailer is located in the parking lot of the Oak Grove Plaza shopping center and features a set of patio tables with umbrellas. As the name suggests, Kippy's features custard, with flavors of chocolate, vanilla or swirl. They can also be prepared as sundaes, milkshakes, and in other specialty dishes, like the Banana Mama, which is made with vanilla custard, fresh banana, strawberries, chocolate syrup, and whipped cream.
Kippy's Kustard Facebook Page >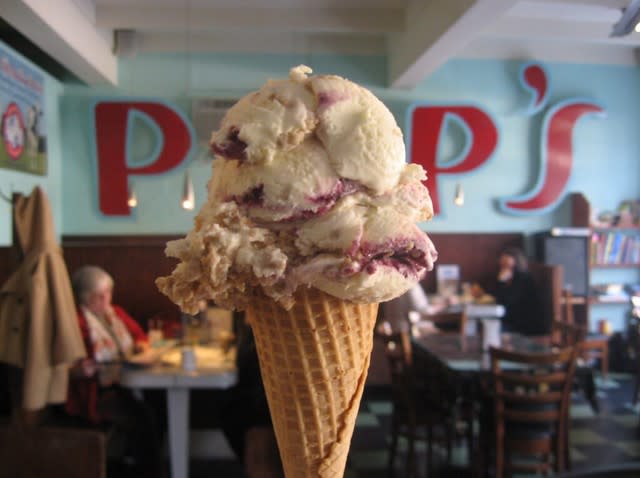 This adorable shop is the place to go for ice cream in Roanoke's Historic Grandin Village. Pop's features a retro-style soda bar and the menu includes authentic soda pop and ice cream sodas that are prepared to order on a 1936 Bastian Blessing soda fountain. All ice cream dishes are prepared with locally-sourced Homestead Creamery ice cream. Pop's has also been recognized as one of the best spots in the country for grilled cheese sandwiches.
Pop's Ice Cream & Soda Bar Menu >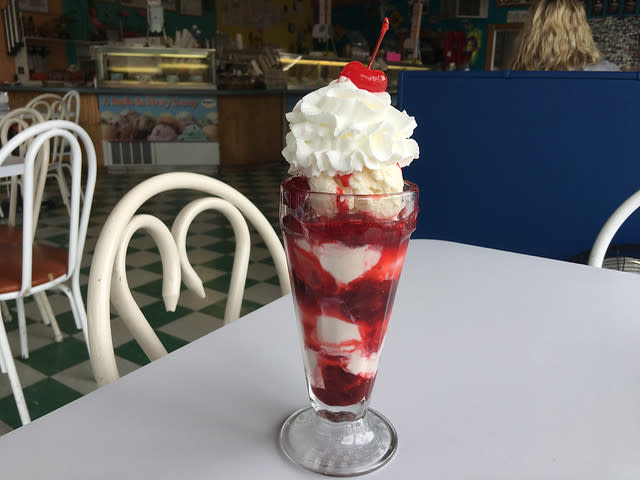 You might feel like you've stepped into a beachfront ice cream shop with the bright colors and coastal decor at the Salem Ice Cream Parlor. You can enjoy an impressive variety of flavors of Hershey's hand-dipped ice cream, which are served in classic glassware and can also be prepared in unique creations, as in ice cream sundaes or other specialties like the Mound of Mud or Strawberry Shortcake Volcano.
Salem Ice Cream Parlor Facebook Page > 
---
Map of Locations
---
Still hungry? Visit our Restaurants section for more information about dining options in Virginia's Blue Ridge. You can also check out our list of Famous Foods and take a look at this Sample Itinerary for Foodies.
NOTE - This post was last updated July 2019.