Think outside of the big box stores and online giants this holiday season to seek out the perfect gift offered by a small, locally-owned business in Virginia's Blue Ridge.
There are great upcycled gifts, quirky items you won't find on the shelves of national retailers, delicious flavors that are true to this part of Virginia, lovely handcrafted gifts, and boutique name brands offered by our retailers.
Shop around to see what you've been missing. Your recipients are sure to be pleased with your creative thinking skills.
Here are some of our favorite shopping experiences in Virginia's Blue Ridge.
 
One of the niftiest places in Virginia's Blue Ridge is Black Dog Salvage. The folks at Black Dog recover architectural details and fixtures from historic buildings, industrial spaces, and old home and barns before they're lost to time or demolition. 
Shoppers are welcome to purchase these items as they are or discover something that has taken on new life as a reimagined piece of furniture or décor, including many items that have been featured on the popular Salvage Dawgs TV show. 
Visit the Black Dog Salvage Memorial Bridge Marketplace to see what other artisan vendors have to offer as well.
Book a Stay at Black Dog Salvage's Stone House >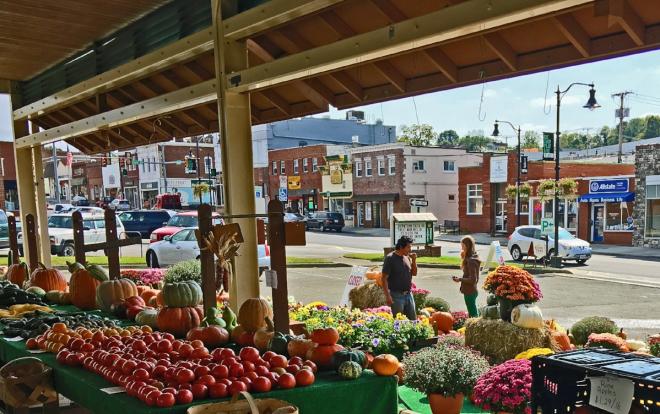 Believe it or not, some of the farmers markets of Virginia's Blue Ridge are open year 'round and offer far more than seasonal produce. The market is a great place to pick up flavorful gifts like jams and jellies, as well as linens, baskets, jewelry, soaps, and much more.
•    Salem Farmers Market – Monday through Saturday, 7 a.m. to 4 p.m. through December
•    Grandin Village Farmers Market – Special Winter Market December 21, 10 a.m. to 1 p.m.
•    Vinton Farmers Market (pictured above) – Monday through Saturday, 8 a.m. to 6 p.m. through December
•    Historic Roanoke City Market – Daily 8 a.m. to 5 p.m.
•    West End Community Market – Tuesdays 3 to 6 p.m.
Learn More: Farmers Markets in Virginia's Blue Ridge >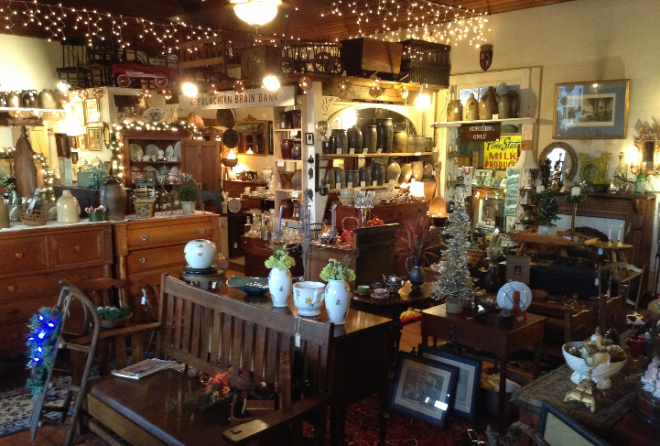 Complete someone's special collection or simply add a new old treasure to their décor when you visit an antique shop in Virginia's Blue Ridge, such as Harris Hall of Antiques pictured above. From collectible items and rustic or fine furnishings to vintage toys and vinyl, you never know what you'll find. 
Get a jumpstart with our 10 Spots for Antique Shopping article >
Outdoor Gear & Apparel
 
Adventure with us in Virginia's Blue Ridge and equip someone you love to do the same. Seek assistance from our top outdoor retailers to choose the best shoes, clothes, and accessories for whichever journey is their favorite. Bicycles, kayaks, and other large equipment can also be found at these retailers.
•    Walkabout Outfitter has two VBR locations:
     o Downtown Roanoke – Open Monday through Friday 10 a.m. to 5:30 p.m.; Saturday 9 a.m. to 5:30 p.m.; Sunday 10 a.m. to 4 p.m.
     o Valley View Mall – Open Monday through Saturday 10 a.m. to 8 p.m.; Sunday 12 to 5 p.m.
•    Outdoor Trails in Daleville – Open Monday through Friday 10 a.m. to 8 p.m. and Saturday 10 a.m. to 6 p.m.
•    Roanoke Mountain Adventures in Roanoke – Open Monday-Tuesday and Thursday-Saturday 10 a.m. to 5:30 p.m.; Sunday 12 to 4:30 p.m.
•    Bridgewater Marina & Boat Rentals at Smith Mountain Lake – Open Tuesday through Friday 9 a.m. to 5 p.m.; Monday & Saturday 8 a.m. to 5 p.m.; Sunday 8 a.m. to 8 p.m.
Learn More: Roanoke Outside's Guide to Gear Stores >
Food & Drinks
 
Delicious local tastes are giftable, and here's where to look. chocolatepaper has the cure for a sweet tooth with cases of truffles, barks, caramels, and more. You'll also find delicious local dairy products and sweet treats at Homestead Creamery's Farm Market in Franklin County. 
Find local organic foods at Roanoke Natural Foods Co-Op, the largest cooperatively owned natural foods grocery store in Virginia. The Co-Op also has a surprising selection of locally-themed t-shirts and stickers! If you're looking to pair a recipe with a great wine, visit Mr. Bill's Wine Cellar to seek the assistance of a Sommelier, Mr. Bill. 
Wine to meet (or exceed) any budget can be found at Wine Gourmet, where many wines less than $15 mingle with high end wines worthy of an extended pinky finger. When you want to try before you buy, consider Barrel Chest (pictured above) in Roanoke. They're the only retailer offering beer and wine on tap by the glass, and perhaps you'll taste something you want to share.
Learn More: Beer & Wine Shops in Virginia's Blue Ridge >
Shopping Areas
 
Park the car and stroll shopping areas to easily check off your list. 
Market Street in Roanoke (pictured above) is where you'll find the vendors of Roanoke City Market as well as great dining and shopping. Gather gifts at Ladles & Linens Kitchen Shoppe, Walkabout Outfitter, chocolatepaper, La De Da, The Little Gallery, and others.
Within Grandin Village – a neighborhood of Roanoke - you'll also find lunch or dinner along with your gifts. Try Too Many Books for the book lover, Urban Gypsy for boho styles, accessories, and fun stuff for pets. Grandin Village is also a short walk or ride from the aforementioned Black Dog Salvage.
For the die-hard mall shopper, head to Valley View Mall where nearly 100 stores and kiosks are available for shopping, including Walkabout Outfitter as an exterior store in The District of Valley View. At Tanglewood Mall you'll find popular anchor stores and specialty shops. 
Towers Shopping Center in Roanoke is home to 50 dining and shopping entities including locally owned businesses like A Little Bit Hippy and Present Thyme. 
Downtown Salem is easily walkable and local shops are readily at hand. Try Charlotte's Web Antique Mall and Sports Haven before seeking lunch and circling back to Grandma's Attic for more vintage and primitive finds.
Rocky Mount is a great place to find artisan gifts, collectibles, and locally-made items at The Artisan Center Along The Crooked Road. Extend your stay with a show at the Harvester Performance Center and inquire about giving the gift of an experience at the Harvester with a gift card for a future show.
Bridgewater Plaza at Smith Mountain Lake is a great place to find a gift for the southern girl in your life. You can also find some great gear to help you get on the water at Smith Mountain Wake Company, as well as at the Dockside Store for Bridgewater Marina & Boat Rentals.
Locally Made
 
Give a gift that is made right here in Virginia's Blue Ridge. We love the following ideas:
•   Satan's Snot Habanero Hot Sauce from Scratch Biscuit Company and The Village Grill
•   Heart & Spade Forge (pictured above) – carbon steel skillets forged in downtown Roanoke 
•   Appalachia Press – letterpress stationery – available at Black Dog Salvage, Bread Craft, and chocolatepaper in Roanoke; Floyd Country Store in Floyd; and Reclaimed in Moneta
•   Caldwell Mountain Copper – copper kettles, buckets, and other vessels handcrafted in Fincastle
•   The Appalachian Craftsman – authentic heritage wares for home and farm, including wood pieces and copperware, crafted in Eagle Rock 
•   Local Spirits from Twin Creeks Distillery & Franklin County Distilleries
•   Belle's Place Soap Co. – handcraft goat's milk soaps and lotions for people and dogs - Roanoke City Farmer's Market
Gift Shops & Stores
 
Many area museums and attractions have gift shops, if you're looking for a specifically themed item for someone special. Consider the Blue Ridge Parkway Visitor Center at Explore Park for themed gifts from local artisans and craftspeople, Taubman Museum of Art for the art lover, Mill Mountain Zoo for animal-themed gifts, and the Virginia Museum of Transportation for those who appreciate planes, trains, and automobiles.
To find gifts reflective of Virginia's Blue Ridge, peruse the shopping area at The Gift Niche or chocolatepaper on Market Street.
Learn More: Where to Find Local Souvenirs in Virginia's Blue Ridge >
 
Gift a lovely work of art this season. You'll find wonderful photography and paintings at  The Little Gallery in Downtown Roanoke, which also features blown glass and pottery. 
Unexpected and exciting is 2nd Helpings Gallery, which is a café and gallery in Roanoke. Eating and shopping 2nd Helpings Gallery supports the Roanoke Rescue Mission for the homeless and families in need.
Learn More: Art Galleries in Virginia's Blue Ridge > 
Clothing Boutiques
 
Trendy, vintage, boho, traditional…whatever your style, you'll probably find it at a clothing boutique in Virginia's Blue Ridge. 
In Roanoke, consider 310 Rosemont for upscale clothing for both men and women. In addition to clothes, you'll also find hats, belts, notebooks, drinkware, bags, bracelets, shoes, and outerwear. Next door, La De Da (pictured above) focuses on flirty feminine fashion and home décor. Across the way, BitterSweet has everything to outfit your fashionista from top to bottom and accessorize her to the max. One block away on S. Jefferson Street is Davidsons, a men's fine clothier outfitting the gentlemen of Roanoke for more than 100 years.
Go for one-of-a-kind fashion for your one-of-a-kind gal when you shop Urban Gypsy in Grandin Village. Their stock is limited in colors and styles to ensure originality.
The Bird Cage in Salem is a great place to find organic and socially responsible items fit for a day in the office or a night on the town, complete with jewelry to compliment.
Jewelry Stores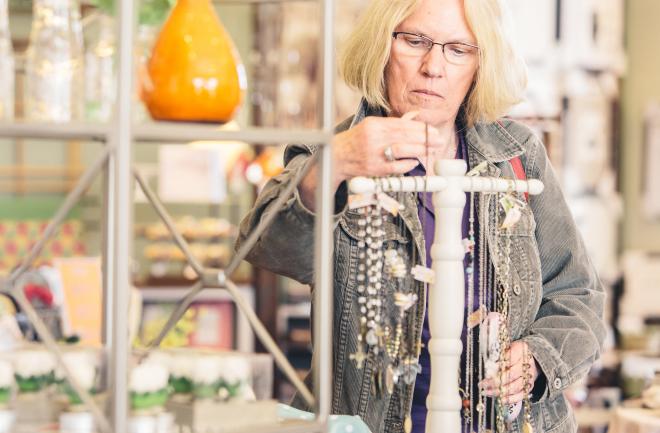 Add to your jewelry collection with some beautiful items from local jewelry stores in Virginia's Blue Ridge. Shops like Fink's Jewelers, Frantz Diamonds & Jewelry, Haywood's Jewelers, Penelope, R.M. Johnson & Sons Jewelers, and others specialize in a variety of pieces that will help you create the perfect look.
Major Annual Events
 
Special events in Virginia's Blue Ridge are great places to score gifts. Keep these in mind for the future and perhaps try to catch Dickens of a Christmas in downtown Roanoke one of these next three Fridays to find something special. Dickens of a Christmas is December 6, 13, and 20, 2019 and it's everything the name brings to mind: costumed carolers, roasted chestnuts, and a nostalgic atmosphere. During Dickens downtown Roanoke retailers are open later to welcome revelers for holiday shopping. Some also offer deals or refreshments.
Olde Salem Days (pictured above) is held mid-September each year and features hundreds of artisans and crafters. Save the date for September 12, 2020.
The Stocked Market is another huge vendor event held annually at Berglund Center in mid-November. You can expect to see not just artisans but many of our locally-owned businesses with some of their stock. Save the date for November 13-15, 2020.
The Taubman Museum of Art hosts a Sidewalk Art Show each may putting fine art from many artists at your fingertips. Save the date for May 30-31, 2020.
The Anthem Go Outside Festival is a huge weekend event that is all about the outdoors. A climbing wall, bike and kayak demos, a lumberjack show, air dogs, BMX, and live music stage are just key attractions, but the vendors are top-notch for all things an outdoor lover may enjoy. Keep an eye peeled for October 2020 dates.
Learn More: Calendar of Events for Virginia's Blue Ridge >
---
Part of the magic of the season is the gift giving. Enjoy finding the perfect item for each person on your list and make it a special time to be treasured and fondly remembered. Thank you for shopping local in Virginia's Blue Ridge.