Virginia's Blue Ridge is known for a lot of things, and we'd dare say that breakfast should be one. Whichever community of VBR you find yourself in, there is an excellent grab-and-go or homestyle full-spread waiting nearby at a local restaurant.
Love biscuits and gravy? Done. Egg whites and turkey bacon? Done. A mimosa with your entrée? We have those, too.
Take a breakfast tour of VBR. When you're ready to say thanks, you can hit us up on Twitter, Facebook, or Instagram. We'll be watching for your #foodporn.
As the name implies, Scratch Biscuit Company makes scratch-made biscuits (pictured above), which are hard to argue against. Who doesn't love a big, fluffy biscuit? Top it with butter or house-made jam…or go all out and add eggs and meat…or even tofu. The choices are limited by your imagination. Oh, and if you love coffee, you'll want to try their house-roasted medium, Grelen Gold. View Menu >
"My husband had the Cowboy Crippler, he loved it so much he invited a friend to drive all the way over from Lexington to have one with him the next morning." - Diann K., Paris, MI
>> Weekend Getaway: 48 Hours in Virginia's Blue Ridge
When the Dogwood Restaurant put down roots in Vinton, it was there to stay and grow. Since 1948, the Dogwood has been serving the same great French toast, omelets, pancakes, and biscuits and gravy that generations of locals have loved. View Menu >
"Five stars because its local, simple, and the service is great. If you want to eat with the locals then go here." – David H., Lexington, KY
>> Small Town Charm: Vinton in Virginia's Blue Ridge
All kinds of omelets, waffle combinations, and build-your-own hash brown options are on the menu at Angelle's, not to mention the expected breakfast fare. This breakfast menu is so robust, it may be an "I'll have one of everything" type of scenario. Best of luck to you! View Menu >
"What a great place to have breakfast. I got a mimosa … It was a wonderful time." – Sabrina H., Phelps, NY
>> Best Burgers in Virginia's Blue Ridge
If you love bread, there's no other place to be than Bread Craft. Five varieties are made fresh daily while 18 others are rotated throughout the week. You'll probably want to grab their hamburger buns or perhaps a loaf of Jewish Rye to spread the flavor over the week. As for breakfast, you can go as light as a parfait with house-made yogurt or as heavy as a sirloin with egg on a croissant. View Menu >
"Stopped in on the weekend for a late breakfast…We had eggs Benedict, eggs Florentine and apple maple French toast. All were exceptional!!!" – Kurt K., Arden Hills, MN
>> 10 Delicious French Toast Dishes in Virginia's Blue Ridge
Our Daily Bread | Blacksburg, Roanoke, and Salem
You may feel spoiled when you dine at Our Daily Bread. From luscious three-egg omelets and crepes to homemade buttermilk pancakes and hash brown plates, the eatin' is good! View Menu >
"This place is hands down a great place for breakfast and lunch…" – Sherry C., Jacksonville, FL
>> Best Restaurants for Sunday Brunch
The biscuits are as big as your head and essentially melt in your mouth at Maw & Paw's Diner in Botetourt County. You can create the ultimate biscuit sandwich with meat options like country ham, bacon, steak, and bologna, or opt for a traditional breakfast platter or omelette. Of course, no one is saying you can't try one of each. View Menu > 
"Excellent home cooking. Worth the drive from Roanoke. Friendly, cozy and warm. Can't wait to go back." – Sharon W., Elgin, IL
>> 8 Spots for Mountain Biking & Burgers
Earlier risers will find the servers at Ernie's ready to roll at 6 a.m. A Market Square mainstay, Ernie's is old school. The breakfast menu is fast and easy with eggs and toast, meats, an omelet, or gravy biscuits. View Menu >
"Now don't expect fancy. Expect friendly service, quick results and tasty food." – Anne S., Richmond, VA
>> Must See Main Street: Downtown Roanoke
Biscuits, croissants, pancakes, omelets…most anything you would expect in a southern breakfast can be ordered at Ruth's Place. Don't forget the grits and hash browns! View Menu >
"Really good roadside home cooking. Pleasant atmosphere and very friendly service. Excellent prices!" – Jana M., Grapevine, TX
>> Best Biscuits in Virginia's Blue Ridge
Located in the City Market Building in downtown Roanoke, Scrambled is a "fast casual" breakfast destination. When it's warm outside, request patio seating! But back to the food…As the name implies, it's all about the eggs at Scrambled. The egg-centric menu relies on quality fresh-from-the-farm, cage-free, organic eggs. Thusly, that's what you'll enjoy when you choose a combo, dive into the smorgasbord Star City Scramble, or make your own breakfast sandwich. French toast, pancakes, and other delights are on the menu, too. View Menu >
"We love coming here when we are in Roanoke! Delicious food with quick and sweet service!" – Andrew D., Staunton, VA
>> 15 Pet-Friendly Patios in Virginia's Blue Ridge
Looking for legit homemade bagels? Found 'em. Donnie D's makes them from scratch and kettle boils them every morning. Have one plain, with cream cheese or lox, or fixed up fancy with eggs, cheese, and a meat. View Menu >
"Donnie D's Bagels is the real deal. On the day I went, they were offering up 13 different varieties of bagels, as well as an impressive selection of flavored cream cheese spread." – Sherry T., Blacksburg, VA
>> Outdoor Adventures in Botetourt County
When breakfast is a special occasion or you want to impress your guests, there's no choice but Sunday brunch at The Regency Room at The Hotel Roanoke. It's the fine dining of morning meals, and yes, sometimes you need to splurge and go all out first thing in the morning. Don't let anyone tell you otherwise. View Menu >
"Amazing brunch spread … Plenty of great desserts, breakfast selections including meats and omelette [sic] station. Definitely a good place to take out-of-town visitors." – Pavan I., Reston, VA 
>> Best Spots to Splurge on Dinner in Virginia's Blue Ridge
A true Franklin County establishment, Franklin Restaurant has been serving the community and those who travel through it since 1958. Trust that you'll find the standard southern staples on the breakfast menu, plus a considerate helping of southern hospitality. View Menu >
"Great food and excellent service! Glad we stopped here on our trip!" – Joe B., Surfside Beach, SC
>> 13 Restaurants for Great Comfort Food in Virginia's Blue Ridge
Hailed as the only New York style delicatessen in Roanoke, R.T. Smith's has a devout following of sandwich lovers. And getting things started with a breakfast sandwich at R.T. Smith's is the perfect way to begin your Blue Ridge Day. View Menu >
"The corned beef hash is excellent! Definitely not out of a can. Breakfast bagel sandwich was also very good." – Forbes B., Pennsylvania
>> 7 Tasty Cookies in Virginia's Blue Ridge 
We have no shortage of family diners in Virginia's Blue Ridge, and Jerry's is another we're proud to have. It's unpretentious and comfortable…as one Yelp reviewer put it, "Everything…is going to be familiar to you: traditional (well-executed) breakfast food, typical nostalgic décor, pleasant waitresses, homey exterior, blah blah blah." For us that reads: you can't go wrong. View Menu >
"Recently discovered this adorable little diner and it's an instant hit! Delicious home-cooked meals, cozy booths, great little atmosphere …" – Kimmy F., Austin, TX
>> Town of Vinton in Virginia's Blue Ridge
Totally out of the way on the picturesque backroads of Virginia's Blue Ridge, The Swinging Bridge Restaurant is the kind of place that becomes the destination…the reason for your journey. Dining here is not familiar but is incredibly cozy and feels like home. It's one that you'll have to see – and eat – for yourself. But P.S., you can't skip the "Big Ole" Plain Biscuit. Just sayin'. View Menu >
"We stopped here for breakfast on our way from NY to GA…Our server was very friendly and we received all of our food fresh and fast. The food was good, but it's the rest of the restaurant that keeps you intrigued." – Jennifer B., Long Island, NY
>> Scenic Mountain Drives in Virginia's Blue Ridge
Old Oak Café | Moneta - Smith Mountain Lake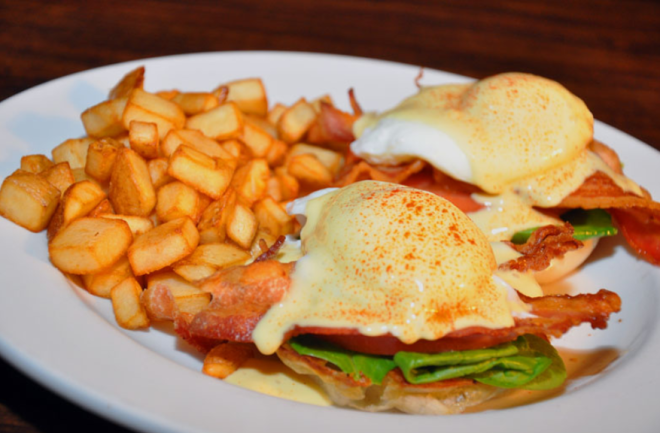 Stacks of pancakes prepared with whatever fancy toppings you like are on the menu at Old Oak Café in Moneta. Standard American breakfast fare is available, and you'll find a good dash of southern in the mix, too. Fried apples or hash brown casserole, anyone? View Menu >
"We were visiting Smith Mtn Lake for a few days with friends. We had breakfast here, good assortment, good food and fair prices! We'll be back!" – cben800, LaFayette, GA
>> Weekend Itinerary for Smith Mountain Lake
This unassuming side-of-the-road eatery is a prize, and the locals know it. Just off Interstate 81 in Buchanan, North Star is a popular go-to for all the meals, but breakfast is the best way to start the day, so…
"Everyone who lives here already goes to the Northstar [sic] but if you're traveling through it's a must for an outstanding breakfast and local color." – Linda R., Lake View Terrace, CA
>> Ideas for a Weekend on a Budget in Virginia's Blue Ridge
---
Map of Locations
---
Ready for breakfast? Us, too! And we love taking photos of our food as well. If you score a great dish with great friends, snap a pic and share the goodness to social. Be sure to tag #BlueRidgeDay and our @visitvbr account so we can celebrate your find!