As America's East Coast Mountain Biking Capital, Virginia's Blue Ridge is an obvious choice for exhilarating singletrack fun. You'll need to refuel after such an intense experience, so we've done the extra legwork to help you score one of the area's best burgers after conquering the area's best trails.
Kick the dust up and then pack in the protein with these eight spots for mountain biking and burgers in Virginia's Blue Ridge.
​Before You Ride: Familiarize yourself with the Leave No Trace Outdoor Ethics for Mountain Biking - a set of guidelines to help you enjoy the trails responsibly and minimize your impact on the natural environment.
Mountain biking within city limits? Yup. Zig-zag your way up Mill Mountain and rip through Mill Mountain Park like your hair's on fire. Do stop for a photo op with the iconic Roanoke Star and be sure to flash a smile toward the StarCam. You know, just in case someone's watching. 
Fly back down the mountain and make a beeline for Martin's Downtown Bar & Grill on the corner of 1st Street & Luck Avenue. We love the Black & Bleu Ridge, a juicy presentation of a Cajun-seasoned half-pound beef patty, bleu cheese crumbles, bacon jam, lettuce, tomato, and red onion. 
PRO TIP: Monday nights are for half-price burgers, 4 to 10 p.m.
More Information: Mill Mountain Park Trail Map > | Martin's Menu >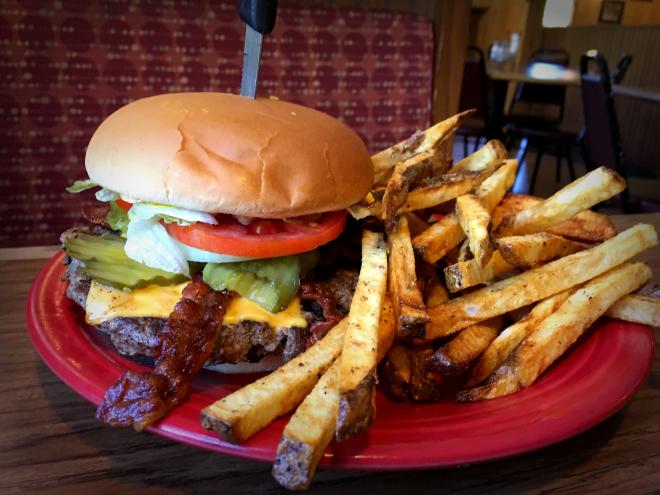 More than nine miles of Upper and Lower Hoop Hole trails climb and slide around Roaring Run Recreation Area. It's challenging, undiscovered terrain that leads you through the forest along some gnarly trails.
The unpretentious hometown eatery in Eagle Rock - Maw & Paw's Diner – offers an all-American menu that includes hand-patted burgers. People rave about the Super Bacon Cheeseburger, a huge hunk of love that comes with a knife. Why? Because it might be more than you can get your mouth around. Big appetites at Maw & Paw's reap big rewards.
More Information: MTB Project - Hoop Hole > | Maw & Paw's Diner Menu >
Rip up the trails that loop through Explore Park, an 1,100-acre outdoor, history, and special event destination off the Blue Ridge Parkway in Roanoke County. Take in various views of the Roanoke River and keep an eye peeled for unique fowl. Explore Park is a designated stop on the Virginia Birding & Wildlife Trail. 
FarmBurguesa is still a relatively new addition to the restaurant scene in Vinton, but it didn't take long to establish itself as one of the best spots in the region for a burger! It's a farm-to-table burger restaurant that features local ingredients while offering unique topping combinations, including the very popular #Colombiana burger, which pays homage to the Colombian roots of the restaurant's owners.
More Information: Explore Park Trail Map > | FarmBurguesa Menu >
Anything you could hope to have in an epic MTB ride is available at Carvins Cove. Wide, narrow, steep and slick, steady and level, or even enchanted…with seemingly endless combinations of loops through 12,600 acres, this is one experience you won't soon forget and will likely be anxious to repeat as soon as possible.
Whenever you decide to cry uncle, River Rock Restaurant will be there to fill your tank. Go for the gusto and get the Hot Rock, a unique burger that's topped with bacon, cheese, hot peppers and Italian dressing on pita bread. It's a local favorite!
More Information: Carvins Cove Trail Map > | River Rock Menu >
Zip along the ridge of North Mountain, also known as Dragon's Back. The trail is nearly 14 miles long and includes gravel fire roads, the gnarly ridge, and an invigorating 1,000-foot descent. Grip it good and hold on for the ride.
Allsports Café in Salem whips up specialty burgers that taste like steaks. Why? They're a blend of short rib, brisket, chuck, and Angus beef, and the ways to eat them are only limited by your imagination. Press us to choose one, however, and we'd point to "The Troy Aikman," a throwback to cookouts when you were a kid but beefed up to match the adult you are.
More Information: MTB Project - North Mountain Trail System > | Allsports Cafe Menu >
Ten miles of trails meander through Falling Creek Park delivering some easy stretches and some challenges along the way. The Bike Park offers skills training for those seeking a more controlled environment to polish their pedal action.
Anyone who loves a cold beer with a great burger will want to check out Beale's Brewery, one of the newest craft beer destinations in Virginia's Blue Ridge. Create your own perfect burger or try the Mac Attack. It's loaded with macaroni and cheese and hit with a dash of hot sauce. #lit
More Information: Falling Creek Park Trail Map > | Beale's Menu >
Detour "over the river and through the woods" to seven miles of scenic multi-use trails perfect for MTB. Create your own loops to pair easy routes with more difficult ones and give yourself a break here and there in Franklin County's Waid Recreation Park. The trail system also features the new Old Buzzard Trail, a 1/4 mile trail that's an epic jump line.
A locally-baked potato bun holds your choice of handcrafted specialty burger at Rocky Mount Burger Co., where PB & J doesn't mean what you think it means.
More Information: Waid Park Trail Map > | Rocky Mount Burger Co. Menu >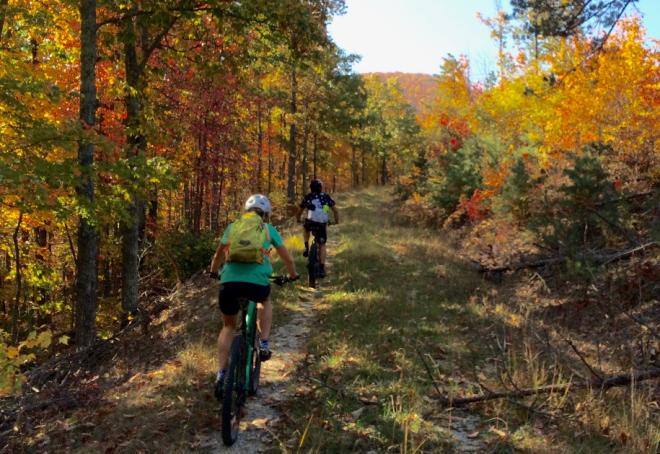 The George Washington & Jefferson National Forest is your singletrack playground when you tackle the Glenwood Horse Trail around Arcadia, a series of loops that can deliver up to 60 miles (maybe more!) of fast, challenging action.
You'll be delighted to find "upscale comfortable dining" with delicious (and unexpected) burgers on the menu. They all start with house-ground beef – 7 ounces' worth – and are topped with either the usual suspects or feature non-traditional surprises. For example, The Emily burger includes sautéed shrimp, baby swiss, smoked bacon, lettuce, tomato, and parmesan-garlic aioli. Don't knock it 'til you try it.
More Information: MTB Project - Arcadia Loop > | Foot of the Mountain Cafe Menu >
---
Bike Shops, Rentals & Maps
Check out Roanoke Mountain Adventures for a variety of options on bike rentals and services. You can also visit our awesome local bike shops in the region and take a look at our Trail Maps to help you plan your next ride.
---
Mountain biking followed by burgers. What could be better? Let us see your adventures in Virginia's Blue Ridge when you share socially and include the hashtag #Trailsetter. See you this weekend.