Cyclocross racing is coming to Virginia's Blue Ridge! Don't miss out on Virginia's Blue Ridge Go Cross Race, presented by Deschutes Brewery, at Roanoke's Fallon Park over Labor Day Weekend - August 31 & September 1.
It's quickly become a signature event for the region and a celebration of our rich cycling culture in Virginia's Blue Ridge, which is also part of what makes us America's East Coast Mountain Biking Capital.
If you're unfamiliar with cyclocross, this event can serve as the perfect introduction to the sport! Riders will take on a challenging course that includes a variety of surfaces and terrain, including grass, dirt, mud, gravel, and sand, and there are multiple barriers that require the competitors to carry their bikes during portions of the race, which goes for a set time as opposed to a specific number of laps.
It's an extremely spectator friendly event where crowds get rowdy and heckling is highly encouraged.
Sound fun? Here are five other reasons to check out the Virginia's Blue Ridge Go Cross Cyclocross Race!

1. It Kicks Off the Professional Cyclocross Season
With $10,000 in prize money on the line, many of the top cyclocross racers from around the country will be competing in the event! UCI international cyclocross and USA Cycling use Go Cross as the kick off event for their calendars in North America, and professional racers will be looking to secure UCI points as part of their season totals.
There will be professional (UCI Elite) races both Saturday and Sunday - with the women racing at 1:45 p.m. and the men racing at 3:00 p.m.
See the full schedule of events for the weekend >

2. Cyclocross Riding Opportunities for All
Go Cross isn't just for the pros! The Fallon Park Cyclocross course is open to everyone who wants to register and participate in the event!
There will be races for different categories (skill levels) and age groups, including multiple junior races. Whether you've never tried cyclocross before and want to give it a shot, or you're an experienced rider looking to get on the podium, there's a spot for you to participate! We're also excited to welcome various cycling clubs from throughout the Mid-Atlantic to participate in the event.
All riders are required to have a USA Cycling license.
Learn more about Racer Registration >
If cycling isn't quite your thing, there's even an opportunity to experience the course by taking part in the Run Cross 1 Hour Endurance Race! Learn more >
3. Awesome Scene for Spectators
Because of the layout of the course and the fun nature of cyclocross as a sport, Go Cross is a great event for spectators. From cheering on friends and family who are racing to being in awe of the strength and speed of the pros, you're right on top of all the racing action.
And when you aren't watching a race, Go Cross is a festive scene with an outdoor beer garden hosted by Deschutes Brewery, food trucks like Fork in the Road and Blue Cow Ice Cream serving great food, and a chance to connect with local bike shops and organizations.
The event organizers are even willing to accommodate tailgating requests! If you'd like to set up a tent and spend a day at Go Cross with your squad, shoot them an e-mail and they'll work with you on getting a good tailgate spot somewhere near the course where you can grill out and have a good time. 

4. Craft Beer & Fun
As the presenting sponsor of the race, Deschutes Brewery is playing a major role in growing cyclocross in Virginia's Blue Ridge. Not only does Deschutes serve its beer at the event, it also sponsors its own cyclocross team and many of the members will be competing in the races.
Did you know Deschutes is also launching a new Hand Up IPA? It's a Cyclocross inspired beer that will be available at Go Cross. The perfect beverage for this event!
There will be a beer garden in the main spectator area where you can sample craft beer by Deschutes, and they will also have a special "can bar" with exclusive canned beers, which will be located on the hill near the sand pit - one of the best viewing spots along the route.
Following the races on Saturday, there will be an after-party at the Deschutes Brewery Tasting Room in Downtown Roanoke from 6:00 p.m. to 10:00 p.m.
Deschutes is also giving away from some awesome prizes at the event, including a branded Deschutes bicycle and some Deschutes bike jerseys. You can text to be entered to win!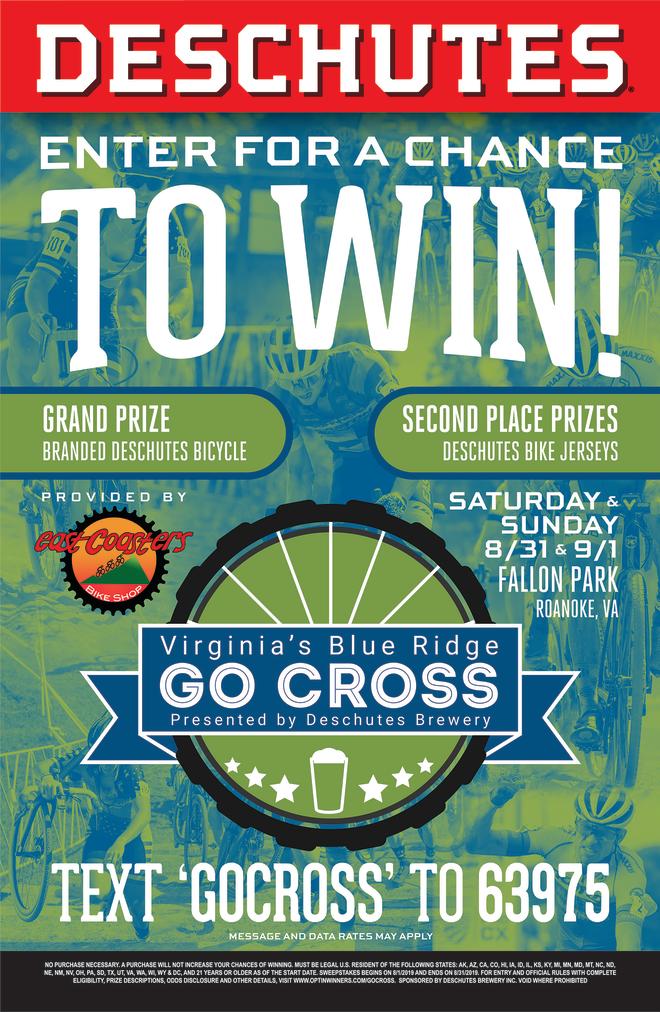 5. Make it a Labor Day Weekend Getaway to Virginia's Blue Ridge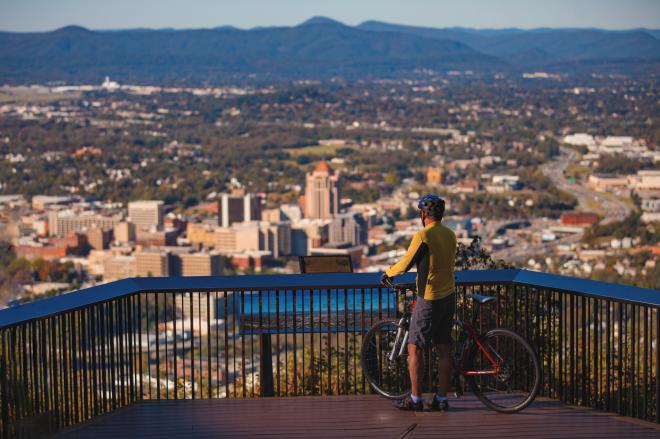 Go Cross is the perfect feature of a Labor Day Weekend getaway to Virginia's Blue Ridge. When you're not at the event, you can take advantage of fun nearby biking opportunities such as riding on the Roanoke Valley Greenways, checking out the new flow trail at Morningside Park, or riding the great trails in Mill Mountain Park.
You can also cool down on the Roanoke River with tube rentals available from Blue Mountain Adventures in Explore Park or Roanoke Mountain Adventures in the Wasena neighborhood.
When you're not enjoying the outdoors, check out the great museums, shopping, breweries, and local restaurants in Downtown Roanoke.
There's a special hotel portal for the Go Cross race to help you book a place to stay during this year's event. Book your room >
---
We hope to see you at the 2019 Virginia's Blue Ridge Go Cross Cyclocross Race. To learn more about the event, check out the Go Cross website, RSVP to the event on Facebook, and make sure to follow @gocrossrace on Instagram.