Thousands of acres of fall foliage are calling you to Virginia's Blue Ridge this autumn. The scenic drive to get here will take your breath, and the hikes deliver incredible views, but some wanderers are anxious for a unique perspective. We understand. 
If water is your soul element, head over to Where to See Fall Colors on the Water in Virginia's Blue Ridge. Adrenaline junkies, these five off-road adventures are sure to get your heart pumping.
Tackling difficult terrain with sweeping views at the top of Craig County's highest mountain is an awesome way to spend a day, and we're only given so many days to take advantage of the incredible show of fall color. 
Come equipped to try this trail, as deep ruts and mud holes are par for the course. Trying it without a modified vehicle is not a great idea.
>> Also See: 10 Epic Outdoor Adventures in Virginia's Blue Ridge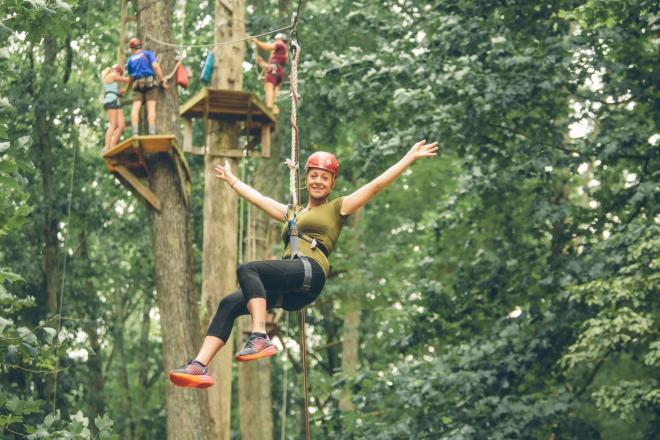 Soar through the trees and take in the beautiful fall colors as you enjoy the fun of ziplining and aerial obstacles at Treetop Quest, located in Roanoke County's Explore Park.
The park also features cabins and camping options for an overnight stay, as well as a network of trails for hiking & mountain biking, water access to the Roanoke River Blueway, and food & drink at Twin Creeks Brewpub.
>> Roanoke County's Explore Park
3. RTV Riding at Primland Resort | Meadows of Dan
A nice portion of Primland's 12,000 acres are at your disposal, and seeing the foliage at 2,800 feet is a nice perk, too. Guests of the resort are encouraged to peep the leaves in a multitude of ways, but on a Recreational Terrain Vehicle (RTV) is especially fun.
Feel free to bring your own equipment or rent one of theirs, but know that you will be guided along the trails to ensure your safety and protect the land.
Miles of trails on the Greer family farm deliver the fall foliage views you've been seeking. Take it all in from the back of a horse.
Experienced and novice riders are welcome to enjoy the slower pace of trailriding across streams and up and down the mountains.
>> Horseshoe Creek Stable Facebook Page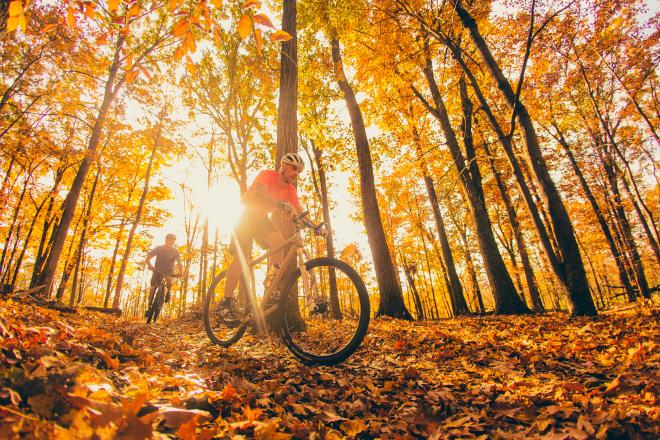 You better believe we offer some awesome autumn riding in America's East Coast Mountain Biking Capital! The woods come alive with color, which makes for some incredible rides through places like Carvins Cove, Mill Mountain Park, and the Jefferson National Forest.
You'll also hit some gnarly stretches once the trails become slick from the fallen leaves.
>> Full List: Mountain Bike Trails for Fall Color
---
Help us showcase adventures by sharing your fall foliage photos on Instagram and tagging us @visitvbr.