Warm summer nights were made for patios, and we have the inside scoop on some of the best Virginia's Blue Ridge has to offer. 
Whether you're into drinks with friends or al fresco dinner with family, this is a handy list to meet the need. 
Cheers to patios!
Click on any of the names listed below to learn more about each location, including an address and contact information. 
BREWERIES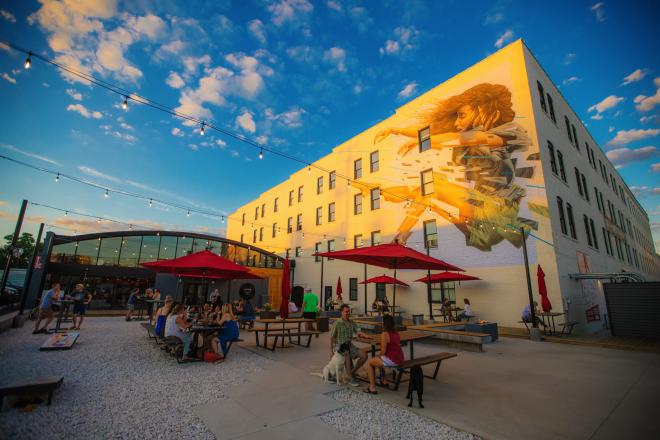 Beale's | Bedford
This new brewery & BBQ restaurant in Bedford is an amazing space, including its beautiful outdoor patio. You can relax with a few brews and chow down on some smoked brisket or chopped pork. The patio is also pet-friendly and will be a fun spot to enjoy live music and special events.
Parkway Brewing Company | Salem
The beer garden at Parkway Brewing is the place to be any Thursday through Saturday afternoon. There you can kick back with your favorite Parkway craft beer and connect with friends while local musicians entertain. Thanks to its proximity to the Roanoke Valley Greenway, Parkway is also a favorite destination or stopover point for cyclists and hikers.
Big Lick Brewing | Roanoke
Big Lick (pictured above) has a sweet little outdoor beer garden as part of its new facility in Downtown Roanoke. Order whatever is new and sit with friends for a while. That's when memories are shared and created.
WINERIES
Chateau Morrisette | Floyd
The beautiful grounds of Chateau Morrisette are as much of a treat as the award-winning wines you'll taste while you're there. Sample a few with a tasting. When you've identified your favorite, order a bottle to enjoy on the patio. It's a treasure of a destination.
Valhalla Vineyards | Roanoke


You'll feel on top of the world when you're on the patio at Valhalla Vineyards. The views are among the very best Virginia's Blue Ridge has to offer, and the wine is something special as well.
Blue Ridge Vineyard | Eagle Rock
So I know we've boasted about the views at aforementioned destinations, but this one gets a nod, too. After all, their favorite quote is "wine … paired with a view." We can't argue with that!
Virginia Mountain Vineyards | Fincastle
Take in gorgeous views of the surrounding mountains and sample from the 13 unique and distinctive wines that are produced at Virginia Mountain Vineyards. The 9.5 acre vineyard provides a beautiful setting as you sip away your Blue Ridge Day.
RESTAURANTS
Beamer's 25 | Roanoke
Kick the fun to the curb at Beamer's in downtown Roanoke … in a good way, of course! Your outdoor seating here is right outside the front door so you don't miss a thing on the street. If you love to people watch, this is a key place to dine with friends to see and be seen.
Billy's | Roanoke
Roanoke's downtown market area is a hoppin' place, and Billy's is a nice place to dine with friends. The courtyard has its own menu and the chef hosts a Courtyard Cookout every Thursday night at 6 p.m. Linger beneath the string lights and enjoy good food and good company.
Corned Beef & Co. | Roanoke
A locals' favorite downtown restaurant and bar, Corned Beef & Co. features a rooftop patio where guests can toast the day and get their fill of a great sandwich, wood-fired pizza, burger, pasta, or seafood. 
Fork in the Alley Brick Oven Pub | Roanoke


Dining at Fork in the Alley is like hanging out at your neighbor's house for a cookout. It's intimate and feels like family. You'll love the brick oven pizza and farm-to-table menu.
Crescent City Bourbon & BBQ
Enjoy some of the best brisket and pulled pork in Virginia's Blue Ridge while sitting in the beautiful outdoor courtyard area at Crescent City Bourbon & BBQ in Downtown Roanoke.
The Regency Room at The Hotel Roanoke & Conference Center | Roanoke
The renowned Regency Room at The Hotel Roanoke is the best of fine dining in Roanoke. We'd venture a guess that you didn't know they have patio seating. They do, complete with the beautiful table linens and offering a great view of the hotel entrance, Taubman Museum of Art, and more.
Three Li'L Pigs BBQ | Daleville
Who doesn't love a barbecue joint?! This place has some of the best pulled pork and ribs you'll find anywhere, plus the patio is hoppin' with live music from time to time. 
City Market Building | Roanoke
One stop shopping … er, eating? Actually, spend the day in downtown Roanoke to shop the historic market and hit the museums, while also wrapping in breakfast, lunch, and dinner. Ta da! That's a well-planned Blue Ridge Day, if you ask me. Breakfast: Scrambled's patio. Lunch: Fork in the Market's patio. Dinner: Caribbica Soul's patio. Done.
Mac and Bob's Restaurant | Salem


When in Salem, check out the patio experience at Mac and Bob's. Spacious and featuring its own bar with local craft beer, you'll want to day-drink and get a night cap, not to mention the great lunch and dinner menus.
Wasena City Tap Room & Grill | Roanoke
Right along the Greenway, Wasena City Tap Room & Grill has 31 beers on tap and a nice menu of burgers, salads, tacos, and more.
419 West | Roanoke
Fun summer cocktails and a menu full of juicy steaks, chicken, and pork, and the freshest seafood make 419 West's patio one you'll want to seek out.
The Green Goat | Roanoke
Right on the Roanoke River Greenway and next to Wasena Park, The Green Goat is a great meet-up spot for a casual lunch or dinner. 
Village Grill Restaurant & Tavern | Roanoke
No trip to the cool community of Grandin Village is complete without a stop at the Village Grill. Not only is their patio one of the nicest around, but they also have great fare and a bocce court, in case you're feeling a little competitive while you wait for the deliciousness to arrive.
Mango's Bar & Grill | Moneta


Along Smith Mountain Lake at Bridgewater Marina, Mango's is the go-to any day you're at the lake or passing through. Check the calendar for which entertainers will grace the stage next; a night at Mango's is one for the memory book.
Mexico Viejo | Moneta
The waterfront deck is the place to be at Mexico Viejo, and you're going to swoon when you see their view of Smith Mountain Lake. In fact, in the Best of SML Awards, Mexico Viejo has won "Best Outdoor Seating" and "Best Place to Come to By Boat."
A cool place to enjoy your morning coffee or evening craft beer is a must, and Sweet Donkey delivers some of the best of both. Take it outside to the porch or under an umbrella on the patio! Bring the entire family along for the fun at Sweet Donkey's weekly Friday Food Trucks n' Tunes event series.
Tuco's Taqueria Garaje | Roanoke
There's such a cool industrial vibe at Tuco's! Come chill in what was once an old service garage and nosh on some of the best tacos and burritos in Virginia's Blue Ridge.
---
As you take your patio dining and drinking tour of Virginia's Blue Ridge, capture the fun and tag it #BlueRidgeDay on social media. Who knows? You may be the next featured photo in one of our blogs or shared on our Instagram!
Note - If you're planning on taking your dog with you to enjoy an outdoor patio, please call in advance to make sure specific locations are pet-friendly.