The Halloween events in Virginia's Blue Ridge are always spooky and spirited!
Whether you're making your way through a haunted house, taking in a Halloween themed concert, or checking out a family-friendly event, there are lots of fun ways to celebrate All Hallows' Eve in the Roanoke Valley.
Special events are one of the many reasons this is a perfect time to plan a fall visit to Virginia's Blue Ridge. The end of October is also when we're expecting to see peak fall color in the Blue Ridge Mountains.
The following is a guide to Halloween events happening throughout the region this year.
Haunted Woods Mini Golf
Explore Park
October 19-21 & October 26-28
Brave the woods of Explore Park for a haunted round of miniature golf! The course features a trail of 18 haunted holes, and there's also Halloween themed concessions and campfire fun. It's one of many exciting new experiences at Explore Park, which also recently began offering overnight camping options and cabin rentals.
The Meek's Manor
The Meek's Manor
Thursday - Saturday | Through November 3
There's blood-curdling horror and mind-bending twists that await at The Meek's Manor haunted house! The manor features more than 23 terrifying rooms at this entirely indoor experience, which is recommended for ages 13 and up. Upgrade to the VIP experience (ages 18 & up only) and you'll be touched, grazed and bumped by the actors. 
Scary Roanoke Stories to Tell in the Dark
Downshift Bikes
October 20
This is a family-friendly, history themed, 6 mile bicycle ride that will showcase some of Roanoke's familiar and unfamiliar places. You'll get the opportunity to learn about some figures in the city's history who are no longer with us, though their spirits may join you along the ride!
Science Spooktacular
Science Museum of Western Virginia
October 20
Spend a day learning about spooky science and trick-or-treating at the Science Museum of Western Virginia, located in Center in the Square in Downtown Roanoke. There will be trick-or-treating and hands-on activities throughout the museum, and costumes are encouraged.
Smith Mountain Lake Spooktacular Mini Golf
Harbortown Golf - Bridgewater Plaza
October 25-31
Bridgewater Plaza is offering a new option for family-friendly Halloween fun this year with the Spooktacular mini golf at Harbortown Mini Golf! The course will be decorated with a Halloween theme and it's a great option for small children, who should definitely wear their costume as golfing attire.  
Halloween Movie Night
Haley Toyota Field - Salem Red Sox
October 26
Dress up in the spirit of the season and bring a blanket and some friends for a free double feature movie night at Haley Toyota Field - home of the Salem Red Sox! The night begins with a showing of Hocus Pocus, which will be followed by The Nightmare Before Christmas.
Hoot & Holler: In the Shadows
Mountain View Center
October 26
Make sure to get your tickets in advance (pre-registration is required) for this chilling night of true, scary stories. Presented by the City of Roanoke's Parks & Recreation Department, this Hoot & Holler will feature tales of unexplained spirits and events. Not recommended for children under 13 years old.
K92 Boo Bash
Awful Arthur's Seafood Company - Downtown Roanoke
October 26
The K92 Boo Bash in Downtown Roanoke is one of the region's most popular Halloween parties! With over $1,200 available in prizes for best group and best overall costumes, it's also one of the best people-watching opportunities of the year.
The Rocky Horror Picture Show
Grandin Theatre
October 26
The Grandin Theatre will host Tolls of Madness, a performance troupe from Virginia Tech that presents the Rocky Horror shadowcast. There will be two shows in what promises to be an entertaining night that's lewd, crude, and full of audience participation.
Martin's Halloween Weekend Street Party - 2 Night Event!
Martin's Downtown Bar & Grill
October 26-27
Martin's is throwing a Halloween party that's too big for one night, so they'll be celebrating with a two-night street party! The event will have nine bands performing on two different stages, with headline performances by The Pietasters on Friday night and a Michael Jackson Tribute band on Saturday night. 
Kids Square: Not-So-Spooky Spectacular
Kids Square Children's Museum
October 26-28
Space is limited as only 100 kids tickets are sold each night for the Not-So-Spooky Spectacular at Kids Square, one of the most popular attractions for children in Virginia's Blue Ridge. There will be a glow-in-the-dark forest, trick-or-treating with superheroes, magical boo bubbles, and lots of other activities.
2018 Spooky Sprint 5K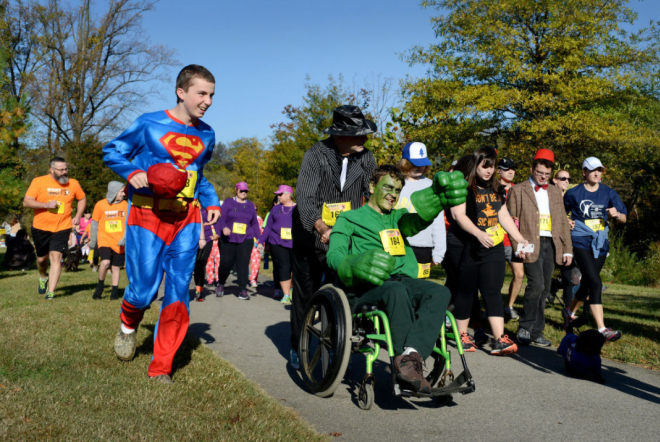 Roanoke River Greenway
October 27
Take part in one of the most festive 5k runs of the year at the 2018 Spooky Sprint on the Roanoke River Greenway. There will be live music, beer, food and a costume contest, so remember to dress appropriately.
The Halloween Spooktacular - Candy Corn Express
Virginia Museum of Transportation
October 27
All aboard the Candy Corn Express! Children will love this not-so-scary pumpkin party that features crafts, games, model trains, facepainting, and rides on the Candy Corn Express.
Mill Mountain Zoo
October 27
Your favorite animal costume will fit right in when you celebrate Halloween at the Mill Mountain Zoo with its annual Zoo Boo event. There's trick-or-treating, art activities, performances, and more at this family-friendly day of fun.
Devil's Night: Burlesque of Mischief & Mayhem
5 Points Music Sanctuary
October 30
The Grave Dancers Burlesque present a night of mischief and mayhem at 5 Points Music Sanctuary! It's a group that offers a flare for the darker things in life and this show has a horror twist on traditional burlesque. Note - this show is for ages 18 and up. 
Trick or Treating in Downtown Vinton
Town of Vinton
October 31
Get a head start on trick-or-treating on Halloween by spending the afternoon in Downtown Vinton! More than 40 businesses in the area participate by offering treats to children ages 12 and under.
---
For more information on exciting things happening in Virginia's Blue Ridge, take a look at our Calendar of Events. You can also follow us on social media and sign up to receive our monthly e-newsletter, featuring ideas to help you plan your next adventure.