Want to see fall colors in Virginia's Blue Ridge Mountains this year? According to various reports and projections, late October will likely be the best time to see peak fall foliage in 2018 around the Roanoke Valley in Virginia's Blue Ridge.
Based on analysis from The Weather Channel and research of historical trends by the Virginia Department of Forestry, as well as an intensive compilation of data for the interactive fall foliage prediction map on SmokyMountains.com, most signs are pointing toward October 20-30 being the prime time for seeing the autumn leaves in Virginia's Blue Ridge.
While no projection is 100% accurate and changing weather patterns can make a significant impact, the late October peak fall foliage forecast is consistent with years past.
UPDATE on 10/22/18: Despite early forecasts and historical patterns, it's now looking like peak fall color in the region will occur in late October and early November. It's been a warm, wet start to fall, which is delaying the usual arrival of the fall colors.
The following map is a projection from the SmokyMountains.com Fall Foliage Prediction Map with the date set at October 29. Check out the website to use the interactive map and for a great collection of resources related to the science of fall foliage.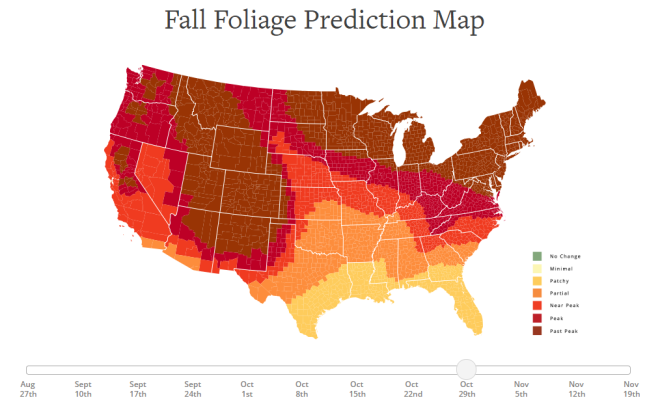 We also have this image from a report by The Weather Channel on September 5 showing peak fall foliage in the area likely to occur in mid-to-late October.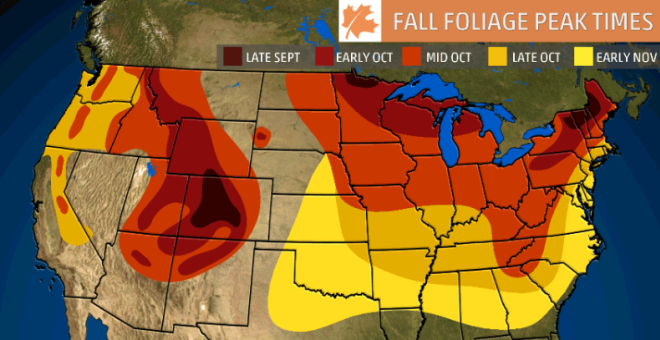 In the coming weeks, we'll hope for cooler temperatures, the right amount of sunlight, and adequate moisture in order for the leaves to be at their most vibrant. In his sneak peak report on fall foliage for this year, WDBJ7 Meteorologist Brent Watts notes that we see our most vivid fall colors when the weather leading in to mid & late October produces cool nights followed by warm days.
The Roanoke Times weather reporter Kevin Myatt echoes that sentiment, explaining that while the region was fortunate to miss much of the strongest impact of Hurricane Florence's winds, cooler temperatures are needed to jump-start the fall foliage process. It's also been an above average year for rainfall, which has the potential to put pressure on leaves due to excess moisture.
Peak fall color in the region typically begins at higher elevations along the Blue Ridge Parkway and Allegheny Mountain range before making its way to the greater Roanoke Valley and lower lying areas like Smith Mountain Lake. The variety of elevations helps provide an extended fall-viewing season.
According to Chris Thomsen with the Virginia Department of Forestry, fall colors begin in the higher elevations in the western part of the Commonwealth and then work their way east into the valleys.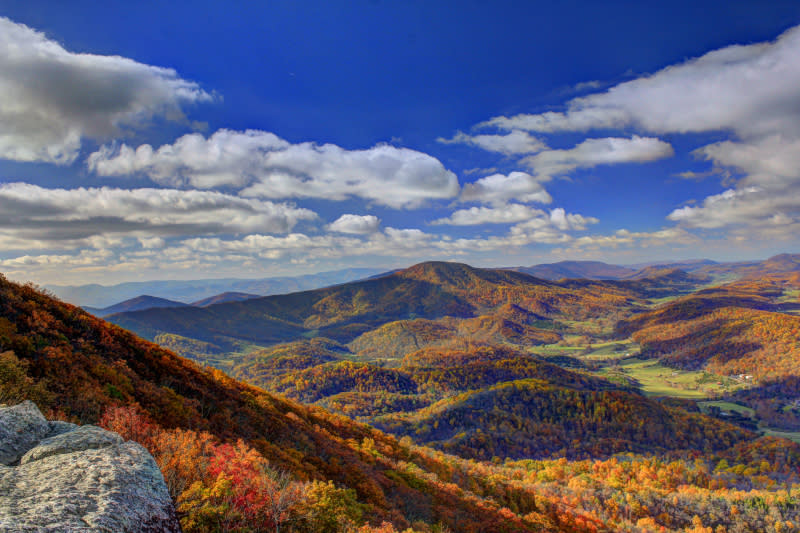 Visitors to Virginia's Blue Ridge can expect to find a stunning collection of yellow, red, orange, and maroon leaves that paint the landscape. This blog post provides examples of the types of fall scenes you'll find in the region: 10 Stunning Photos of Fall Colors 
Taking a scenic drive through the mountains is one of the best ways to experience the fall foliage, and City of Roanoke Urban Forestry Coordinator Bill West recommends a drive along Route 311 to Potts Mountain where you'll get to see a variety of Black Gum, Sassafras, and Scarlet Oak trees. Bring a pair of binoculars and you might be lucky enough to spot a few bald eagles flying south along the ridge line. 
Take advantage of this full guide to scenic mountain drives in Virginia's Blue Ridge >
There are many kinds of ways to enjoy the fall colors in Virginia's Blue Ridge with the following resources:
Remember to tag us in your autumn adventures on social media (@visitvbr) by using our #BlueRidgeDay hashtag!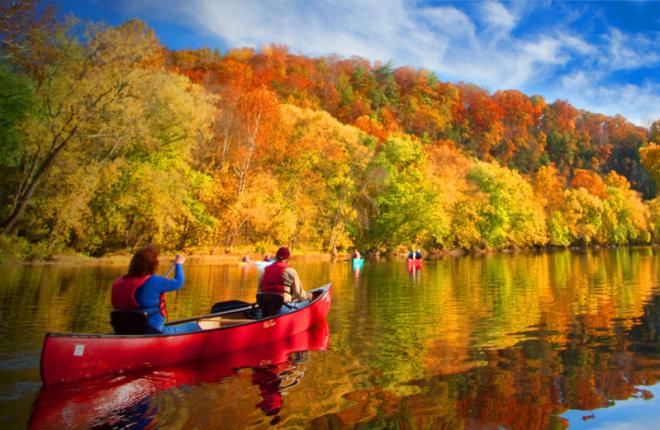 To make the most of your fall visit, you'll also want to sample pumpkin-inspired products and chow down on some delicious comfort food that hits the spot on a cool autumn day.
With the beauty of the leaves and a great collection of fall festivals & events, this is one of the most popular times of year to visit Virginia's Blue Ridge. Don't wait to book your accommodations now >
For additional information on fall foliage, check the Virginia Department of Forestry website for their weekly fall foliage report (beginning the last week of September), which will also be posted on Virginia.org.
Get more ideas to help you plan your fall getaway to Virginia's Blue Ridge by subscribing to our monthly newsletter. Sign up >