The 2018 Down by Downtown Music Festival is April 19-21 in Downtown Roanoke.
This amazing annual event in Virginia's Blue Ridge features three days of live music with more than 30 different bands performing at 12+ venues in Roanoke's downtown district. The festival is one of many reasons Roanoke has earned a reputation of being "Virginia's Music City."
The festival, which is presented by Wells Fargo, takes place the same weekend as the Foot Levelers Blue Ridge Marathon, making Downtown Roanoke a hub of activity that is full of entertainment and fun for the entire family.
This year's Down by Downtown Festival (DXDT) is headlined by moe., a New York-based jam band that has been a staple on the festival circuit, including making regular appearances at Bonnaroo. moe. is known for creating a unique blend of Americana and jam-band sounds with clevor writing and melodies. A quick scan of Related Artists on Spotify includes bands like Widespread Panic, Perpetual Groove, and Umphrey's McGee.
The moe. headline show will be Saturday, April 21 in Elmwood Park and it begins at 5:00 p.m. with opening performances by Sol Searchers and Travers Brothership. Tickets are $24 in advance ($28 at the gate | Kids 12 & under are free) and are available for purchase online >
Elmwood Park is also the location of a free concert on Friday, April 20, featuring Mad Iguanas and Dead Reckoning. Plus, the park is the finish line for Saturday's Blue Ridge Marathon races, which will feature a festive/party atmosphere that includes more live music, beer, and food trucks.
The following spots are participating venues in this year's festival:
Blue 5 Restaurant
The Phoenix
Soaring Ridge Craft Brewers
Wall Street Tavern
Check out the graphic below for a schedule of performances and map of locations.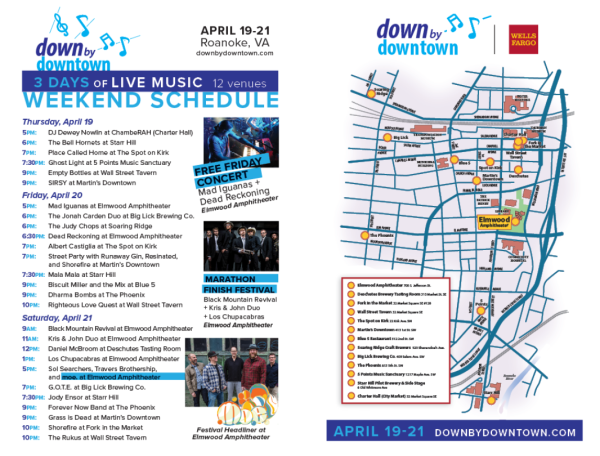 You can also follow Down by Downtown on Facebook & Instagram to get updates and learn more about fun stuff happening at this year's event. Remember to tag your own posts with the #DxDT hashtag!
All Access Pass
All Access Passes are available for this year's festival for $50. The pass includes admission to the headline concert by moe. on Saturday night in Elmwood Park, as well as free entry to all Down by Downtown related shows from April 19-21. Purchase here >
Down by Downtown Spotify Playlist
Let's rock to the music of the artists and bands performing at the 2018 Down by Downtown Music Festival with a custom Spotify playlist! This set features songs by bands performing at this year's festival, including moe., Albert Castiglia, Dharma Bombs, and Ghost Light. Check out the visitvbr Spotify channel for more fun playlists showcasing the live music scene.
---
Need more motivation to attend? The Roanoke Outside blog has a post featuring 5 Reasons the Down by Downtown Music Festival Rocks.
Down by Downtown is one of many awesome ways to enjoy live music in Virginia's Blue Ridge this month. Take a look at our April Music Preview to learn more about shows you can catch in the area!
Header photo courtesy of the Roanoke Regional Partnership, the manager of the Down by Downtown Music Festival in partnership with Across-the-Way Productions.