Article appeared Wednesday, July 29, 2015 at 10:30pm in Richmond Times-Dispatch by Annie Tobey. 
Beer guru and Richmond Times-Dispatch columnist Annie Tobey came to Virginia's Blue Ridge to experience the Beerway, a self-guided tour of the eight local craft breweries located throughout the region.  Tobey embarked on the Beerway journey and shares what that experience was like during her visit in her recent column in First Draft.   
You can catch Annie's full article here... then be sure to go out and support local breweries in the Virginia's Blue Ridge Beerway for Craft Beer Month from August 1 - August 31!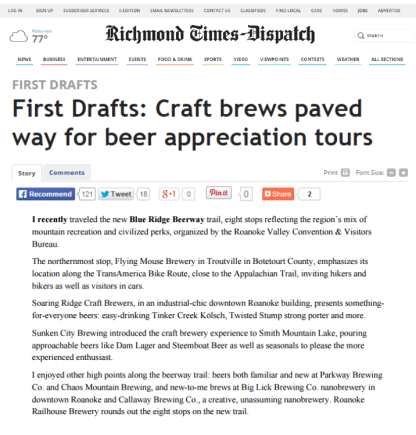 First Drafts runs every other week in Dining. Contact Annie Tobey at annie.tobey@activewomantraveler.com.