Next weekend the 57th Annual Sidewalk Art Show will take place, featuring over 140 on the streets of downtown Roanoke Saturday and Sunday, May 30-31. A complete list of artists is available online at taubmanmuseum.org. The show runs 10am to 5pm each day and includes:
 
Saturday: Show Open 10am-5pm
Museum Open (10am-5pm)
Norah's Cafe Patio Entertainment Stage (12-4pm) CC Coates Band (local father/sons, blues music)
Family Activity (10am-5pm) Art Venture "Sparkle and Shine", Sponsored by Carilion Clinic Children's Hospital
Awards Ceremony (5:45pm)    
Sunday: Show Open 10am-5pm
Museum Closed
 Roanoke Times Paparazzi Photos (beginning at noon)
Sidewalk Art Show Map: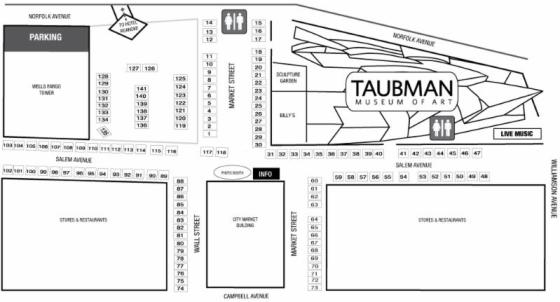 The Sidewalk Art Show features original works of art in every medium and price range. Works include: painting, watercolor, mixed media, photography, sculpture, fine craft, and drawing/original printmaking. 
 
In addition to viewing and purchasing art work from artists as far away as San Francisco and Montreal, people attending the Sidewalk Art Show may participate in an Instagram contest, #HOWYOUFRAMEIT.
 
During the Sidewalk Art Show the Taubman Museum of Art will kick off the social media contest. Card stock frames (pictured below) will be available for participants to capture images of the museum, its collection, or of life in and around Roanoke. It's how you frame it!
 
In the #HOWYOUFRAMEIT Instagram contest you:
Snap your best framed photo though the "T" frame provided
Post your photo on Instagram and tag your photo @taubmanmuseum with the hashtag #HOWYOUFRAMEIT
The museum will review all entries and select a winner each month based on originality and creativity. Winners will receive a free, individual-level membership to the Taubman Museum of Art.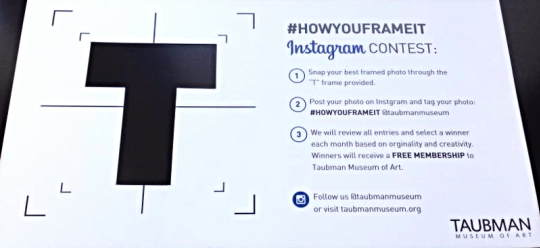 The Taubman Museum of Art, located in downtown Roanoke, Virginia, features nineteenth and early twentieth century American art, decorative arts, modern and contemporary art, and works on paper. The museum presents exhibitions of both regional and international significance. The Taubman Museum of Art brings people and art together for discovery, learning, and enjoyment. It is committed to exhibitions, programs, and experiences that inspire, promote creativity, and widen perspectives.