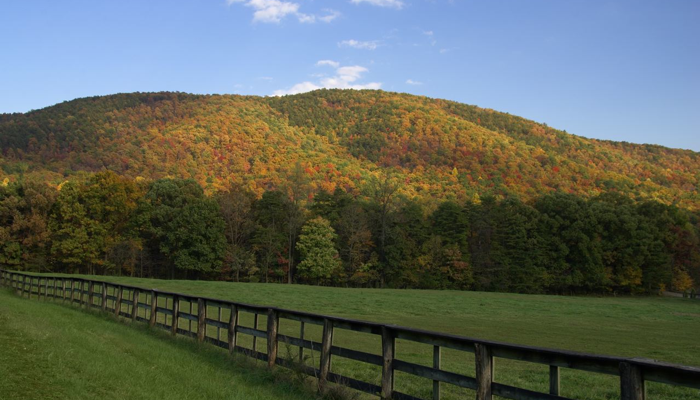 TIFTON - Roaming the Blue Ridge Parkway in bits and pieces instead of all 469 miles at once strikes me as a comfortable vacation goal.
In Virginia that can include a stretch involving the Roanoke Valley and a lively downtown.

In Roanoke they like to call themselves Virginia's Blue Ridge for several reasons:

Vast views

30 miles of mountain and parkway in their metro area

Blue Ridge Parkway mileposts 106 at Route 460 and Milepost 136 at Route 221 are both on and off locations.

Pretty drives from Roanoke all around to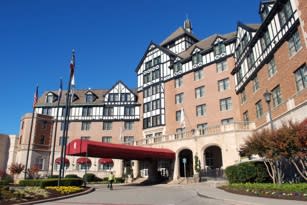 access hiking trails and easy ambling walks through hardwood forests, and just as easy to return downtown for dining choices.

Metro! was my first Roanoke downtown dining experience and I'd return for pumpkin soup with curry again. Salmon and small bites desserts too.

Young chef here named Andrew Schlosser; he likes diners peering into his open kitchen. See the 'frig is OK with him.

He also likes the notion he's created in Roanoke of presenting a mini New York City, cooking as if in Little Italy or Chinatown, a Jewish bakery and Thai vegetable market.

The mood at Metro! matches Roanoke's downtown: conversational, open spaces, easy visiting. Music too.

Chef calls his culinary style Modern American with no rules, just many ways to present culture.

One day in this stretch of Virginia's Blue Ridge I had lunch on a houseboat, touring Smith Mountain Lake which is nestled in a valley of the Blue Ridge Mountains.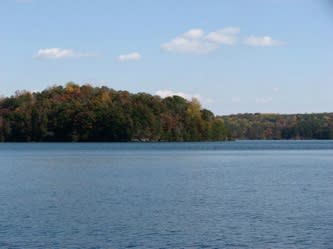 Possible to rent a houseboat for overnight, or many nights. Houseboats are built by a family for family travelers at Parrot Cove.

Keycraft Cruiser is the name the Oliver family has given their specially designed boats for more than 20 years and David Oliver says, "Practically anyone can handle one.

"Our cruisers are made to do just that," Oliver says, "cruise and not race."

I didn't take the wheel my afternoon on this 20,000-acre man-made lake but believe it might be so. The boats are beautifully finished, comfortable and spacious inside and out with decks and porches.

Sturdy it seemed too, kind of like the family Volvo in safety, security and looking just fine.

Smith Mountain Lake has 500 miles of shoreline so many options for houseboat docking, rental cabins and formal lodging.

On land, closer again to downtown I pretended I had moved in during half-a-day in a little urban village a few blocks from Roanoke's city center.  It's called Grandin; the shopkeepers live there and their kids walk home or to the shop after school.

Just a few blocks. Too Many Books is the name of the bookstore, as if such a thing could ever be true.

A little place with many shelves and proprietor Linda Steadman fielding special requests and orders as well as pointing people to rare book treasures and new editions.

Wish she'd move to my town with her full and overflowing shelves.

Grandin Village residents take their fresh food seriously and I made the aisles of the Roanoke Natural Foods Co-op part of my sightseeing.

Word is this is Virginia's largest cooperatively owned natural foods grocery.

Food's lovely and so are co-op habits; you get poker chips here for using reusable bags and then you vote with your chips for favorite non-profit charities who receive some of the profits.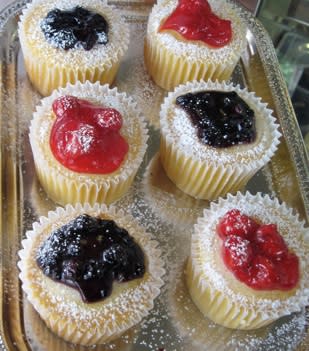 Right around the corner from the co-op, the community outdoor market was bustling on a dreary almost rainy cold day.  Saw my first red kuri squash, and plenty of bold-colored kale, beets of purple and gold, Swiss chard.

Bread proudly touted as having no genetically modified grains. Quinoa banana nut bread. Trout freshly caught and smoked.

Plenty of tasting offered, and plenty of shopping. I believe Grandin villagers and Roanokers embrace fresh and local.

Sedulous Seed on the Village main street declares on the front window: "Our recipes are based on local produce."

Sweet happens too in Viva La Cup Cake where owner Pennie Ahvera promises, "If you see it on top, it's also inside. And that covers 70 flavors of cupcakes.

Local art and just-baked pastries at CUPS coffee and tea house.

The whole village is listed on the National Register of Historic Places; independently owned shops and eateries have been here since 1906.

I'm a happy traveler when I find a few blocks as personal, local and authentic part of community as this one.

Grandin Village is eclectic; its neighbor Black Dog Salvage is eccentric.  Intriguing kind of fun.

Just the sort of discovery to counter balance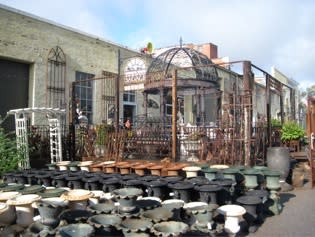 glorious outdoor views on the Blue Ridge, although out the back of Salvage is the Roanoke River Greenway, 5.5 miles of flat walking trail.

"We're keeping demolition out of the waste stream," owner Mike Whiteside told me. Nice notion for myself had I shopped.

"Weird things come in here and go out rather quickly," Whiteside said. "Quicker when weirder."

Sometimes Black Dog Salvage treasures go as far as Australia, via the store's Ebay connection.

Builders don't prefer his relics, he thinks, because they're harder to incorporate but "anybody not tied to the straight and narrow is our customer."

To me that translates to tourism: I like encountering people I might not meet in a straight and narrow journey so if eccentrics come looking among hundreds of newel posts or claw foot bathtubs, wrought iron anything, mantles galore, stained glass, locks and keys, doors and ceilings, I'm delighted to watch them search.

Sally is the black dog's name and you'll find her somewhere in 40,000 square feet of relics.

I swapped salvage old for fresh and new at Wildflour Market and Bakery in Old Southwest, primarily a residential neighborhood of early 20th century Victorian houses.

Many of these lovelies had been mistreated and are now the pride of rehabbing and restoring urban pioneers. A neighborhood with new energy and bold paint.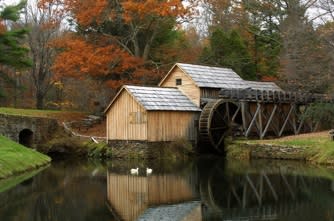 Cooking from scratch is how Doug and Evie Robinson talk about their eatery, and they've been doing so since 1991.

That means soup, salad dressing, cakes, pies and cookies of many styles, sandwiches both familiar and creative.

Dragon's Tooth is the name of a place to hike along the Appalachian Trail, and a Wildflour sandwich. Loved mine: eggplant medallions baked with Parmesan and layered with mushrooms, onion, pepper and Doug and Evie's secret sauce.

I didn't make it to nearby Salem but when I return to Virginia's Blue Ridge, I think I'll try and here's the main reason.

"We are not on the cutting edge of anything," I overheard the mayor say at breakfast. "...except we love our home and community, and our visitors."

Now that sounds like a stable and healthy place to be.