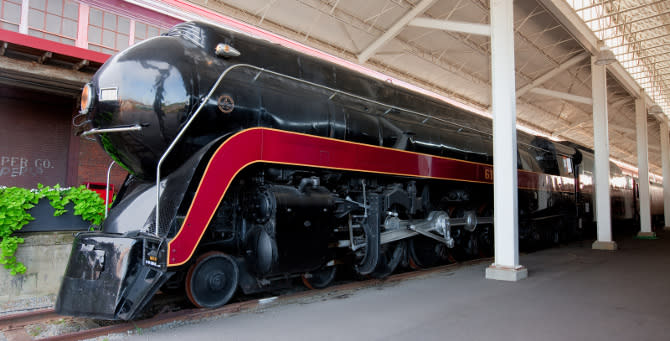 The Virginia Museum of Transportation (VMT) plans to bring steam train excursions back to Roanoke, VA in mid-2015 with the restoration of the Norfolk & Western Class J611 Steam Passenger Locomotive. Known as the Spirit of Roanoke, the 611 is the only Class J still in existence and has drawn railroad enthusiasts from across the states and over 50 countries to see her in person.
The estimated $3.5 million dollar restoration is currently underway at the North Carolina Transportation Museum in Spencer, NC and is expected to be completed, with the return of the 611 to Roanoke under her own steam, in mid-2015.
The planned excursions will be the only powered by steam in Virginia. Dates, destinations, and ticket prices will be announced in early 2015. The only other train excursion available in Virginia is powered by a vintage diesel engine, The James River Rambler in Dillwyn.
The excursions will allow visitors to enjoy a living history of the region's rail heritage and an opportunity to appreciate the craftsmanship of this national treasure. The VMT describes her best as "the finest American locomotive ever made. She is a marriage of beauty and power. Simple lines, a bullet nose, a midnight black façade, a Tuscan stripe and a baritone whistle makes her the most distinguished steam locomotive left in the world. She's an engineering powerhouse of steam, technology and near mechanical perfection. The Class J Locomotives were built using American ingenuity, design and engineering. Even today, she is the pinnacle of steam locomotive technology known to man."
For more information: