Roanoke wins Bronze in Race for "LOVE" votes!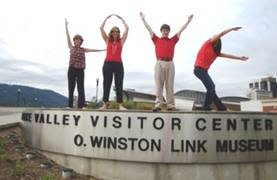 Tourism Industry Rallies for 3,590 Votes!

  
In a race to win the most votes in order to "Bring Love to Your Town" the Roanoke Valley Convention & Visitors Bureau spread the word via facebook, twitter, blogs, radio, television and online requests to the tourism industry, friends and family.  Word spread locally and across the country for our need for LOVE.  According to the Virginia Tourism Corporation, who hosted the contest, nearly 24,000 votes were cast for 21 Virginia localities.  Overall the contest was shared on Facebook 6,000 times, tweeted nearly 200 times and posted online 500 times.  In short, the Roanoke Valley received a lot of LOVE and attention with 15.19% of the votes.
 
This viral media campaign was something very new and we appreciate the efforts put forth by so many people.  The Bureau thanks everyone for casting your vote for Roanoke and sharing it.  Together we spread the LOVE for our town.
 
Contact Catherine Fox, Director of Tourism & Communications, with any comments or questions:
Office - (540) 342-6025 (Ext. 114)
Email - cfox@visitroanokeva.com
www.visitroanokeva.com