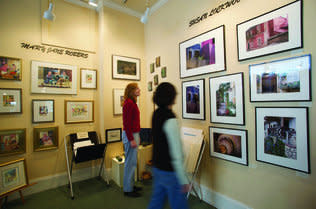 "You know those neighbors who never seem to take their Christmas decorations down? Well, that's us!" said Jackie Blank, as her toddler grandson, Jack, gazed with wonder at Roanoke, Va.'s 85-foot-tall neon star. Rising above Mill Mountain, the famous star was erected in 1949 to entice holiday shoppers. It was such a huge hit with Roanokers, it's been lit ever since. The star shines in red, white and blue since 9/11, but was lit up in white for 31 days after the shootings at Virginia Tech.
The Roanoke Star may be the city's icon, but now there's another star in the firmament, the 2-year-old Taubman Museum of Art. Design-wise, some love it, and some hate it, but this ultra-modern museum is putting Roanoke on the map as an arts destination.
Designed by Randall Stout, a Los Angeles architect and protégé of Frank Gehry, this $66 million structure of steel, glass, and zinc soars amid the brick buildings of downtown Roanoke like a space ship - or, as one critic put it, the Wreck of the Flying Nun. Built with an undulating roof line meant to invoke the Blue Ridge Mountains, the museum has added some shine to this city of 97,000.
The museum draws 85,000 visitors a year - 10 percent of them from outside Virginia - making it the second-best attended museum of its size in the Southeast, says David Mickenberg, the museum's executive director. Permanent collections include American paintings from the 19th and early 20th centuries, a contemporary gallery that features work from pop artist James Rosenquist, and temporary exhibits and special shows like Jae Ko's rolled paper sculptures.
Jackie Blank, a Roanoke Valley resident, feels that the arrival of the museum has sparked interest in the city. "Roanoke has always been a pretty sleepy town, but that's changing now. Downtown is starting to be a happening place," she adds. "Who knew?"
As Landon Howard of the Roanoke Valley Convention & Visitors Bureau puts it, "We are known for our railroad heritage, but now, with galleries sprouting everywhere, we're really developing a reputation as a hub for the arts in Virginia."
ARTSY LOCALES
Of course you'll want to check out the Taubman Museum of Art, but you won't have to go far to see more art. Downtown galleries are a lively scene, especially on the first Thursday of every month, when more than 10 local galleries participate in Art by Night, with show openings, demonstrations, refreshments and live music. There's also a big sidewalk art show at the Taubman Museum on the first weekend in June (June 4-5 this year). And Cooperative galleries showcase a wide variety of styles.
Gallery 108, across the street from the Taubman, represents artists from Roanoke and Southwest Virginia, with prices ranging from $6 to $5,000 for fine art, sculpture, pottery, jewelry and textiles. "We were here first, and then [the art museum] opened. It has been great for us!" says Sue Egbert, partner in Gallery 108. "We've had a big increase in foot traffic."
Nearby, the small but selective Market Gallery displays original fine art works from 27 artists. Pick up a map of other local galleries here, or at Gallery 108 (there are eight more, and counting).
Things will get even livelier for these downtown galleries when Center in the Square, Roanoke's cultural center, opens in late 2012 after a major renovation. Seven of the city's arts organizations will be housed here, including the Mill Mountain Theatre, the Harrison Museum of African-American Culture, Opera Roanoke, the Roanoke Ballet Theatre, a science museum, a history museum, and a planetarium, plus four aquariums and a butterfly habitat. Center in the Square is a huge step in the revitalization of Roanoke's 62-block downtown, city officials say.
Installed at various places in and around the city, Air2 are seven pieces of public art, including Ann Glover's huge Trojan Dog, a favorite of kids, near the No. 7 Fire Station. (Air2 pieces will be up until March 1, 2012.) Nearby, Black Dog Salvage features the work of 12 local artists, but you'd want to see this place even if it didn't - it's 40,000 square feet full of antiques and architectural treasures, like old doors begging to be turned into tables, bits of leaded glass and wrought iron, and other old stuff waiting to be re-purposed if you're the artsy type yourself.
And if you do have an artistic soul, you'll find plenty of company in Roanoke. More than 250 visual artists are living in the city, says Laura Rawlings, executive director of the Arts Council of the Blue Ridge. "We've seen a huge influx of visual artists, dancers, and musicians," Rawlings says, citing a gallery owner who recently moved to the city from Los Angeles as one example. The shaky economy has taken its toll, she admits, "but great things are happening, and the potential is huge. I think we're a contender - we're one to watch!"
Egbert offered a similar perspective. "I think there's a lot of opportunity here for artists, and we have great scenery and wonderful cultural offerings. It's a smaller city with a slower pace."
Rawlings admits that local artists need more studio spaces, and says the city may establish an arts district (meaning cheaper living/working spaces downtown) as part of a new arts and cultural plan that's in the works.
One thing you won't encounter here: a pretentious art scene. "What's unique to Roanoke is that everyone is so accessible," Rawlings says. "Here, there's a melding of emerging and established artists. It's up close and personal." Some call it intimate. But nobody calls it sleepy anymore.