LIEUTENANT GOVERNOR BOLLING ANNOUNCES TOURISM MARKETING GRANT FOR BLUE RIDGE MOUNTAINS MARKETING INITIATIVE

- Regional tourism partnership secures $50,000 grant for marketing mountains as tourism destination -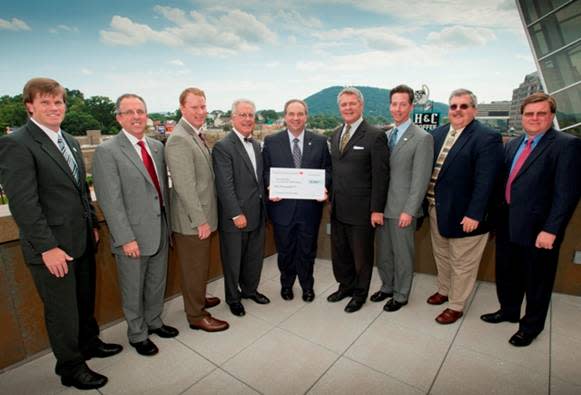 Photo
- Area officials meet with Virginia Lieutenant Governor Bill Bolling (center) to accept a $50,000 grant check for the Roanoke Valley Convention and Visitors Bureau. From left to right - Randy Rose, Virginia Tourism Corporation; Butch Church, Chairman, Roanoke County Board of Supervisors; Randy Foley, Mayor, City of Salem; Bart Wilner, President, Roanoke Valley Convention and Visitors Bureau; Lieutenant Governor Bill Bolling; David Bowers, Mayor, Roanoke City; David Moorman, Deputy Administrator, Botetourt County; Rick Huff, Chief Administrative Officer, Franklin County; Landon Howard, RVCVB Executive Director.
Lieutenant Governor Bill Bolling traveled to Roanoke yesterday to officially award a $50,000 tourism marketing grant check to the Roanoke Valley Convention & Visitors Bureau (RVCVB) for a new initiative promoting the Blue Ridge Mountains.  (Press conference photos)  The grant from the Virginia Tourism Corporation (VTC) is designed to assist local and regional tourism entities to leverage local marketing dollars.  The successful grant application was a partnership between the RVCVB, City of Roanoke, Roanoke County, City of Salem, Botetourt County and Franklin County Commerce and Leisure Services.  This grant will be used to market a newly-developed web site and provide a regional interactive customer service platform improving visitors' abilities to identify their interests in the region's travel product. The results of the grant will help stimulate the economy by increasing visitation, length of stay and visitor spending in the region.
"When local tourism groups work together to come up with great programs to bring visitors to their localities, one thing that is often missing is adequate funds to effectively market these programs," said Lieutenant Governor Bolling. "VTC's tourism marketing grants help fill that void and enable our local partners to leverage their own funds to effectively market regional programs such as this one.  I am delighted that we were able to provide such a significant grant to help market the Blue Ridge Mountains, which are truly one of Virginia's best known tourist attractions.  I applaud our local partners in the Roanoke Valley for working together to make this happen."