Nov. 13th - Nov. 15th  Get holiday shopping done early at the 27th Annual Stocked Market at the Berglund Center in Roanoke. Over a hundred vendors from across the country gather for one of the biggest stocked market events in Southwest Virginia. Bring family and friends for a weekend of holiday shopping and cheer.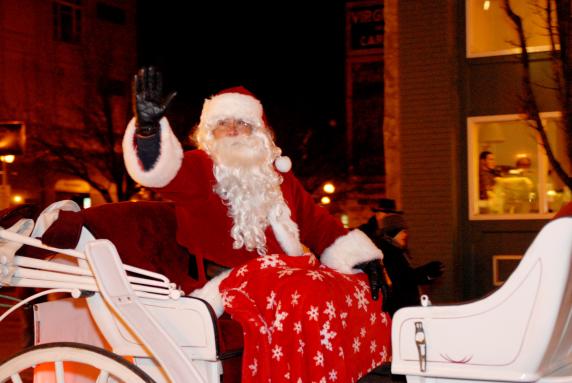 Kick off the holiday season with parades in Virginia's Blue Ridge:
•(11/7) Virginia's Veterans Parade in downtown Roanoke at 11:00am
•(11/21) Children's Holiday Parade at 11:00am
•(12/3) Vinton Christmas Parade at 7:00 pm
•(12/4) Biggest Little Parade in downtown Rocky Mount at 5:30pm
•(12/5) Fincastle Christmas Parade at 2:00pm
•(12/6) Franklin County Christmas Parade at 3:00pm
•(12/12) Buchanan Christmas Parade at 4:00pm
Nov. 23 – Feb. 14th "ROA's Elmwood on Ice" outdoor ice-skating brings a new kind of holiday tradition to downtown Roanoke's Elmwood Park this winter. The new 3,900 sq. ft. outdoor rink will accommodate upward of 100 skaters with fees for admission priced at $6, plus an additional $2 for skate rentals. To see the full schedule, visit www.ElmwoodOnIce.com. 
Nov. 26th – Jan. 1st Fashions for Evergreens Make it a family tradition to spend an evening in one of the most iconic hotels in Virginia, the Hotel Roanoke.  Each year during the holiday season over 30 towering evergreens are professionally decorated and displayed throughout the hotel and conference center.  These Fashions for Evergreens are the perfect back-drop for any "holiday greetings" card and are sure to take your breath away.  Cast a vote for the best decorated tree and it could win first place in the annual Fashions for Evergreens competition.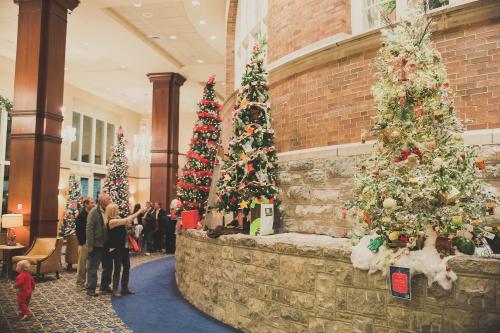 Nov. 26th Run, walk, volunteer and donate for the Drumstick Dash 5K Race this Thanksgiving Day to help the Rescue Mission feed over 350,000 meals to hungry families this Thanksgiving. The 5K route, certified by USA Track & Field, winds through the decorated streets of historic downtown Roanoke – the largest metropolitan area in Southwest Virginia.  
Nov. 28th - Dec. 19th Spend time with Santa in Fantasyland. Santa teaches important lessons of love, sharing and history and even shows his very own 200-year old sleigh.  Children can fallow along a Christmas journey of a simpler time as Santa tells stories, sings and interacts through fun holiday activities in the History Museum of Western Virginia in the library.
Dec. 2 – Dec. 20th 'Tis the season for a musical – enjoy one in Roanoke. 42nd Street is coming to Mill Mountain Theatre. Watch the classic story of a chorus girl, Francis, transform from a New York rookie to a hit sensation through hard work, love and talent right before your eyes in this award-winning theatrical hit.
Dec. 4th – Dec. 18th Dickens of a Christmas celebration. Don't miss one of the most anticipated holiday events in Downtown Roanoke, Dickens of a Christmas.  During the first three Fridays of December celebrate the season Christmas Tree lighting, parade, pet costume contest and favorites like roasted chestnuts, carriage rides, street performers and carolers and more.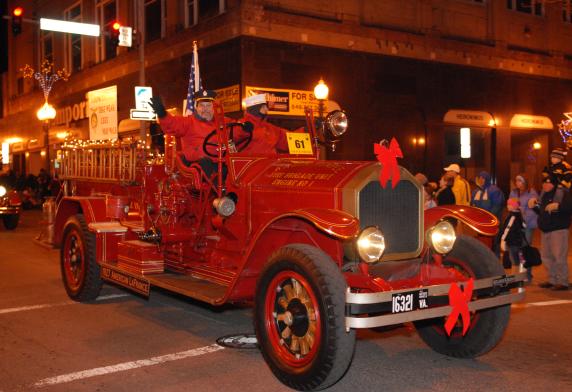 Dec. 5th - Dec. 6th Old Southwest Parlor Tours.  For more than thirty years, the homes in Historic Old Southwest have opened their doors to the public.  This December, take the Old Southwest Parlor tour for a peek into historical homes that have been beautifully renovated and decorated for the holidays. 
Dec. 4th Come Home to a Franklin County Christmas. Have you ever seen the "Biggest Little Parade"?  Find out what we mean as downtown Rocky Mount rolls out the holiday cheer with prime entertainment, dancing, carriage rides, live music, food, craft vendors and more during the 12th annual Come Home to a Franklin County Christmas.
Dec. 5th Take a step back in time to An Old Virginia Christmas. This December, learn how 19th century enslaved residents of the Booker T. Washington plantation spent an "Old Virginia Christmas".  The evening is filled with tours lead by candlelight, interpretive history programs and entertainment at the Booker T. Washington National Monument. 
Dec. 5th Re-live the golden age of railroad on a restored locomotive ride. "All aboaarrd!" for a train ride this holiday season at the Virginia Museum of Transportation. Take the Candy Cane Express at the Virginia Museum of Transportation and don't forget to bring your camera for a picture with Santa.  Children will enjoy face painting and crafts, model train displays and a scavenger hunt throughout the museum.
Dec. 5th Spot St. Nick in Historic Fincastle. Bring a chair and bundle up on the sidewalks of Historic Fincastle for the Fincastle Christmas Parade.  Hum along to traditional holiday songs played by local marching bands and wave to the floats as they glide by in their holiday décor – including Santa on his sleigh.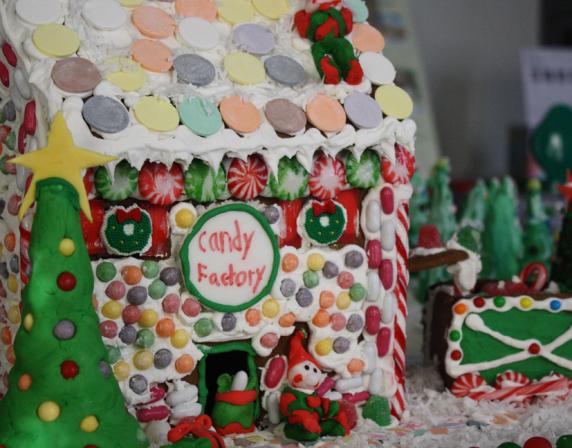 Dec. 5th Sip hot cider at the Gingerbread Festival. Celebrate the holidays the right way at the Ye Olde Salem Christmas & Gingerbread Festival.  Start the afternoon browsing craft vendors in the farmers market then take a carriage ride through the magical city of Salem.  Don't miss a chance to see Santa at the Gingerbread Festival where children can enjoy activities, parents can browse more vendors and everyone can warm up with a cup of hot cider.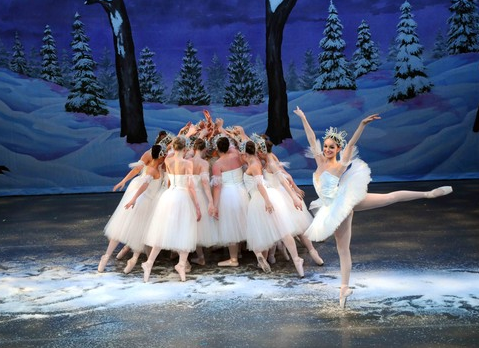 The Nutcracker will be performed by two ballet companies this holiday season:
• Dec. 12th - Dec. 13th Watch the classical theatrical performance, The Nutcracker, presented by Southwest Virginia Ballet, when it returns to the Berglund Performing Arts Center. 
• Dec. 19th The Roanoke Ballet Theatre students will share the stage with the Roanoke City Ballet as they perform their seasonal performance of The Nutcracker at Jefferson Center.
Dec. 31st Ring in the New Year on Market Square. The Downtown Countdown is Roanoke's premier New Year's Eve event bringing "Times Square to Market Square" for the third year in a row.  You won't want to miss the 2015 celebration into the New Year with fabulous food vendors, indoor and outdoor activities as well as live music and giveaways.