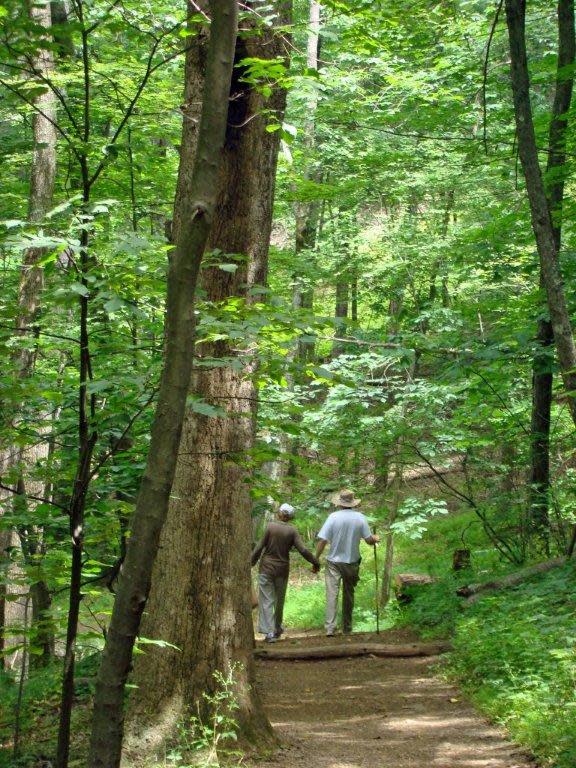 BEDFORD, Va. - We had driven all the way to Shenandoah National Park for some hiking and a hit of woodsy beauty, but were disappointed to find the trails as crowded as Interstate 93 at rush hour. That night at the campground, a guy lit his camp stove with a blowtorch. Whoosh! A couple of deer wandered over to check out the action. "I've seen wilder wildlife at York's Animal Kingdom," Diane's husband, Paul Kelley, quipped. All of this was amusing, for sure, but not exactly the nature escape we were looking for.
We shared our dismay with a local hiker. "Pizza Otter," she said, in a lovely Southern accent. "That's where you want to go." That sounded intriguing to us, even after further discussion revealed she had meant "Peaks of Otter." A Google search told us that the National Park Service manages the peaks and that our tipster was spot-on: The hiking is wonderful there. We would be hiking in the boot steps of Thomas Jefferson and Robert E. Lee. If we headed south on the Blue Ridge Parkway, we would get to those intriguing peaks in no time, plus a couple of choice spots along the Appalachian Trail.
Spontaneity paid off. For one thing, we got to see more of the parkway, a ribbon of roadway that runs 469 miles along the crests of the southern Appalachian Mountains, all hazy blue vistas and sun-dappled wildflowers. And, our adventure led us to Roanoke, a city that hadn't been on our radar, but proved to be a great base for our non-hiking moments. Off trail, we discovered a cool art museum, good Southern food, and a winery that produces a wine from chili peppers, appropriately called Kiss the Devil. Leaving Shenandoah in the rear-view mirror turned out to be a swell idea.
Located just north of Roanoke, the Peaks of Otter area is home to a minimalist lodge on a lake, with seven trails and a choice of three hike-able mountains. We chose Sharp Top, at 3,865 feet elevation, mainly because the name sounded fiercer than Flat Top or Harkening Hill, the other options.
Speaking of names, how did the Peaks of Otter get its odd moniker? There are three theories, according to Peter Givens, interpretive specialist for the Blue Ridge Parkway. "In the Cherokee language, there is a similar word, 'ottari,' which translates into English as 'high places,' " Givens says. Also, "the Otter River has its headwaters on the eastern side of these mountains," so that could be the name's origin. Finally, "Scottish settlers who frequented the Blue Ridge may have thought Sharp Top resembled the Otter Highlands of Scotland," Givens explains. Did they name these mountains? Who knows? Even the park rangers we asked wouldn't commit.
By any name, Sharp Top is a fun, energetic little hike with a big payoff. We would rate it as "moderate," given the 1,540 feet you gain in elevation during the three-mile round trip. The summit trail heads straight up for the first mile or so, with the first scenic overlook at around the one-mile mark. Although it was 93 degrees in Roanoke on the day we hiked Sharp Top, we stayed fairly cool as we hiked the (unblazed) trail, amid a landscape of forest and mammoth-sized boulders.
The last 0.2 mile is a bit of a slog, but when you reach the summit there's a stone cottage and a rocky promontory with 360-degree views that seem to go on forever. The panorama encompasses nearby peaks (like Flat Top, which doesn't look in the least flat), the Piedmont to the east, the Shenandoah Valley, and the Allegheny Mountains to the west. Heading back, it's worth the short side trip to the rocky outcropping called Buzzard's Roost, if only to see how far you've come: The summit of Sharp Top looks so far away. The entire trip took us around two hours, including a slow stretch when a butterfly landed on Diane's foot and hitched a ride up the mountain. We didn't see any black bears, although they're common here, but we also didn't see many other hikers - maybe six in all - on our Friday morning jaunt.
Turns out, southwest Virginia has more than 600 miles of trails in the Roanoke Valley alone. Virginia is one of the 14 states the Appalachian Trail runs through and can claim one-fourth of the trail. It is home to the most-photographed site along the 2,160-mile route, McAfee Knob. The six-mile, thigh-testing trek to the Knob features 270-degree views of the Catawba Valley and North Mountain to the west, Tinker Cliffs to the north, and the Roanoke Valley, looking east. This one is no walk in the park; it's rated moderately difficult due to its continual, gradual climb. Like Sharp Top, McAfee Knob is a favorite of local hikers, and the trailhead is just 25 minutes from downtown Roanoke. "You don't see much as you're going up, but when you get to the top, wow! The view is spectacular," says Amit Hajra of Roanoke, who hikes the trail often with his two boys, 9 and 11.
If, like us, you choose some hikes strictly because you like their names, you'll love Dragon's Tooth, also part of the Appalachian Trail. This hike boasts a very cool feature: The "teeth" are a series of Tuscarora quartzite spires that project from the top of Cove Mountain. The tallest tooth sticks out about 35 feet from the rock base. You'll ascend a series of quartzite outcrops on this 4.6-mile round-trip hike - these form the spine of Cove Mountain and North Mountain, known as Dragon's Back. The trailhead is located in Catawba, about 20 minutes from downtown Roanoke. "This hike gives you a great workout," says fellow hiker Jackie Blank of Hardy, Va. "You get bragging rights because it's the AT, but it's an easier trail than McAfee Knob."
You can even hike up to Roanoke's 88½-foot-tall neon star. It's like hiking to the Hollywood sign in Los Angeles, a must-do. The Mill Mountain Star Trail begins at the base of Mill Mountain and climbs up to the summit. Ta-dah! There's that famous star, said to be the largest illuminated star in the world. It's an easy-going trail with lots of switchbacks, making it a good choice for families.
Why a star? It's actually a Christmas decoration that's been up since 1949 and has morphed into a landmark. "The star was erected to entice holiday shoppers, and was such a huge hit with Roanokers, it became the city's most popular attraction," says Landon Howard, president of Roanoke Valley Convention & Visitors Bureau. "It offers the best view of the metro region framed by our spectacular mountain ranges." A photo of yourself, with the star rising in the background, is the ultimate Roanoke souvenir, and you can also take a more modern approach: There's a webcam at the base of the star, so you can tell your friends to look for you online.