Governor Bob McDonnell Talks Tourism at the Roanoke Valley CVB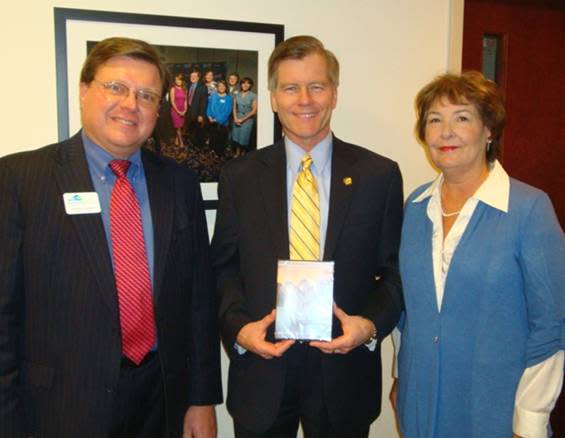 Pictures in Photo - Landon Howard and Trixie Averill present "Lake Effects" movie to Governor Bob McDonnell
 Governor Bob McDonnell discussed the impact of tourism in Virginia and the Roanoke Valley with Trixie Averill, Roanoke Valley Convention & Visitor Bureau's (RVCVB) Tourism Marketing Advisory Chair, and Landon Howard, RVCVB Executive Director, while visiting the Bureau's office today.  The Governor was presented with a copy of "Lake Effects," the movie recently filmed on location at Smith Mountain Lake. 

The Roanoke Valley CVB recognizes the potential economic impact films bring to an area.  "Tourism and films are uniquely linked to economic development," stated Landon Howard.  In 2009 the film industry had an economic impact of more than $346 million, contributing $33 million in tax revenue and provided work for 2700 Virginians.  "Together we celebrate who we are and the place that we live," said Howard.

Tourism is BIG Business!  The Roanoke Valley experienced a 6% increase in tourism related expenditures in 2010 which generated 7,000 jobs and over $134 million in local employee earnings.


Contact Catherine Fox, Director of Tourism & Communications, with any comments or questions:
Roanoke Valley Convention & Visitors Bureau
Office - (540) 342-6025 (Ext. 114)
Email - cfox@visitroanokeva.com
www.visitroanokeva.com
Find us on Facebook