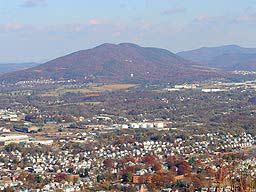 Whether you are looking for affordable golf, friendly hosts, or the lap of luxury, the Roanoke Valley has got it all. (Shutterstock)
Golf surrounded by mountains. Does it get any better?
The vistas of Virginia's Blue Ridge Mountains instantly threaten to overwhelm your senses before you even stick a tee in the ground.
Whether you are looking for affordable golf, friendly hosts, or the lap of luxury, the Roanoke Valley has got it all.
Nestled at the southern end of Virginia's Shenandoah Valley on Interstate 81, Roanoke is easy to reach from Toronto by car. If you're looking to start your golf trip in a hurry, the Roanoke airport is a pleasant surprise and a rather nice place to put your keys and coins in a bin.
Now, you have just arrived in Virginia, you're tired and it's pouring rain. Do you: A) Check into the hotel and take a nap? Or B) Start digging through your luggage for your rain pants?
Thought so.
Ashley Plantation is the region's only 27-hole public access golf course. It was established in 1999 and is a residential community featuring picturesque views of the Blue Ridge Mountains. Also, it's only five minutes off Interstate 81 just north of downtown Roanoke in Daleville, Virginia.
All successful golf trips give the player some good stories to tell weeks later while enjoying a beverage on the 19th hole.
Ashley Plantation allows the golfer to begin one of these stories with, "So I was standing on the tee of the 721 yard, Par 6..."
That's right.
This monster is the signature hole on the Hills nine.
Once your drive clears the water hazard in front of the tee you can take a sigh of relief. Beginning a 721-yard hole with a penalty stroke is not what you want to do.
When you finally get to the green make sure to take a look back toward the tee to see where you came from. It's quite a sight.
The three different nines are true to their names. The Hills nine is definitely hilly, the peaks of which offer some breathtaking views of the mountains. The other nines are the Meadows course and the Orchard course.
Depending on the day and time of day, rounds on the Hills and Meadows nine range from $25-$52US. Rounds on the Orchard nine range from $15-$35. A better value will be hard to find.
The drive down the Blue Ridge Parkway is a relaxing one, once you enter the pastoral hills of Carroll County approaching Olde Mill golf resort it will be easy to forget the hustle and bustle of life back home.
A popular destination for Canadians since 1972, Olde Mill is a golfer's sanctuary. The original Ellis Maples design is being upgraded by his son Dan Maples who is working with his own son Bradley.
"It was built back in the '70s. My dad was involved in it," says Dan Maples. "He basically used the same skills that Donald Ross used. Olde Mill tracks over the property exactly like Donald Ross would have built it. He would have been absolutely proud of it because it's the same architecture. It's got a 54-acre lake. It's just unlimited water and it's unbelievably beautiful the way it winds through the fairways, around the mountains."
The project is clearly close to the heart of the Maples family and representative of the resort as a whole.
The staff at Olde Mill, beginning with head golf professional Bo Goins, are extremely welcoming and gracious, they are proud of what they have at the resort and with good reason.
An early morning round before a tournament was to take place became the perfect opportunity to bask in the nature and beauty of Olde Mill.
The course routing is very natural, always working with the contours of what the property gave the Maples.
Water comes into play on 16 holes so you might want to bring a few golf balls. That said, with four sets of tees the course is very playable for all skill levels. For the big hitters the course was recently lengthened to 7,100 yards. Other enhancements include a wall-to-wall irrigation system and white sand from the mountains of North Carolina that is used in Olde Mill's 70 bunkers -- the same sand used at Augusta National.
While the mountain views and meandering fairways provide the natural beauty, Olde Mill is working hard to give Mother Nature a run for her money. The 850-acre property is undergoing a $12-million transformation that includes a master-planned golf community.
One of their slogans is "Visit for a day. Stay for a lifetime."
Stranger things have happened.
The next stop as we chip our way around the Roanoke region is Hanging Rock Golf Club.
The chip that takes you to this Russell Breeden-designed course, is head golf professional and former PGA-tour player Chip Sullivan.
Sullivan has a long history at Hanging Rock and after a few minutes of talking to him in the clubhouse, it is obvious he has a very special place in his heart for his home course.
After a few holes on the course with Chip it is even more obvious the course has a special place in its heart for him.
First example. On the Par 5 first hole, Chip hits a drive he doesn't like. It's miles past ours but nonetheless Chip's not happy. He hits his second shot thin and while he is shaking his head we notice that his ball stopped about 12 feet from the pin.
So, let's go over this: Two bad shots for Chip Sullivan equals an eagle putt. Two bad shots for the rest of us usually means digging for a new ball.
But, there's more.
On the next Par 5, the fourth hole, Chip has hit a nice drive but for some reason he seems to be turned sideways aiming his second shot straight into the woods with a 23-degree rescue club. How he got the ball up fast enough to get over the trees was crazy, how he knew exactly where the green was around the corner is otherworldly.
If you have ever played Golden Tee arcade golf, that's the best way to picture what happened.
Two par 5's, two eagle putts. Four holes and Chip was yet to attempt a chip. Now that's golfing.
Hanging Rock might not end up in a coffee table book of golf courses but it is another outstanding value and having a former PGA tour player as head professional adds to the experience.
Rates range from $24US to $37 and on Seniors Days, "experienced" golfers can enjoy a round of golf with a cart for $24.
Now, hop back in the car and look up because our next stop is 2,850 ft. above sea level. The Primland resort is the cream of the crop for golf and luxury in the region.
Located 45 minutes from Interstate 81 and eight miles from the North Carolina border, Primland is the ultimate retreat for world-class golf and accommodations. If the drive seems too much of a bother, you can always take advantage of the resort's heli-pad!
The lodge is a stunning vision and the suites are breathtaking. There are also immaculate fairway cottages and homes on the resort.
The Highlands course at Primland was named Best New Public Course by Golf Digest in 2008 and was designed by famed architect Donald Steel.
"When I first saw Primland, it reminded me of the highlands of Scotland. I knew this was the perfect spot for a truly exceptional course," Steel said.
Steel knows a thing or two about Scottish golf. After all, he was the first architect to perform significant work at St. Andrews since Harry Colt in 1913.
At Primland we are exchanging mountain views for mountain golf. The course is unbelievably breathtaking and you better bring your game. That's not to say that high-handicappers won't enjoy themselves, they just need to select the correct tees.
From the back tees the Highland course is over 7,000 yards with a slope rating of 145. The undulating fairways demand accuracy off the tee.
Don't worry though, if your game goes south it won't matter, from the heated floors inside the lodge to the Observatory Dome featuring a Celestron CGE 1400 telescope, Primland resort is truly out of this world.
Next time you are thinking of hitting the road with the family or the golf buddies think of Virginia's Roanoke Valley, it truly has something for everyone and every budget.