ROANOKE – A classic fairytale popularized by Walt Disney's animated feature film will come alive next month in Mill Mountain Theatre's production of Disney's Beauty and the Beast, Jr. The play's junior version will feature many Roanoke area youth in cameo roles.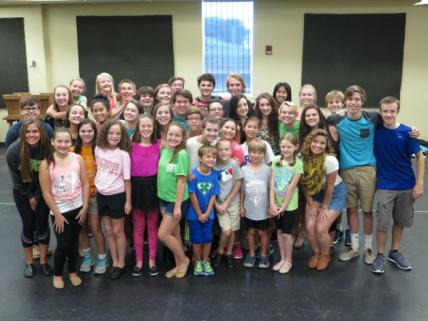 The show runs July 31 through Aug. 9 on the Trinkle Main Stage in the Wells Fargo Auditorium at Center in the Square, downtown Roanoke. The 10 performances will be at 7 p.m. on Wednesdays through Saturdays and at 2 p.m. on Saturdays and Sundays.  Tickets are priced to encourage families to attend with children. Parking passes are available at the box office and on-line for evening shows.
A special themed event for families with young children will follow the matinee performance on Sunday, Aug. 2 in the Rooftop room and outdoor gardens at Center in the Square. Tickets for "Tea with Beauty and the Beast" also are available at the box office or on line at www.millmountain.org.  
"We picked this show especially to show off our community's most talented young actors, many of whom are Mill Mountain Theatre Conservatory students," said Ginger Poole, MMT's Producing Artistic Director.  "The summer slot on our season schedule is when children are enchanted by the magic of live theatre and many of them are inspired to develop their own skills in acting, voice, and dance. " Director of the production is Anna Kimmell, MMTC's director of education.
In addition to the 40 actors on stage, MMT's production of Beauty and the Beast Jr. will showcase the work of teenagers who are students in MMTC classes in technical theatre – scenic, lighting and sound design and fabrication.  
Beauty and the Beast, Jr. is set in 19th Century France, where a prince has been magically transformed into a monster as punishment for his arrogance and lack of love for fellow humans.  He comes to love a young woman whose life also is troubled.  The best known version of the story is an animated film released in 1991 by Walt Disney Studio, which earned $424 million at box offices worldwide. In 1994 the live musical version opened on Broadway and ran for more than 13 years with 5,507 performances, the ninth longest-running show in Broadway history.
The show also is known for its music, from operatic-style "Belle" to a love ballad, "Beauty and the Beast."  "Mill Mountain Theatre's production will include those familiar songs, lavish costumes and sets to provide a wonderful family experience," Poole said.
The production is underwritten by MMT Corporate Partners, including:  Grand Home Furnishings; Anstey Hodge Advertising Group; Business Solutions, Inc.; Wells Fargo Bank; Virginia Varsity Transfer and Virginia Varsity Storage; Davenport & Co.; Dixon, Hubard, Feinour & Brown; Howell's Motor Freight; Lanford Brothers Inc.; Valley Bank; Elizabeth Rice Martin, M.D., Physicians to Women, and Member One Federal Credit Union.  Full Season sponsors are Carilion Clinic, WDBJ7 Television and The Roanoke Star.com.  Support by chocolatepaper of Roanoke will underwrite in part the special event for children on Aug 2.
In addition, support for Mill Mountain Theatre productions comes from Center in the Square,  City of Roanoke Arts Commission, City of Salem, County of Roanoke, the National Endowment for the Arts, and Virginia Commission for the Arts.
For more information contact: John Levin, development@millmountain.org or 540-342-5761. 
MMT Box office: 540-342-5740