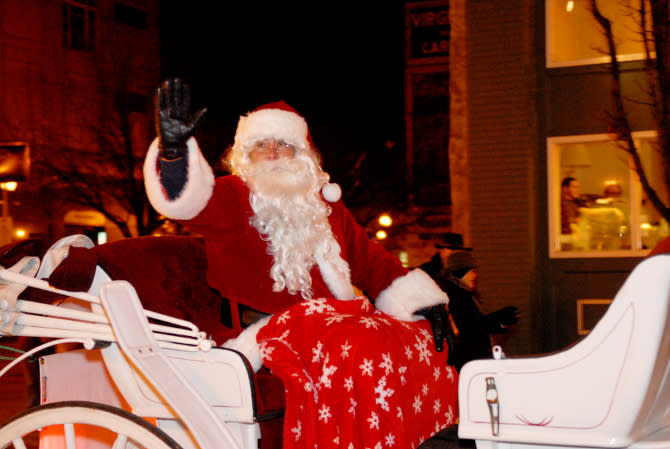 Shake a hand and thank a veteran before the parade at the Roanoke City Market Building in Downtown Roanoke.
Parade participants include military units from across Virginia, military marching units and individual veterans accompanied by military, college and high school bands. All combine to make this parade one of the largest Veterans events in Virginia
Held the Saturday before Thanksgiving, neighbors and local businesses come together to celebrate the season. Look out for synchronized shopping carts from the Roanoke Natural Foods Co-op and Santa on top of a fire engine. If you arrive early, grab a bowl of Brunswick stew from the Raleigh Court United Methodist Church. Warning - it sells out quickly!
Ride on the lead boat, the Virginia Dare, with Santa & Rudolph leading the way in the Flotilla. Get on your jingle bells and pull out those Christmas sweaters!
Franklin County Christmas Parade: Sunday, December 1st at 3pm
Come out to downtown Rocky Mount for a good old fashioned Christmas Parade on Sunday, Dec. 1. The theme of this year's parade is "Christmas in the Country." This is a great way to kick off the holiday season with your family and friends. The parade will begin at 3:00 p.m., with line-up beginning on Tanyard Road. Bring a chair and help cheer the parade floats through town. 
This annual parade is held the first Thursday after Thanksgiving, starting at 7:00 pm. Attended by approximately 11,000 holiday well-wishers, this event is hosted by the Vinton Area Chamber of Commerce, and planned and executed by chamber volunteers.
Come Home to a Franklin County Christmas Parade: Friday, December 6th at 5pm 
The annual Come Home to a Franklin County Christmas opens with the "Biggest Little Parade" in Franklin County at 5pm, when they shut the streets down for the festival. You will enjoy a fine array of food and craft vendors, plus music, dancing and a homecoming of sorts. 
57th Annual Salem Christmas Parade: Friday, December 6th at 6:30pm
One of the largest holiday parades in Southwest Virginia! The parade marches straight through the heart of downtown Salem. Parade admissions include marching bands, corporate entries, religious entries, children's groups, clubs and associations.
Fincastle Christmas Parade: Sunday, December 7th at 2pm 
The parade will feature local high school bands, floats and civic organizations. St. Nick will greet the children on the parade route. 
Haley Toyota's City of Roanoke Christmas Parade: Friday, December 13th at 6pm
This free, family-friendly event happens annually in Downtown Roanoke and includes favorites like roasted chestnuts, carriage rides, street performers, and more! 
The Town of Buchanan celebrates Christmas like you remember it. For more than six decades, hundreds have returned to Buchanan's Main Street to cheer floats, marching units and bands as they announce the arrival of the Christmas season. This year's parade features the award winning James River High School Marching Band, dozens of marching units and floats prepared by area churches and civic organizations, as well as antique autos, clowns, horses and our most honored guest, old St. Nick.