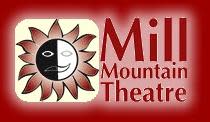 Mill Mountain Theatre reprises one of the world's most popular musicals as its Holiday show next month.  Children of Eden, a spectacle based on the Biblical story of Creation, will take the Trinkle Main Stage, Dec. 3-21.
Children of Eden is best known for memorable music by Steven Schwartz, composer of music for Wicked, and Godspell and film scores of The Prince of Egypt and Disney's Pocahontas and The Hunchback of Notre Dame.
Not as widely known is that Children of Eden has its roots in Roanoke.  Following the show's first run in London, Schwartz and playwright John Caird came to Roanoke in 1991 to remake the production for the American stage.  The new version ran for four weeks at Mill Mountain Theatre before moving to the New York City metro area and ultimately to hundreds of productions around the world.
"It is a perfect play for the Holiday season because it tells the story of God's love for mankind," said Ginger Poole, MMT's Producing Artistic Director. "It is not the obvious play for this time of year, but the message, the music and an extraordinary cast will warm the heart of everyone who sees it."
The cast of 36 actors includes a children's ensemble and a live orchestra.
Several of the performances will include enlightenment presentations led by clergy of selected Roanoke congregations.  Because of the play's ties to the Biblical story found in Genesis, MMT has asked faith-based organizations to help our audiences understand the play's relevancy for contemporary life. These sessions include an opening night reception beginning at 5:30 p.m. on Wednesday, Dec. 3 in the Harrison Museum of African American Culture on the second floor of Center in the Square.  In addition talk-backs with members of the cast will be held immediately after performances that begin at 2:00 p.m. on Saturday, Dec. 6; at 7:30 p.m. on Thursday, Dec. 11, and at 2:00 p.m. on Saturday, Dec. 20.  Please contact the box office for other details. There is no additional charge for these special presentations.
Mill Mountain Theatre's Trinkle Main Stage production of Children of Eden runs December 3-21, 2014 with performances at 7:30 p.m. on Wednesdays through Saturdays and at 2:00 p.m. on Saturdays and Sundays.  Tickets are available at the Center in the Square box office, by calling 540-342-5740 and on line at www.millmountain.org. 
This production of Children of Eden at Mill Mountain Theatre is possible thanks to underwriting by these sponsors: Ben and Missy Chapman; Grainger Industrial Supply / The Grainger Foundation;  Grand Home Furnishings;  Better Sofas, Inc.; Koppers, Inc.; LeClairRyan; Physicians to Women; Business Solutions, Inc.; Chas. Lunsford Sons & Associates; E&W Machine; Elk Hill Advisors, Inc.; FreightCar America, Inc.; Jefferson Surgical Clinic; Lanford Brothers Co.; Sydney and Paul Nordt; Oakey's Funeral Service and Crematory; Poe & Cronk Real Estate Group; Richfield Living; Roanoke Gas Co.; Spilman, Thomas & Battle PLLC; Sun Tan City; The Roanoke Star; Vertex Signs; WDBJ7 Television; Brown Edwards & Co., and Member One Federal Credit Union.
Additional support for Mill Mountain Theatre comes from Actors' Equity Association, Center in the Square, City of Roanoke Arts Commission, County of Roanoke, National Endowment for the Arts and Virginia Commission for the Arts.
Mill Mountain Theatre is able to offer free admission to its plays to children and families who are referred to us by area human-service charities.  Their tickets are underwritten by Benefit Plan Administrators, Fee-Only Financial Planning, Grainger Foundation, Bill and Clara Nash, PlasticsOne, Richfield Living, Shenandoah Life Insurance Co., and Union First Market Bank.