Adopt the Virginia's Blue Ridge Stay Safe Pledge
Visit Virginia's Blue Ridge knows safety should be part of the experience for visitors, businesses, and local residents in the surrounding VBR region. As we continue to work together to get through the COVID-19 pandemic, we encourage you to join our Virginia's Blue Ridge Stay Safe Pledge as a commitment to keep each other safe and healthy.
The pledge follows recommended guidelines from the CDC and public health officials, and helps us create an environment of safety while we enjoy the businesses and experiences that make Virginia's Blue Ridge a special place. 
Stay Safe Pledge Business Toolkit
We've made the pledge available in a variety of formats and resources that you can use for your own purposes.  This should be an easy tool to use and provide consistent messaging for the region. Start using the Stay Safe Pledge Toolkit!
You can simply Download, Print and Post on your door or Post on your Website and Social Media. 
We encourage all businesses and individuals to commit to the Virginia's Blue Ridge Stay Safe Pledge as a way to work together to ensure the health and safety of our community.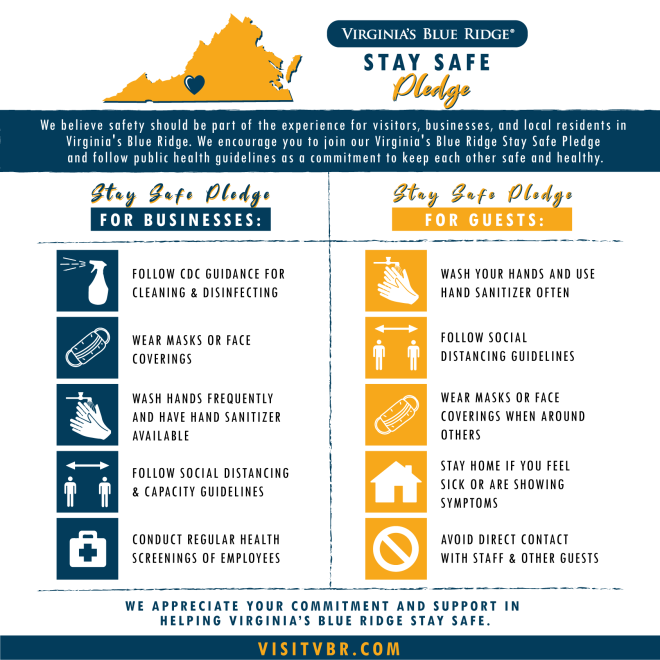 ---
Catherine Fox
Vice President of Public Affairs & Destination Development
cfox@visitvbr.com
(540) 342-6025, ext. 114