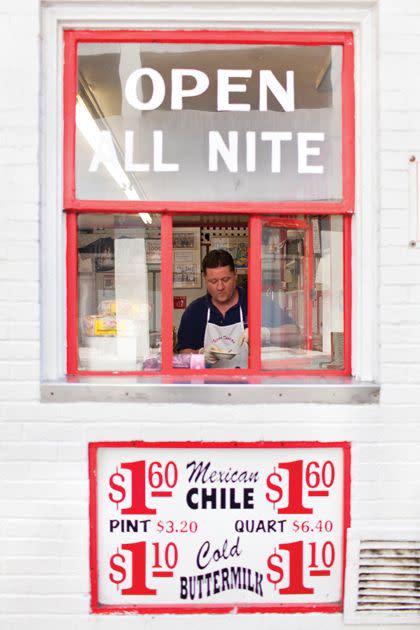 Jeff Greenough - An order window at Texas Tavern
From the Great Depression to the Great Recession, the chili has never changed at the tiny Texas Tavern in downtown Roanoke. "We don't monkey with the menu," says fourth-generation owner Matt Bullington, 37, who carries on a tradition that dates to 1930 when his great-grandfather, Nick Bullington, opened the restaurant on Church Avenue.
As legend has it, the eldest Bullington discovered a chili recipe at a hotel in San Antonio, Texas. Somehow, some way, Nick Bullington subsequently convinced that hotel to share its recipe; it's since been a mainstay of the menu at the Texas Tavern. And it's available around the clock, nearly every day of the year. This 10-stool restaurant closes only for Christmas, shutting down on December 24 and reopening again for breakfast every December 26. "It's unique. It's a slice of Americana," Matt Bullington says, "and I think people crave things that don't change." Outside, signs proclaim that the Texas Tavern is the "Home of $1.25 Hamburgers" and "Coney Island Hot Dogs." As customer Rick Watson, a 60-year-old from Roanoke, puts it: "Every time you come here, it's like a link to the past."
114 Church Avenue, 540-342-4825, TexasTavern-Inc.com