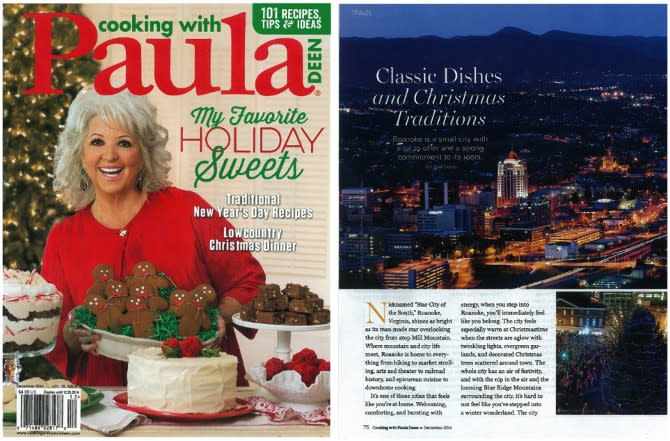 Virginia's Blue Ridge has been featured again in a nationally-known magazine, thanks to the work of the Roanoke Valley Convention & Visitors Bureau (RVCVB) and its partners. The latest story is in the December 2014 magazine issue of Cooking with Paula Deen, which hits newsstands November 18.
The article, "A Holiday Visit to Roanoke, VA", was written by Julia Sayers, who visited Virginia's Blue Ridge as part of the 2013 Holiday Media Tour that was hosted by the Roanoke Valley CVB and its public relations firm, Geiger & Associates.
Julia, along with 11 travel writers, visited Virginia's Blue Ridge for four days, taking in many of the experiences the region has to offer, including sampling spoonbread and peanut soup during an overnight stay at The Hotel Roanoke & Conference Center, breakfast at The Roanoker Restaurant, and a cheesy western at Texas Tavern.
Julia is currently an editor for Cooking with Paula Deen, and has been published in Southern Living, Our State, Burlington Times-News, and the Hickory Daily Record, as well as numerous cookbooks through Oxmoor House, Time Inc.'s lifestyle group publisher.
She couldn't speak highly enough about her trip, telling the RVCVB, "I visited Roanoke last December and immediately fell in love with the charm of the city. From walking around the City Market to exploring quaint Grandin Village, I was so impressed with all that Roanoke has to offer and the hospitality of its residents. In fact, I loved it so much, I ended up bringing my family back to visit two weeks later!"
Cooking with Paula Deen magazine is an intimate extension of the Paula Deen brand-more of what consumers want from Paula. In each issue, readers find flavorful recipes for sharing with family and friends, along with access to Paula's life and her family traditions. Truly a food lifestyle magazine, Cooking with Paula Deen showcases down-home recipes and cooking tips, entertaining inspiration, travel destinations, and much more.
With a circulation of over 325,000, the four-page feature about the region results in media coverage with an advertising equivalency value at over $220,000, and is the latest in a string of stories about Virginia's Blue Ridge that have been published over the past three years.
The following is an excerpt from the story:
"Where mountain and city life meet, Roanoke is home to everything from hiking to market strolling, arts and theater to railroad history, and epicurean cuisine to downhome cooking."
To read the article in its entirety, pick up your copy of Cooking with Paula Deen at the nearest newsstand on November 18.