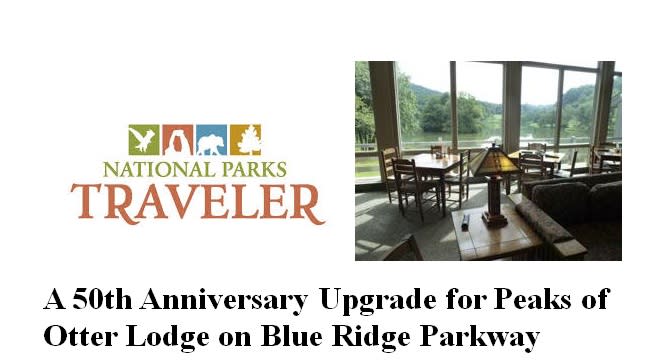 Submitted by David and Kay Scott on August 26, 2014 - 8:17am
Peaks of Otter Lodge upgraded facilities.
The Blue Ridge Parkway's Peaks of Otter Lodge will celebrate this year's 50th anniversary with substantial guest room upgrades by new concessionaire Delaware North Corporation. DNC took over as concessionaire in 2013 and reopened the lodge in July of the same year. As with most NPS lodging concessions, the contract has a length of ten years.
According to lodge manager Andrew Mather, upgrades will include soundproofing of guest rooms, along with new window blinds, lighting, soft goods, bed frames, and chairs. Helen Morton, Head of Sales and Marketing for the lodge and DNC's properties in Shenandoah indicated work on the lodge is expected to begin in November and be completed prior to the beginning of the next season. Future plans call for constructing a balcony across the back side of the enclosed sun porch in order to offer guests the option of outside dining. Overall, DNC expects to spend approximately $1 million for the upgrades.
Peaks of Otter Lodge with 63 guest rooms is one of two facilities currently offering guest rooms on the Blue Ridge Parkway, the second being Pisgah Inn. The two lodges are near opposite ends of the 469-mile-long parkway. The parkway's two other lodging facilities, Bluffs Lodge and Rocky Knob Cabins, are not currently open for want of a willing concessionaire. It's not like the NPS hasn't attempted to find an operator for the lodges, but both properties are relatively small and would require substantial expense in order to reopen.
The Peaks of Otter property experienced its own difficulties in 2012 when the NPS was unable to attract another operator when the concessionaire, a Virginia-based hospitality company, walked away at the end of its contract. The lodge remained closed for a substantial portion of the 2013 season until DNC took over the operation. Delaware North also operates the three lodges in Shenandoah National Park that were previously under the administration of Aramark.