Treat your sweetheart to a romantic date in the Roanoke Valley in Virginia's Blue Ridge Mountains. 
 
The scenic beauty of the region provides the perfect setting for a romantic getaway where you can create amazing memories. 
 
Show off your skills and take advantage of these 10 ideas for a romantic date in Virginia's Blue Ridge! 
1. Visit a Winery 
The climate and fertile soil makes the Blue Ridge Mountains an exceptional region for growing grapes and producing wine. Visit the Chateau Morrisette Winery on the Blue Ridge Parkway or Valhalla Vineyards to learn more about the winemaking process while enjoying stunning, mountaintop views.
Be sure to check in with the Virginia's Blue Ridge Cheers Trail passport during your visit!
Learn More: Wineries in Virginia's Blue Ridge >
2. Have a Picnic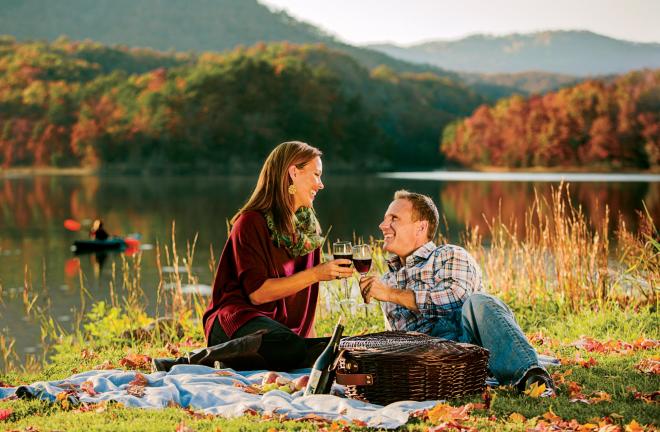 Want to do something different from a typical meal? Pick up some fresh, local items from an area farmers market, such as the Historic Roanoke City Market or Salem Farmers Market, and pack a blanket for a picnic lunch. 
 
There are tons of fun locations for a picnic in Virginia's Blue Ridge, including scenic overlooks along the Blue Ridge Parkway, along Abbott Lake at the Peaks of Otter, atop Mill Mountain near the base of the Roanoke Star, and near Roaring Run Falls in Botetourt County.
Learn More: 10 Great Picnic Spots in Virginia's Blue Ridge >
3. Paint Ceramic Art 

See who has the best artistic skills with a visit to All Fired Up. This ceramic studio at Smith Mountain Lake offers visitors the opportunity to paint their own ceramic art.
With over 1,000 designs, you'll be inspired to tap into your creative side! Paint a scene reflective of your other experiences in Virginia's Blue Ridge or make a piece that will serve as a great gift.
4. Dinner & Show 
You can't go wrong with a night out when it includes dinner at an awesome restaurant and tickets to a live performance. Whether you're looking for the fresh flavors at Alexander's, mountaintop views at Carlos Brazilian International Cuisine, or the vibrant atmosphere at The River and Rail, each restaurant offers delicious cuisine and outstanding service.
After dinner, dive in to the region's rich performing arts scene. Showtimers Community Theatre and Mill Mountain Theatre are locally-based theatre companies that regularly perform in front of sold-out crowds, and the Jefferson Center is one of the best venues in Virginia for live music.
Learn More: Ideas for Dinner & A Show in Virginia's Blue Ridge >
5. Sunrise Hike on McAfee Knob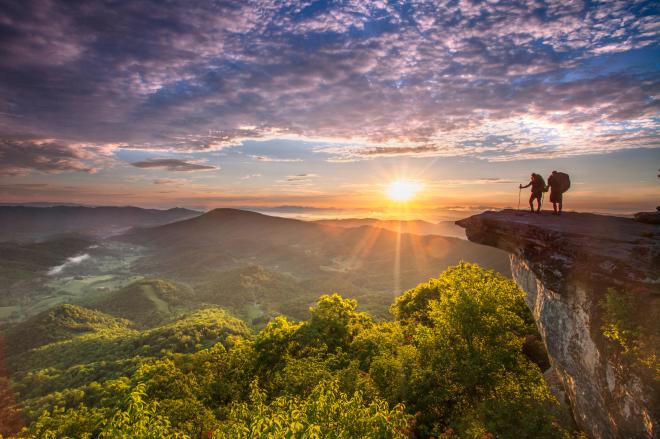 This romantic date requires an early wake-up call and some hiking in the dark, but the reward is worth it when you see the sunrise from McAfee Knob. This spot, which is one of the most photographed parts of the Appalachian Trail, is one of the most popular proposal sites in Virginia's Blue Ridge. 
 
The combination of the sun coming up over the mountains with the 270-degree panoramic view from atop the knob is a breathtaking experience.
Learn More: Hiking to McAfee Knob >
6. Downtown Roanoke Art Galleries 
See things from a different perspective by checking out the art galleries in Downtown Roanoke. The Taubman Museum of Art features work from world-renowned and regional artists, as well as special exhibitions. There are also spaces, such as The Market Gallery and WILSON HUGHES gallery, where you can meet local artists who are helping create the vibrant arts scene that continues to grow in Virginia's Blue Ridge.
Learn More: Art Galleries in Virginia's Blue Ridge >
7. Couples Massage & Spa Day 

Spend a day at the spa with a couples massage at Belle Sante' Cosmetic Day Spa or consider a relaxing foot soak at The Salt Foot Sanctuary at The Hotel Roanoke. You could also turn a fun date into an entire romantic spa getaway with a stay at the Primland Resort, which has been recognized for having one of the best spas in the country.
Learn More: Spas & Salons in Virginia's Blue Ridge >
8. Float the Upper James River
Spend a relaxing day enjoying some of the 60 miles of scenic blueway with a float along the Upper James River Water Trail. Twin River Outfitters in Buchanan is a great option to pick up tubes and kayaks and can offer lots of suggestions and recommendations for a memorable float.
Learn More: James River Trip Options with Twin River Outfitters >
9. An Evening in Grandin Village 
The Historic Grandin Village was part of why Roanoke earned a spot on World Property Journal's Top 10 Valentine's Day Getaway destinations. Catch a movie at the iconic Grandin Theatre, have an amazing farm-to-table meal at Local Roots, and save room for something sweet, such as a slice of cake from On the Rise Bakery or ice cream sundae from Pop's Ice Cream & Soda Bar.
Must See Main Street: Historic Grandin Village >
10. Drinks & Dinner 
Make it a fun evening of drinks & dinner at various local bars & restaurants in Virginia's Blue Ridge. We have a complete list of drinks & dinner options that feature restaurants within close proximity to each other for a great date. See the list >
---
Looking for more ways to enjoy a romantic getaway in Virginia's Blue Ridge? Check out our Romantic Sample Itinerary to help plan your next big date.